CHECK THE CHARACTER NOT ANGER || LOOKING AT THE RELATION OF CHARACTER TO ANGER, POSTIVES AND NEGATIVES OF ANGER!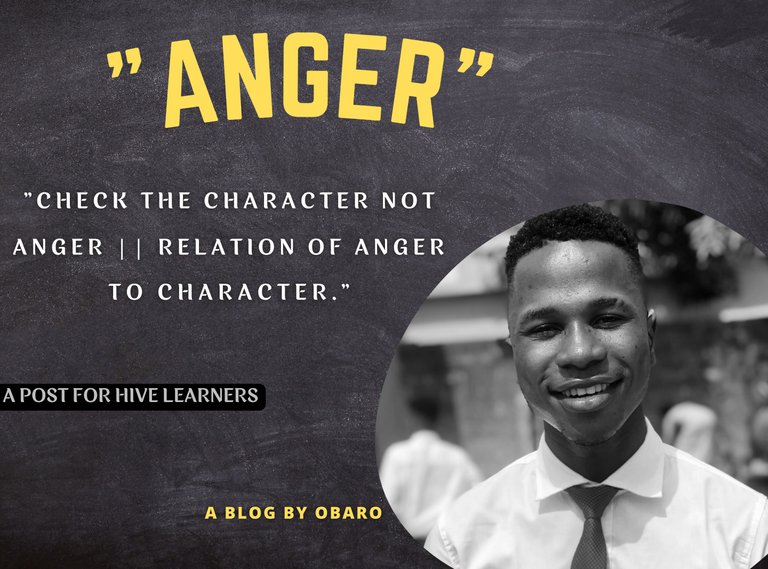 Anger is a feeling just like every other feelings, i.e. excitement, anxiety, depression and so on.
Anger is a feeling of being mad over a particular situation, person or an instance!
Anger in most cases brings about violence, destruction, hatred, war and evil of all kinds.
My mom usually tell me that the favorite of devil's tools is "anger" which is why we must be careful of how we allow anger, which is just a feeling to ruin our reputation and whatever we might have worked for.
You can bear me a witness that anger is just a feeling because you can't always be angry, just like every other feelings.
RELATION OF CHARACTER TO ANGER
Character on the other hand is what you are made of.
Your character is you and can't be hidden forever
Instances like anger brings out your character.
No matter how angry a good hearted man could be at any moment, he won't think of killing or hurting his fellow human.
But on the other hand, an already wicked man will kill his fellow human without thinking twice and pour all the blame on the fact that he was angry. No, that wasn't it, that is his character!
I hope you are getting the picture?
POSITIVE EFFECT OF ANGER
Let me take myself as an example.
I have always wanted to learn the basics of the piano from one of my friends, years back.
Each time I remind him, he gives me excuses.
Then one faithful day, he promised me that we will commence the piano lessons. He asked me to be at his house as early as 9.am, so I did all I could to be at his place early enough even before 9.am.
As I got there I expected him to ask me to bring out my notes so that we can commence our lessons, only for him tell me that "let us shift the lesson to a week time"!
I got angry and I was like what does this guy take me for?
The anger in me made me visit YouTube and I started taking private lessons which assisted me with the basics that I knew then.
Well, I'm not a professional yet on the piano but then, my anger led me to a positive doing which has impacted my life well enough till today!
NEGATIVE EFFECTS OF ANGER
Anger can lead to
Hatred
violence
War
evil of all kinds.
Like I said earlier, Anger is just a feeling which I think we shouldn't allow to take dominance over us when it comes.
Anger can be controlled and channeled into a positive direction.
THANKS FOR READING THROUGH❤️
---
---