Am I a Genius? (I Don't Know About That)

Anyone Played with Lumosity?
So being deep into middle age at this point I had been starting to feel as if my brain was getting a bit sluggish. By my own perception, I have really been feeling like my ability to remember things has significantly diminished. In fact, it actually would freak me out a bit how long it would take me to remember certain words or form a sentence in a coherent way when trying to get a point across to someone.
Being a hypochondriac I ended up all over the internet self diagnosing myself with early onset dementia and any number of crazy problems. It didn't matter how how many tests I would take and score well on or even doctors telling me that I am perfectly fine. I have a long history of taking any small issue and spinning it into a huge problem. A couple of years ago I was sure that I had some kind of tumor in my neck which turned out to just be muscle tension; but I digress.
At some point during this frenzy of fear I ended up downloading, installing and signing up for Lumosity, which is essentially an suite of games designed by scientists who study cognition. The system serves you a bunch of games each day that strain different cognitive functions of your brain and generate a score based on how you perform against all other players in their database - within your age group.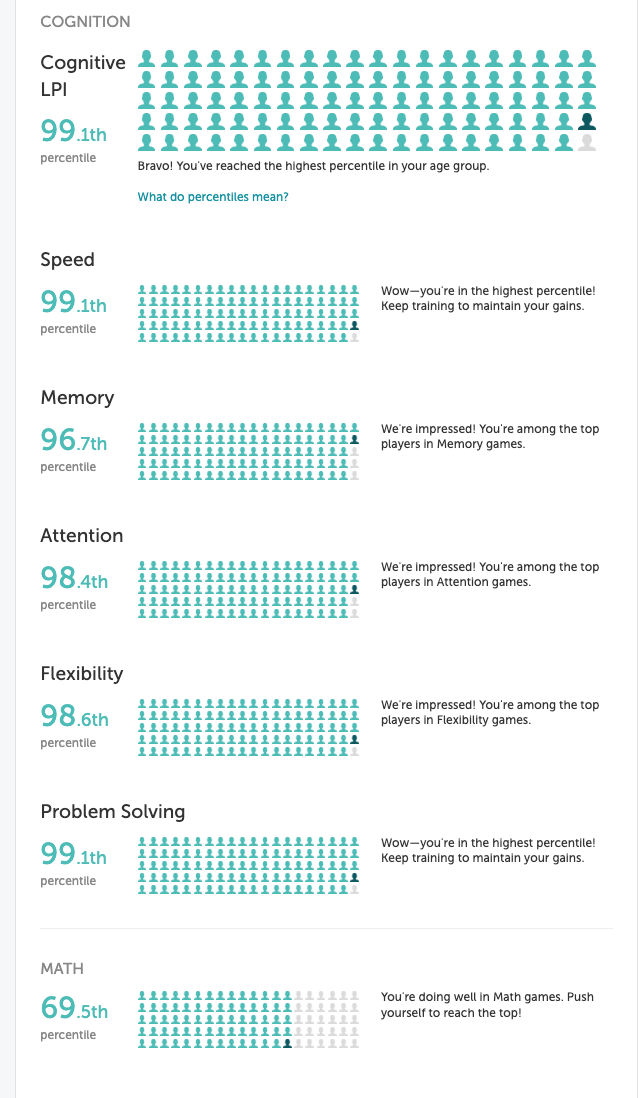 So the above chart shows where I currently stand vs everyone else around my age. If I am to believe this, I am in the top 99.1 percentile of people who use Lumosity. The LPI I believe is an average of all of your various cognitive areas. Of course, I could easily be wrong. Just look at my Math percentile. My instincts about my math skills are correct, I suck badly. The fact that I am in the 69.5th percentile in math just shows how horrible people are at math in general.
I'm a Bit Dubious
I really don't know what to think about this data. I have been playing for a couple of months now and have been slowly creeping up those last few percentile points reaching 99 and higher in some areas. I had reached 99th percentile in Flexibility at one point but have fallen back 0.4 over the course of a few weeks.
At this point, I do wonder if the data is somehow skewed to make people feel smarter than they are, thus potentially motivating them to continue paying the subscription. (Which I believe was only 30 something dollars a year, so no biggie.)
Another idea I had about what could be pushing me up the ranks is the fact that I really actually try my best. Imagine how many people play the games half heartedly, or just don't care. Or maybe they give up after playing for a few days. This would leave them with really poor scores. I don't know how this data is processed, but I could see how they could bring the average down quite significantly.
Me VS the Young'ins
One of the fun features that you can do on the website but apparently not inside of the mobile app is that you can compare yourself to all of the other age groups.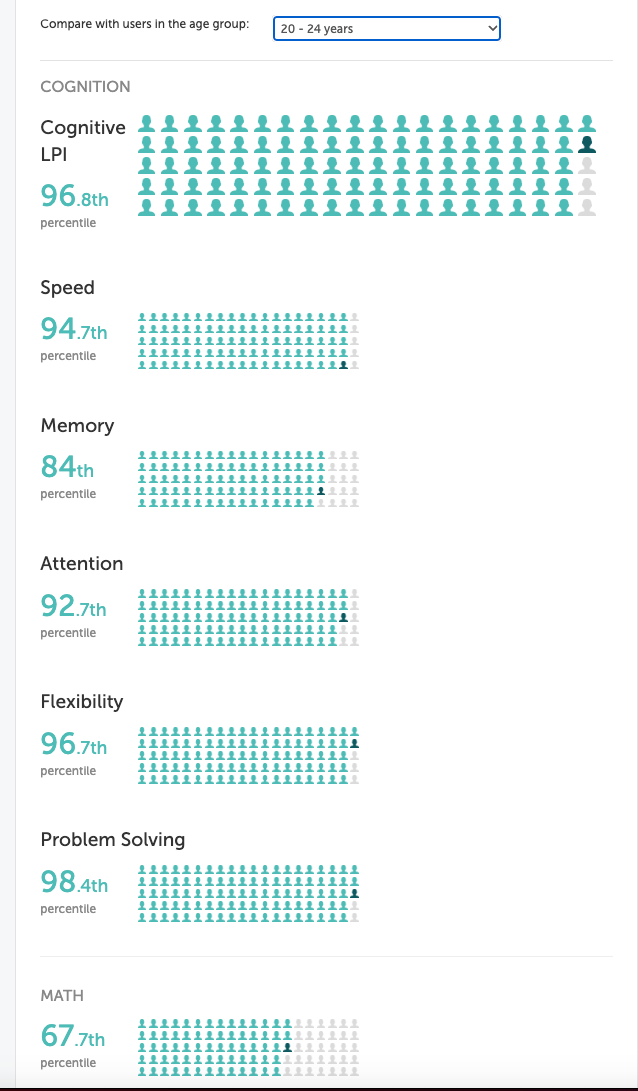 Here you can see my scores compared with people aged 20-24. I still score higher than 96.8 percent of this group, but you can see my memory score drops down from nearly 97th to 84th. That makes sense to me. As a young person in your early 20s - and are the type of person who buys a game to train your cognition - you are likely in college and are using those memory skills to the max.
That being said, I am quite happy with my results. I also really believe that I can get the memory up quite a lot with a bit of practice. It very much is the case that if you don't use it, you'll lose it.
The interesting thing to me is that my math percentile not much worse for my age group vs 20 year olds. That is very surprising to me. I would think younger kids would be way sharper with math skills! I guess times are really changing with computers these days doing everything for us.
Closing Thoughts
I read that Lumosity got sued a couple of years ago in a class action lawsuit for claiming that their program could stop age related mental decline. They lost, of course because they didn't have the science to back it up. I think they ended up having to refund a bunch of money.
Anecdotally, however, I can without a doubt say that I have personally noticed a difference in my ability to process things mentally after a couple of months playing these games. I am quicker and sharper. For instance, there are games that test your ability to perform certain tasks quickly and efficiently. I noticed that after playing some of these game for long periods of time and then (after some rest) perform some real world tasks I can do them much faster and effectively.
A good example would be cleaning the kitchen or even cooking. I often make a huge mess, or take way to long to clean things because I do stuff in a disorganized way. I noticed that after playing the games for a while, my brain began to automatically just think about these tasks more logically. For one, I stopped picking up objects and moving them around only to realize that I needed to do another task first, causing me to need to touch the same item several times. It is difficult to explain precisely how this is working. My ability to plan has just increased exponentially. I guess I just needed to work out that muscle!
There is something about gamification that makes brain building so much easier. Seeing a score gives you that dopamine bump. I don't know if I really believe that I am in the top 99% percentile but I can certainly say that Lumosity has given me a massive brain workout. Give it a try!
---
Update: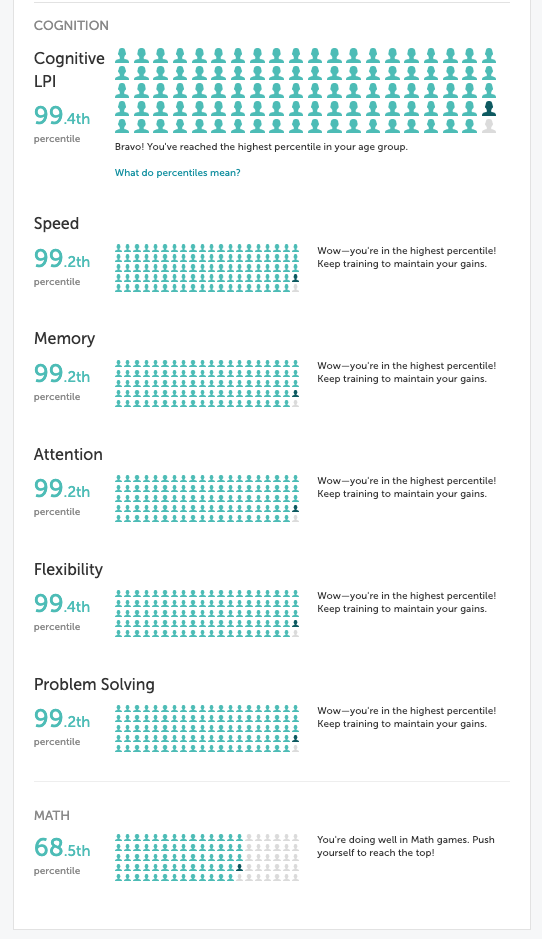 I've really pumped up my scores since posting this. All except for Math, of course. haha!
---
---