A Great New Find at the Botanic Gardens: Los Angeles
How Did I Miss This?
I've been coming to the Botanic Gardens in Palos Verdes for several years now but somehow have never seen this area. I was pretty sure that I'd covered every square foot of the place, but apparently I was wrong.
Today I drove @little-ricky there about an hour before close to get a few hours of running around done since he was still bursting with energy.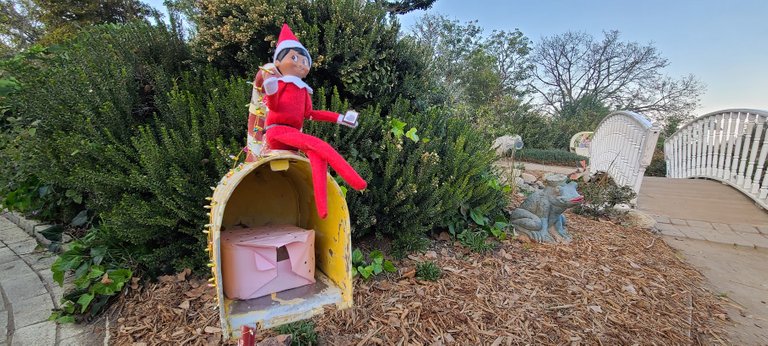 That's when I saw this little elf hanging out on a mailbox that I'd never seen before. I think they must have cut down some bushes and did some upgrades because I think I would have seen a big white bridge just off to the left of the path.
I veered off to the left to have a look around. Well, it was certainly worth it! Everything always looks so fresh and green here in the gardens. They do a great job keeping the plants fresh and alive which seems a bit like witchcraft to me. As I mentioned before, I am not the best at keeping green plants green.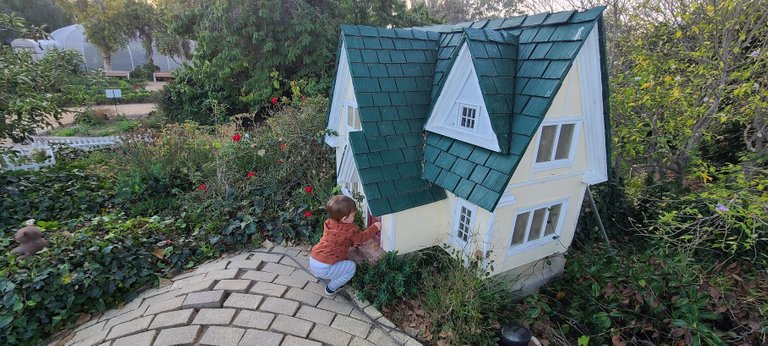 This little house is presumably where the little elf on the mailbox lives. Little right was having a good go at the doorknob trying to get it open. Can you imagine the look on his face if some kind of mythical creature answered the door?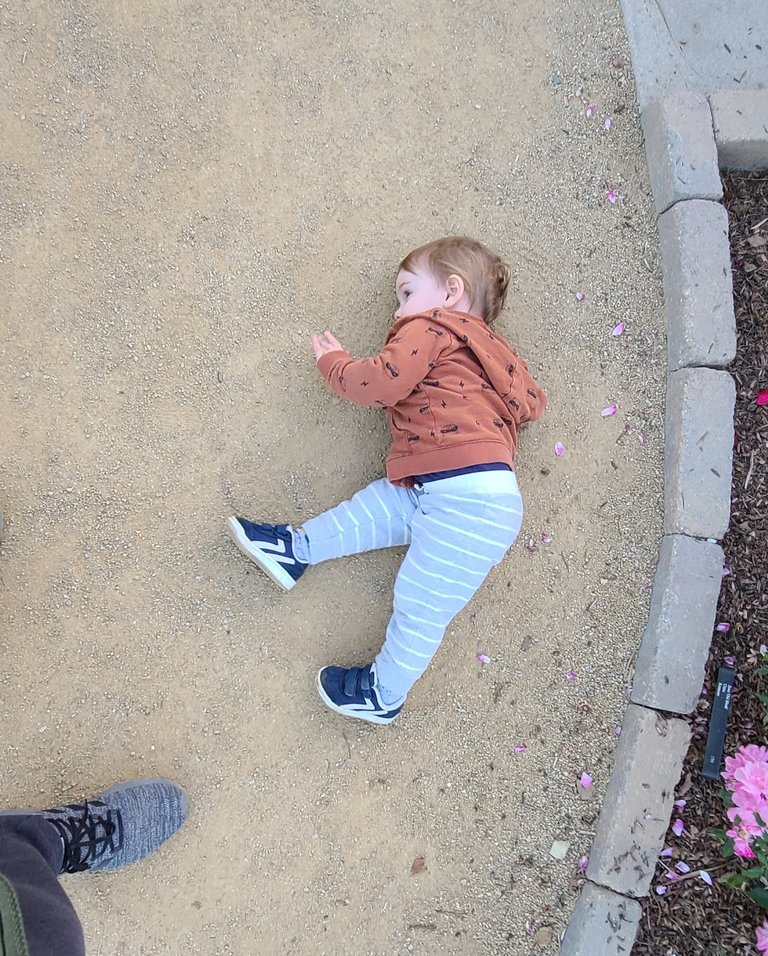 After a few minutes of watching him tap and tug on the little wooden door, I thought I should probably stop him before he broke something. One thing that @little-ricky doesn't tolerate well is being told no. In fact, he violently opposes it.
Quite often, the cries that come out of him when he's been denied what he wants are much louder and dramatic than those of when he has actually hurt himself.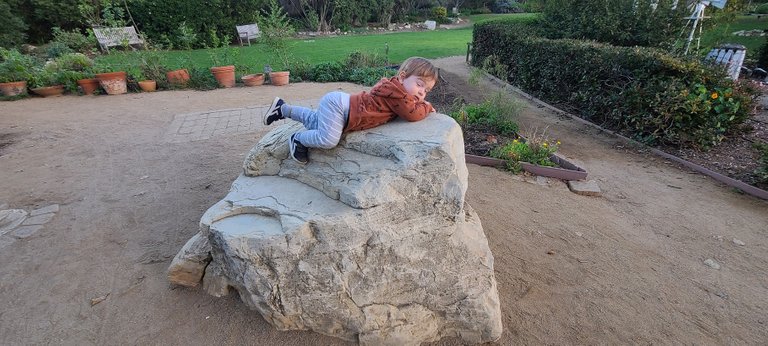 Then we found this large, aesthetically pleasing rock in the middle of the path. We had to stop and climb up and down it about 30 times before getting bored and moving on. Ricky is a little bit kamikaze when he climbs things so I have to stand close by to make sure nothing bad happens.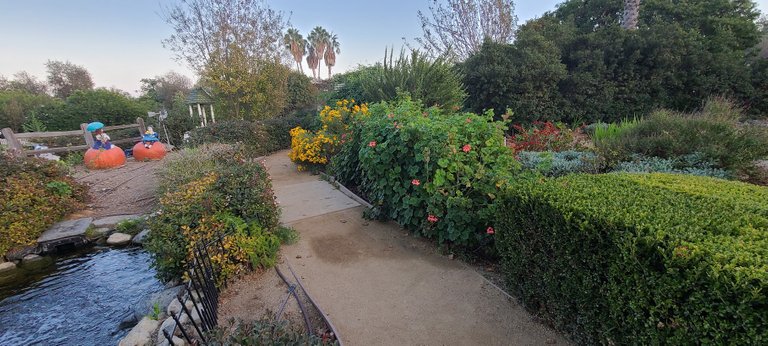 I really love what they've done with this little area. There is a pond spilling into a little river that flows under the white bridge that you saw in the previous image. It's a very nice and relaxing vibe. I didn't see any fish in there, but I'm sure that they could add some.
I get the feeling that this area did exist before, but they did some upgrades.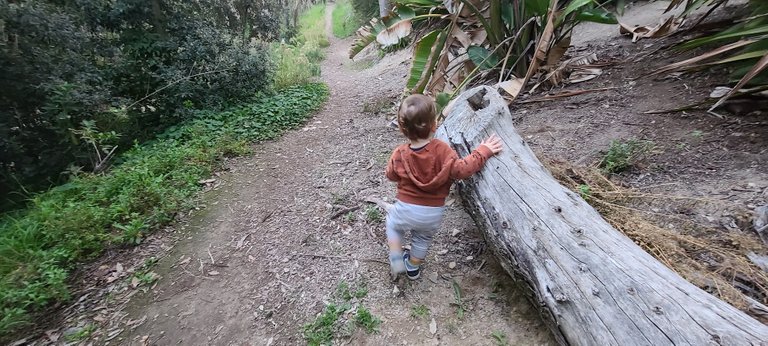 I am always looking for new places to bring the little one to get him to burn up some energy. He can really just go and go! Some nights he is so wound up that I end up taking him to Home Depot so that he can go into the garden center and push around the heavy carts. He is crazy strong for such a tiny creature.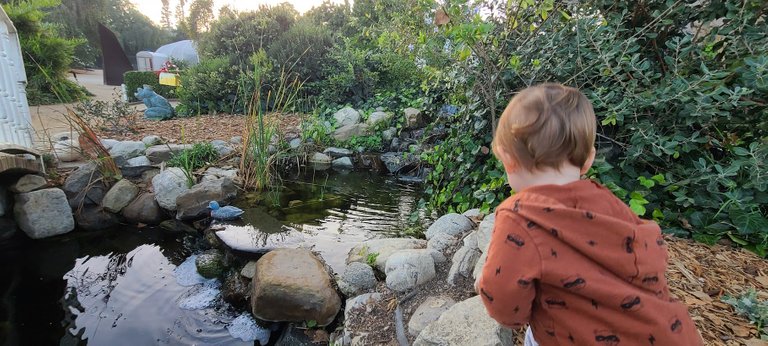 We ended up spending about an hour walking around the paths after letting Ricky play by the water. We could have stayed a lot longer but it wasn't possible since the park closed at 5. I am really not a fan of daylight savings since it gets dark so damn early now, but I digress!
One of the downsides of living in the city is that most of the places around that have nature available (sounds funny to even say) are owned by someone and therefore controlled by someone. This generally means that you are limited to what hours of the day that you can be there. I mean, I get it. Around here, if you let people hang around after the sun goes down they end up throwing trash and beer bottles everywhere.
I think I'll stop in tomorrow a bit earlier to see what else I can find that I've been missing all these years. If I find anything interesting I'll post it here!
---
---