Now You Can Get Skill Boosts In Packs

I got a +10 Skill Boost in today's pack. Nice to be able to get these sort of cards in the packs instead of just having an in-game purchase option. I do need more skill to bring the ego down so all these sort of skill boosts are very welcome.
I got a Rare Jesmel as well and she on the other hand, brings a lot more fans than skill.

The ranking has improved somewhat to 470 but no big moves yet and the average stays around the same in the 450 mark. I thought it would have gone down a little as I have been playing less but maybe the difference will show up tomorrow.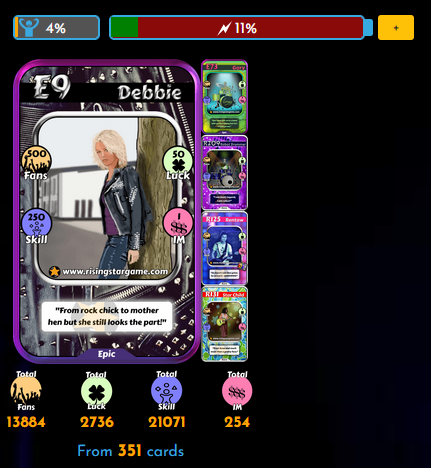 Total cards are now more than 350 and 400 by the end of next month should be a serious possibility unless things go off the rails.
---
---