New Card Joe Today

Well, another case of the quick 15 minute missions coming to the rescue. I was 500 Starbits or so short of my next pack and ordinarily, I would do a 5 hour mission to earn the difference but now that the 15 minute missions have opened up, I was able to make that amount in half an hour and proceed to purchase my pack.
So today's pack gets me 2 unique cards with Joe being the better of the two. It is also Ego neutral which helps now that ego is crossing the 10% mark. Really going up fast, I must say.

So close to breaking into the top 400 but unfortunately, i missed it by a whisker. Hopefully with the two unique cards, I get to move up a little and have a little bit of a sense of achievement with this.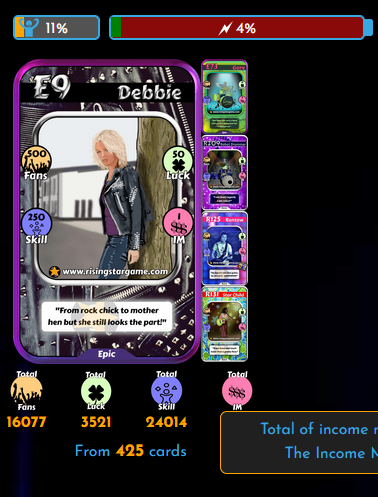 Card total is at 425. Not bad and I feel it is moving up faster than before. Not by a lot but definitely noticeable. Maybe 10% or so faster.
---
---