Review: Fucking Pele - Chico Temido, Abriendo el Portal, no importa cuando leas esto (ESP/ENG)

Quisieron líderes! de nuevo aquí su homie NoDrágon, lamentablemente tuve que posponer este post debido a mi lucha contra una pandilla contraria de orcos, debió salir el lunes pero no hay falla. Hoy estoy aquí para presentarles el último disco de Fuckin Pele, titulado "Chico Temido". ¡Espero que lo disfruten!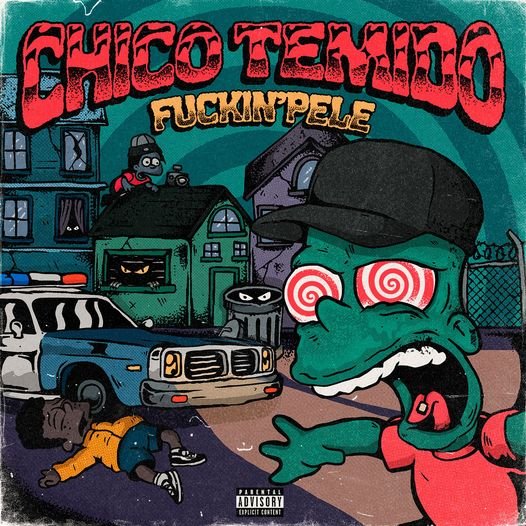 Cada nuevo disco que escucho me ayuda a entender mejor el comportamiento de mis homies los humanos, y es que analizando bien, encontrar un equilibrio entre el hedonismo del consumo de enervantes y la responsabilidad de ser un adulto responsable requiere una comprensión clara de los riesgos y beneficios que esto conlleva, así como una capacidad para autorregular el propio comportamiento; quizás esto puede lograse a través de una educación adecuada, de una comunicación abierta y honesta con uno mismo y los demás, también puede ayudar el desarrollo de habilidades de auto reflexión y autocontrol., pero creo que todo esto sale sobrando si no existe algo a lo que aferrarse y esto puede ser el amor de tu vida, tu familia, tus hijos, tu trabajo de ensueño o tu verdadera pasión.
Fuckin Pele de Monterrey Nuevo León, es un rapper con un chingo de flow y escuela, desde Krudoz destacaba por su estilo y hace unos días junto a varios artistas y beatmakers presentó un disco que vale la pena escuchar de principio a fin.
"Chico Temido" es un álbum que te atrapa desde el primer momento y es que el primer track inicia con una narrativa fuerte y desafiante, un álbum que habla sobre el abuso de alcohol y sustancias ilícitas y de hacer dinero por sobre todas las cosas, el artista consigue transmitir de forma honesta y auténtica las luchas y dilemas que enfrenta alguien en esa situación, sin embargo, lo que realmente destaco en este álbum es la madurez con la que el artista aborda estos temas, en lugar de caer en la autocompasión o la justificación de sus acciones, Pelé se muestra consciente de las responsabilidades que tiene como adulto, ya sea en su rol de padre, con su pareja o en su trabajo.
Les voy a ser honesto líderes, este álbum me representa sobre todo la analogía de uno de mis track favoritos; el de abrir un portal interdimensional para refugiarse en los vicios y el alcohol, el track sugiere se está buscando escapar de la realidad para encontrar consuelo en actividades dañinas, pero siempre para volver como si nada hubiera pasado. Puede que no sea una de las mejores ideas pero aquí me tienen a mi, que decidí dejar atrás mi universo para conocer uno nuevo y conocerme mas, se que esto no resuelve los problemas subyacentes que están causando esa necesidad de escapar y es posible que puede agravar el problema al aumentar la sensación de soledad y aislamiento, pero la manera en que lo cuenta Pelé no es para generar esta autocompasión como ya lo dije, si no para dejar salir toda esa presión que uno carga, obviamente siempre recomiendo que si tienes algún problema busques una manera más saludable de manejar las dificultades en tu vida en lugar de recurrir a comportamientos nocivos, esto es una gran excepción. Discazo.
(Unsupported https://open.spotify.com/embed/album/6kAWdj8KMVDloPentZy9vD?utm_source=generator)
---
Tracklist:
1.- Sin Ganas de Vivir (Prod. Aaron Clap)
2.- Veneno Ft. Jace ODC (Prod. Jace ODC)
3.- Grand Marquis (Prod. Aaron Clap)
4.- Slam Ft. Frank (Prod. Frank)
5.- Voy Dopado (Prod. Pragmata)
6.- Fuck Sad (Prod. Dedos de Mantequilla)
7.- Hey You Ft. Logan Hate (Prod. Aaron Clap)
8.- Saca el Joint Homie Ft. Koala (Prod. Trippin' Moods)
9.- Sid Vicious(Skrttt) (Prod. Aaron Clap)
10.- Sad Bunny (Prod. R-Pugnantez)
11.- El Portal Ft. Carlos Cartoon (Prod. Aaron Clap)
12.- Walkie Talkie Ft. Dardd (Prod. Alexander Vera)
13.- Apocalipsis Ft. Ereman (Prod. Aaron Clap)
14.- Love Tokio Ft. R-Pugnantez (Prod.R-Pugnantez)
15.- No Main (Prod. Aaron Clap)
16.- Brrr Talking With Tecs Ft. Zhickleez (Prod. Aaron Claps)
---
Track Favorito: El Portal Ft. Carlos Cartoon
---
Créditos:
Mix & Master: Nurry dog
Artwork: Arian Leal
Producción ejecutiva: Estudio 1070
---
☕ Coffe Cups Rating: 8.8
Letra: 9
Producción: 8.5
Concepto: 9
---
English Version
They wanted leaders! here again your homie NoDrágon, unfortunately I had to postpone this post due to my fight against an opposing gang of orcs, it should have come out on Monday, but there is no fail, Today I am here to present you the latest album by Fuckin Pele, titled "Feared Boy". I hope you enjoy!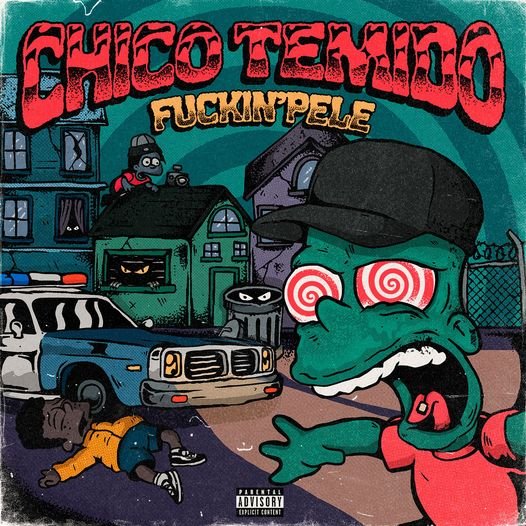 Each new album that I listen to helps me better understand the behavior of my human homies, and it is that when I analyze it carefully, finding a balance between the hedonism of drug use and the responsibility of being a responsible adult requires a clear understanding of the risks and benefits that this entails, as well as an ability to self-regulate one's own behavior; Perhaps this can be achieved through proper education, open and honest communication with oneself and others, the development of self-reflection and self-control skills can also help, but I think that all this is superfluous if there is not something to what to hold on to and this can be the love of your life, your family, your children, your dream job or your true passion.
Fuckin Pele from Monterrey Nuevo León, is a rapper with a lot of flow and school, from Krudoz he stood out for his style and a few days ago together with several artists and beatmakers he presented an album that is worth listening to from start to finish.
"Chico Temido" is an album that captivates you from the first moment and the fact is that the first track begins with a strong and challenging narrative, an album that talks about the abuse of alcohol and illicit substances and about making money above all things, the artist manages to honestly and authentically convey the struggles and dilemmas that someone in that situation faces, however, what really stands out on this album is the maturity with which the artist approaches these issues, instead of falling into self-pity or Justifying his actions, Pelé is aware of the responsibilities he has as an adult, be it in his role as a father, with his partner or at work.
I'm going to be honest, leaders, this album represents for me, above all, the analogy of one of my favorite tracks; that of opening an interdimensional portal to take refuge in vices and alcohol, the track suggests that one is seeking to escape from reality to find solace in harmful activities, but always to return as if nothing had happened. It may not be one of the best ideas but here I am, who decided to leave my universe behind to meet a new one and get to know myself more, I know that this does not solve the underlying problems that are causing that need to escape and it is possible that it can aggravate the problem by increasing the feeling of loneliness and isolation, but the way Pelé tells it is not to generate this self-pity, as I already said, but rather to let out all that pressure that one carries, obviously I always recommend that if you have any If you are looking for a healthier way to handle the difficulties in your life instead of resorting to harmful behaviors, this is a big exception. great album
(Unsupported https://open.spotify.com/embed/album/6kAWdj8KMVDloPentZy9vD?utm_source=generator)
---
Tracklist:
1.- Sin Ganas de Vivir (Prod. Aaron Clap)
2.- Veneno Ft. Jace ODC (Prod. Jace ODC)
3.- Grand Marquis (Prod. Aaron Clap)
4.- Slam Ft. Frank (Prod. Frank)
5.- Voy Dopado (Prod. Pragmata)
6.- Fuck Sad (Prod. Dedos de Mantequilla)
7.- Hey You Ft. Logan Hate (Prod. Aaron Clap)
8.- Saca el Joint Homie Ft. Koala (Prod. Trippin' Moods)
9.- Sid Vicious(Skrttt) (Prod. Aaron Clap)
10.- Sad Bunny (Prod. R-Pugnantez)
11.- El Portal Ft. Carlos Cartoon (Prod. Aaron Clap)
12.- Walkie Talkie Ft. Dardd (Prod. Alexander Vera)
13.- Apocalipsis Ft. Ereman (Prod. Aaron Clap)
14.- Love Tokio Ft. R-Pugnantez (Prod.R-Pugnantez)
15.- No Main (Prod. Aaron Clap)
16.- Brrr Talking With Tecs Ft. Zhickleez (Prod. Aaron Claps)
---
Favorite Track: El Portal Ft. Carlos Cartoon
---
Credits:
Mix & Master: Nurry dog
Artwork: Arian Leal
Ejecutive Productions: Estudio 1070
---
☕ Coffe Cups Rating: 8.8
Lyrics: 9
Production: 8.5
Concept: 9
---

---
---