Un día de Parque con mi hija retrocediendo el Tiempo ❤️A day in the park with my daughter turning back the hands of time.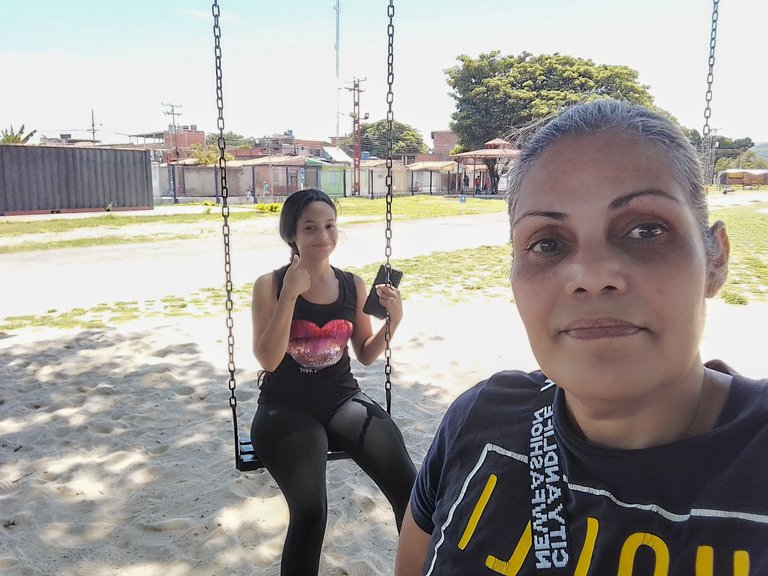 Cuando los niños crecen y se independizan, tienen sus propias actividades, estudian, trabajan y apenas tienen tiempo para compartir una salida al parque con mamá como cuando eran pequeños, cuando estabas en el tobogán esperando que se deslizara para atraparlo o cuando se columpiaba y no podía porque era muy pequeño sus pies no llegaban al piso y tenía que empujar nunca se cansaban cuando eran más grandecitos me sentaba en una banca a esperar con mi respectivo recipiente de agua fría algunos dulces y finalmente el delicioso helado de chocolate que no podía faltar hoy después de tantos años volví a visitar el parque con mi hija de adulta que me hizo retroceder en el tiempo.
When children grow up and become independent, they have their own activities, they study, work and hardly have time to share an outing to the park with mom like when they were little, when you were on the slide waiting for him to slide to catch it or when he swung and could not because he was too small his feet did not reach the floor and had to push never tired when they were older I sat on a bench to wait with my respective container of cold water some candy and finally the delicious chocolate ice cream that could not miss today after so many years I returned to visit the park with my daughter as an adult that made me go back in time.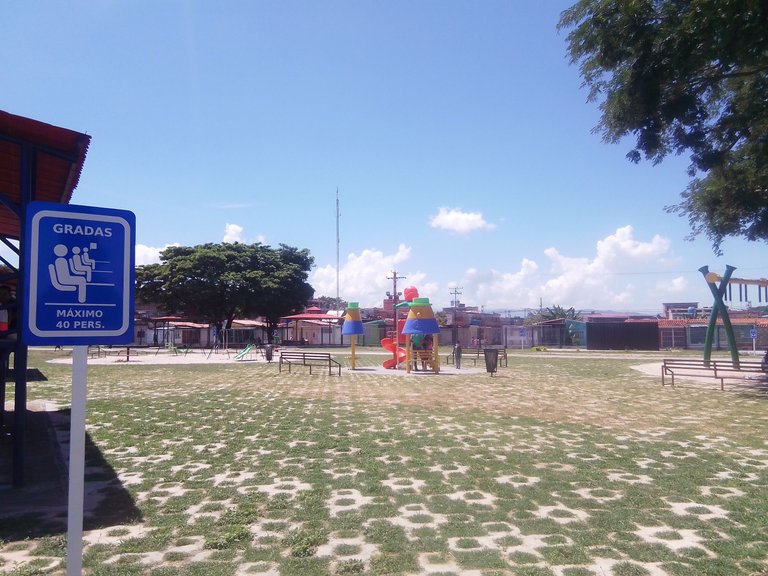 Nos paramos temprano aprovechando que mi hija está de vacaciones de la universidad y la invite a visitar un parque que está un poco lejos de donde vivimos y quería conocer ya me habían hablado de el no solo es un parque infantil también hay máquinas para hacer ejercicios esto me pareció genial habían niños corriendo de un lugar a otro y los padres detrás cuidando que no les ocurra ningún accidente ver esas imágenes me traslado al pasado.
We stopped early taking advantage of my daughter's vacation from college and I invited her to visit a park that is a little far from where we live and I wanted to know that I had already heard about it, not only is it a playground but there are also exercise machines. I thought it was great, there were children running from one place to another and the parents behind them making sure that no accidents happened to them.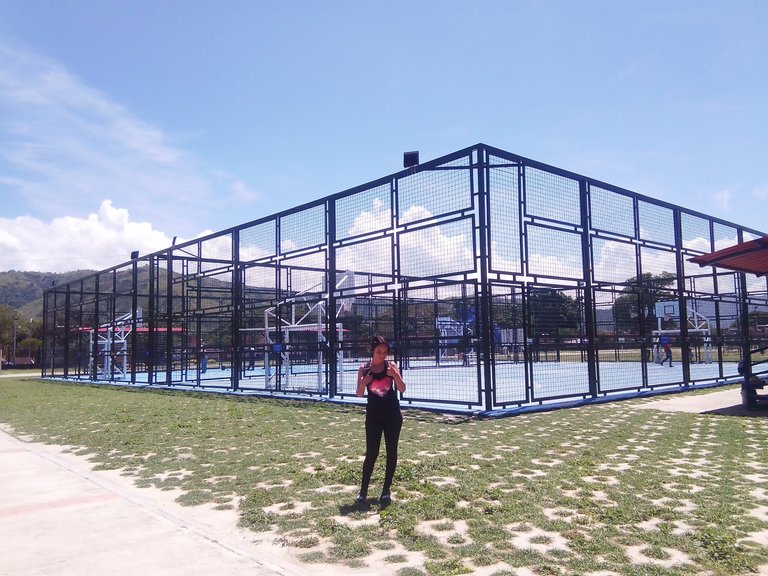 Al llegar al parque me di cuenta que las áreas de juegos están divididas por edades el tobogán muy ingenioso entre dos árboles fabricado con cemento ese nunca se va a dañar los columpios unas canchas de fútbol y básquet muy bonitas y los banquitos para que los padres se sienten mientras sus hijos disfrutan también está el área donde los adultos van hacer ejercicios me pareció un parque para grandes y chicos
When I arrived at the park I noticed that the playgrounds are divided by age, the very ingenious slide between two trees made of cement that will never be damaged, the swings, the soccer and basketball courts and the benches for parents to sit while their children enjoy themselves, there is also an area where adults can exercise, I thought it was a park for young and old alike.
---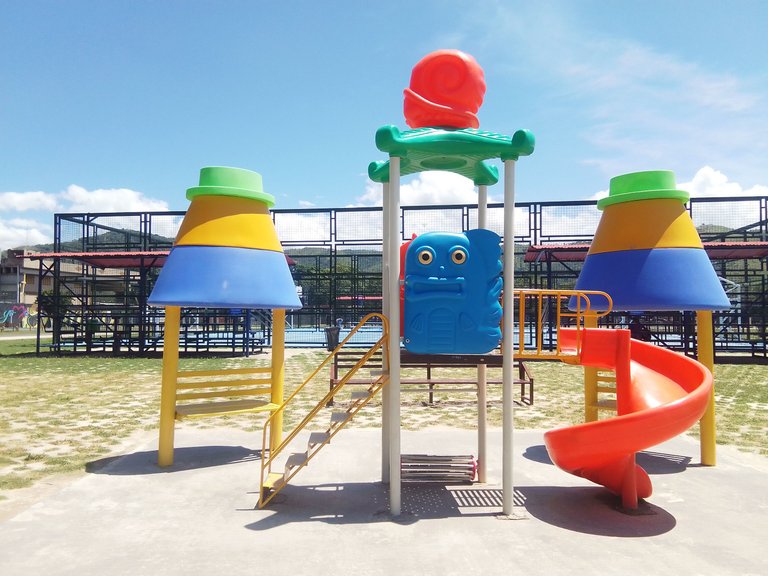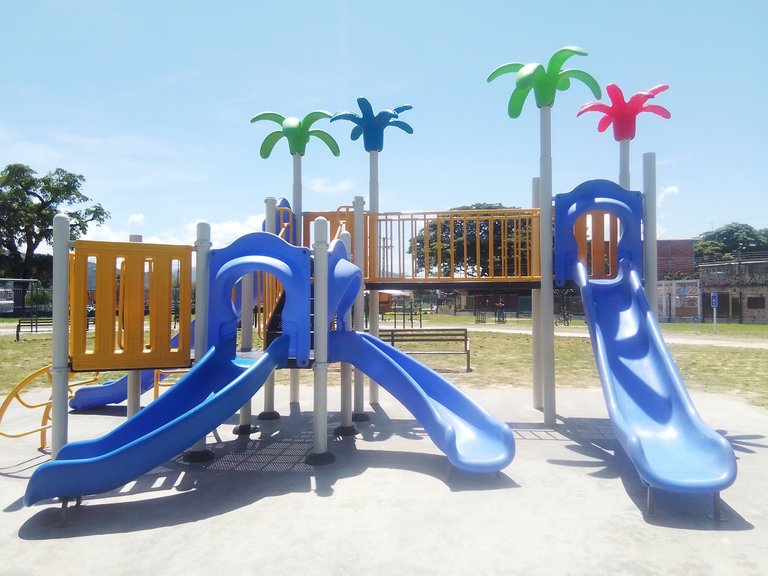 ---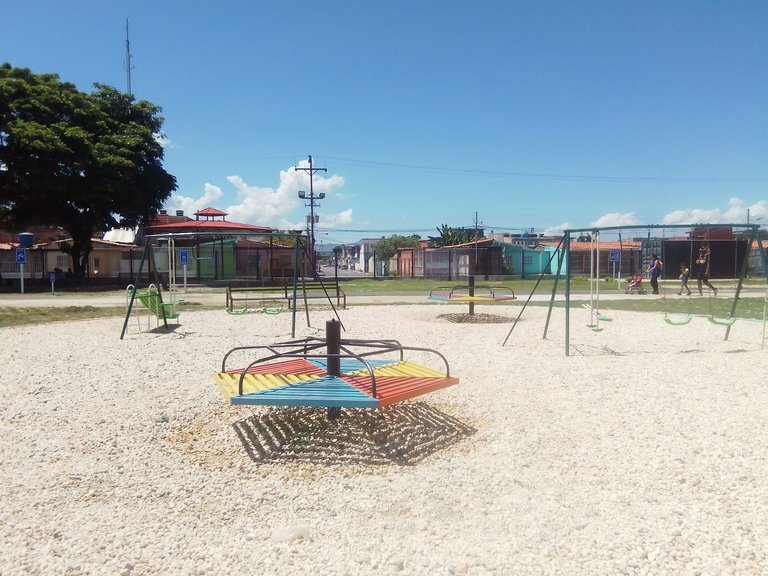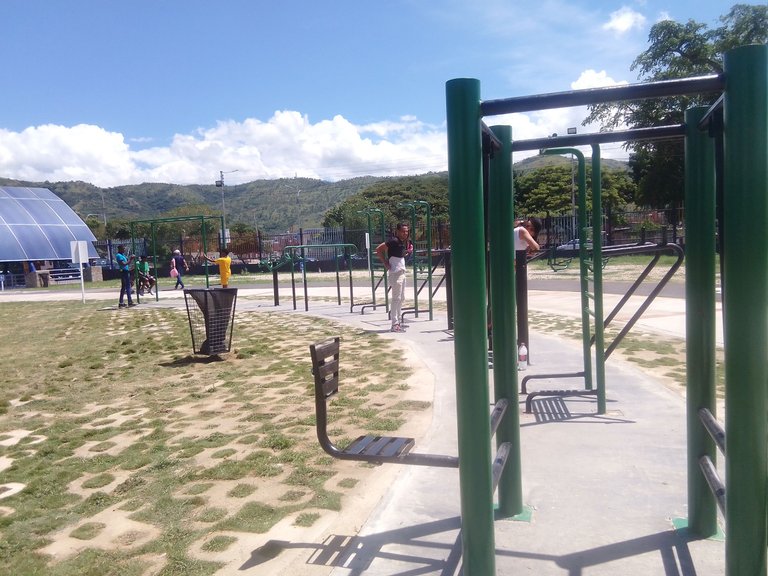 ---
Los recuerdos no se hicieron esperar recordando aquellos días de su niñez, por supuesto lo primero que hicimos fui ir al columpio y mecernos un rato ya no tengo que ayudarla a balancear ahora ella me ayuda a mi, entre risas y recuerdos que que quedaron grabado en su mente y corazón fue un momento mágico, donde me conecte con mi hija que ya casi no tiene tiempo pero no importa la cantidad sino la calidad ella retomará sus actividades nuevamente así que tengo que aprovechar
Of course, the first thing we did was to go to the swing and rock for a while. I don't have to help her swing anymore, now she helps me between laughs and memories that were engraved in her mind and heart. It was a magical moment where I connected with my daughter who has almost no time anymore, but it doesn't matter the quantity but the quality, she will resume her activities again, so I have to take advantage of it.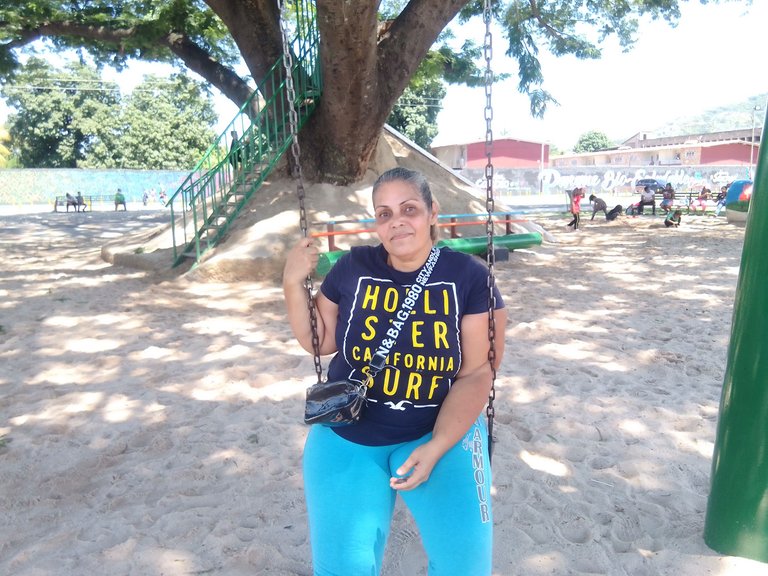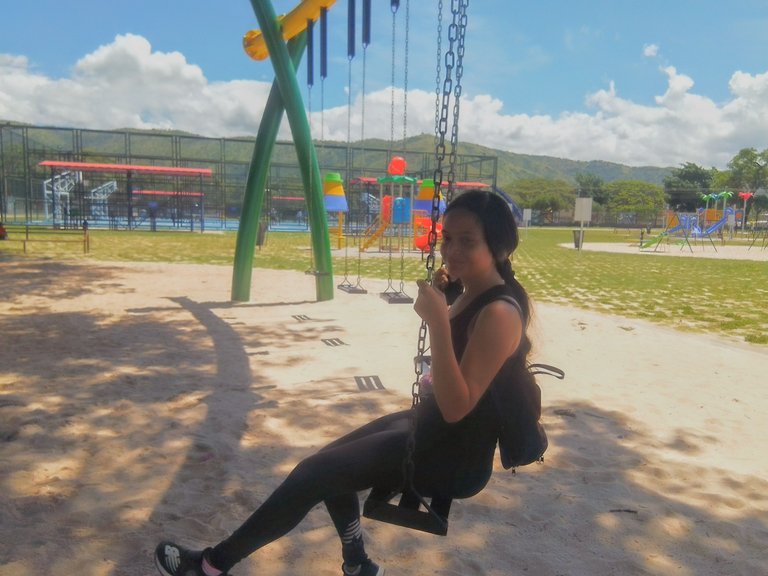 ---
Ahora sí después de tantos recuerdos hacer ejercicios de adultos jajaja, nos reíamos mucho porque habían máquinas que yo no sabía usar y ella me explicaba se invirtieron los papeles, cuando ella era niña yo la orientaba de verdad fue una mañana que disfrute con mi hija por eso les aconsejo no pierdan la oportunidad de pasar momentos con sus padres no sabemos hasta cuándo lo tenemos en este plano terrenal, como madre les digo que compartir con un hijo es lo máximo.
Now after so many memories of doing adult exercises hahaha we laughed a lot because there were machines that I did not know how to use and she explained to me the roles were reversed when she was a child and I really guided her. It was a morning that I enjoyed with my daughter so I advise you not to miss the opportunity to spend time with your parents we do not know how long we have them on this earthly plane as a mother I tell you that sharing with a child is the best.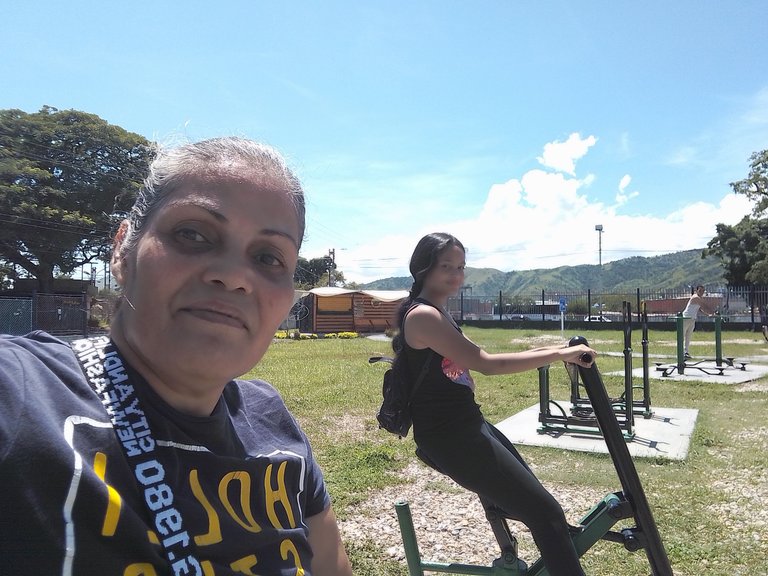 ---
❤️Gracias por visitar mi Blog❤️
❤️Thanks for visiting my Blog❤️
Fotos originales tomadas con mi teléfono Yezz Art pro 📸/Original photos taken with my Yezz Art pro phone
---
---