Opening the NFT Showroom Cryptovoxels parcel to the community: How to get involved


We had our first official NFT Showroom event in Cryptovoxels last week which was a curated show featuring more than 50 artists. Now we would like to open the gallery to artist run shows and offer them a space to show off their incredible art. To host your own solo or group show keep reading below.
If you didn't get a chance to visit the show you can still do so here: NFT Showroom Exhibition
---
Cryptovoxels offers an amazing opportunity to express your artistic ideas and present your work in a unique and immersive environment.
How to apply for your own event
Let us know you are interested in the #cryptovoxels channel of the NFT Showroom discord. Depending on how many people apply and when there may be a queue.

Familiarize yourself with cryptovoxels to understand what's possible. We suggest flying around and visiting some parcels to give you inspiration! There are built in building tools but you can also import vox models to add personal touches.

If you want to design/build your own gallery from beginning to end you can grab a free SPACE and learn the ropes. Building is not that difficult but it can take some time to figure everything out. It is well worth it to be able to customize the end result to match your artistic style.

To get a space to practice, login to https://www.cryptovoxels.com/ then click your eth address on the top right of the screen:

This will take you to a page like this, under spaces click - Create a space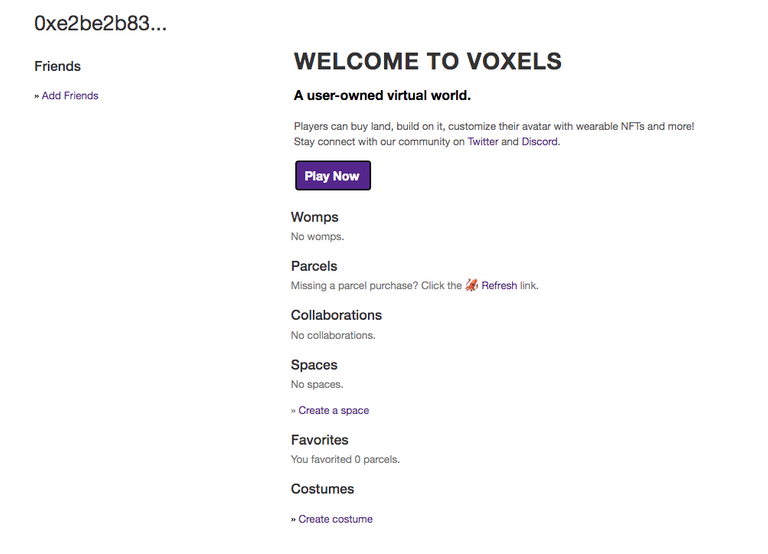 To approximate the size of the NFT Showroom parcel use these dimensions: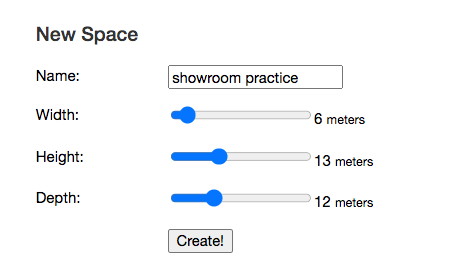 Click create and you are ready to practice building! There is a great guide here with all the commands and of course of you have questions ask in discord :)
https://wiki.cryptovoxels.com/en/Parcels/Building
If you are feeling very ambitious and want to create vox models you will need a program like Magicavoxel which is free and open source: https://ephtracy.github.io/
vox must be 32 x 32 x 32 and megavox must be 128 x 128 x 128
There is a tutorial for this as well and many youtube videos:
https://wiki.cryptovoxels.com/en/Parcels/Make-Vox-Model
Let us know once you feel ready to build in the real world and we can schedule an event date and add you as a collaborator
Alternatively we can build a gallery for you if you feel that is best, we are open to ideas

If there are no artists ready to do a show in the near future we may make the space a sandbox which means anyone can modify it and add/delete art etc. It's a bit crazy but also very fun
---
We are very excited to hand this space over to the community and see what amazing creations you come up with!
---
Visit the site and browse art: https://nftshowroom.com/
You can follow us on
Twitter: https://twitter.com/NftShowroom
Instagram: https://www.instagram.com/nftshowroom/
Youtube: https://www.youtube.com/channel/UC3iRvtv3A7EAGRcZMYGJmHw
Visit our virtual gallery in Cryptovoxels: NFT Showroom Exhibition
For any questions or support please visit us in discord NFT Showroom discord

---
---