NFTFRAPPE - GUIDE TO USE - (ENG/ITA)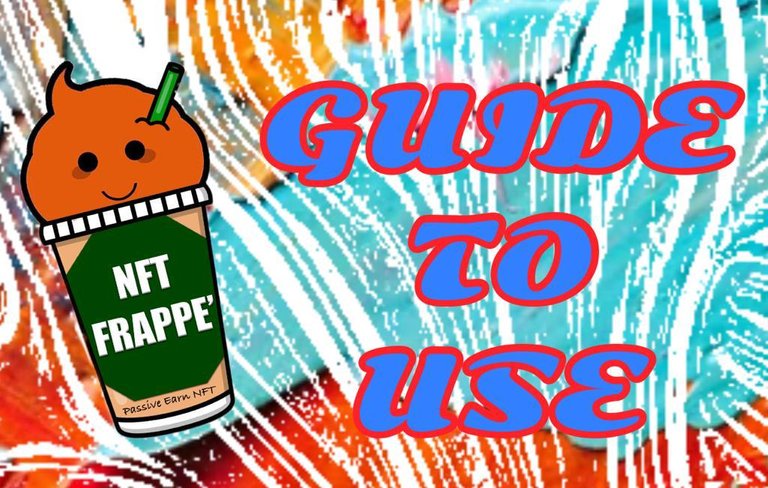 ---
ENG VERSION


(Segue versione ITALIANA)
---

Hey, Gimmi friends welcome back to NFTFRAPPE!
Here we are at the Thursday update where in theory we should talk about numbers such as scores, distribution, and tokens but not today, the project started this week and it would be useless to talk about these things hours there would be little to write so this appointment we refer it to next week.

We take the opportunity to create a guidepost for new future users but also for a general review, to be pinned up so that those who enter for the first time or those who want to review the project have it immediately at hand.
It will not be a definitive thing because the project is young and many updates come and go to improve the best.

Let's group all the info here trying to be as clear as possible ... let's go!

WHAT IS NFTFRAPPE?
NFTFRAPPE is an all-Italian project born from the collaboration between @bencwarmer and @blumela.It is based on a passive entry project with NFTs or by buying and holding NFTFRAPPE NFTs in your wallet you can have a weekly passive gain based on the NFTs held.
HOW DO YOU EARN?
From the sale of the NFTs, a POOL is created consisting of 70% of the proceeds from sales but not only that, even 60% of the proceeds from our posts will become part of the POOL, making the earnings of all the owners of our NFTs grow exponentially.
The interests of this pool are split weekly based on the type of NFT held in your wallet.
| NFT | PUNTI |
| --- | --- |
| NFT Comune | 1 punto |
| NFT Raro | 3 punti |
| NFT Epico | 8 punti |
Every single point will have a value in this pool.
By multiplying the value of every single point by the value of the NFT held, the weekly reward is established.
The only way to receive the interest that will be distributed weekly will be to buy and hold our NFTs in your wallet.
In the event of a sale or gift to other users, the interests will go to the new owner of our NFTs and no longer to the first.

WHAT DO YOU EARN?
After various comparisons, we decided to distribute second-level TOKENS also to involve the users who follow us.
Each month a survey will be published in which we will ask you to choose among some tokens the one you would like to see distributed the following month.
---
WHAT KIND OF NFT WILL THEY BE?
The NFTs will be of three types for transformation, COMMON, RARE and EPIC.
Prices, quantities and point value for NFT will (for now) be as follows:
| TYPE | QUANTITY | COST | POINTS |
| --- | --- | --- | --- |
| COMMON | 20 | 2 SWAP:HIVE | 1 |
| RARE | 15 | 5 SWAP:HIVE | 3 |
| EPIC | 10 | 10 SWAP:HIVE | 8 |
---
HOW MUCH AND HOW DO YOU EARN?
For this point, we report an example that we have already included in previous posts, but it is essential to understand how NFTFRAPPE works and we report that example here too.
Let's say that Gianni and Pinotto have purchased two Common Gianni NFTs and an Epico Pinotto NFT respectively and that the rewards to be distributed during this week are 100 Tokens.
In this case, the total points of the NFTs sold amount to 10 (2 points for Gianni's two municipalities + 8 points for Pinotto's epic) which means that every single point is worth 10 Tokens.
So Gianni and Pinotto this week will receive 20 Tokens and 80 Tokens respectively.
Now Pinco arrives and buys a Rare NFT and a Common NFT and the token rewards to be distributed in the new week become 150 and no longer 100.
The total of NFT points sold now becomes 14 (2 points for Gianni's two communes + 8 points for Pinotto's epic + 4 points for Pinco's rare and commune), so every single point is now worth 10.71 ( 150/14).
Gianni, Pinotto and Pinco will receive this week respectively 21.42 (10.71x2) Token Gianni, 85.68 (10.71x8) Token Pinotto and 42.84 (10.71x4) Token Pinco.
---
DO I BUY AN NFT AND WHEN DO I EARN?
The purchase and possession of one of our NFTs will allow you to participate in the pool, from the moment of purchase you will start earning the first TOKENS that will be distributed every Monday, with an update on the proceeds and the distributed on Thursdays.
This point has been modified from the previous post where we asked to wait a week before receiving the earnings, reflecting we wondered why we wait when we can make Gimmi's friends earn right away.
---
WHEN DO NFTs COME OUT?
Our NFTs with the various transformations of GIMMI will come out every two weeks so one yes and one no.
For this point, future updates are already planned, but we will talk about it in the post on Monday and we will also update this to always make everything clear.
---
WHO IS GIMMI?
NFTFRAPPE Corporation Enterprise is thrilled to introduce you ...
GIMMI THE POO

Gimmi is the protagonist of our project and I bring you the presentation link of our hero for the curious.
https://peakd.com/hive-146620/@nftfrappe/nftfrappe-has-the-pleasure-to-present-you-engita

Our NFTs can be found at @nftshowroom.
If you are not yet registered in NFTShowroom you can do it through this link
https://nftshowroom.com/?ref=nftfrappe
If you want to use my ref link

Now we know the where, when, how and why, as always we invite you to express your doubts in the comments so that we can clarify and improve the format.

NFTFRAPPE is also on:


---

ITA VERSION

---
Hey amici di Gimmi bentornati su NFTFRAPPE!
Eccoci all'aggiornamento del Giovedì dove in teoria si dovrebbe parlare di numeri tipo punteggi, distribuzione, token ma non oggi, il progetto è partito proprio questa settimana e sarebbe inutile parlare di queste cose ore ci sarebbe poco da scrivere quindi questo appuntamento lo rimandiamo alla prossima settimana.
Ne approfittiamo per creare un post guida per i nuovi utenti futuri ma anche per un ripasso generale, da pinnare in alto in modo che chi entra per la prima volta o chi ha voglia di ripassare il progetto l'abbia subito a portata di mano.
Non sarà una cosa definitiva perchè il progetto è giovane e tanti aggiornamenti entrano ed escono per migliorare al meglio.
Raggruppiamo tutte le info qui cercando di essere più chiari possibili... si parte!

COSA E' NFTFRAPPE?
NFTFRAPPE è un progetto tutto italiano nato dalla collaborazione tra @bencwarmer e @blumela si basa su un progetto di entrata passiva con gli NFT ovvero comprando e detenendo gli NFT di NFTFRAPPE nel proprio wallet si potrà avere un guadagno passivo settimanale in base agli NFT detenuti.
---
COME SI GUADAGNA?
Dalla vendita degli NFT viene a crearsi una POOL formata dal 70% del ricavo dalle vendite ma non solo, anche il 60% del ricavato dei nostri post entrerà a far parte della POOL facendo crescere in modo esponenziale il guadagno di tutti i possessori dei nostri NFT.
Gli interessi di questa pool vengono spartiti settimanalmente in base al tipo di NFT detenuti nel proprio wallet.
| NFT | PUNTI |
| --- | --- |
| NFT Comune | 1 punto |
| NFT Raro | 3 punti |
| NFT Epico | 8 punti |
Ogni singolo punto avrà un valore in questa pool.
Moltiplicando il valore di ogni singolo punto per il valore degli NFT detenuti, si stabilisce la reward settimanale.
L' unico modo per ricevere gli interessi che saranno distribuiti settimanalmente, sarà quello di acquistare e detenere nel proprio wallet i nostri NFT.
In caso di vendita o di regalo ad altri utenti gli interessi andranno al nuovo proprietario dei nostri NFT e non più al primo.
---
COSA SI GUADAGNA?
Dopo vari confronti abbiamo deciso di distribuire TOKEN di secondo livello anche per rendere partecipi gli utenti che ci seguono.
Ogni mese verrà pubblicato un sondaggio in cui chiederemo di scegliere tra alcuni token quello che vorreste vedere distribuito il mese successivo.
---
CHE TIPO DI NFT SARANNO?
Gli NFT saranno di tre tipologie per trasformazione, COMUNE, RARA e EPICA.
I prezzi, le quantità e il valore in punti per NFT saranno (per il momento) i seguenti:
| TYPE | QUANTITY | COST | POINTS |
| --- | --- | --- | --- |
| COMMON | 20 | 2 SWAP:HIVE | 1 |
| RARE | 15 | 5 SWAP:HIVE | 3 |
| EPIC | 10 | 10 SWAP:HIVE | 8 |
---
QUANTO E COME SI GUADAGNA?
Per questo punto riportiamo un esempio che abbiamo già inserito in post precedenti, ma è fondamentale per capire il funzionamento di NFTFRAPPE e riportiamo quell'esempio anche qui.
Mettiamo il caso che Gianni e Pinotto hanno acquistato rispettivamente due NFT Comuni Gianni e un NFT Epico Pinotto e che le reward da distribuire durante questa settimana sono 100 Token.
In questo caso, il totale dei punti degli NFT venduti ammonta a 10 (2 punti per le due comuni di Gianni + 8 punti per la epica di Pinotto) il che significa che ogni singolo punto vale 10 Token.
Quindi Gianni e Pinotto questa settimana riceveranno rispettivamente 20 Token e 80 Token.
Ora arriva Pinco e acquista un NFT Raro e un NFT Comune e le reward in token da distribuire nella nuova settimana diventano 150 e non più 100.
Il totale dei punti degli NFT venduti ora diventa 14 (2 punti per le due comuni di Gianni + 8 punti per la epica di Pinotto + 4 punti per la rara e la comune di Pinco), quindi ogni singolo punto ora vale 10,71 (150/14).
Gianni, Pinotto e Pinco riceveranno questa settimana rispettivamente 21,42 (10.71x2) Token Gianni, 85,68 (10.71x8) Token Pinotto e 42,84 (10.71x4) Token Pinco.
---
COMPRO UN NFT E QUANDO GUADAGNO?
L'acquisto e il possedimento di un nostro NFT vi permetterà di partecipare alla pool, dal momento dell'acquisto inizierete a guadagnare i primi TOKEN che verranno distribuiti ogni Lunedi, con aggiornamento sul ricavato e il distribuito al giovedì.
Questo punto è stato modificato dal post precedente dove chiedevamo di pazientare una settimana prima di ricevere i guadagni, riflettendo ci siamo chiesti perchè fare aspettare quando possiamo far guadagnare gli amici di Gimmi fin da subito.
---
QUANDO ESCONO GLI NFT?
I nostri NFT con le varie trasformazioni di GIMMI usciranno ogni due settimane quindi una si e una no.
Per questo punto sono già previsti aggiornamenti futuri in arrivo ma ne parleremo nel post di lunedi e aggiorneremo anche questo per rendere sempre tutto chiaro.
CHI E' GIMMI?
la NFTFRAPPE Corporation Enterprise è entusiasta di presentarvi…
GIMMI THE POO

Gimmi è il protagonista del nostro progetto e vi riporto il link di presentazione del nostro eroe per i curiosi.
https://peakd.com/hive-146620/@nftfrappe/nftfrappe-has-the-pleasure-to-present-you-engita

I nostri NFT si trovano su @nftshowroom .
Se non siete ancora iscritti a NFTShowroom potete farlo attraverso questo link
https://nftshowroom.com/?ref=nftfrappe
Sempre che vogliate utilizzare il mio reflink

Ora sappiamo il dove il quando il come e il perché, come sempre vi invitiamo ad esprimere i vostri dubbi nei commenti in modo da poter chiarire e migliorare il format.

NFTFRAPPE è anche su:


---
---