GIMMI GIVEAWAY and GUESS WHO#1 (ENG/ITA)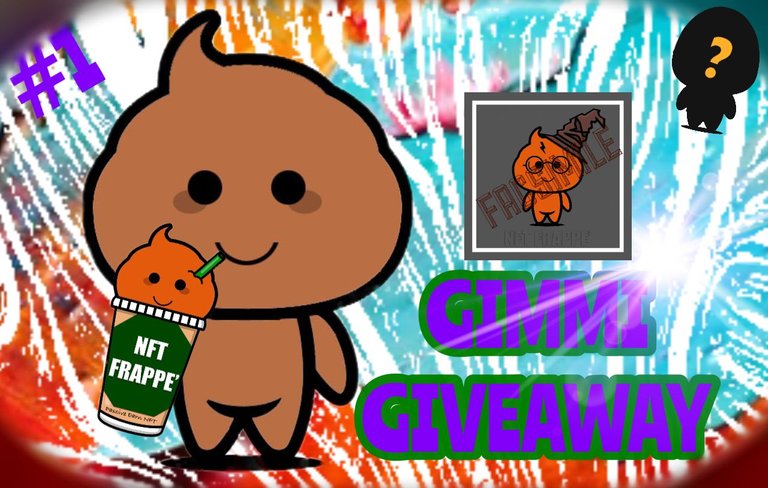 ---
ENG VERSION


(Segue versione ITALIANA)
Hello friends of Gimmi !!
Today we are not talking about numbers, we are not talking about updates or information, for those unfamiliar with the NFTFRAPPE project, a project for passive earnings, the invitation is to click this banner to get all the information because today we play here and nothing else.

---
GUESS WHO!?
Today we start with the first GIMMI GIVEAWAY but before explaining the rules to be able to participate, I remind you that, also in this post, the game "GUESS WHO !?" or the chance to win a RARE NFT for those who guess the character of the BANNER.
A single winner who will take home the NFT of the hidden edition, you have a tentative under every post created by NFTFRAPPE.
You can ask a question under each NFTFRAPPE post.
You can give a name under each NFTFRAPPE post.
In practice, during the two weeks where our character is a shadow, each user will be able to ask a question about the mysterious character and give an answer on who he is.
In total, considering the two weeks, there are six questions, six clues and six answers for each user.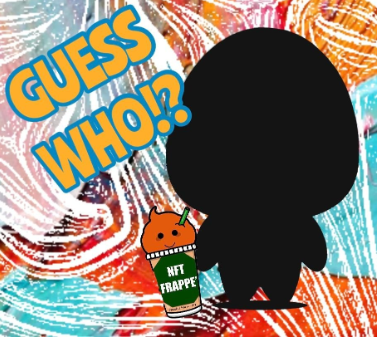 Come on with your names, you have one try and one question each for each NFTFRAPPE post and you have until the reveal of the character on October 31st.

GIMMI GIVEAWAY
Let's go back to our Wednesday game or the GIVEAWAY and here are the few simple rules to be able to participate and take home more chances of winning.
The prize is two COMMON NFTs from the HARRY POO edition that two of you can leave at home, these NFTs will participate in all respects in the POOL.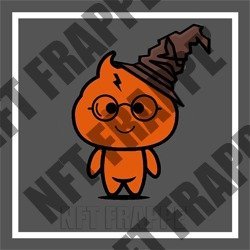 Our NFTs can be found at @nftshowroom.
If you are not yet registered in NFTShowroom you can do it through this link
https://nftshowroom.com/?ref=nftfrappe
If you want to use my ref link
HOW TO PARTICIPATE:
Write in the comments that GIMMI THE POO will guarantee you a ticket for the draw.
REBLOG this post will guarantee you a second ticket for the draw.
Mentioning two or more friends in the comment will guarantee you a third ticket for the draw.
The draw will take place on the following Wednesday and the prize will be awarded on the same day.
Every Wednesday we will start a giveaway with the NFT prize of the previous edition to the current one if you don't want to miss our contests stay tuned on NFTFRAPPE.

For today, the invitation is always to comment on your doubts or our mistakes to improve the format.
Comment with the name of the mysterious character, and comment with the three simple rules to take home as many lottery tickets as possible and increase your chances of winning.
We close with A LOT OF GIMMI EVERYBODY as always :).
---
NFTFRAPPE IS ALSO ON:
Da oggi ci trovate anche su INSTAGRAM a questo link.


---
ITA VERSION

Ciao amici di Gimmi!!
Oggi non parliamo di numeri, non parliamo di aggiornamenti o di informazioni, per chi non conosce il progetto NFTFRAPPE, progetto per guadagni passivi, l'invito è quello di cliccare questo banner per avere tutte le informazioni perché oggi qui si gioca e null'altro.

---
INDOVINA CHI!?
Oggi partiamo con il primo GIVEAWAY di GIMMI ma prima di illustrarvi le regole per potervi partecipare, vi ricordo che è aperto, anche in questo post, il gioco "INDOVINA CHI!?" ovvero la possibilità di vincere un NFT RARO per chi indovina il personaggio del BANNER.
Un unico vincitore che si porterà a casa proprio l'NFT dell'edizione nascosta, avete un tentavivo sotto ogni post creato da NFTFRAPPE.
Potete fare una domanda sotto ogni post di NFTFRAPPE.
Potete dare un nome sotto ogni post di NFTFRAPPE.
In pratica nel corso delle due settimane dove il nostro personaggio è un ombra ogni utente potrà fare una domanda sul personaggio misterioso e dare una risposta su chi è.
In totale, considerando le due settimane, sono sei domande, sei indizi e sei risposte per ogni utente.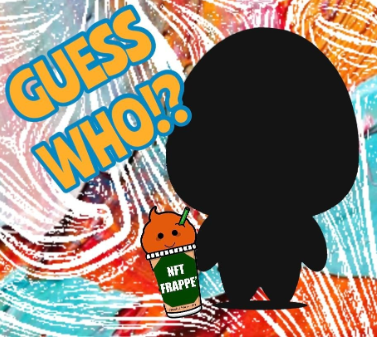 Forza con i vostri nomi, avete un tentativo e una domanda a testa per ogni post di NFTFRAPPE e avete tempo fino alla rivelazione del personaggio, il 31 ottobre.

GIMMI GIVEAWAY
Torniamo al nostro gioco del Mercoledì ovvero il GIVEAWAY ed ecco le poche e semplici regole per potervi partecipare e portarvi a casa più possibilità di vincita.
Il premio sono due NFT COMMON dell'edizione HARRY POO che due di voi potranno partarsi a casa, questi NFT parteciperanno a tutti gli effetti alla POOL.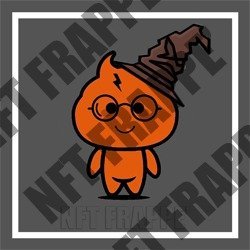 I nostri NFT si trovano su @nftshowroom .
Se non siete ancora iscritti a NFTShowroom potete farlo attraverso questo link
https://nftshowroom.com/?ref=nftfrappe
Sempre che vogliate utilizzare il mio reflink

COME PARTECIPARE:
Scrivete nei commenti GIMMI THE POO vi garantirà un biglietto per l'estrazione.
Fare il REBLOG di questo post vi garantirà un secondo biglietto per l'estrazione.
Citare due o più amici nel commento vi garantirà un terzo biglietto per l'estrazione.
L'estrazione avverrà il Mercoledì successivo e in giornata verrà consegnato il premio.
Ogni Mercoledì avvieremo un giveaway con in premio NFT dell'edizione precedente a quella in corso se non vuoi perderti i nostri concorsi rimani sintonizzato su NFTFRAPPE.

Per oggi è tutto l'invito è sempre quello di commentare i vostri dubbi o i nostri errori in modo da migliorare il format.
Commentate con il nome del personaggio misterioso, e commentate con le tre semplici regole per portarvi a casa più biglietti possibili della lotteria e aumentare le probabilità di vincere.
Chiudiamo con TANTA GIMMI A TUTTI come sempre:).

---
NFTFRAPPE È ANCHE SU:
Da oggi ci trovate anche su INSTAGRAM a questo link.


---
---