Splinterlands:  My First Full Max Set is Untamed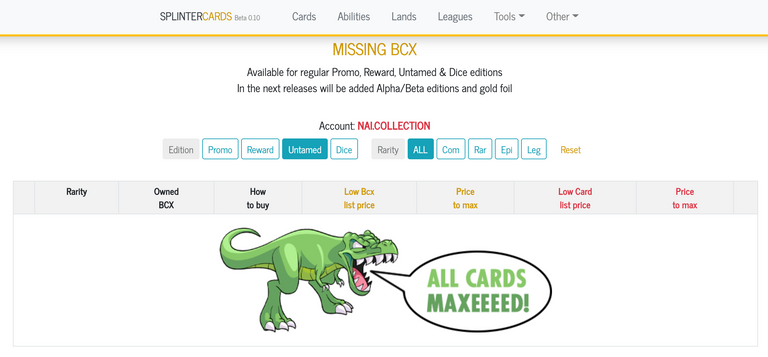 Although I went down the Splinterlands rabbit hole relative early during the Alpha edition when nobody really knew what this would become, I never got too aggressive considering my conservative approach to diversifying my investments. However, the collectionist in me got me quickly addicted to finding ways to improve my Collection over time. I found early on that the best way was to leverage the marketplaces created around the ecosystem to buy cards on the market to leave as little possible to chance as possible.
However, the feeling of opening booster packs was so great that I could never avoid buying packs in bulk to open and see what they had for me. I think it was during Beta I briefly stopped buying packs (actually saved some) and start buying more cards individually to complete my Collection. This was a must as each incremental try to improve and level up my cards got more expensive. At the end of both Alpha and Beta editions, I was not able to maximize a full set of both. Instead, I started with the rarer cards which allowed me to at least max out all Epics and Legendaries.
Learning from this experience, I went aggressive that I would have every thought when Untamed was announced and bought a limited edition version of the Kickstarter package to load up on booster packs. Once launched, I had am amazing time opening bundles of packs and watching the great edition that is amazing to say is now also sold out. I had been slowly tracking what I had left to complete the Edition collection and despite opening over 2,500 packs, I still had gaps.
This time around, I quickly went to the markets and starting to build my Collection for untamed which had me buying a number of cards in bulk. After some time, I finally had a full set of maxed rare, epic, and legendary Untamed cards. The challenge was maintaining it as the AirDrops added a different approach as it constantly made me stay in the market for cards. However, it also made me forget about another important side of my collection, the Common cards!
Given the way the economy within Splinterlands works, it is tougher to have maxed out Commons as it takes hundreds of cards (BCX) to accomplish. When you think about resources that are created to be scarce and random, it is tough to balance the price to picks these up as before impacting the market price for the long term. I learned this a bit late but a recent tool in the ecosystem opened my eyes to the opportunity to continue to complete the Untamed Collection.
The [Splintercards Tool] (https://www.splintercards.com) is the BCX missing tool which tells you what cards (BCX) are missing to get them to max. Seems simple but when you are collecting cards across a number of accounts and opening packs frequently, it gets more difficult to keep track of. Even before testing the site, I was already buying some Commons as I think there will be demand in the future with Lands coming. However, when I saw I had the potential to max out the Untamed edition Collection for under $100, I went for it.
Given the way the market works when buying hundreds of cards at a time, I know I went above the budget but admit some FOMO on my side for some of the Commons which I knew were very useful in battle. I even bought some extras in some cases in preparation for Lands and resources. Nobody truly knows what it will take but it is likely that cards will need to be used for managing lands which keeps me buying instead of selling. Also, with the rental card system being updated, it will be a good alternative for the future as more players will need cards to play.
I am not sure if I will ever get to try to max out my Alpha or Beta editions but I learned from that to do it for the Untamed edition. More editions will come which will likely put me at a crossroad on how to deal with it but it has surely been fun and rewarding. I know there were moments when I paid too much for cards but it has not mattered in the long run. They have proven to be a great investment so far and it seems like the potential is just getting started!

Discord: @newageinv#3174
Chat with me on Telegram: @NewAgeInv
Follow me on Twitter: @NAICrypto
The following are Affiliate or Referral links to communities that I am a part of and use often. Signing up through them would reward me for my effort in attracting users to them:
Start your collection of Splinterlands today at my referral link
Expand your blogging and engagement and earn in more cryptocurrencies with Publish0x! Sign up here!
The best new browser to protect your privacy while still being faster and safer. Try the Brave Browser today with my affiliate link here: https://brave.com/wdi876
DISCLAIMER: The information discussed here is intended to enable the community to know my opinions and discuss them. It is not intended as and does not constitute investment advice or legal or tax advice or an offer to sell any asset to any person or a solicitation of any person of any offer to purchase any asset. The information here should not be construed as any endorsement, recommendation or sponsorship of any company or asset by me. There are inherent risks in relying on, using or retrieving any information found here, and I urge you to make sure you understand these risks before relying on, using or retrieving any information here. You should evaluate the information made available here, and you should seek the advice of professionals, as appropriate, to evaluate any opinion, advice, product, service or other information; I do not guarantee the suitability or potential value of any particular investment or information source. I may invest or otherwise hold an interest in these assets that may be discussed here.
---
---