BINGO?!?!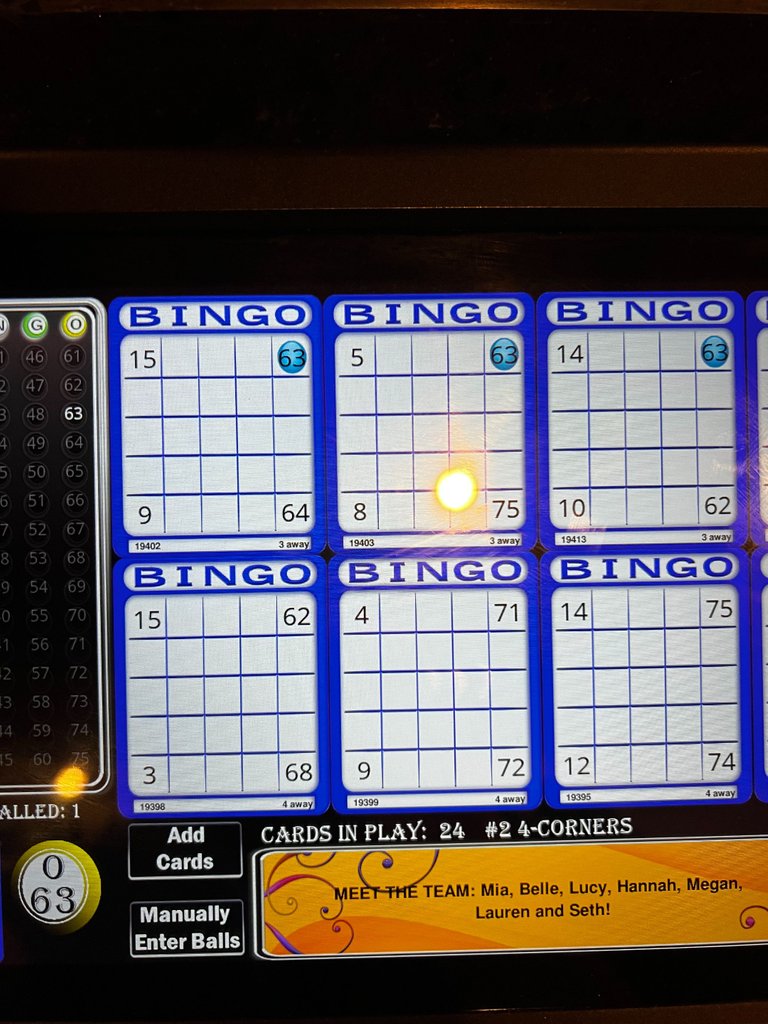 Ever since I was a kid, family would often enjoy weekend nights playing BINGO with loose change. It was a way to enjoy each other's presence and weekends while listening to music and good food. As I grew up, the family played less as we grew apart geographically due to life. However, I recall that as I played in my older years it became more of a gambling thing that an enjoyment one.
Even in College, many friends would often get together and play Poker and other card games. We would often play BINGO in between tables just for the fun of it and for a gamble to get the next buy in pot. Unfortunately, my level of maturity was not in the right place and I took the enjoyment to the wrong places as Casino were readily available near me. I would often find my myself using my food budget for playing and it was tough to get past it.
Given these experiences, I really walked away from gambling in general and even had to start applying this mentality to my investing as I found how it also had implications there. Particularly after the boom and bust of the dot com bubble, there were a number of bad investments where it was really a gamble and no logic behind my decisions. I also learned the hard way after the bust but at least the boom was good enough to get me what I needed to finish College comfortably from the gains made.
During my quick weekend trip with the family, I crossed paths again with BINGO on a cruise ship. I was hesitant at first my my daughter was curious and she recalled a time we played BINGO with the family back home. As she associated it, she asked to play so how could I deny her. I was surprised how technology has impacted the game as now cards were given out on tablets with automatic number detection. While I was hesitant with it, it was very convenient as the alternative would limit the amount of cards that could be played.
We enjoyed it as we got close a number of times but technology sure impacts the speed of games. Given the ease with which people can track the numbers automatically, the games were fairly short as there were some very lucky people. One game lasted 5 numbers to of a possible 4! It was fun and I took the opportunity to give my daughter some stories of these challenges in the past. I even went deep into how these games impact our behaviors and psychology! Maybe too soon for that but this world is getting faster every day!

Discord: @newageinv#3174
Chat with me on Telegram: @NewAgeInv
Follow me on Twitter: @NAICrypto
The following are Affiliate or Referral links to communities and services that I am a part of and use often. Signing up through them would reward me for my effort in attracting users to them:
Start your collection of Splinterlands today at my referral link
Expand your blogging and engagement and earn in more cryptocurrencies with Publish0x! Sign up here!
My go to exchanges are Bittrex and Coinbase; get bonuses for signing up!
The future of the internet is here with Unstoppable Domains! Sign up for your own crypto domain and see mine in construction at newageinv.crypto!
Always open to donations!
ETH: newageinv.eth
BTC/LTC/MATIC: newageinv.crypto
DISCLAIMER: The information discussed here is intended to enable the community to know my opinions and discuss them. It is not intended as and does not constitute investment advice or legal or tax advice or an offer to sell any asset to any person or a solicitation of any person of any offer to purchase any asset. The information here should not be construed as any endorsement, recommendation or sponsorship of any company or asset by me. There are inherent risks in relying on, using or retrieving any information found here, and I urge you to make sure you understand these risks before relying on, using or retrieving any information here. You should evaluate the information made available here, and you should seek the advice of professionals, as appropriate, to evaluate any opinion, advice, product, service or other information; I do not guarantee the suitability or potential value of any particular investment or information source. I may invest or otherwise hold an interest in these assets that may be discussed here.
---
---