50k HP Celebration!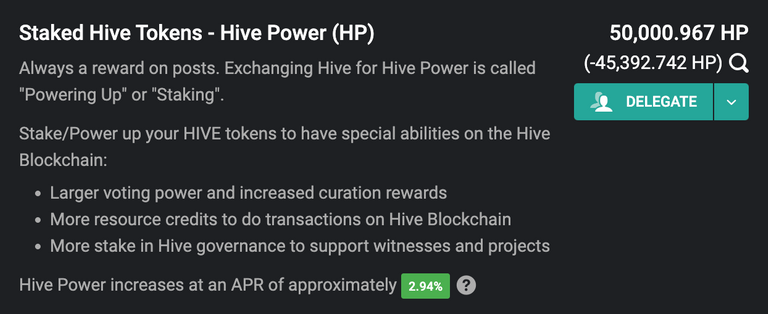 After a couple of additional adjustments given the recent movements in markets, I executed a number of trades that allocated more capital to my account to achieve a milestone I set for myself years ago, 50k staked! While it has taken longer than I originally wanted due to the shifts in focus and back seat I decided to take after the hard fork, I am glad to have gotten on track and remained consistent on engagement to achieve the goal. However, I am realizing that there is still a ways to go!
I have seen how others have grown much faster but realize that it takes time and recourses which I have not given for some time. As I look to shift my focus once again, becoming an Orc remains a priority. After my recent post on asking the community if Orca was still a milestone, I learned that given the increasing pool of rewards, being an Orcas has moved upwards and is now around 55k. So that is definitely my next stop.
However, the question is how to get there. With my recent new home purchase, most of my funds are being funneled to getting the repairs and improvements needed over the next year or two. Therefore, I will not have additional resources available to accelerate this process. However, seeing how engagement correlates to better rewards via both posts and curation, I feel I can adjust my focus to start a new accumulation process using my time as a resource.
Given that I still have some time constraints given my work, I will focus on engaging onchain as I have in the past with my Feed. I enjoyed this so much in the past and only remember that I stopped after things start to change after reward curves changes and the hard fork occurred. However, those are no longer issues given that I see so much quality in my feed these days so I am sure that curating and engaging will be easier now than before.
A challenge I have will be to explore and learn about new content creators that I have not met yet given my time away. Also, I recall the concept of communities when it was being developed but really do not know how it was ultimately implemented. I hope to learn these new things as onboarding continues to be a challenge but think I can figure it out with the help of the community. I look forward to seeing if anyone has any thoughts or recommendations in the comments below to help me start this journey once again!

Discord: @newageinv#3174
Chat with me on Telegram: @NewAgeInv
Follow me on Twitter: @NAICrypto
The following are Affiliate or Referral links to communities and services that I am a part of and use often. Signing up through them would reward me for my effort in attracting users to them:
Start your collection of Splinterlands today at my referral link
Expand your blogging and engagement and earn in more cryptocurrencies with Publish0x! Sign up here!
My go to exchanges are Bittrex and [Coinbase] (coinbase.com/join/corp_gi?src=ios-link); get bonuses for signing up!
The future of the internet is here with Unstoppable Domains! Sign up for your own crypto domain and see mine in construction at newageinv.crypto!
Always open to donations!
ETH: newageinv.eth
BTC/LTC/MATIC: newageinv.crypto
DISCLAIMER: The information discussed here is intended to enable the community to know my opinions and discuss them. It is not intended as and does not constitute investment advice or legal or tax advice or an offer to sell any asset to any person or a solicitation of any person of any offer to purchase any asset. The information here should not be construed as any endorsement, recommendation or sponsorship of any company or asset by me. There are inherent risks in relying on, using or retrieving any information found here, and I urge you to make sure you understand these risks before relying on, using or retrieving any information here. You should evaluate the information made available here, and you should seek the advice of professionals, as appropriate, to evaluate any opinion, advice, product, service or other information; I do not guarantee the suitability or potential value of any particular investment or information source. I may invest or otherwise hold an interest in these assets that may be discussed here.
---
---