Red Plates and Dead Monks

You'd think it would be easy. Load up the shiny new car, fill it with petrol and let the open road lead you to your chosen destination. In our case, Koh Samui, but no. This is Thailand and you may have bought a new car, but like everything else here, there are some odd rules about actually using it!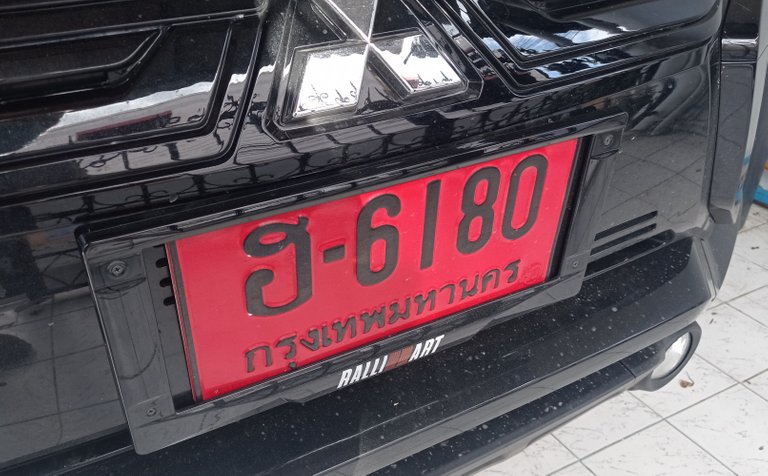 The writing says Krungthep Mahanaknon which is what Bangkok is actually called.
Now you may have noticed on my post a few weeks ago when we picked it up, the car had some very strange, bright red number plates. These are supplied by the garage you buy the car from and are basically what we in the UK would know as 'trade' plates. The vehicle licensing department operates on Thai time and takes between 4-6 weeks to register and make your proper number plates and send them to your home. For motorcycles, we just ride around with no plates for a while but with a car, you're likely to get picked up at a police check point.
Still, not a problem you may think but that's not quite the full story. Driving on 'red' plates has a few rules attached:-
You can't drive outside the province the car is registered in, for us, that's Bangkok and that's the words you can see on the plate.

You can't drive it in the dark after 6pm.
What a load of bolony.
So as we wanted to take a car load of stuff down to the new house in Samui, and we usually do the trip overnight, so we decided to consult the 'oracle'. Police Sergeant (ret.) Thunya, the wife's father.
"Don't worry about it." Was his considered opinion.
He wouldn't, it wasn't him who was driving the 760km, overnight on a route which passed through at least 6 checkpoints, and as usual, the wife was just as nonchalant about the finer points of Thai law.
"We've got the log book in the car and you can fill in the journeys and the police will accept that." She said.
Now the route runs down through Thailand from North to South and in the middle, around Prachup Kiri Khan is the narrowest point of Thailand, just 10miles across and right by the border with Burma and a major point for illegal immigrants and the most concentrated spot for those road side checks.
I'll just add at this point that in Thailand, police don't ride around in cars and suddenly rush up behind you and stop you, you'll be bombing down a dual carriageway and when in the distance, you'll see some red flashing lights and then a load of policemen just stood at either side and in the middle of the road. Everyone slows to a crawl and they look through the window and if they so decide, wave you over to stop at the side of the road where you'll be given the chance to pay a small amount of cash for a motoring indiscretion, either real or imaginary! be asked to show your documents and possibly face a ticket.
The other odd thing though is that they seem to only choose specific offenses at any given time, so sometimes, they might be after motorcyclists without helmets so you could drive through with a car load of illegal workers and no one would bat an eyelid. Another time, they may be watching for none seatbelt wearers so I could whizz through on the bike, three-up with no helmets and no one would care. Odd, but again, it's Thailand.
Then, the wife's phone went. It was Khun Paw...
"I just rang a few brothers up in Prachup, they said not to come down overnight because in your SUV with blacked out windows and on red plates, you're up shit creek."
Without a paddle, no doubt...
"Especially with a felang driving who has no license."...
...as I'd said in the first place when it was suggested we drive down with the reds still on. So that was the end of that thankfully, as I didn't fancy taking the risk and having my pockets emptied at numerous locations from Bangkok to Samui.
But he hadn't finished...
"They said, set off very early and drive down during the day and you should have no problems as they're currently on the hunt for pick-up trucks that are not properly registered."
That's OK then! A red-plated SUV, registered in Bangkok with a license-less foreigner driving and with totally blacked out windows won't be noticed at all...but at least it's not the end of the month where local officials are usually busier as it's still a few days to pay day...
So we jammed the car full of stuff a couple of Sundays back, got up at 3am on the Monday morning and with the wife staring at her very illegal 'police stop location' app, hit the road.
A tip here. The route South is normally fairly quiet, so you don't even need a dodgy app as if you watch google maps carefully, the road goes red when there's a hold up and you know that either its a police checkpoint, or an accident.
As we approached the first checkpoint just south of Bangkok, my trepidation was quickly proven to be unnecessary as a few policemen were sat drinking coffee under their gazebo as the first rays of light of the morning sun crept over the horizon and didn't give a damn about what was happening on the road. By 10am and after a nice stop for fuel and breakfast we were heading into the Prachup hot zone and as we slowed for the first checkpoint, there were police all over the road. We slowed to a crawl and I wound down my window as we approached but we were just waved through without even a look and my heart leapt before a huge grin broke across my face at the huge line of pick-ups parked at the side of the road filling in forms...
We pulled up at home about 4.30pm after having to wait for a boat as they were very busy, to find a smug looking Khun Paw stood in the garden waiting to greet us.
"OK mai?"
"OK khrap."
I left it at that, I wasn't going to give him the satisfaction!
We had a decent week and it was soon time to make the return journey back to Bangkok.
I wasn't worried about checks on the way home as there are less going North and we were actually aiming for the registration area anyway but just before leaving, the father-in-law gave the wife a little yellow box. In it, a little stone casting of a deceased famous monk, who is now no doubt, enjoying his life floating around nirvana.
Now these are very popular in Thailand and they are collected and traded just as we might collect stamps and they are considered a talisman to keep you safe. Much in the same way that some Christians would have a St. Christopher, the patron saint of travellers of course!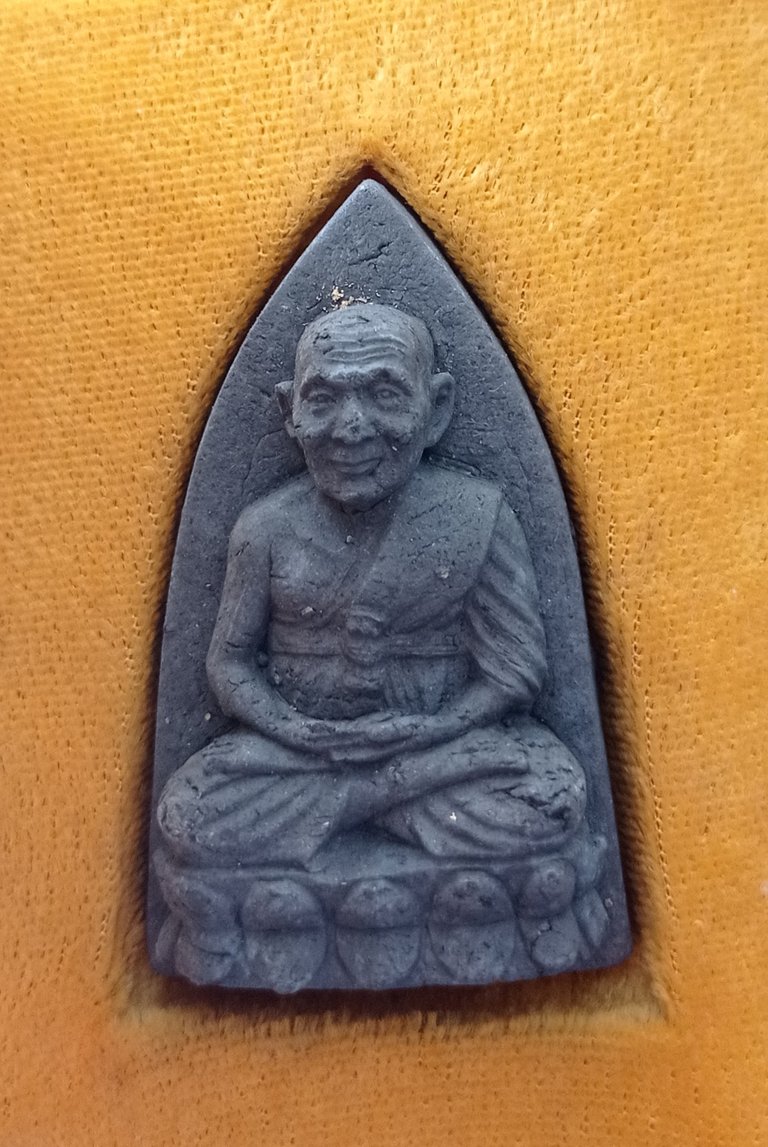 Is it me or does this bloke look like that Ferengi barman from Star Trek: Deep Space Nine?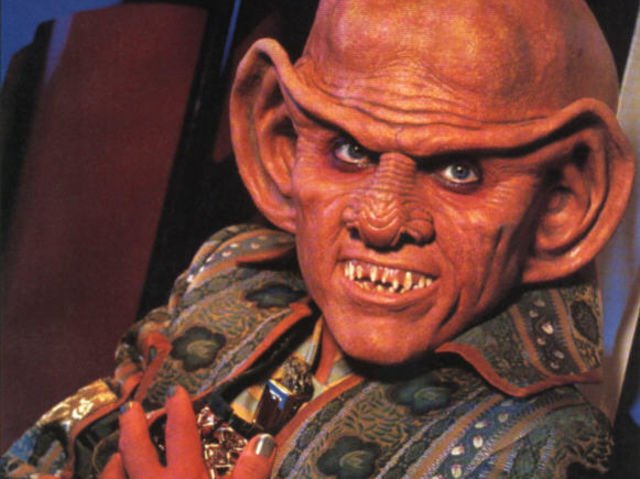 I'd been doing well thus far. Even the wife hadn't bought any little trinkets and tat to stick on the dashboard which is common in Thailand. The irony of sticking a talisman on the dashboard to 'protect' you that distracts the driver and thus contributes to Thailand's record as the most dangerous place in the world to drive is lost on them!
I smiled, said thank-you and stuffed it in the glovebox before the wife pulled it out and stuck it with blue-tac to the dashboard.
"At least wait until we get out of the garden." she scolded.
We got out of the garden and stuck the damn thing back in the glovebox and the wife disapprovingly cast me a withering glance.
"This is why you're so unlucky." She said, suddenly coming over all Buddhist.
I did at least decide to use Google lens to translate the description in the box.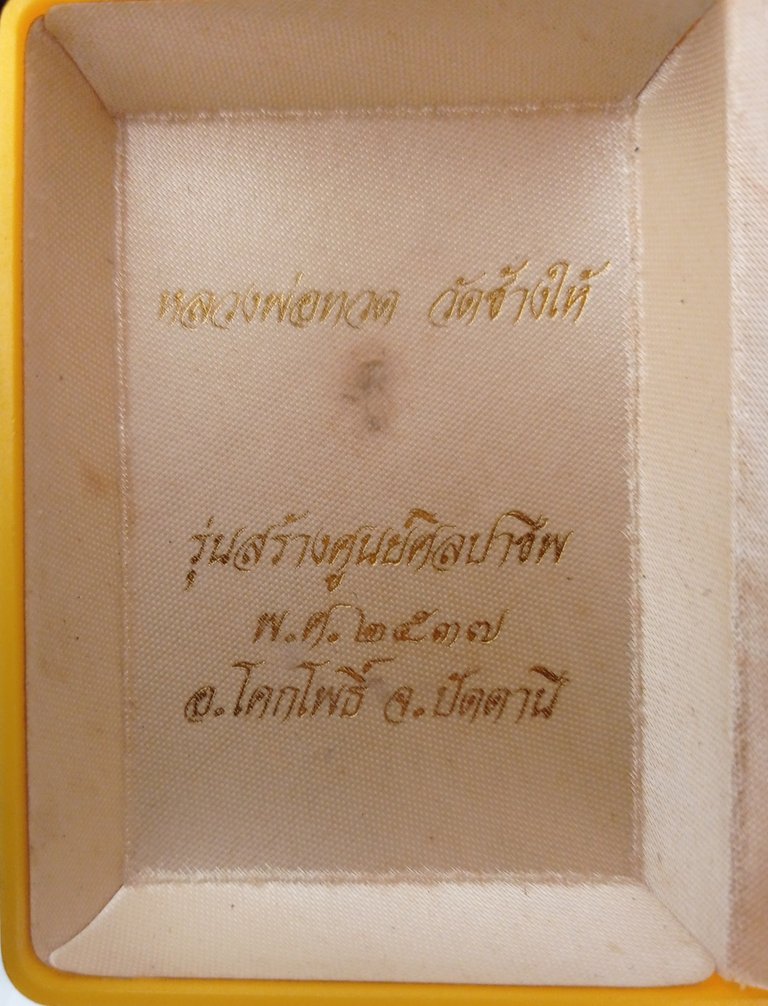 It looks like someone had been stubbing a cig out on it!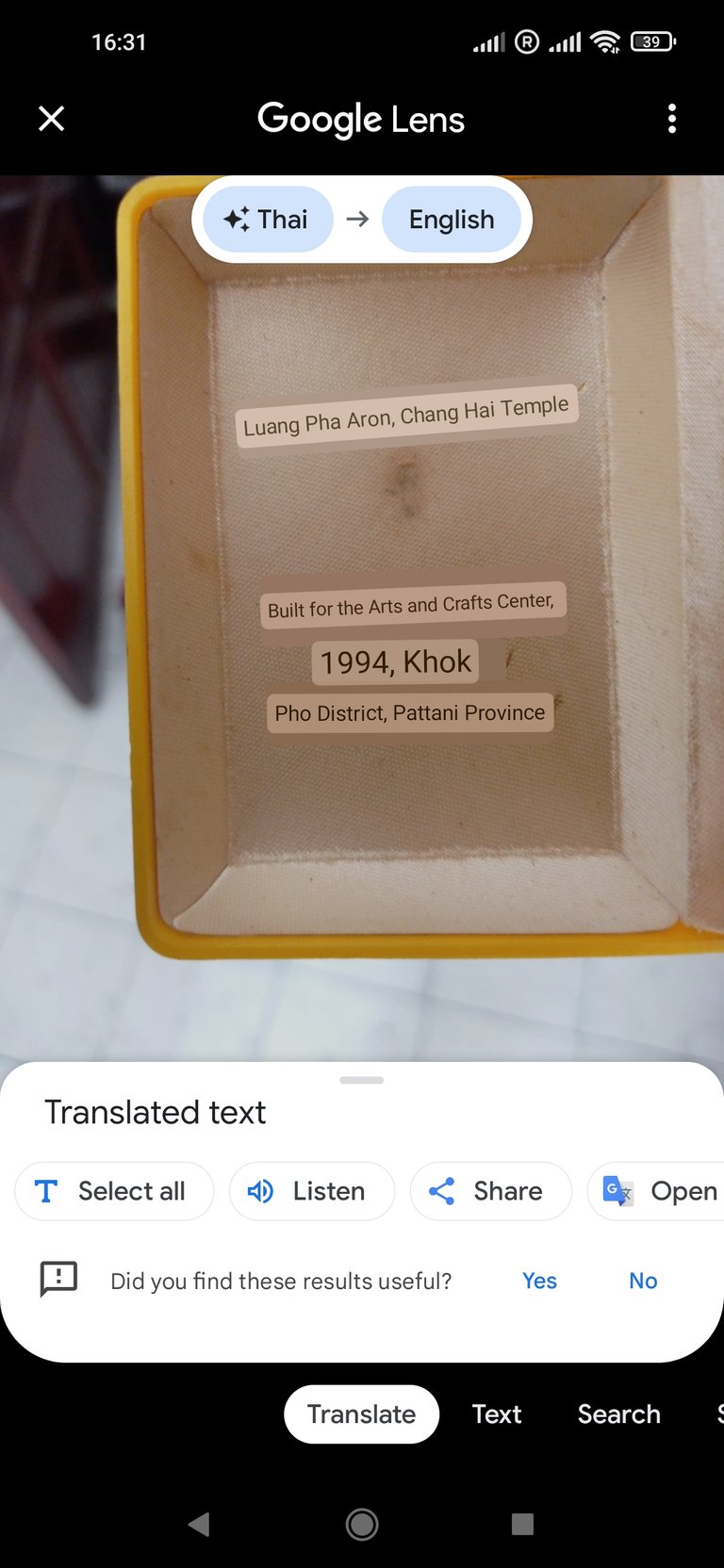 Luang Pha is Reverend father but what he has to do with keeping me safe on my travels is beyond me. He is obviously a patron Monk of Arts and Crafts.
Anyway, after a long 12 hour, incident free drive North, we arrived home and the wife turned to me, gave me the same smug smile her father had earlier in the week and said...
"Told you there wouldn't be any problems..."
And somewhere in Nirvana, a monk was feeling contented at a job well done...
---
---