Baan Bang Yi Khan - The Praya Palazzo Hotel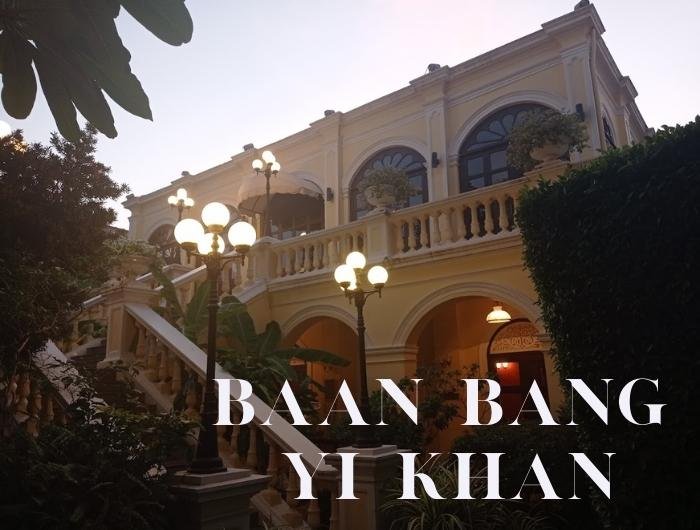 In the race to demolish anything old and low rise, Thailand, and in particular Bangkok has destroyed much of its heritage architecture in its rush for modernisation and soulless, skyscrapers. Here however, is one beautiful and enchanting building that thanks to a passionate conservationist, not only survived, but thrives...
...and like all good tales, it starts with a story of love.
Praya Chollabhumipanich was a wealthy, Thai-Chinese nobleman who headed the department of Eastern Affairs for the Ministry of the Interior, working closely with King Chulalongkorn (Rama V).
Many senior officials had become wealthy through their important governmental work, as trade with the outside world was a major source of income for the nation and Praya Chollabhumipanich decided to build a beautiful home on the banks of the Chao Praya river as befitting of a nobleman of the time.
King Chulalongkorn is widely recognised as modernising and bringing huge reform to Thailand including developing trade and being a fan of European architecture which I touched upon in this post about the incredible Wat Niwet.
You have to remember that at the turn of the twentieth century, Thailand's trade and infrastructure revolved around the rivers, in this case, the mighty Chao Phraya and so when Praya Chollabhumipanich decided to build a new family home, the bank of the river at Bang Yi Khan in Thonburi was the ideal location both to be able to directly watch over the trading ships that moored along its banks and as a symbol of his status. The riverbank was the preferred location of many Royal and government buildings and along with prestigious temples, were all linked by the major transport route of the time.
It is also situated directly across the river from Phra Sumen Fort and Santi Chai Prakan Park.
It was during one of his regular meetings with the King at the Grand Palace that Praya Chollabhumipanich met Lady Ying Suan. Lady Ying Suan was Queen Saovabha Phongsri's (One of King Chulalongkorn's wives) favourite ladies-in-waiting and had been born and raised at the palace. It is recorded that they fell in love at first sight and with the Queens' blessing were married soon after.
After the marriage, they lived in the Royal court, but with a growing family, it was decided to build a huge family home and moved into Baan Bang Yi Khan upon its completion in 1923.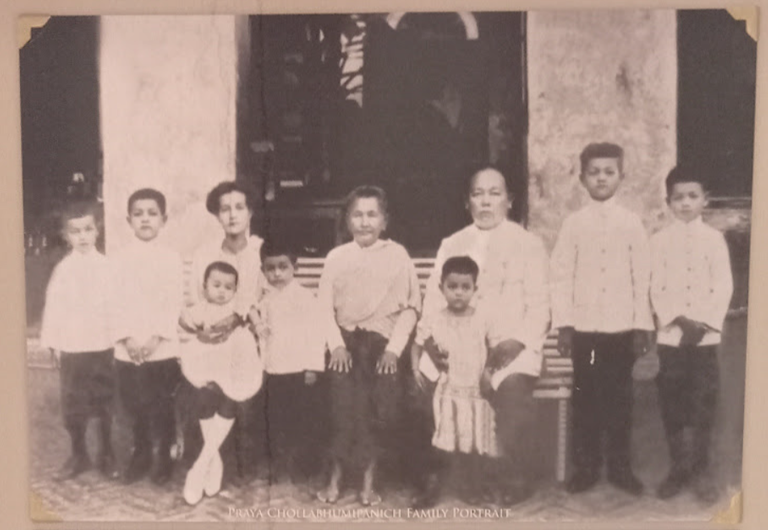 Photograph is from the Praya Palazzo Archive and is on public display.
I couldn't find exactly when they married or where they'd lived previously as King Chulalongkorn (Rama V) died in 1910 and the reigns were passed to King Vajiravudh that same year although Praya still worked directly in his role under the new King, Queen Saovabha Phongsri would have kept her title and the couple were still under her patronage.
Despite moving out of the Grand Palace, the Queen still supported Lady Ying Suan and was the person who named the couple's ten children!
Even today, 'royal' names are often bestowed on people with close royal connections. The family name 'Chollabhumipanich' was actually changed to 'Aneakwanich' in 1917 when King Vajiravudh bestowed the royal family name upon the family at the same time, awarding Khun Praya the title of Lieutenant Colonel for services rendered to the Customs and Trade department.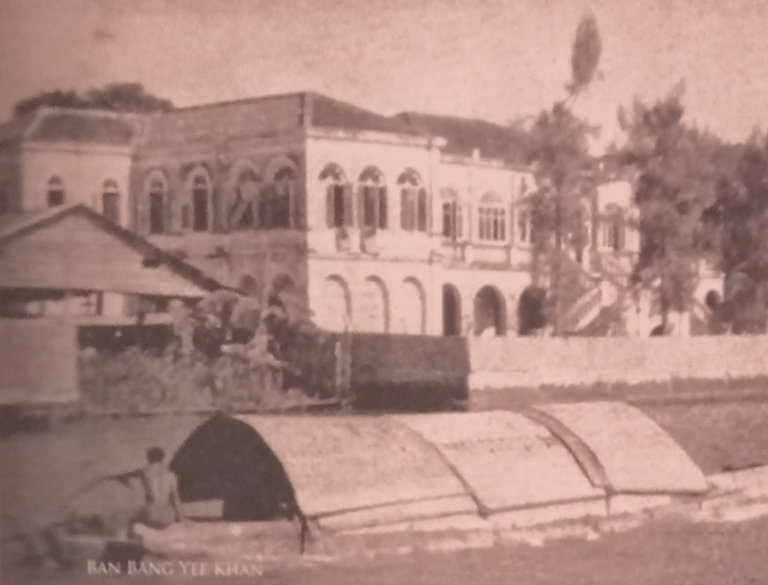 Photograph is from the Praya Palazzo Archive and is on public display and shows the house soon after completion.
The family lived there happily until the death of Praya Chollabhumipanich in 1938 but his wife stayed on, and the house passed down a generation to their seventh son, Khun Panchit Aneakwanich who raised his own family in the there.
After World War two ended, Bangkok was rebuilding and modernising. The main 'road' in Bangkok was no longer the mighty river. Real roads were being built and the cityscape was rapidly changing. Baan Bang Yi Khan had no vehicular access and it was decided that the remaining family would move across the river to the other side and an upcoming, 'trendy' new part of town called Sukhumvit.
At this point, the whys and wherefores become a little hazy as the house was passed on to Bangkok's Muslim community and became Ratchakarun School whose original building had been damaged beyond repair by bombing raids during the war. Again, it seems that the school wasn't specifically an Islamic establishment so I can't quite figure the connection from the available resource so that's one for another day!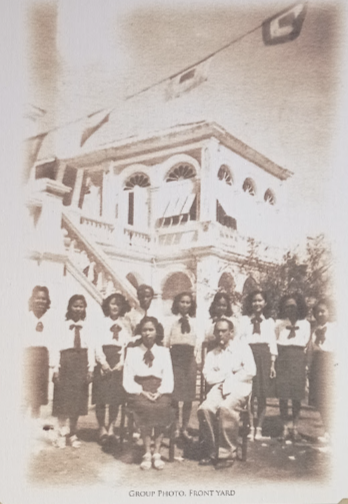 Photograph is from the Praya Palazzo Archive and is on public display and shows the house as Rachakarun School. Don't you just wonder who they all are and what they're doing now, or even if they're still alive?
I do know however that Rachakarun School remained open right up until financial difficulties caused its closure in 1978, at which point the building remained empty for another five years before becoming the Indara Vocational School which lasted until 1996.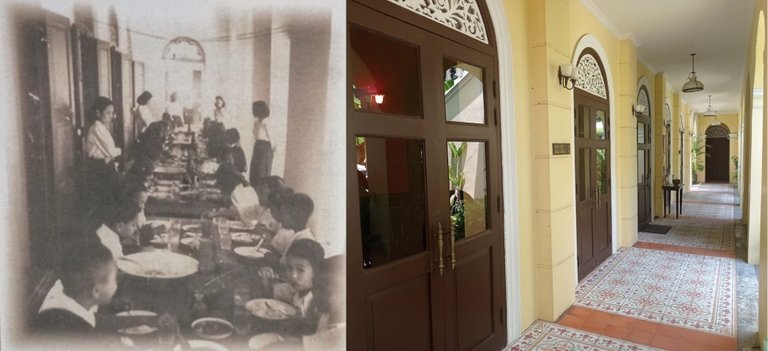 Again, another photo from the Hotel's archive of its time as a school alongside a photo I took of exactly the same location last week.
Perhaps due to issues with the translation of Thai into English and the fact I'm using Google in English, I can find nothing on either of these two schools other than the ones I was shown at the Hotel!
Wichai Pitakvorrarat, was an assistant professor of architecture at Rangsit University who had been working in conservation for over 20 years when he came across Baan Bang Yi Khan, seeing the dilapidated husk of a home from breaks he took, resting in Santi Chai Prakan Park and knew something had to be done to bring this beautiful old building back to life.
Baan Bang Yi Khan had lain empty for over 10 years and flooding, monsoons and the endless heat hadn't been kind.

This is what he saw! This is Baan Bang Yi Khan pre-restoration. This photo I found during the endless research for this post and was tucked away on a educational PDF I came across. I have no idea of the rights holder and is used with due respect to the copyright owner but it does show how incredibly perfect and 'original' the renovation turned out to be.
He was fascinated by this old house and slowly formulated an idea of turning the old place into a Boutique Hotel with his wife, Preeyadhorn Pitakvorrarat acting as project manager took on the mammoth task of bringing the house back to life.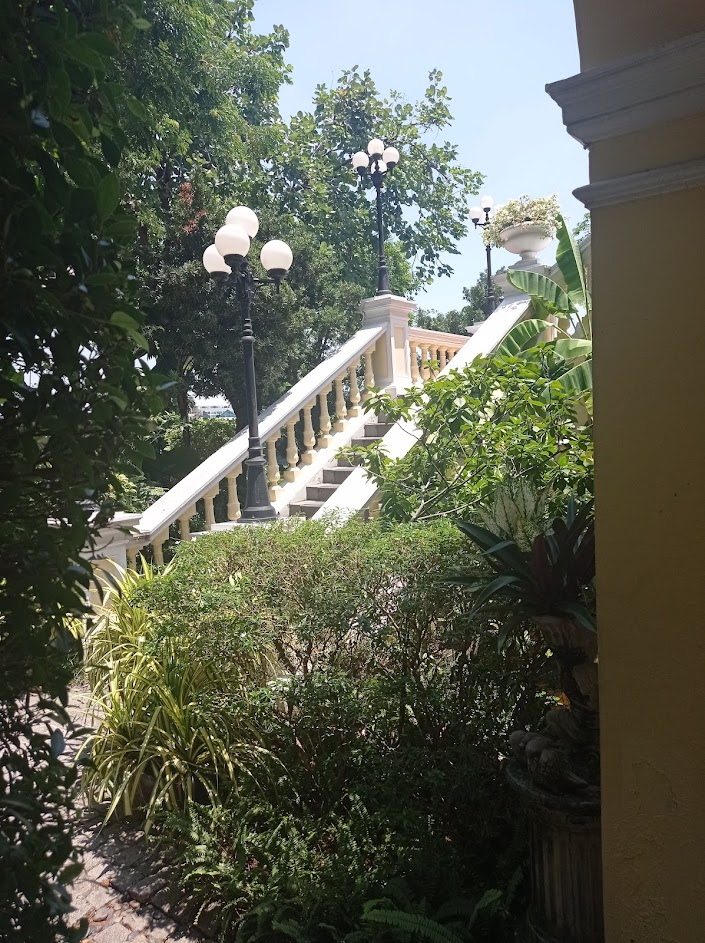 Apart from the government's Art and Culture department and their team of traditional architects and craftsmen that take care of historical Royal and buildings of cultural, and national importance, Thailand has very little in the way of government funding of such projects and banks were very reluctant to help.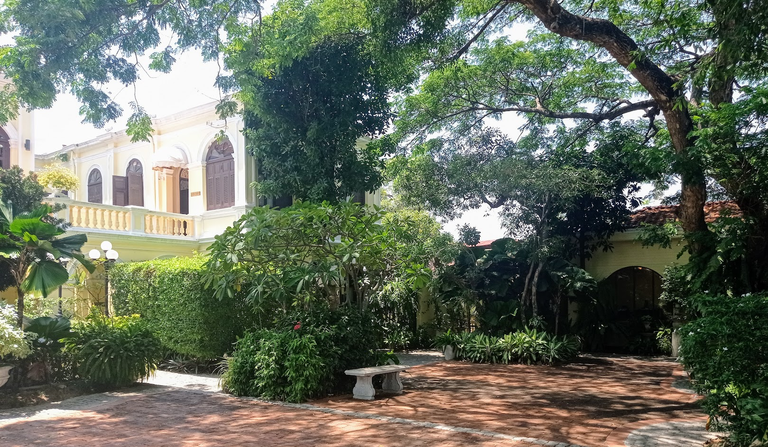 The courtyards and landscaping unashamedly transport you to the Mediterranean!
"We put our faith in the place, and thought that no matter what obstacles we would face, we would be able to show that conservation and successful business can go together," says Preeyadhorn Pitakvorrarat in a 2012 interview in BK-Asia City Magazine
.
Pitakvorrarat had a dream of using craftsmen and reclaiming as much of the original materials as possible to carry out a perfect renovation of the original house.
The intricate and arduous renovations took almost 2 years to complete, cost over B80m Thai Baht ($27m USD) which was all privately funded by 'interested' parties in the project and without loans. The fact that there was, and still is no road access and all materials had to be brought to site by boat were a huge part of the cost!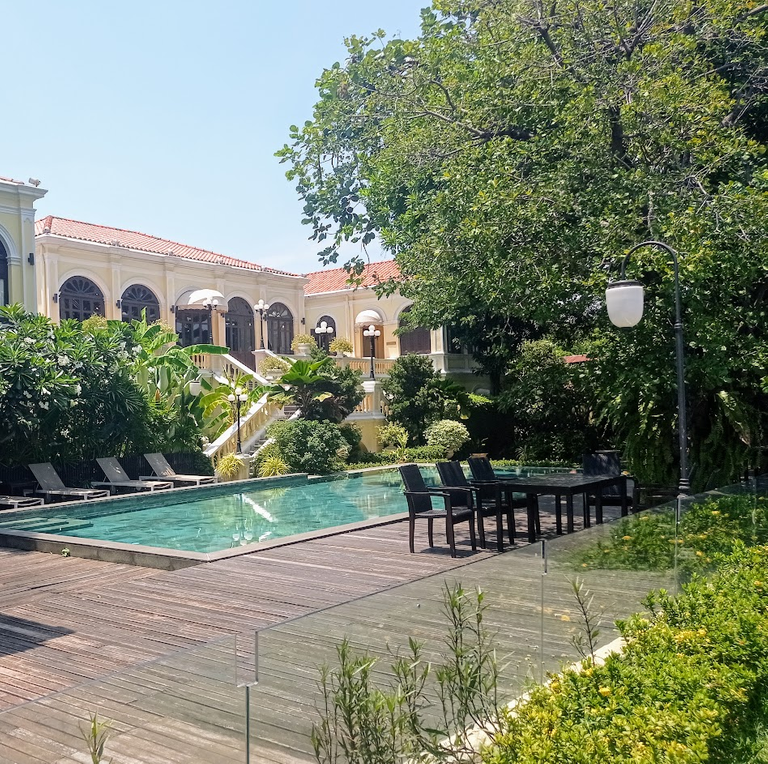 Eventually, in 2010, the restaurant opened with the hotel soon after and was soon winning awards including the 2011 prize for Heritage Renovation awarded by Thailand's architects' association.
Baan Bang Yi Khan - Style and Design
Praya Chollabhumipanich continued his work with King Vajiravudh and it is believed to be him who suggested a European architect design the house, following a trend started by his own father.
It is unclear who the architect actually was but I believe him to be an Italian as there were many Italian architects and artists working in the kingdom at the time on a number of prestigious projects. It is not beyond the realms of possibility that the King could have 'loaned out' Carlo Allegri, Annibale Rigotti or Mario Tamagno to Khun Praya to design his new home.
The house is often reported by the articles I have read as being of a 'Palladio' style but I think there have been some 'lost in translation' issues as the house is without a doubt, Neoclassical but the connections and mistakes in translation aren't difficult to understand.
Andrea Palladio was an Italian Renaissance architect from the sixteenth century who is widely renowned as the leader of the Palladian architecture movement which is based upon classical Greek and Roman buildings and is known for its symmetry and very disciplined proportion.
Baan Bang Yi Khan is extremely old by Thai standards but not five hundred years old so that would make it Neoclassical which was very popular here at the time and which is a fusion style of architecture based upon the Palladian style by referencing its symmetrical and proportionate design but often skipping the use of the huge Corinthian columns (thankfully in my opinion!).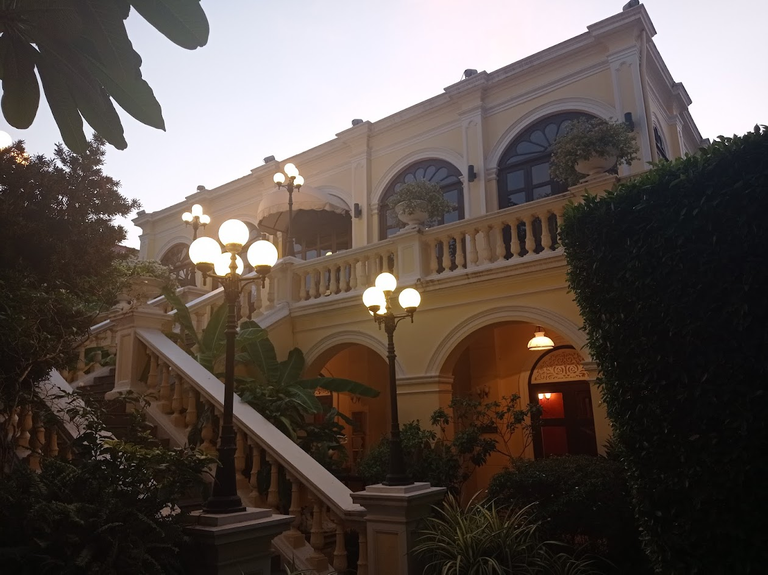 The mirroring, grand staircases up to the first floor are epic and for me, emphasise the romantic and fairytale nature of this style of architecture.
Looking at Baan Bang Yi Khan now, it is easy to imagine it as the beautiful mansion of wealthy nobleman. The sense of history is palpable in every nook and cranny and just walking around the house transports you back to a bygone age.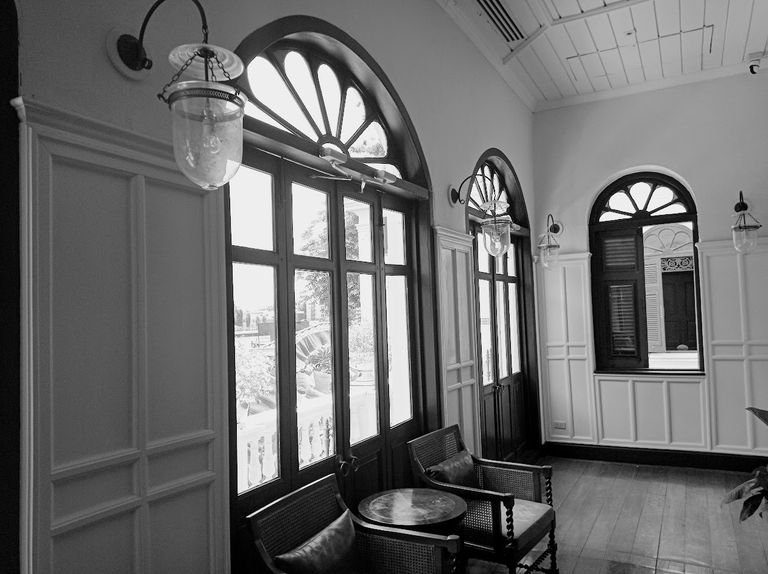 Sadly, Wichai Pitakvorrarat died just before the completion of the project and so never saw the outcome of his incredible dream but thanks to him, this beautiful and historic building lives on to be enjoyed for generations to come... and there is still no road!
You may be wondering how the inside looks? It is after all, a hotel and restaurant and it would be remiss of me to not write a review, so there will be plenty of internal pictures in the next post! Until then, here is a taster.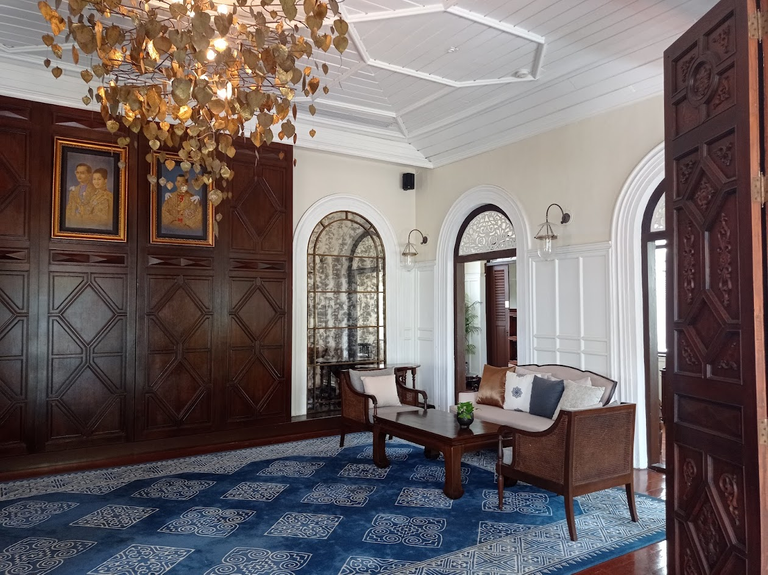 References:
Photographs were taken by me unless stated.
---
---