A Great Night Out - Shit Whisky and a Singer Named Valentina Ploy...

It's been a long time since I went to a gig. In Thailand we have live music at almost every restaurant and bar, every night of the week but generally speaking, Thai singing is akin to having the sound waves from a random tone generator combined with a cat in its death throes forced down your ear canals.
The constantly recurring problem with Thai is the tones. It's difficult enough to speak or understand it but when people start singing in Thai, you have the normal musical notes change which then are slightly sung 'off' to get the right word dependent on the tone.
The result is you find yourself listening to a never-ending mish-mash of off-tune warbling as the singer alternates incessantly between sharp and flat.
This is how it has to be. Five different tones can equal five different meanings to one word. Singing "I love my darling wife for ever" could quite easily become, "I shag my camel in the butt".
Hmm, perhaps not the best example but you get the drift.
The other problem with the 'turns' in Thai hospitality establishments is that they only seem to know a dozen songs. After over ten years here, even I know the words to some of them. None of them are good.
So with this background in mind, when my music hating wife mentioned that her friend had asked if we wanted to accompany her to a gig on Saturday evening, my fight or flight response immediately hit mach 2 and 40000 feet...until she mentioned that it was a small, private, registered guests only gig that was being sponsored by indi record label, What the Duck, and more importantly, Jameson's whisky. My altitude and and velocity dropped another notch when she mentioned that we would be there to see Valentina Ploy, a friend of my wife's friend who is an Italian / Thai singer-songwriter who sings in English and was a runner-up in the Thai heats of Miss Universe.
Intelligent I'm not. Fickle I am. It was time to land!
The event kicked off at a bizarre time of 4.30pm at a small bar in a 'garden' called Barden BKK and had half a dozen acts on, headlined by a band called 'Uncle Ben' who kicked off at 8pm. Valentina Ploy was on at 7pm. Luckily for me, I tutor 10 year-old twins at 4pm right across the city from the venue so didn't have to sit through the rest of the proceedings, making a 16 mile dash through the urban jungle on the bike, right in time to grab a chair and ready to enjoy a wee dram of Irish which no doubt the wife would have waiting for me. Much needed after 90 minutes with those little horrors.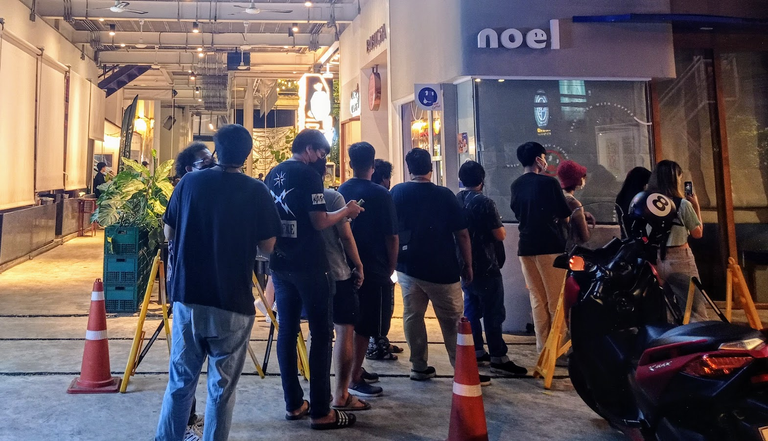 Plastic queue control barriers and traffic cones. The signs of an important event!
Upon arriving, the security man kindly allowed me to park the bike right at the front of the venue and then further endeared himself to me by not blowing his whistle even once. He must have really wanted that 20 baht tip!
After having my name ticked off a list on a clipboard as any good groupie should have, I went inside to partake of my free bottle of happy juice.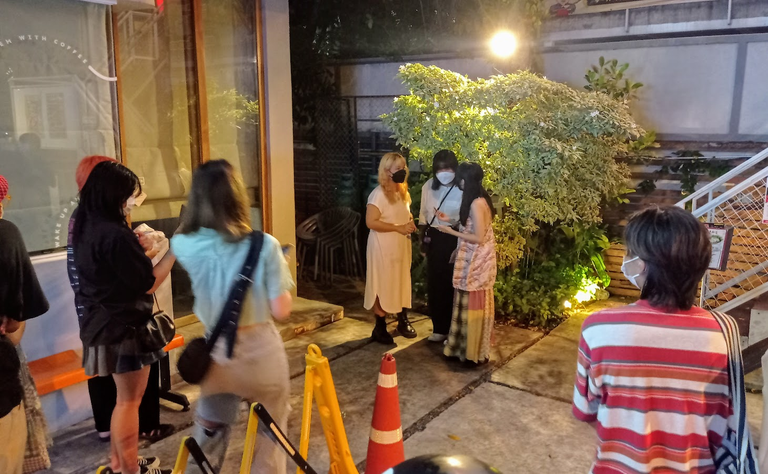 One of the three girls in the centre of this shot is a fairly famous singer. Just guess which one as I have no idea. It struck me that these days, people queue up for a selfie but 'back in the day', we'd have been queueing for an autograph!
There were probably around 150 people there and the venue was basically a food court with a stage set up at one end. A tin roof covered the place and apart from a few tables and chairs, most were sat on the floor in front of the stage where Valentina Ploy was setting up and doing a sound check.
A small plastic cup of barely golden looking liquid was thrust into my hand by one of the Jameson's 'pretties' which I carried over to where the wife and her friend were sitting surrounded by empty bottles.
I knocked back my drink expecting a nice kick but it was just like drinking diluted golden syrup. The promotion was Jameson's new, ready-mixed whisky and soda and it was absolutely dreadful.
The wife and her mate obviously liked it...
Either that or the support acts they'd sat through since 4.30pm were not up to much.
"What do you think?" she slurred.
Just then, one of the 'pretties' carrying a tray and a bottle approached me.
"Would you like a drink?" she smilingly asked me. At least I think she was smiling as she was wearing her mask with pride, she was quite possibly smirking.
"Oooo, yes please." The wife glanced up at me in a barely focused gaze.
Give me a break here, these kids have to make a few quid. Anyway, I needed a drink and the bar wasn't selling beer.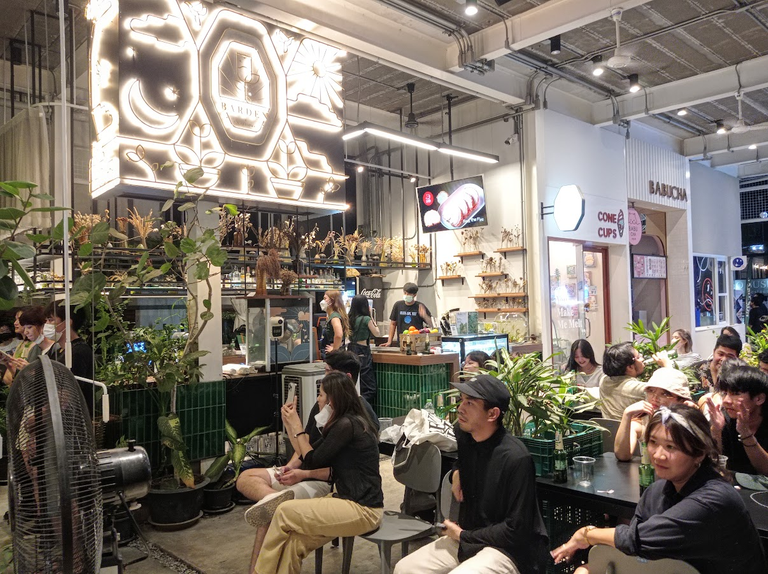 Two 'pretties' by the bar recounting how they'd just mugged an old ferang with a bottle of shit.
I suppose we ought to do the serious part about the music...
As I mentioned above, Valentina Ploy is an Italian / Thai singer songwriter who had reached the finals of Italy's X Factor and The Voice - Thailand She plays violin and guitar (thank god she didn't bring the violin!) and although I'm not a huge fan of the genre (I prefer a few dramatic key changes, some drums and a bit of a crescendo ending with a few power chords so I can tell when to clap), live music can't be beaten, especially when its original and self-penned.
She is pretty popular, regularly hitting half a million plays per month on Spotify with her most played track, 'See You in Life', having just shy of 20 million plays.
I'll drop all her social and music links at the end
She ran through a set of seven of her own songs, accompanied at times by a fella on accoustic and despite my misgivings about the tin-roofed venue, the sound was pretty good. If I had one small criticism, it would be that the accompanist's guitar was a little loud.
Her voice was clear and smooth and she never missed a note and most importantly, she was loving performing live. The smile barely left her face, even when singing the usual fayre of broken hearts and unrequited love.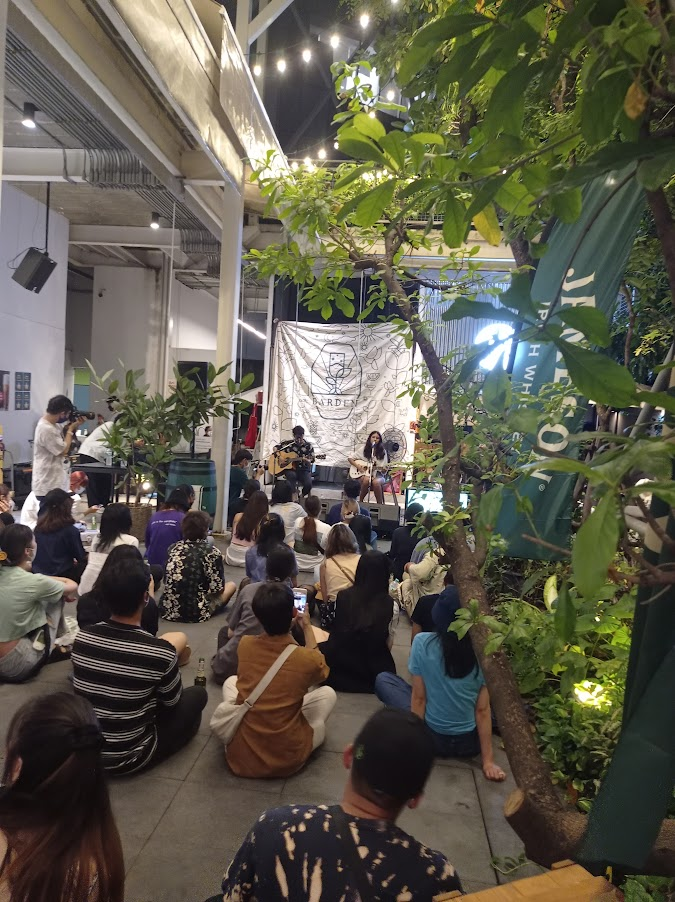 I can't ever remember sitting cross-legged on the floor anywhere since infants school, even then I'd have struggled to get up. It's the natural position for Thais. Thankfully, I had a chair.
Her latest single, Camera Roll was rather good and had what I thought was really well thought out, and very original lyric backed up with a laid back and chocolately vocal and relaxed accoustic guitar. She does the quirky titles really well. Another track is entitled 'Drunk Sleeping in Taxis'
The crowd loved her, cheering and clapping each track and they were loved back by a girl doing what she obviously loves the most.
I wish we could have heard more of her guitar parts as her guitar looked really unusual to me, a kind of electric / accoustic hybrid. I think it's time to call the Hive mad axemen, Messrs. @steevc and @meesterboom to identify it for me.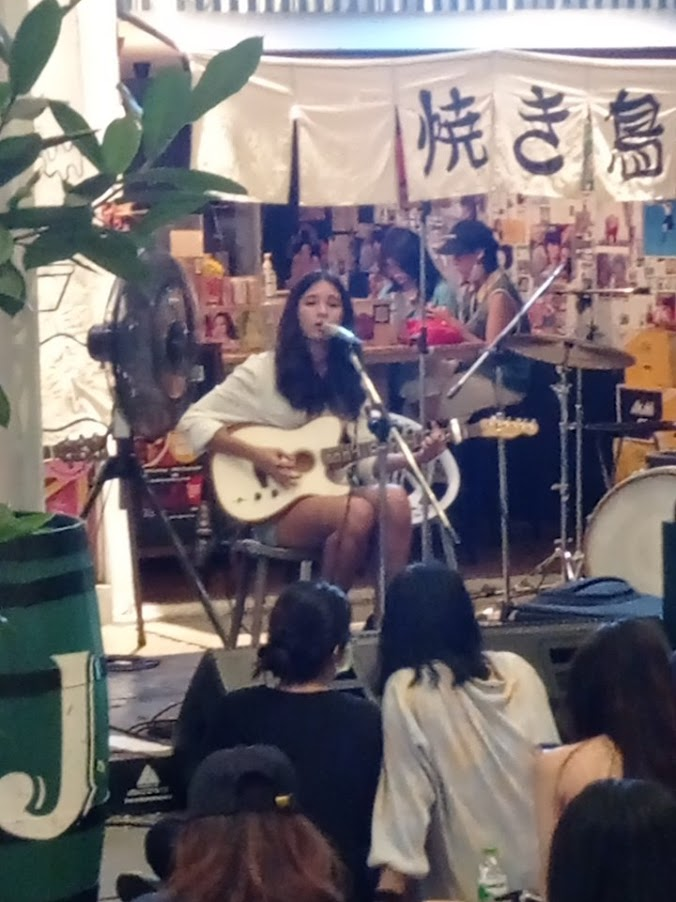 With her set finished, she put her guitar and mike into her bag, slung it over her shoulder and came over to chat with us but with fans milling behind us and wanting their pictures, she left to do her duty, happily and graciously.
She wisely declined a bottle...
The thing is, in a past life, I met a fair number of pretty famous, and not so famous actors and almost all were the most self obsessed, insecure bunch of divvies you could imagine. I also met a few musicians, and they were always just about the music. Passionate and in love with their art and Valentina Ploy was just the same. On a real high after her show and absolutely loving it, naturally and without any airs and graces.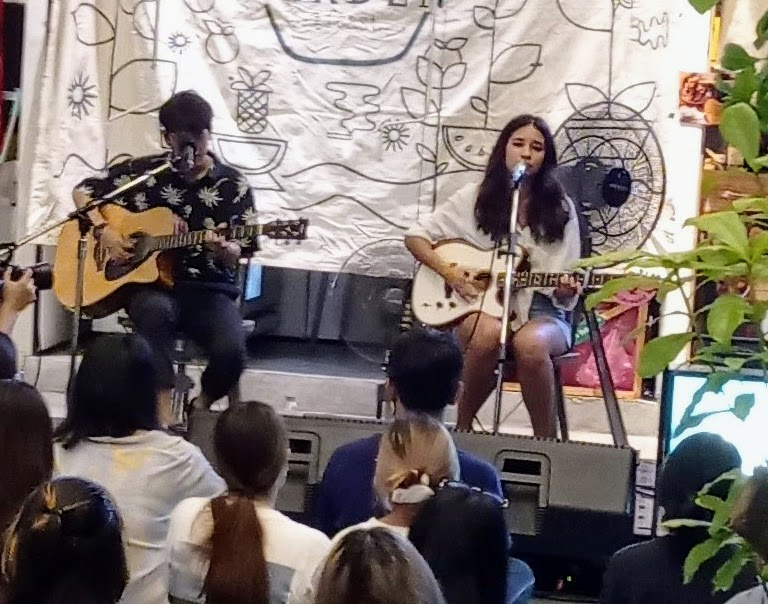 In an obviously very, very different environment, it reminded me also of days in the distant past, gigging the pubs and clubs of Yorkshire and Lancashire and the Showcase nights, the local Entertainment agents used to run. Throwing up your gear, doing a couple of songs and then back in the old Maestro van for the trip home. Like I said, Bangkok isn't anything like a frosty and wet November night in Batley but the spirit was the same.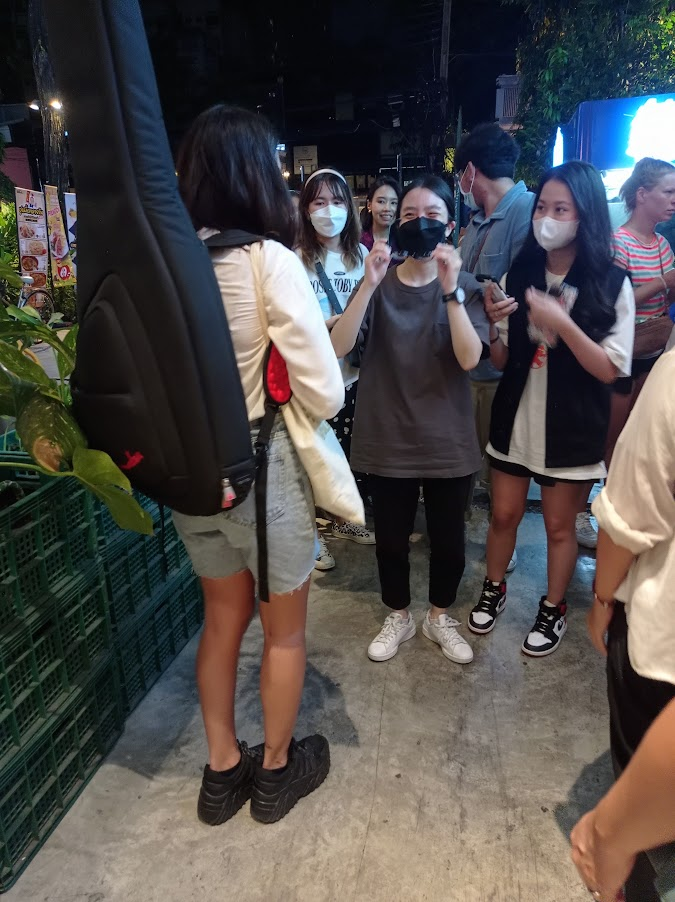 Happy fans and just a girl with a guitar.
'Uncle Ben' began to set up for their headlining performance but the now rather pissed music hating wife was ready for home. Her friend, our long term house guest had left her motorcycle downtown to be fixed so it was a case of 1 motorcycle, 1 helmet, 3 people, a dozen bottles and a 20km trek back to the burbs and thankfully this time, we didn't have to stop for the wife to puke...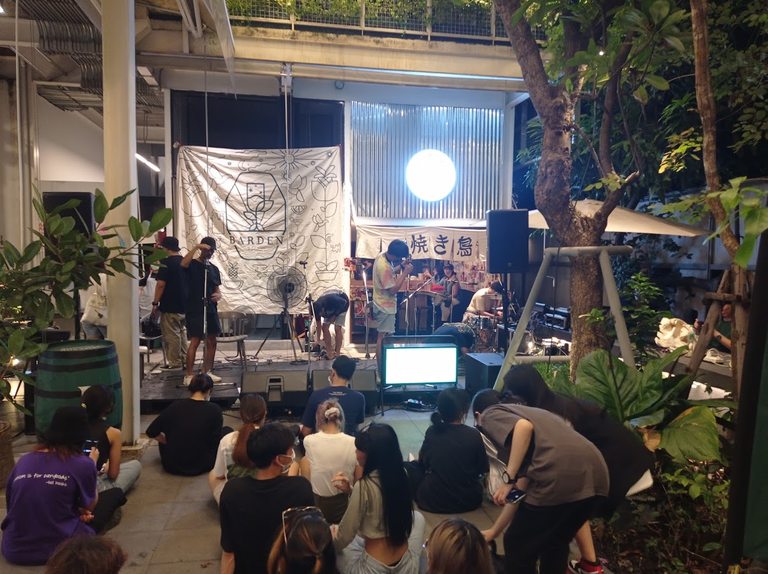 'Uncle Ben' setting up with quite a lot of space down the front. I would have liked to have seen a full band in there...if they were singing in English!
You can't beat live music played by talented people who love their chosen art form and I had a great, albeit rather short, evening and wish every success and happiness to Miss Valentina Ploy.
As promised...
Valentina Ploy on Social Media
You Tube
Instagram
Spotify
---
---