Macro Photography || wood cockroach
Hello everyone, MacroPhotography Community Friends. How are you?. Hope you all have a good and fun day.
First, let me tell you all, that this is my first contribution to this community, and I hope you will all welcome me with pleasure and hugs.
A few days ago I have subscribed to this community, basically it's because I like photography and macro photography, but I'm not a profesional in that field, besides I also don't have adequate equipment to shoot pictures, only an old smartphone that I rely on at this time.
But it's not a problem. Sometimes at full power, my smartphone camera is able to reach macros. yes, although it doesn't reach the king level macro :).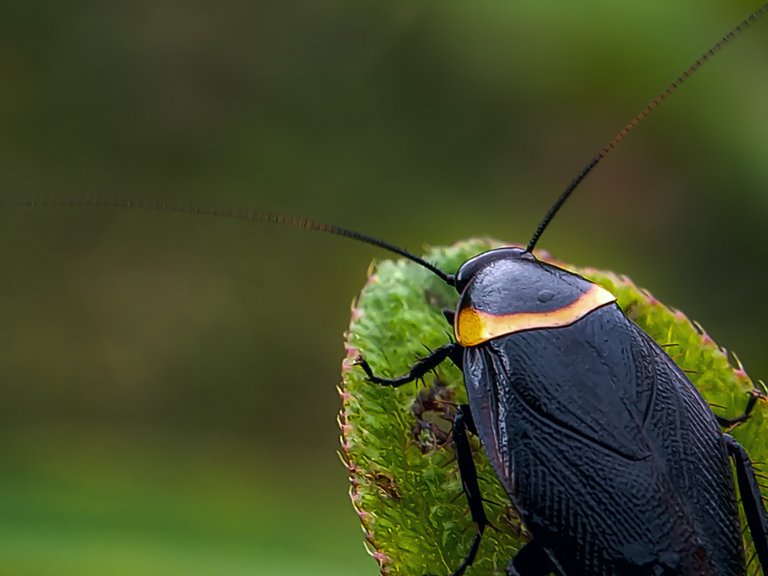 ---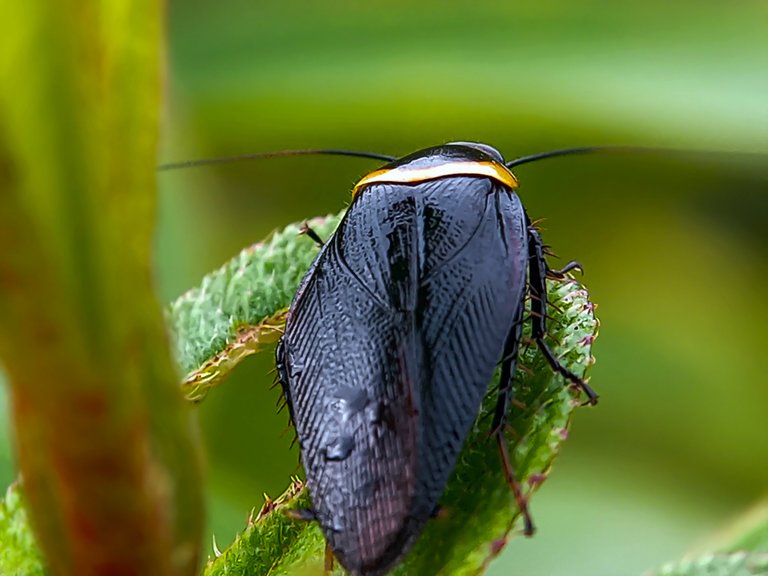 ---
Almost every day I do and continue to hone my photography skills, it's because of hobbies and fun. When finished from some routines, now it's my time to take pictures. Like I did yesterday with the black wood cockroach object and a little golden yellow line on its back.
I found he was enjoying his leisure time on the leaves of the bushes, then I tried to photograph him at a very close distance, several times he moved away, shifted, please don't fly. And finally I get a lot of pictures of this cockroach object.
Most of them are duplicate images. The final stage of selection, I only got six pictures which I think are better than many shots.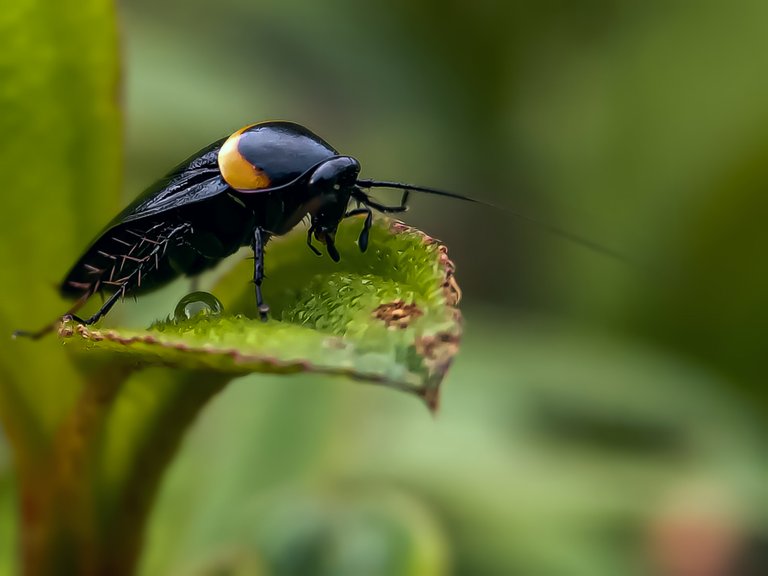 ---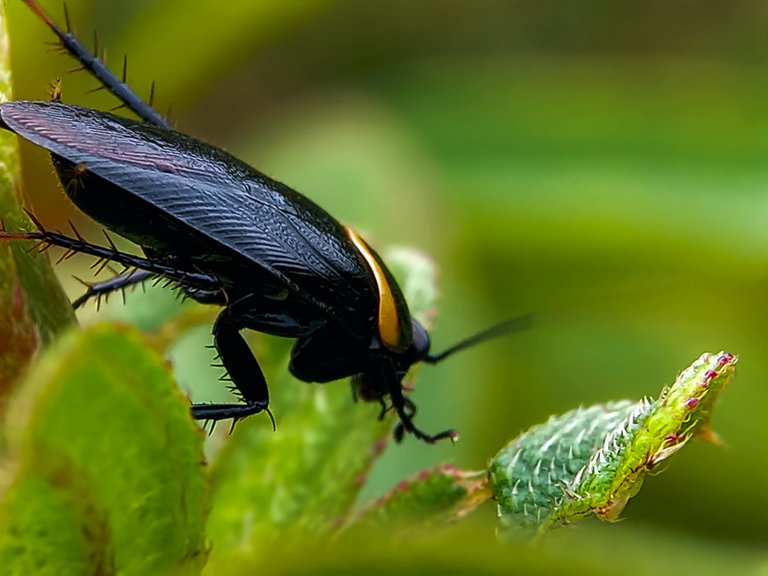 ---
Regarding the object that I photographed. It was a wood cockroach that was black in color with a slight golden yellow stripe down its back. Wood cockroach, is the name for this insect in our area.
This cockroach is different from the house cockroach, which has a dark red color, and is often found in old warehouses. But this one, they live in trees and and are often found higgap in the leaves. In the scientific name of this cockroach is called Hemithyrsocera palliata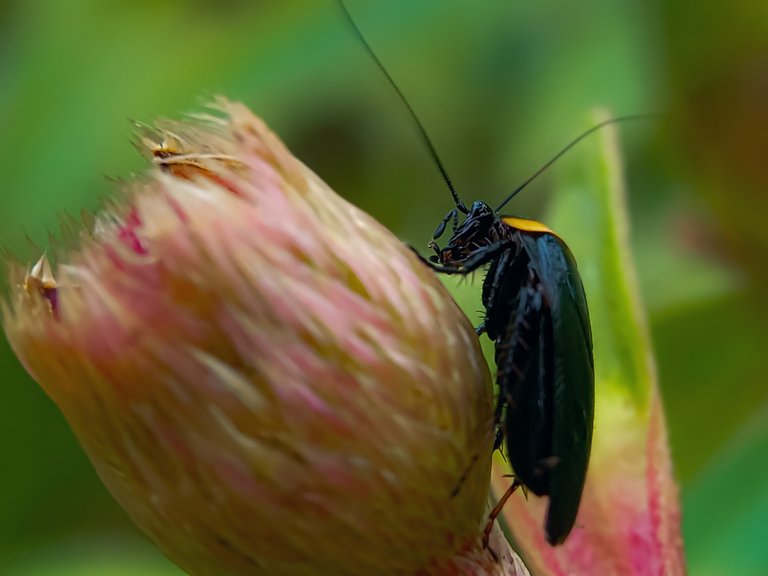 ---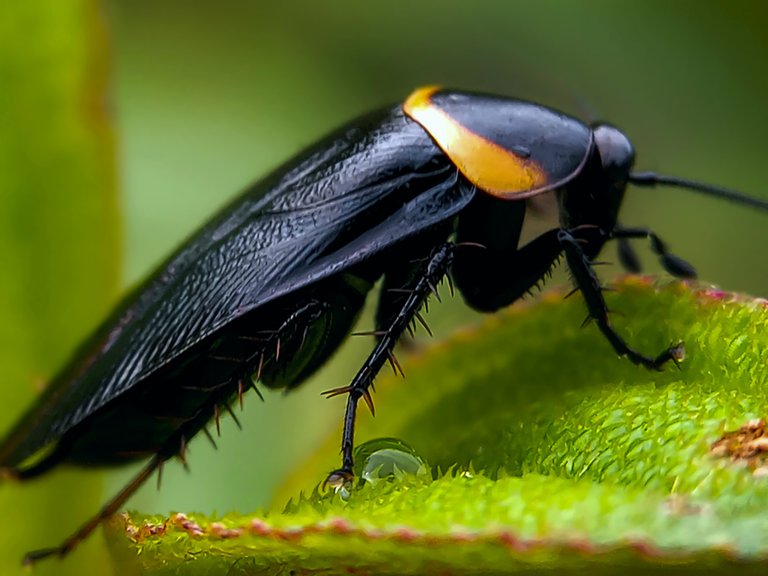 ---
Maybe that's it. Some macro photography that I managed to capture of the wooden cockroach object, and a brief review of it. I hope you all enjoy this show.
Hopefully, you guys are also willing to leave a comment below to color my first post in this community. that's all for this early stage, and of course I'll be doing more in the future.
Thank you and see you again...
---
| Camera Used | Samsung Smartphone |
| --- | --- |
| Lens | Apexel 100mm |
| Category | Macro Photography |
| Location | Aceh - Indonesia |
| Original Picture By | nasseir |
---

---
---
---