ESP/ING, An afternoon of recreation and exercise with my granddaughters Isabella and Melissa/ Una tarde de recreación y ejercicios, junto a mis nietas Isabella y Melissa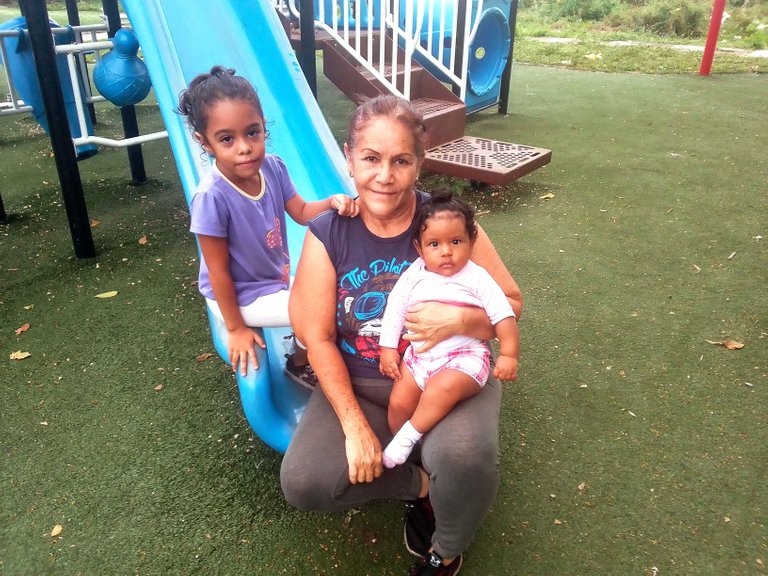 Les envío un cordial saludo a toda esta gente bella que hace vida en esta comunidad @motherhood, tengo el agrado de compartir con ustedes un emocionante y muy activo blog, ya que me llegaron de sorpresa estás dos hermosas princesasmis nietecitas, mi chocolatito y mi cacao, así les llamo por cariño.
Me encontraba en mi rutina diaria de ejercicios la cual la llevo a cabo por las tardes, dónde salgo a caminar por mi comunidad y me dirijo justo a un espacio habilitado para todas las personas que acuden hacer sus ejercicios, trotar entre otros, también se encuentra un parque infantil 😁. Lugar donde grandes y pequeños pasan momentos de recreación y deporte.
I send a cordial greeting to all these beautiful people who make life in this community @motherhood, I am pleased to share with you an exciting and very active blog, since these two beautiful princessesmy granddaughters, my chocolatito and my cocoa, so I call them by affection, came to me by surprise.
I was in my daily exercise routine which I carry out in the afternoons, where I go for a walk in my community and I go right to a space enabled for all the people who come to do their exercises, jogging among others, there is also a playground 😁. A place where young and old spend moments of recreation and sports.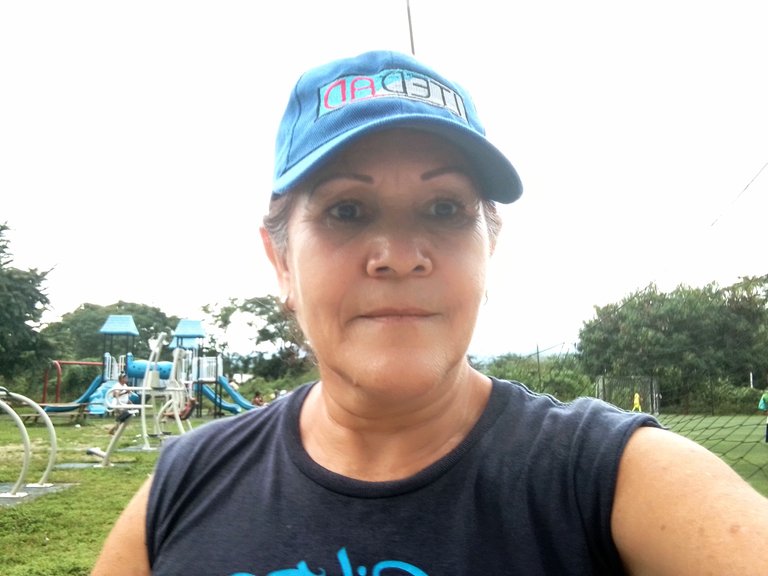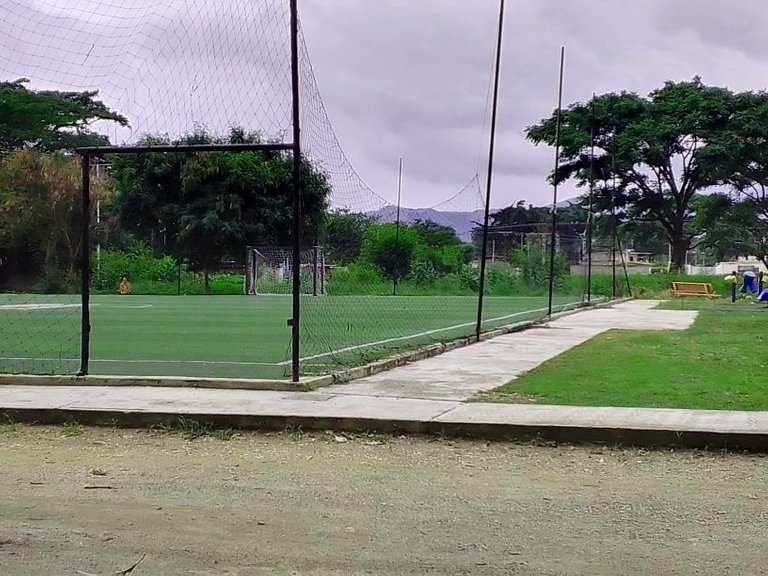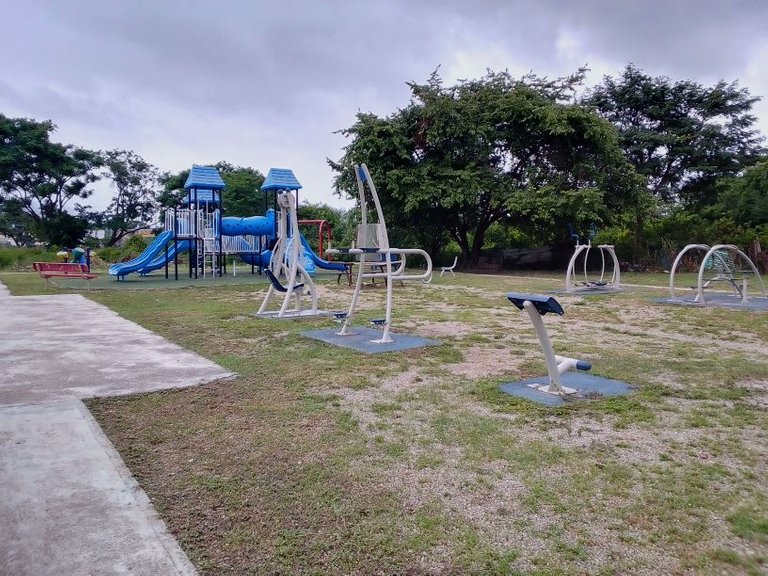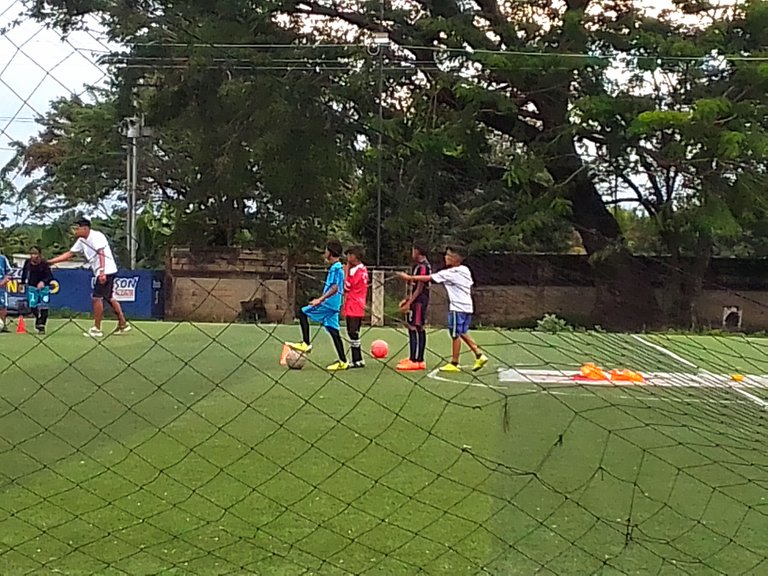 Mientras me encontraba ejercitando me llegaron de sorpresa estás jovencitas, la nieta mayor me dijo abuelita vengo a pasar un rato contigo y saber que estás haciendo cuando sales por las tardes 😁, por lo tanto dejé de hacer mis ejercicios y se los dedique a la más grande, primero compartí el parque o sea la diversión y luego pase a la rutina con ella, estos son momentos inolvidables pasarla juntas, disfrutar de sus compañías ya que no sabemos que nos repara la vida en el futuro, disfrutar el momento nos acercan cada vez más.
While I was exercising I was surprised by these young girls, the oldest granddaughter told me grandma I came to spend some time with you and know what you are doing when you go out in the evenings 😁, so I stopped doing my exercises and dedicated them to the oldest, first I shared the park or fun and then move to the routine with her, these are unforgettable moments to spend together, enjoy their company because we do not know that life will repair us in the future, enjoy the moment we get closer and closer.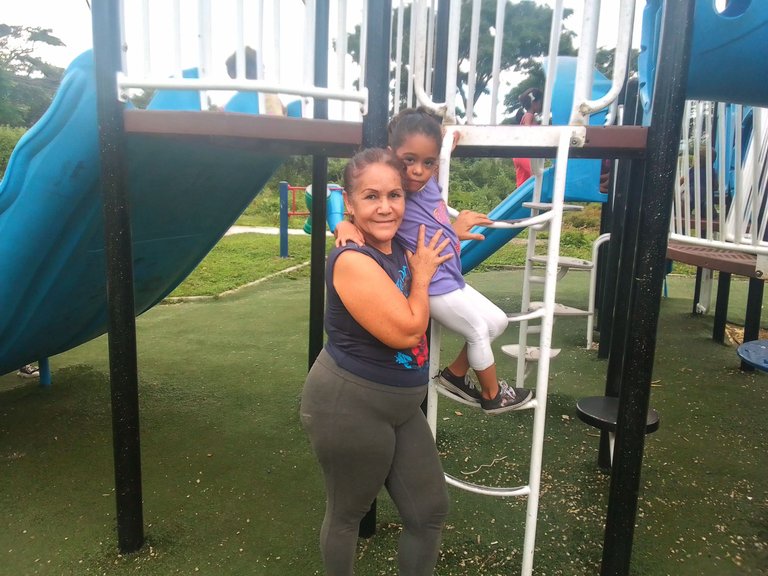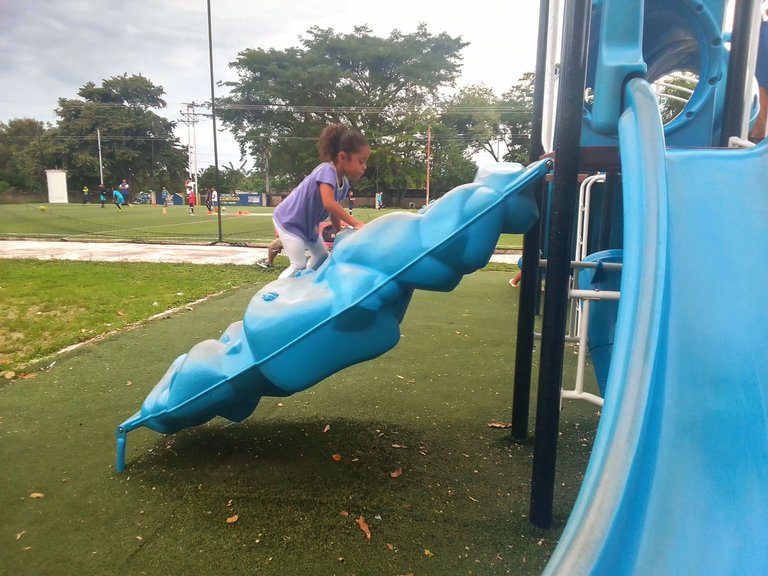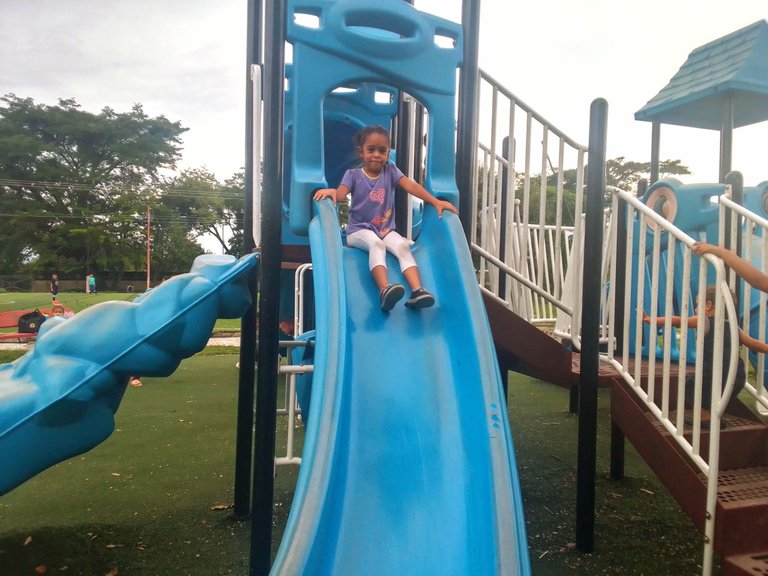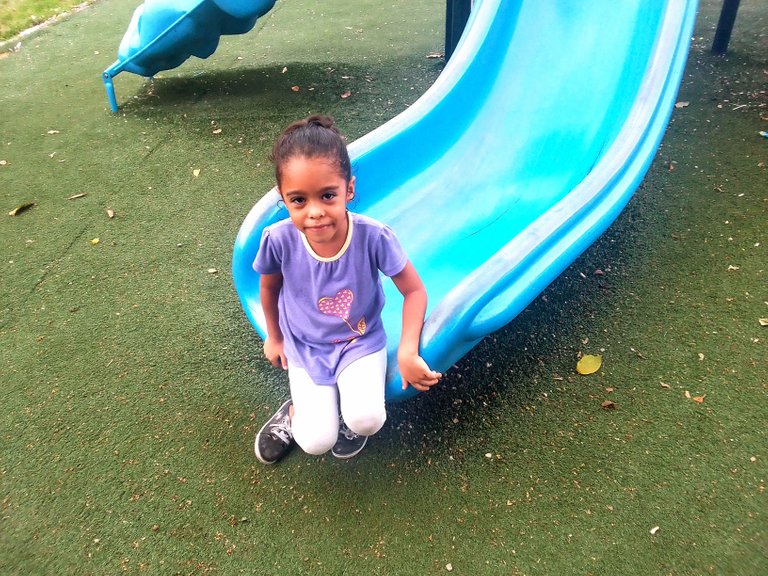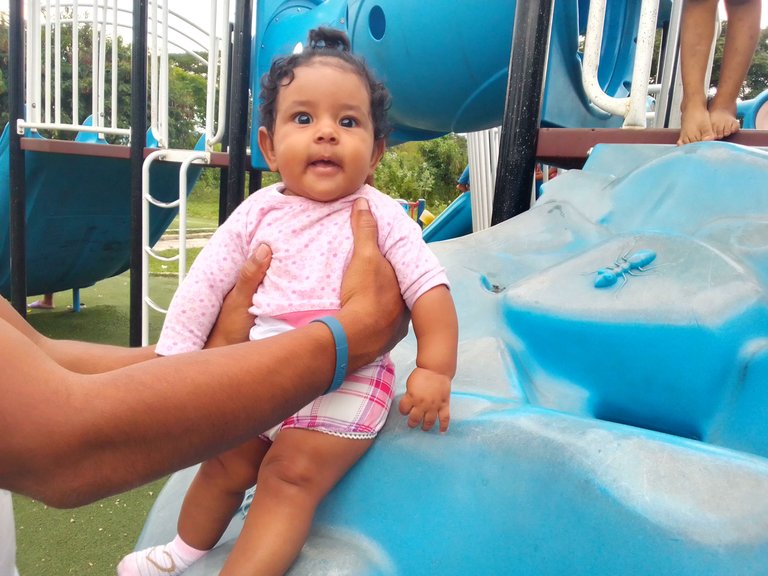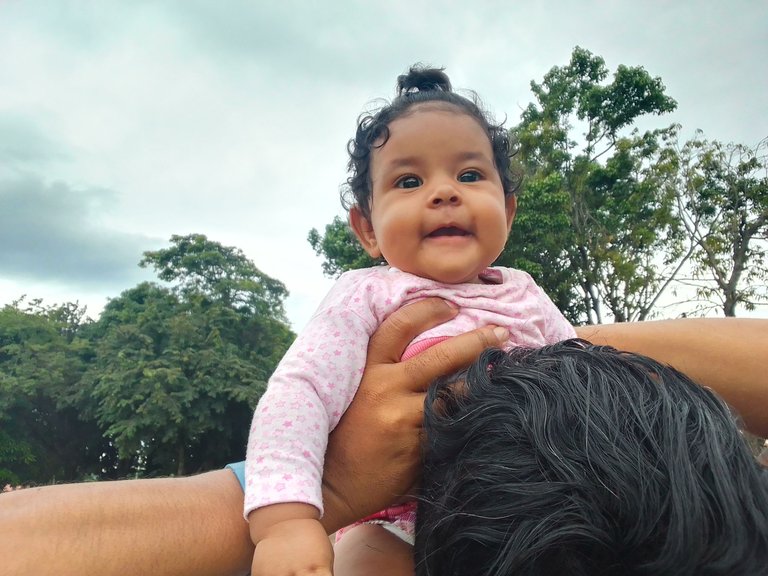 Cómo la otra es muy pequeñita la mayor trata de acapararme, mientras la más pequeñita está con mi hija, una vez terminada la recreacion ahora corresponde ir a las máquinas de ejercicio y enseñarle que es lo que hago cuando salgo de casa por las tardes 😁. Cómo mi nieta es muy importante a medida que subía a un aparato yo le explicaba lo importante que es trotar, caminar y hacer ejercicios, y para que ayudan los aparatos que se encuentran en el lugar de entrenamiento, para que desde pequeña vaya tomando amor por estas cosas, que sirve y ayudan sobre todo a la juventud invertir su cuerpo en tenerlo saludable, fuerte y vigoroso, y también los ayudan a interesarse por un deporte de su preferencia que a futuro le puede servir para entrenar y llegar a ser famoso y amante del deporte.
Los niños son personitas muy inteligentes hay que aprovechar su intelecto, su capacidad, instruir los desde pequeño en el hogar, compartir momentos juntos que les dejen buenos recuerdos, que sea algo de beneficios para su vida a medida que vayan creciendo para que sean en el futuro buenos hijos, padres, madres, profesionales, enseñarle a ganarse las cosas con esfuerzo es una manera de formar a nuestros hijos para un mañana de éxito para ellos.
As the other one is very small, the older one tries to monopolize me, while the youngest one is with my daughter, once the recreation is over it is now time to go to the exercise machines and teach her what I do when I leave the house in the afternoons 😁. How my granddaughter is very important as she climbed on a machine I explained to her how important it is to jog, walk and exercise, and what the machines that are in the training place help for, so that from a young age she will take love for these things, which serve and help especially the youth to invest their body in having it healthy, strong and vigorous, and also help them to be interested in a sport of their choice that in the future can help them to train and become famous and love the sport.
Children are very intelligent little people, we must take advantage of their intellect, their capacity, teach them from an early age at home, share moments together that will leave them good memories, that will be something beneficial for their lives as they grow up so that in the future they will be good children, fathers, mothers, professionals, teaching them to earn things with effort is a way to form our children for a successful tomorrow for them.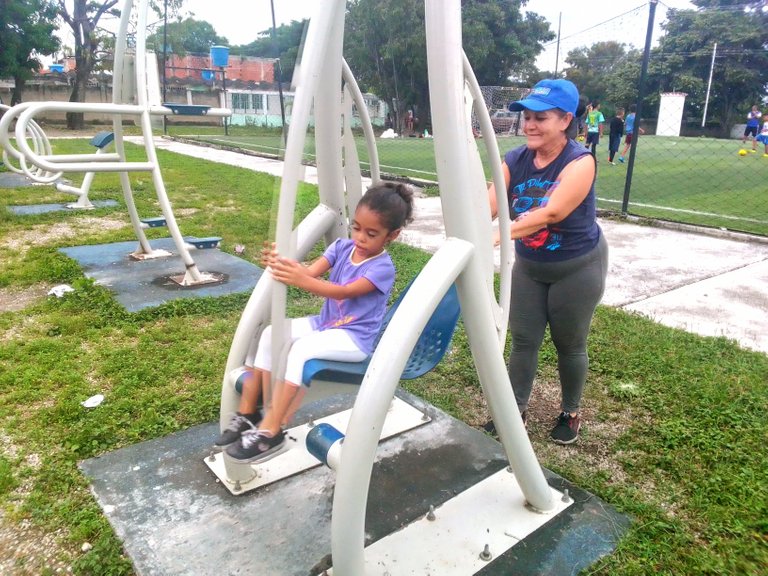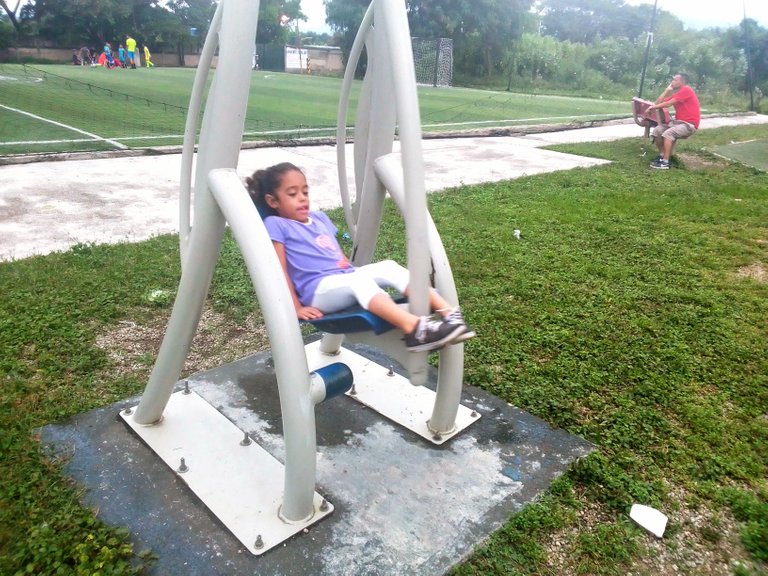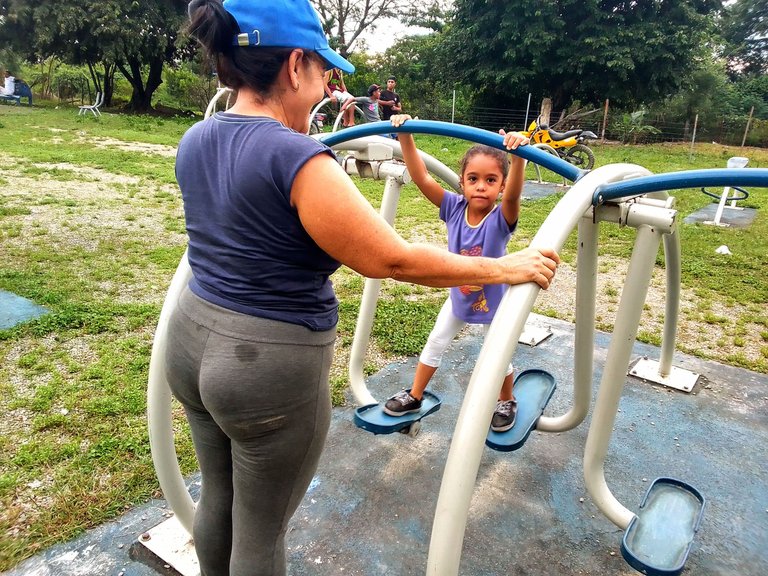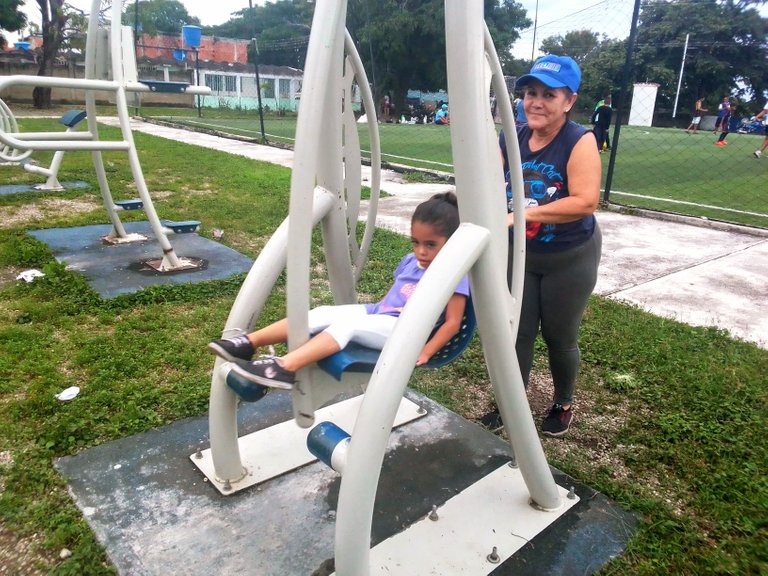 Vale la pena apreciada (o) usuarios, comparte tiempo con ellos, saca tiempo para ellos, siéntate a su lado, hablar, compartir y pasar momentos felices nunca se le olvidarán y estarán siempre en sus recuerdos. Yo siempre me acuerdo cuando mamá nos sacaba todos los domingos, primero a la iglesia, luego nos llevaba a pasear, al zoológico, a las plazas, éramos siete hermanos, ella se levantaba muy temprano, preparaba desayuno y almuerzo y nos íbamos y éramos felices hoy después de tantos años todavía lo recuerdo es un legado que práctico primero fue con mi hija y ahora con mis nietas, es una bendición.
Me encantó poder compartir este blog, ojala les agrade y puedan leerlo les invito a leerme y dar un vistazo, las fotos son de mi propiedad tomadas con mi celular Tecno pop 5 y el traductor que utilice es Deepl, Un abrazo fraternal y muchas bendiciones.
It is worthwhile, dear users, share time with them, make time for them, sit next to them, talk, share and spend happy moments that will never be forgotten and will always be in your memories. I always remember when my mother took us out every Sunday, first to church, then she took us for a walk, to the zoo, to the squares, we were seven siblings, she would get up very early, prepare breakfast and lunch and we would go and we were happy, today after so many years I still remember it, it is a legacy that I practice first with my daughter and now with my granddaughters, it is a blessing.
I loved to share this blog, I hope you like it and you can read it I invite you to read me and take a look, the photos are my property taken with my cell phone Tecno pop 5 and the translator I use is Deepl, A fraternal embrace and many blessings.
---
---