Elaboración de una cesta decorativa // Making of a decorative basket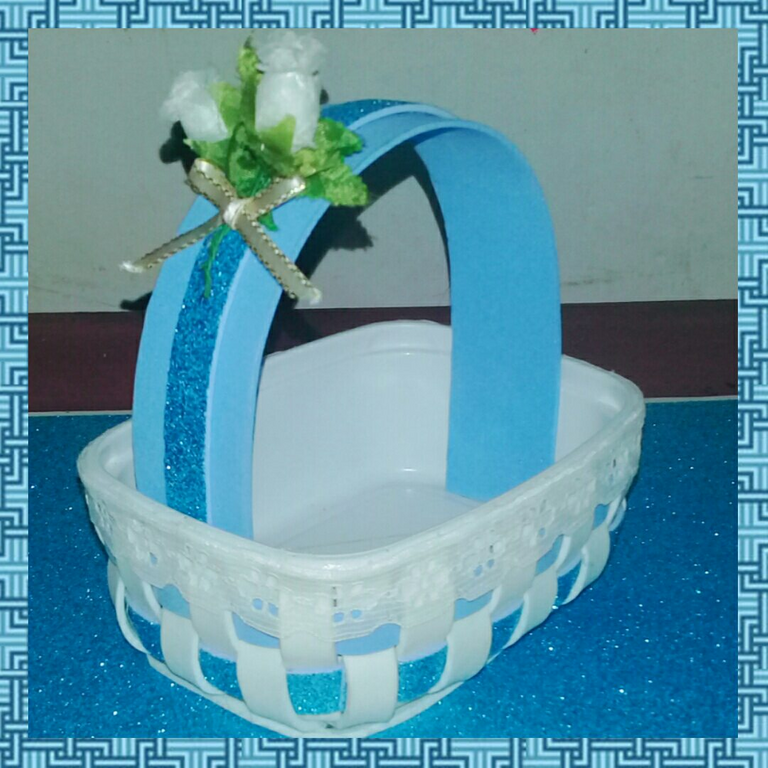 Spanish
Hola mi gente creativa e innovadora, espero que se encuentre bien, rebosantes de salud y conectados con el potencial creativo, hoy la musa toco a mi puerta llenándome de inspiración, donde voy a transformar un envase vacio de mantequilla en una fantástica cesta, que se puede utilizar para arreglo de cumpleaños, como centro de mesa, entre otros, es una forma dinámica de reutilizar, sin más preámbulo los deleito con el paso a paso:
English
Hello my creative and innovative people, I hope you are well, full of health and connected with the creative potential, today the muse knocked on my door filling me with inspiration, where I will transform an empty butter container into a fantastic basket, which can be used for birthday arrangement, as a centerpiece, among others, is a dynamic way to reuse, without further ado I delight you with the step by step:
---

Spanish
Materiales a utilizar:
Un envase vacio de mantequilla, foami color: Blanco, azul claro y escarchado, silicón, encaje, cinta bebe color blanco con dorado, Flores de botón artificiales, una regla, lápiz de grafito, tijera.
English
Materials to be used:
An empty butter container, foami color: white, light blue and frosted, silicone, lace, white baby ribbon with gold, artificial button flowers, a ruler, graphite pencil, scissors.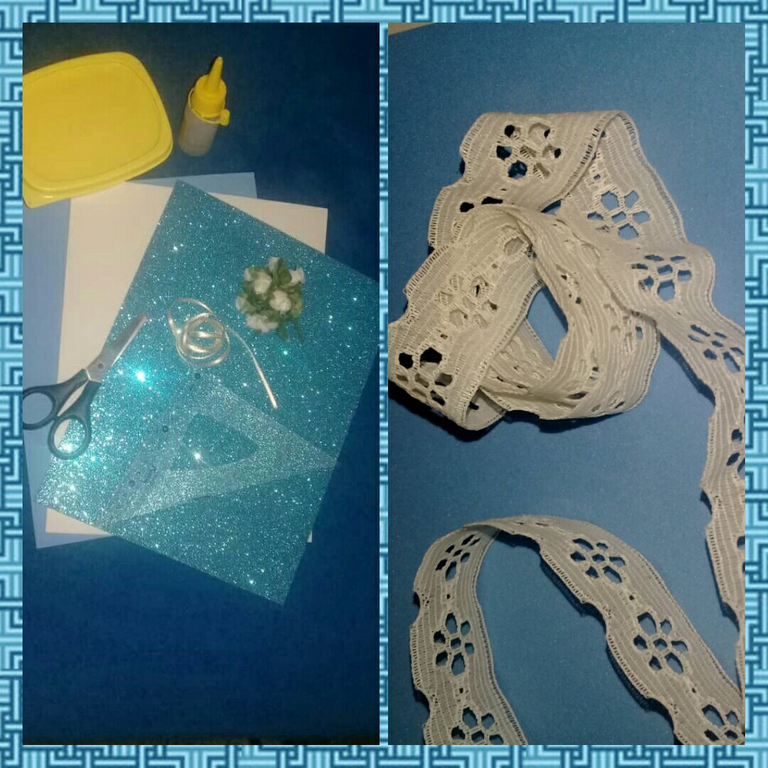 ---

Spanish
Paso a paso:
Primero tome un envase de mantequilla vacio que será el objeto a transformar, posteriormente trace sobre la lamina de foami color blanco 8 líneas de 1 cm de ancho, la cuales recorte y las dividí en 4 parte iguales, con la ayuda de una tijera, para un total de 32 tiras, consecutivamente las fui pegando alrededor del pote de mantequilla, luego recorte 2 tiras de foami color azul claro de 1 cm de ancho, con la intención de pegarla de forma intercalada, como si estuviera tejiendo, generando un hermoso contraste.
English
Step by step:
First take an empty butter container that will be the object to transform, then draw on the white foami sheet 8 lines of 1 cm wide, which I cut and divided them into 4 equal parts, with the help of a scissors, for a total of 32 strips, consecutively I was sticking them around the butter pot, then cut 2 strips of light blue foami 1 cm wide, with the intention of sticking it in an interleaved manner, as if I were weaving, generating a beautiful contrast.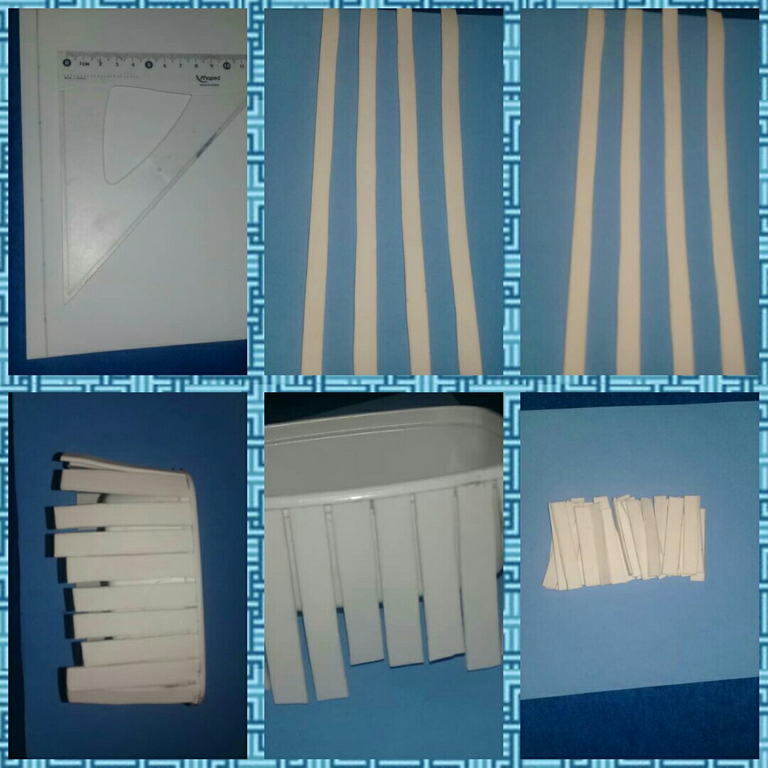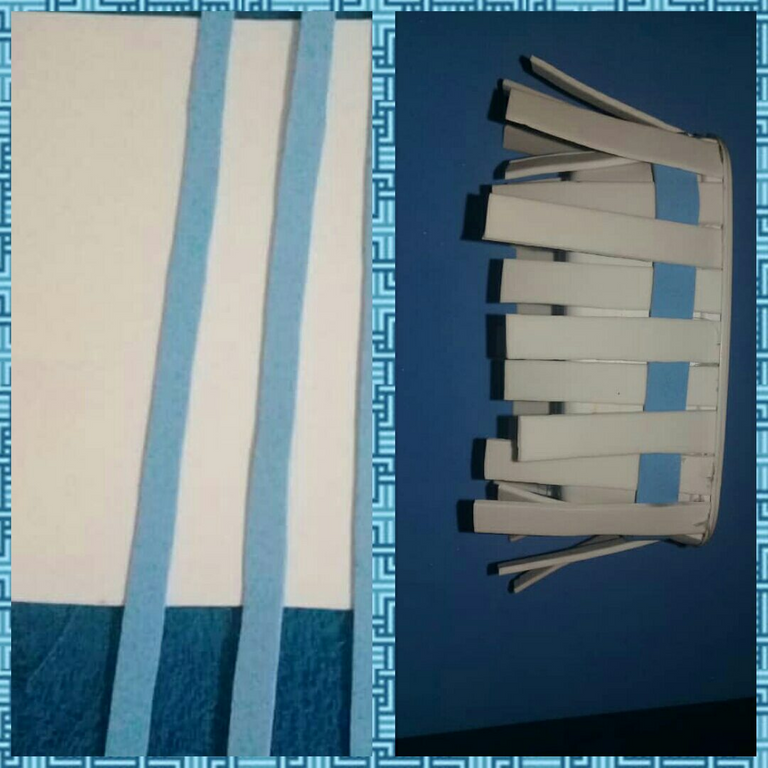 ---

Spanish
Con optimismo recorte 2 líneas de foami color azul escarchado, para darle un poco de fantasía al diseño, las mismas fueron pegadas de forma intercalada, luego adherí las puntas de las tira al envase.
English
I optimistically cut out 2 lines of frosted blue foami, to give a little fantasy to the design, they were glued in an intercalary way, then I adhered the ends of the strips to the container.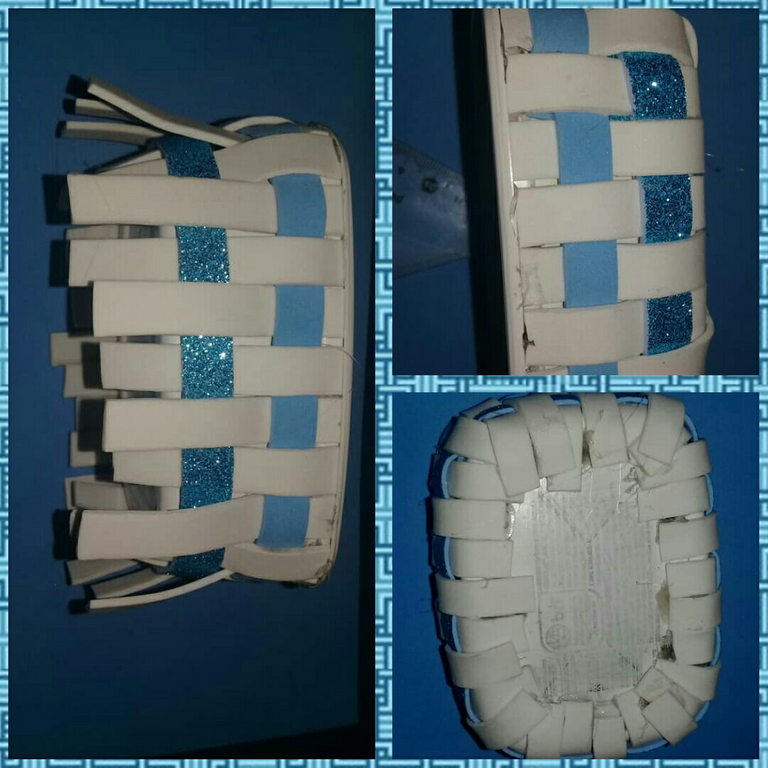 ---

Spanish
A continuación dibuje y recorte una especie de ovalo que será la base del diseño, con el propósito de ocultar el final de las tiras, después dibuje en un foami color azul claro una franja de 3 cm de ancho que servirá de asa, consecutivamente dibuje sobre el foami escarchado una líneas de 1 cm de ancho, la cual recorte y pegue encima de la franja azul clara, propiciando una bella decoración, con sutileza pegue el encaje alrededor del envase generando delicadeza y elegancia a este esplendida manualidad.
English
Then draw and cut out a kind of oval that will be the base of the design, with the purpose of hiding the end of the strips, then draw on a light blue foami a 3 cm wide strip that will serve as a handle, consecutively draw on the frosted foami a 1 cm wide lines, which cut out and paste over the light blue strip, providing a beautiful decoration, subtly paste the lace around the container generating delicacy and elegance to this splendid handicraft.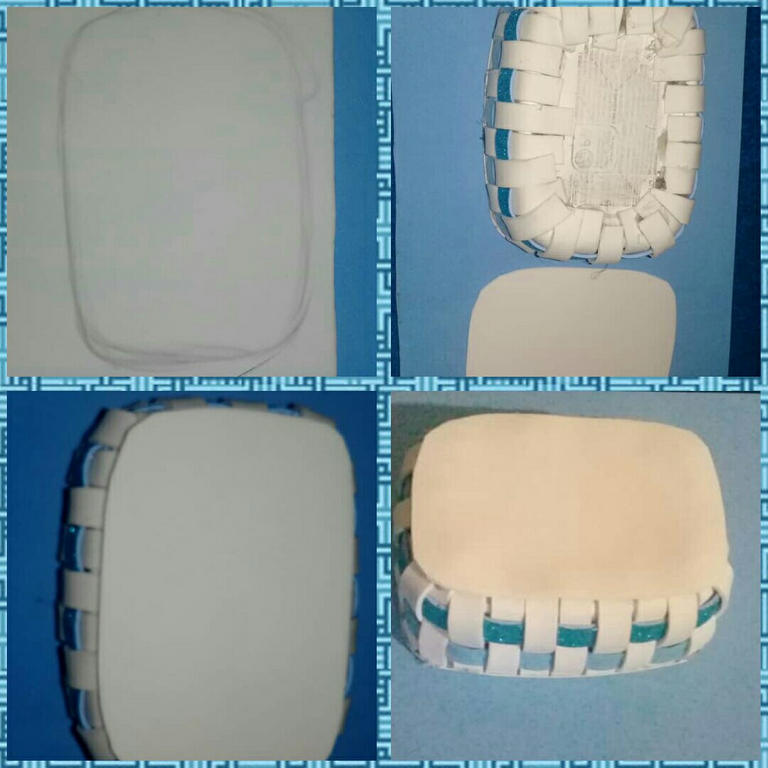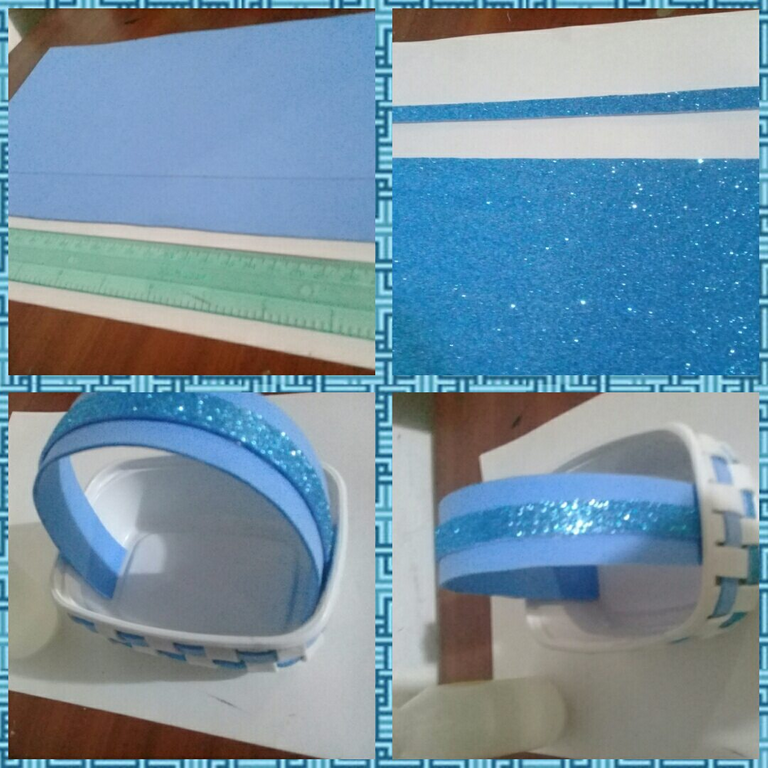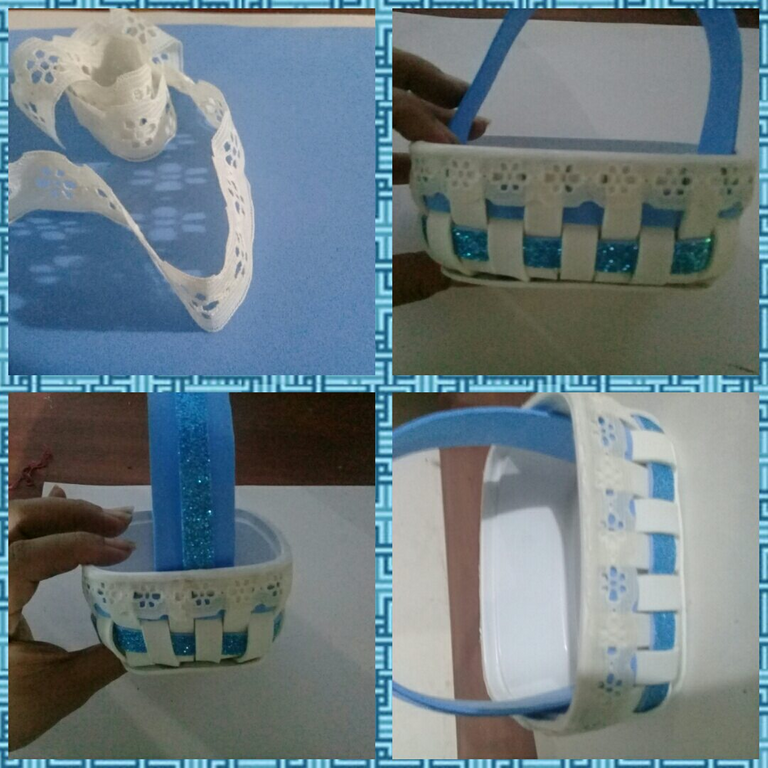 ---
Spanish
Con emoción tome 3 botones de las flores artificiales y las entrelace recreando un lindo bouquet , después recorte un poco el alambre de las flores y la pegue a un lado de la asa, dando un toque de fantasía, luego con la cinta bebe color blanco con dorado hice un lazo , para un acabado perfecto, coloque dicho lazo encima de las flore, que hermoso quedo!
English
With emotion I took 3 buttons of the artificial flowers and intertwined them recreating a nice bouquet, then I cut a little bit the wire of the flowers and glued it to one side of the handle, giving a touch of fantasy, then with the white baby ribbon with gold I made a bow, for a perfect finish, I placed the bow on top of the flowers, how beautiful it was!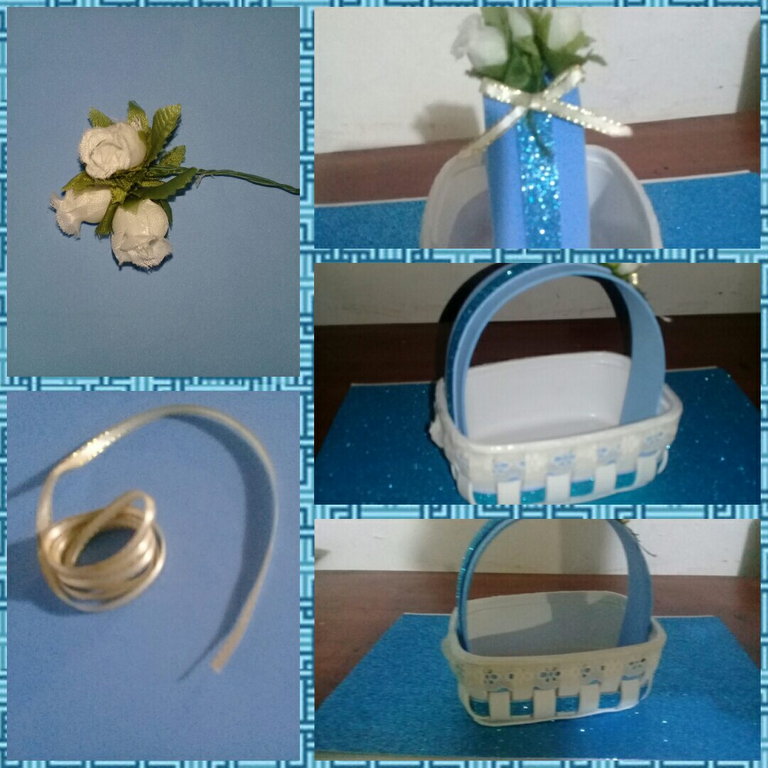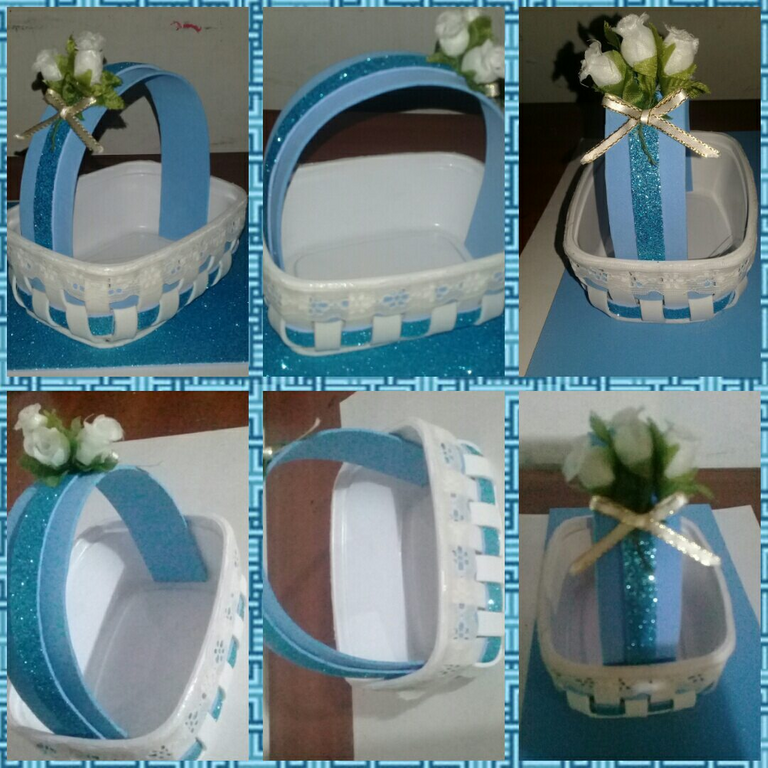 ---

Resultado Final // Final Result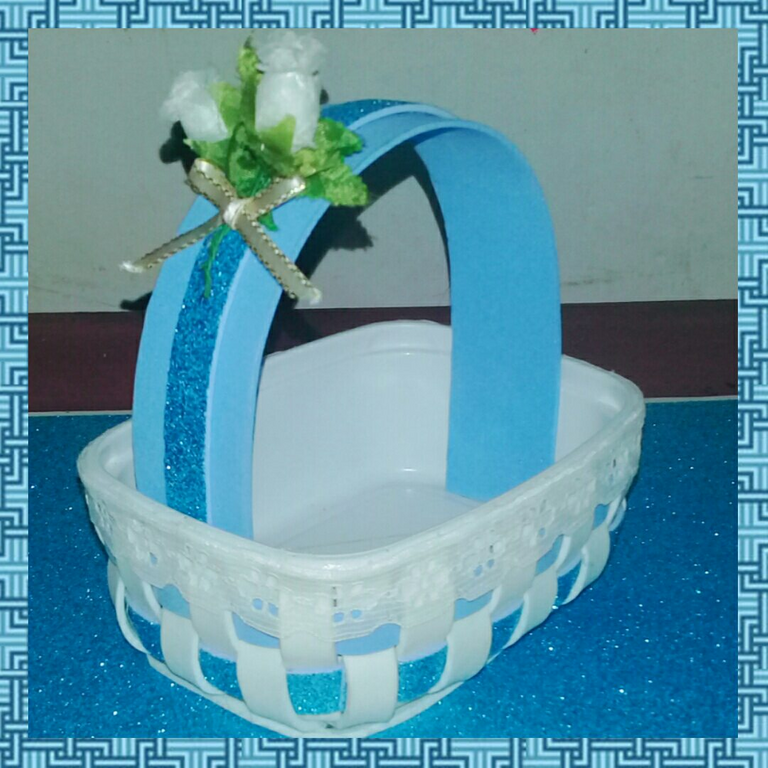 ---

Bienvenidos a mi increíble blog en Hive. Licenciada en educación especial, magíster en educación, amante del arte, de la lectura, las manualidades y de la naturaleza, blogger, locutora, madre emprendedora, motivadora social.
Gracias por leer mi publicación!
Imágenes de mi propiedad
Collage elaborado en photocollage
Texto traducido en deelp.
Conversor de letra 3D
Baner y separadores hecho en Canva y en Power Point
---
---