Lionesses [ESP/ENG]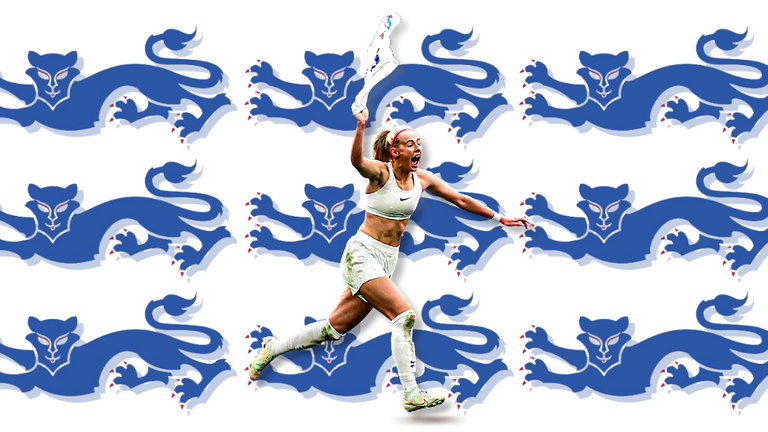 "The Lionesses" rompen una racha de 56 años que tenía el fútbol inglés al ganar la Eurocopa Femenina


La selección femenina de Inglaterra logró la hazaña de romper una larga racha que tenía el fútbol inglés al volver a ganar un importante título en un torneo de selecciones; el otro importante título futbolístico que tiene Inglaterra es el mundial de 1966 disputado justamente en suelo inglés y en dónde se enfrentaron contra la selección de Alemania en la gran antiguo estadio de Wembley; 56 años han pasado de ese encuentro y nuevamente en la disputa de un título se enfrentaron Inglaterra y Alemania, pero en el nuevo (remodelado) estadio de Wembley al frente de más de 87 mil personas que por fin vieron a la selección de su país ganar, pero teniendo como característica especial que en esta oportunidad sean un gran grupo de mujeres, de grandes jugadoras que dieron gran alegría a su país al ser las nuevas campeonas de Europa.


The Lionesses break a 56-year winning streak for English soccer by winning the Women's European Championship.
The England women's national team achieved the feat of breaking a long streak that had English soccer by winning again an important title in a national tournament; the other important soccer title that England has is the 1966 World Cup played precisely on English soil and where they faced the German national team in the great old Wembley stadium; 56 years have passed since that match and again in the dispute of a title England and Germany faced each other, but in the new (remodeled) Wembley stadium in front of more than 87 thousand people who finally saw their country's national team win, but having as a special feature that this time they are a great group of women, great players who gave great joy to their country to be the new champions of Europe.

Sí como aficionado pudiera elegir una final para este torneo, sin ninguna duda hubiera elegido Inglaterra vs. Alemania como la gran final y es que ambas selecciones fueron las mejores tanto en la primera como en la segunda fase, ya que dominaron a todas sus rivales y sabía que si algunas de estas selecciones no hubiera llegado a la final, entonces hubiera considerado que esta final se enfrentaban "La Sorpresa del torneo vs. La favorita" y debo agradecer que en esta oportunidad llegarán a esta instancia dos equipos que demostraron gran fútbol, con excelentes jugadoras e importante cuerpo técnico; es por eso que con estas características mis expectativas estaban muy altas porque sabía que el fútbol sería un gran invitado, igual que las grandes emociones porque ambas equipos nunca se rendirían y lucharían hasta el final para ser las mejores de Europa. Este torneo se merecía terminar de esta manera en dónde pudimos ver lo que debe ser el fútbol mundial de ahora en adelante, la evolución del fútbol femenino tuvo una gran representación no solo en estas dos selecciones, sino en todas las demás selecciones que fueron parte de esta gran competición y que en la final se enfrenten los mejores equipos es un gran premio para ellas y para todo aficionado al fútbol.


If as a fan I could choose a final for this tournament, without any doubt I would have chosen England vs. Germany as the final and both teams were the best in both the first and second phase, as they dominated all their rivals and I knew that if some of these teams had not reached the final, then I would have considered that this final would have been "The Surprise of the tournament vs. The favorite" and I must thank that in this opportunity two teams that showed great soccer, with excellent players and important technical staff will reach this instance; that is why with these characteristics my expectations were very high because I knew that soccer would be a great guest, as well as great emotions because both teams would never give up and would fight until the end to be the best in Europe. This tournament deserved to end in this way where we could see what should be the world soccer from now on, the evolution of women's soccer had a great representation not only in these two teams, but in all the other teams that were part of this great competition and that in the final the best teams face each other is a great prize for them and for all soccer fans.

Siempre he pensado que el factor suerte es importante para un equipo que es campeón, esto también significa que la fortuna que tiene un equipo es por supuesto lo contrario para otros y lamentablemente en esta final tuvo una baja muy importante y esa fue la de Alexandra Popp, capitana, goleadora y una de las grandes estrellas del torneo; ella sufrió una lesión minutos antes de comenzar la final y la dejó sin ninguna oportunidad de disputar ni un minuto del importante juego; a este inconveniente se le sumó que otra importante jugadora como Klara Bühl, no obtuvo un test negativo después de justamente dar positivo por Covid lo cual la dejó fuera de las semifinales y pienso que eso afectó no la concentración del equipo teutón, sino la ofensiva porque pienso que ambas son irremplazables; a pesar de las dos bajas, la seleccionadora alemana, M. Voss-Tecklenburg, siguió practicando su esquema 4-3-3; siempre siendo inteligente en saber cuándo presionar arriba y defenderse para jugar al contraataque aunque esté juego presentaba un gran nivel de dificultad porque las inglesas practicaron un fútbol inteligente, pero de posesión y de circulación rápida del balón y para mí las que mejor físicamente estaban en todo el torneo; esto creo una paridad y respeto en ambos equipos y eso lo puedo afirmar porque Inglaterra cambio el esquema que mayormente usó en partidos anteriores, me refiero al 4-1-4-1 y para la final la DT neerlandesa prefirió formar a su equipo con un 4-2-3-1, usando de forma sorpresiva a Kirby de enganche y dejando en el doble 5 en el medio campo a Stanway y Walsh; con estos cambios la entrenadora de Inglaterra pensaba en controlar el medio campo, tener el mayor número de jugadoras y es algo esperado porque si hubiera dejado a Walsh sola con la presión constante de Alemania, tal vez desde el primer tiempo estuvieran hasta perdiendo el encuentro; ahora entre este respeto, las bajas de Alemania y la condición física de ambas selecciones que los primeros 45 minutos de la final fueron muy recatados, llenos de expectativa y preocupación por no dar ningún paso en falso.


I have always thought that the luck factor is important for a team that is champion, this also means that the fortune that has a team is of course the opposite for others and unfortunately in this final had a very important casualty and that was Alexandra Popp, captain, scorer and one of the great stars of the tournament; she suffered an injury minutes before the start of the final and left her without any chance to play a minute of the important game; To this inconvenience was added that another important player as Klara Bühl, did not get a negative test after testing positive for Covid which left her out of the semifinals and I think that this affected not the concentration of the Teutonic team, but the offense because I think both are irreplaceable; despite the two casualties, the German coach, M. Voss-Tecklenburg, continued to play the game. Voss-Tecklenburg, continued practicing her 4-3-3 scheme; always being smart in knowing when to press up and defend to play counterattack although this game presented a great level of difficulty because the English played an intelligent soccer, but of possession and fast circulation of the ball and for me they were the best physically in the whole tournament; This created a parity and respect in both teams and I can affirm this because England changed the scheme that they mostly used in previous games, I mean the 4-1-4-1 and for the final the Dutch coach preferred to form her team with a 4-2-3-1, using Kirby as a surprise in the midfield and leaving Stanway and Walsh in the double 5 in the midfield; With these changes the England coach thought to control the midfield, to have the largest number of players and it is something expected because if she had left Walsh alone with the constant pressure of Germany, perhaps from the first half they would have been losing the game; now between this respect, the German casualties and the physical condition of both teams that the first 45 minutes of the final were very demure, full of expectation and concern not to make any false step.

El Segundo tiempo y la posibilidad de que ganara Inglaterra la final en los 90 minutos reglamentarios era gracias a las decisiones de Glotzbach-Wiegman; la entrenadora de las Leonas ya había demostrado firmeza en sacar del partido a importantes jugadoras para hacer entrar a otras con mejor estado físico y que si pudieran resolver o definir un encuentro, recordemos que sus cambios en cuartos de final cuando se enfrentaron a la selección de España fue lo que diferenció y rompió la paridad entre ambos equipos, también lo hizo en la semifinal y debería hacerlo en el segundo tiempo en la final porque el desgaste de su equipo cada vez más era evidente y justamente eso fue lo que puso darle esa oportunidad para anotar el primer gol del encuentro, ya que con la salida de Kirby quien era enganche y la entrada de Toone, se aprovechó los pases largos y la velocidad de una jugada que recién acababa de entrar al juego y de esta forma por momentos la entrenadora neerlandesa le estaba ganando la partida a su similar de Alemania, pero no todo podía ser perfecto porque los cambios hechos por Inglaterra eran ofensivos y es que no se quería ir al alargue y pienso que mucho menos a penales y eso que pienso que Inglaterra juega con una gran portera como es Earps, pero pienso que pudo hacer jugar una defensora más y aguantar los minutos finales, pero no lo hizo y pienso que esa equivocación la termino pagando cuando la selección alemana consiguió el empate llevando al encuentro al tiempo extra.


The second half and the possibility of England winning the final in the 90 minutes was thanks to the decisions of Glotzbach-Wiegman; the coach of the Lionesses had already shown firmness in taking important players out of the game to bring in others with better physical condition and who could solve or define a match, remember that her changes in the quarterfinals when they faced Spain was what differentiated and broke the parity between the two teams, He also did it in the semifinal and should do it in the second half in the final because the wear of his team was more and more evident and that was precisely what gave him the opportunity to score the first goal of the game, since with the departure of Kirby, who was a midfielder, and the entry of Toone, The long passes and the speed of a play that had just entered the game were taken advantage of and in this way at times the Dutch coach was winning the game against her German counterpart, but not everything could be perfect because the changes made by England were offensive and they did not want to go to extra time and I think that much less to penalties and I think that England plays with a great goalkeeper like Earps, But I think they could have played one more defender and hold the final minutes, but they didn't and I think they ended up paying for that mistake when the German team got the equalizer and took the game to extra time.

En el extra tiempo pienso que la convicción y la actitud pudo más que el control y eso fue lo que demostró Inglaterra que pudo ordenarse y atacar mejor por las bandas haciéndose más fuerte y controlando el juego; otra vez jugadoras provenientes del banco fueron fundamental en Inglaterra porque ellas dieron profundidad a su equipo y es que los dos goles que les dio esta gran victoria justamente fueron realizados por dos jugadoras no titulares y que suplantaron a unas muy importantes de su equipo, este es una clara prueba de lo buena que es Glotzbach-Wiegman cómo entrenadoras y es que en esta competencia demostró todo su nivel, toda su experiencia y creo que es de las pocas veces que he visto a un seleccionador repetir de forma consecutiva título en el mismo torneo, sin duda es una de las mejores del mundo y es que ver jugar a Inglaterra era algo sorprendente, por ejemplo, sus laterales ser otras mediocampistas, ayudar a la presión y recuperación, subir al ataque, eso que cada fin de semana podemos ver en el Liverpool de Klopp o el Manchester City de Guardiola, lo vimos nuevamente en esta selección campeona y pienso que eso fue algo que ayudó mucho a esta selección a ser muy dominante y me hace pensar en ver varios juegos de la selección de Países Bajos que ganó la Eurocopa en la anterior edición para ver si ese equipo jugaba de esta forma o está entrenadora pudo evolucionar en más de 4 años para llevar a Inglaterra a ganar otra vez en Wembley un título. Disfrute mucho este torneo femenino, me gustó el nivel futbolístico de todas las selecciones y es una clara evolución de lo que se puede ver en la UEFA Champions League femenina anualmente y espero que toda esta aceptación mundial que obtuvo este torneo haga que cadenas televisivas transmitan la UCL Femenina y el próximo Mundial que se realizará el año que viene en Nueva Zelanda y Australia; otra cosa, ya se oficializó de que habrá una "Finalissima" entre Inglaterra campeona de la Eurocopa y Brasil campeona de la Copa América y este es un juego que quiere ver ya porque la Canarinha es la única selección del continente con la calidad futbolísticas y física de hacer frente a estas selecciones europeas y solo habrá que esperar si es suficiente para poder ganar y obtener un título para nuestro continente.


In the extra time I think that conviction and attitude were more important than control and that is what England showed that they were able to organize themselves and attack better on the wings becoming stronger and controlling the game; Once again, players coming from the bench were fundamental for England because they gave depth to their team and the two goals that gave them this great victory were scored by two players who were not starters and who substituted some very important players in their team, This is a clear proof of how good is Glotzbach-Wiegman as coaches and in this competition she showed all her level, all her experience and I think it is one of the few times I've seen a coach repeat consecutively title in the same tournament, no doubt she is one of the best in the world and watching England play was amazing, For example, their fullbacks were other midfielders, helping in the pressure and recovery, going forward to attack, what we can see every weekend in Klopp's Liverpool or Guardiola's Manchester City, We saw it again in this champion team and I think that was something that helped this team to be very dominant and it makes me think of watching several games of the Netherlands team that won the European Championship in the previous edition to see if that team played this way or this coach could evolve in more than 4 years to lead England to win again at Wembley a title. I really enjoyed this women's tournament, I liked the level of soccer of all the teams and it is a clear evolution of what can be seen in the UEFA Women's Champions League annually and I hope that all this worldwide acceptance that this tournament got makes television networks to broadcast the UCL Women and the next World Cup to be held next year in New Zealand and Australia; Another thing, it was already officialized that there will be a "Finalissima" between England champion of the Euro Cup and Brazil champion of the Copa America and this is a game you want to see now because the Canarinha is the only team of the continent with the soccer and physical quality to face these European teams and just have to wait if it is enough to win and get a title for our continent.

La portada fue editada en canva; la fuente de las imágenes son las siguientes: Chloe Kelly, Leonas


---
---