[ESP-ENG] Iniciativa: Mis Canciones favoritas del 2023 | My favorite songs of 2023💘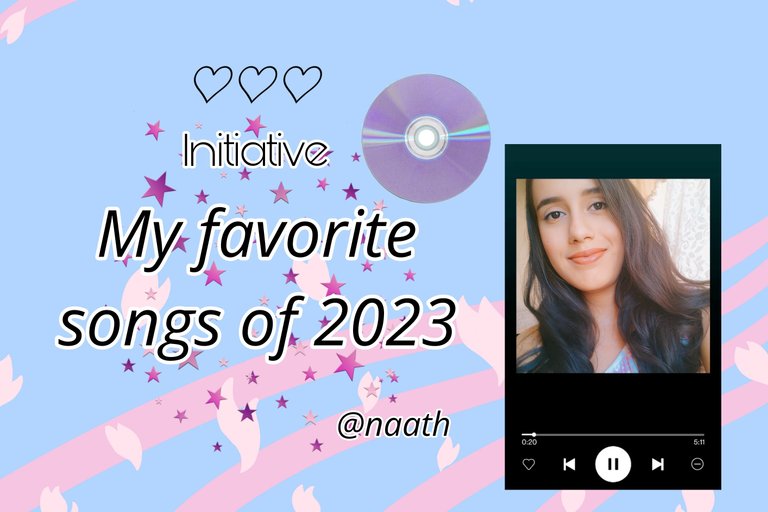 Hello friends of the Music community, today I want to share with you the post
https://peakd.com/@iuliapetit2711/my-favorite-songs-of-2023-spa-eng
from my friend
@iuliapetit2711
where she shares with us her favorite songs of 2023 and I thought it was a good idea to make an initiative to invite more hivers to join and share all those songs that have caught them during 2023 a few months before the end of the year.

Este año hemos tenido tantas canciones buenas y álbumes de calidad donde muchos artistas han demostrado que la música siempre será una forma de arte donde todos nos unimos para apreciar el trabajo de un cantante o un grupo musical. Cómo es de costumbre las canciones que me han atrapado han sido más que todo del género pop, pero también me han gustado de otros géneros como el rock. Hay canciones que tienen un ritmo y una letra tan buena que es difícil de olvidar y se vuelven un hit al instante. Les estaré hablando en este post de mis canciones favoritas del 2023.
This year we have had so many good songs and quality albums where many artists have shown that music will always be an art form where we all come together to appreciate the work of a singer or a band. As usual the songs that have caught my attention have been mostly from the pop genre, but I have also liked songs from other genres such as rock. There are songs that have a rhythm and lyrics so good that it is difficult to forget and become a hit instantly. I will be telling you in this post about my favorite songs of 2023.

Una de las artistas que se ha hecho viral por su música y también por su forma de ser es Doja Cat, criticada por hacer comentarios que están a veces fuera de lugar pero que al final son solo una parte de lo que ella es y los artistas cometen errores pero a veces internet es demasiado intenso sobre todo con el tema de la fama y ella tiene de esto bastante. Este año nos sorprendió con una imagen diferente a la que usualmente usaba, tiene un look un tanto de los 2000s con una combinación de "espíritu libre" que realmente no es de importancia para mí, ya que más allá de como luzca un artista me importa es el mensaje que deja con su música. Doja Cat es muy sexy y agrega este toque de sensualidad y sus letras sin filtros aún más en su nuevo album titulado "Scarlet" con una imagen de portada de una araña y un estilo más abierto según lo que ella ha dicho y también con el cual se siente más feliz que con sus anteriores álbumes. La verdad no sabía que esperar de este álbum, pensé que no me gustaría ya que ella misma decía que ya no quería crear música que no concordara con su esencia si no crear cosas que realmente sintiera y pensara. Este álbum está lleno de canciones increíbles con ese toque de personalidad segura de si misma y muy sexy. La canción que más me ha gustado es Paint The Town Red el cual tiene un sonido muy pegadizo dónde nos habla acerca de su manera de ver la fama y que no le interesa si se vuelve demasiado famosa porque ya no le importa lo que otros piensen acerca de ella, también habla de su manera de sentirse segura con respecto a su sensualidad y que no le da temor hablar de ello. Su manera de cantar la canción la hace muy única, me encanta como se siente la fuerza en cada palabra que va cantando, sin duda una de mis favoritas del 2023.
One of the artists that has gone viral for her music and also for her way of being is Doja Cat, criticized for making comments that are sometimes out of place but in the end are just a part of who she is and artists make mistakes but sometimes the internet is too intense especially with the topic of fame and she has enough of this. This year she surprised us with a different image than the one she usually used to use, she has a 2000s look with a combination of "free spirit" which is not really important for me, since beyond how an artist looks I care about the message she leaves with her music. Doja Cat is very sexy and she adds this touch of sensuality and her unfiltered lyrics even more in her new album titled "Scarlet" with a cover image of a spider and a more open style according to what she has said and also with which she feels happier than with her previous albums. I really didn't know what to expect from this album, I thought I wouldn't like it since she herself said that she no longer wanted to create music that didn't match her essence but to create things that she really felt and thought. This album is full of amazing songs with that touch of confident and very sexy personality. The song that I liked the most is Paint The Town Red which has a very catchy sound where she talks about her way of seeing fame and that she doesn't care if she becomes too famous because she doesn't care what others think about her, she also talks about her way of feeling confident about her sensuality and that she is not afraid to talk about it. Her way of singing the song makes her very unique, I love how you can feel the strength in every word she sings, without a doubt one of my favorites of 2023.

Este año hemos visto como Demi Lovato se encuentra en su mejor momento, tanto musical como personal. Realmente se ve muy sana y feliz con su vida actual y ha vuelto con su música a sus viejas raíces del género rock. Por lo que decidió sacar un álbum titulado REVAMPED dónde incluyo canciones de su repertorio musical que fueron muy sonadas como Cool for the summer, Don't Forget, Confident, Sorry Not Sorry entre otras. Las cuales regrabo pero está vez en versión rock y me pareció una idea increíble porque cada una de las canciones que eligió para este álbum son de las mejores que ella tiene y la que más me gustó es Sorry Not Sorry. Cada una de las canciones tienen un vídeo grabado en formato vertical y de una manera muy diferente, la cámara va moviéndose tomando diferentes puntos de Demi mientras canta, me pareció bastante innovador hacer esto. Realmente me encanta cuando Demi muestra todo el talento que tiene y se sumerge en otros géneros, su calidad vocal tiene tanto potencial que el género del rock no le queda para nada mal, me gustaría que en su próximo álbum haga canciones de este estilo.
This year we have seen Demi Lovato at her best, both musically and personally. She really looks very healthy and happy with her current life and has returned with her music to her old rock roots. So she decided to release an album titled REVAMPED where she included songs from her musical repertoire that were very popular such as Cool for the summer, Don't Forget, Confident, Sorry Not Sorry among others. She re-recorded them but this time in a rock version and I thought it was an incredible idea because each of the songs she chose for this album are some of her best and the one I liked the most is Sorry Not Sorry. Each one of the songs has a video recorded in vertical format and in a very different way, the camera moves taking different points of Demi while she sings, I thought it was quite innovative to do this. I really love when Demi shows all the talent she has and dives into other genres, her vocal quality has so much potential that the rock genre does not fit her at all, I would like her next album to do songs in this style.

Una de las cantantes que me ha sorprendido bastante es Miley Cyrus, ella ha pasado por tantos cambios desde ser una joven actriz hasta convertirse en una gran cantante de pop y otros géneros. El álbum que más me ha gustado de Miley es Bangerz, cuando lo escuché dije Wow, Miley tenías ese talento algo escondido. Luego de escuchar el álbum que por cierto lo compre en el momento en que salió, me gustaron los covers que ella ha hecho con canciones de otros artistas como Coldplay, The Cranberries, Dolly Parton entre otros. Hay un cover que me encantó y que aún no superó y es el de la canción Zombie, cada vez que escucho su cover siento tanta emoción en lo que va cantando y su manera de hacerlo hace que se te erice la piel. Este año ha estado arrasando y nos ha dado dos canciones que se han vuelto virales y muy escuchadas por los amantes de la música pop, una de ellas es "Flowers" dónde nos habla de sobre el empoderamiento femenino y que como mujeres podemos lograr lo que queramos y darnos todo lo que necesitamos, tiene una melodía muy buena y creo que por eso se ha quedado en la mente de todos. Otra de las canciones que ha lanzado este año es "Used to Be Young" la cual escuché y sentí mucha tristeza, ya que habla sobre su pasado y la forma en la que dice cómo las personas la criticaron pero ella solo quería ser una persona libre y que sabe que cometió algunos errores pero que es humana al final de todo. Para los fanáticos de Miley les recomiendo ambas canciones aunque probablemente ya las han escuchado por qué son virales en este momento.
One of the singers that has surprised me a lot is Miley Cyrus, she has gone through so many changes from being a young actress to becoming a great pop singer and other genres. The album I have liked the most from Miley is Bangerz, when I listened to it I said Wow, Miley you had that hidden talent. After listening to the album, which by the way I bought the moment it came out, I liked the covers she has done with songs by other artists such as Coldplay, The Cranberries, Dolly Parton among others. There is one cover that I loved and that I still haven't gotten over and that is the song Zombie, every time I listen to her cover I feel so much emotion in what she sings and the way she does it makes your skin crawl. This year she has been sweeping and has given us two songs that have become viral and very listened to by pop music lovers, one of them is "Flowers" where she talks about female empowerment and that as women we can achieve whatever we want and give us everything we need, it has a very good melody and I think that's why it has stayed in everyone's mind. Another song she has released this year is "Used to Be Young" which I listened to and felt a lot of sadness, as she talks about her past and the way she says how people criticized her but she just wanted to be a free person and that she knows she made some mistakes but she is human at the end of it all. For Miley fans I recommend both songs although you probably have already heard them why they are viral at the moment.

Lewis Capaldi es un artista con una gran capacidad de talento y voz además de que escriba letras muy hermosas y otras un tanto tristes pero que siempre sabe cómo reflejar los sentimientos y diferentes situaciones en sus canciones. Había escuchado solo una canción de él y esa fue Someone You Loved la cual es una canción bastante famosa de él y es muy buena. Pero este año sacó un álbum titulado Broken By Desire to be Heavenly Sent el cual se que tiene canciones muy buenas pero hay una en especial que me dejó muy mal al escucharla. La canción se llama Wish You The Best en dónde habla acerca de la necesidad de estar con una persona que ya no se encuentra en este mundo y su manera de dejar salir todas esas cosas que hubiera querido decirle a esa persona. Es una canción bastante triste, no recomiendo si están pasando por un momento difícil porque a mí me puso muy sensible al escucharla, pero después de hacerlo muchas veces me siento conectada con la hermosa y melodiosa voz de Lewis y el sentimiento que transmite en sus canciones sin derrumbarme.
Lewis Capaldi is an artist with a great capacity of talent and voice plus he writes very beautiful lyrics and others a bit sad but he always knows how to reflect the feelings and different situations in his songs. I had heard only one song from him and that was Someone You Loved which is a very famous song of his and it is very good. But this year he released an album called Broken By Desire to be Heavenly Sent which I know has very good songs but there is one in particular that left me very bad when I listened to it. The song is called Wish You The Best where she talks about the need to be with a person who is no longer in this world and her way of letting out all those things she would have wanted to say to that person. It's a pretty sad song, I don't recommend it if you are going through a difficult time because it made me very sensitive listening to it, but after doing it many times I feel connected with the beautiful and melodious voice of Lewis and the feeling she transmits in her songs without breaking down.

Espero que les haya gustado este post y muchas gracias por apoyarme siempre 🧡😊
I hope you liked this post and thank you very much for always supporting me 🧡😊

Las imágenes fueron editadas en Picsart - The Images were edited with Picsart
Traducción - Translation with Deepl
---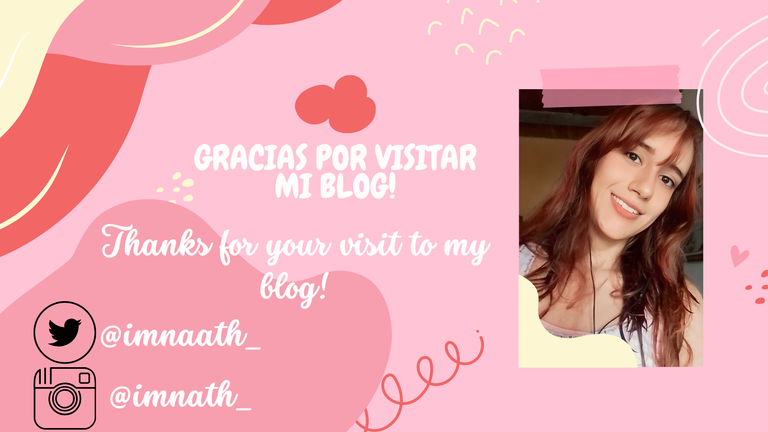 ---
---