5 minute freewrite Friday prompt musk ox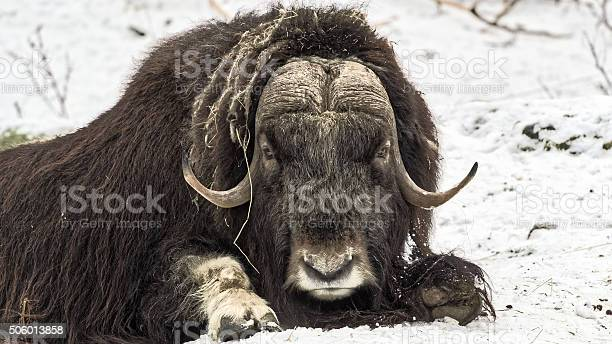 I copied this image from https://www.istockphoto.com/photo/muskox-in-snow-gm506013858-83994687
This is my post for #freewriters Friday prompt musk ox hosted by @mariannewest
The other day my grandson asked his mom if he could put some things in her attic and she said he could. While up there he spotted two boxes in the very back and pulled them out. My daughter said that she knew the boxes were there when she bought the house, but she was not climbing back there to see what they were. So he pulls them out and in one is a typewriter that was made in 1932. The other box is full of stamps from around the world, some are in books with the pages of their country and the others are in plastic bags. As far as they can guess, the stamps are also from the '30s. I wonder if one of them has a picture of a musk ox on it?
My daughter is in her room listening to her two children ages 20 and 28. They are discussing their plans for the money they will get for selling the stamps. First, it was going to be split 70% and 30%, but finally, they agreed on 50/50. Then they say that they will keep them so they will have something to pass on to their children. They never once considered that they just might belong to the person who has been paying the mortgage on the house, their mother.
They even discussed not telling anyone about the stamps, afraid that they would be robbed. Today my granddaughter took me to my appointments and I mentioned the stamps. She looks at me and says "Mom has to tell everyone", I say "excuse me, I am not anyone. I am not going to rob you". She would be mad if she knew that I was writing about this....
I saw the Endocrinologists, he wanted to have me take another blood test to be sure that my thyroid was high, he says sometimes the test gives wrong results. I walked away with the impression that he does not think it is high, I should find out next week.
From there I went to the testing center and had more blood work taken. And the next appointment was with radiology to have an ultrasound of my neck taken.
I had a tag team today, my daughter picked me up and took me to my first appointment, then my granddaughter showed up at the next one so my daughter could go to work. She ran me to all the things that I needed to get done today, including buying a new 6 point spark plug socket.
She also took me to lunch, we had subs from Jersey Mikes, Even though I can make 4 meals out of mine, I think the subs were way overpriced. She paid 31 dollars for 2 subs.
---
---