Crypto Lessons - Jack of all trades, master of none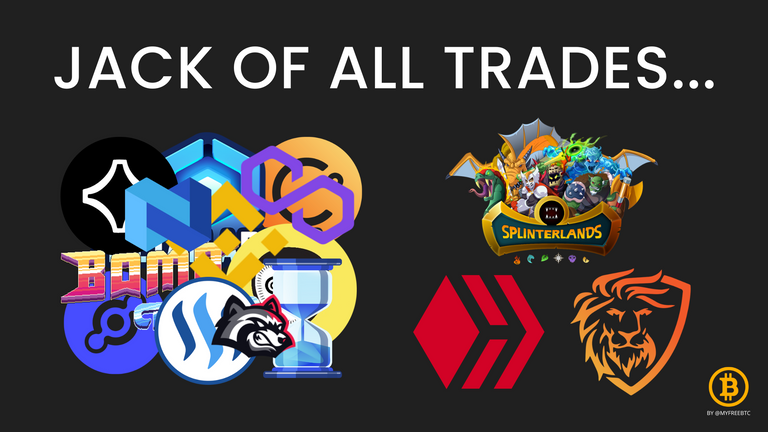 The Crypto World is ever expanding just like the universe. Every day there are new blockchains, new DeFi projects, new play-to-earn games, new meme coins, new this, new that. This is especially true during the bull market when everyone is rushing to launch new projects to cash in on the mass hysteria.
It is easy to get lost with all of the excitement going around and start trying to juggle too many projects at the same time in search of the next big thing. I'm talking from experience, at one time I was holding almost 20 different tokens, playing 4 different play-to-earn games, trying to post on Hive, and using/getting referrals for faucet websites.

Jack of all trades
One thing is certain, I learned a lot during this time and I was able to turn a profit overall. The bad part was the opportunity cost of trying to do too many things at once. I even invested in a dog coin without knowing anything about it! Just because I didn't want to miss the opportunity even though I had no time to understand the tokenomics or follow the progress of the token.
It is humanly impossible to keep track of over 20 crypto projects at once so I ended up not selling some of the tokens when I clearly would have if I was paying closer attention to each project. The same applies to buying opportunities I didn't grab because I was too busy with everything else.
I wasn't able to optimize my strategy on the play to earn games and left a lot of money on the table for each one of them. In hindsight, I would have made a lot more money if I decided to focus on being top tier at one or two games instead of being mediocre at all of them.

Master of none
The result of doing everything at once was that my returns from each project were way smaller than they could have been. If I could go back in time I would have focused harder on the projects like Hive and Splinterlands. I could have a way bigger following on Hive, a lot more Hive Power / Leo Power and compete on Splinterlands highest leagues.
This was a painful and costly lesson but now I know better than to chase every project I see. Instead, I'm currently focusing on:
Hive / Leofinance
Splinterlands, Rising Star, Axie Infinity
Polycub
My returns increased significantly since I decided to hunker down and focus on just a few projects, I also have a lot more free time and peace of mind.
I will make sure to remember my lesson when the next bull market comes around and keep investing my time in these same platforms!

Posted Using LeoFinance Beta
---
---