Music Zone: Growth and Expansion (Results & Outlook)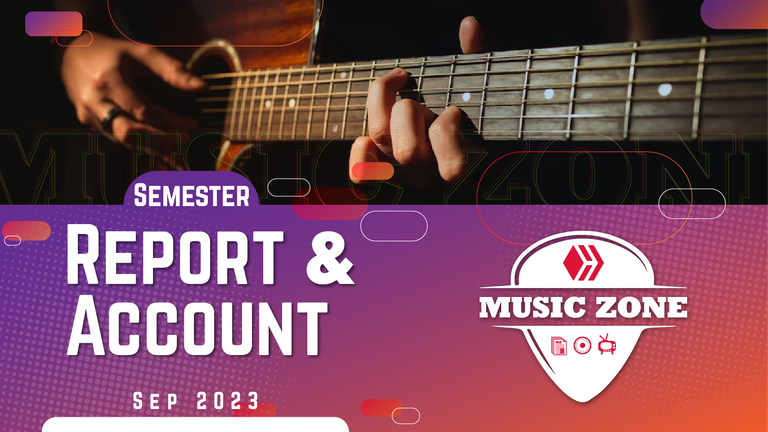 Growth and Expansion: Results & Outlook
Crecimiento y Expansión: Resultados & Perspectivas

Music Zone was born in the mind, a subtle idea gaining strenagth every day until it could manifest itself in Hive as the community we know today. The enthusiasm to grow has not stopped, we try to improve a little more in our work, providing value and different opportunities to the artists who make life in Hive; It is our grain of sand to this platform that has been a silent witness to the growth of many users. Observing how the Music Zone Community has been growing and evolving in a short time, in just 9 months, fills us with great joy and satisfaction; Therefore, proposing to look deeply and in detail at the achievements, has been of vital importance for our enthusiasm to multiply and motivate us to promote this community more and more.
Music Zone nació en la mente, una idea sutil que fue tomando fuerza cada día hasta que se logró manifestarse en Hive como la comunidad que conocemos hoy. El entusiasmo por crecer no se ha detenido, procuramos cada semana mejorar un poco más en nuestras labores, aportando valor y oportunidades distintas a los artistas que hacen vida en Hive; es nuestro grano de arena a esta plataforma que ha sido un testigo silencioso del crecimiento de muchos usuarios. Observar como ha venido creciendo y evolucionado la Comunidad de Music Zone en corto tiempo, en tan solo 9 meses, nos llena de mucha alegría y satisfacción; por lo que, proponernos a mirar profunda y detalladamente los logros, ha sido de vital importancia para que nuestro entusiasmo se multiplique y nos motive a impulsar cada vez más esta comunidad.

From the beginning, Music Zone has tried to create musical values in our artists from a community music education model. As we have mentioned in Our Presentation, we do not pretend to be a musical university, however, we try in the best possible way to offer the necessary tools so that together we can be a great mass of music and artists. Likewise, we keep in mind that we are human beings, with an immense enthusiasm for creating good music. Step by step Music Zone has been growing and evolving, and with this same force, the responsibilities grow.
Desde el principio, Music Zone, ha pretendido crear valores musicales en nuestros artistas desde un modelo de educación musical comunitario. Como lo hemos mencionado en Nuestra Presentación, no pretendemos ser una universidad musical, sin embargo, intentamos de la mejor forma posible, ofrecer herramientas necesarias para que juntos seamos una gran masa musical y de artistas. Así mismo, tenemos presente que somos seres humanos, con un inmenso entusiasmo por crear buena música. Paso a paso Music Zone ha venido creciendo y evolucionando, y con esta misma fuerza crecen las responsabilidades.

Our first impulse in the community were the activities of the Hive Music Festival and Magazine Zone; evolving with the creation of new initiatives such as Hive Music Artist and Hive Voices. We are still studying the dynamics to start the next contests that will join our main activity: Hive Music Festival. The new activity is being programmed to start in the next few days, we are looking forward to its first week. Our interest in improving and facilitating musical learning has been what has motivated us to continue believing that this is a project worth betting on. The results we have observed from our evolutionary analysis have pleasantly surprised us, so much so, that we decided to share all this data with the entire community, and thus, in this way, celebrate together the shared achievements of Music Zone.
Nuestro primer impulso en la comunidad fueron las actividades del Hive Music Festival y Magazine Zone; evolucionando con la creación de nuevas iniciativas como lo son Hive Music Artist y Hive Voices. Seguimos estudiando la dinámica para dar inicio a un próximos concursos que se unirán a nuestra principal actividad: Hive Music Festival. La nueva actividad está en programación para dar inicio en los próximos días, esperamos con ansias su primera semana. Nuestro interés por mejorar y facilitar el aprendizaje musical ha sido lo que nos ha motivado a seguir creyendo que este es un proyecto en el que vale la pena apostar. Los resultados que hemos observado de nuestro análisis evolutivo nos ha sorprendido gratamente, tanto, que nos propusimos compartir todos estos datos con toda la comunidad, y así, de esta manera, celebrar juntos los logros compartidos de Music Zone.

🔸

Vote Aliento | Vota por Aliento

🔸



COMMUNITY
Comunidad
Music Zone has been well received by the large Hive community. The growth of those who trust in this prestigious music event continues to grow, this number has been significant for a young community. We continue to work to promote the community and all its activities so that subscriptions continue to increase.
Music Zone ha obtenido una buena aceptación por parte de la gran comunidad de Hive. El crecimiento de los que confían en este prestigioso evento musical sigue creciendo, ha sido significativo este número para ser una comunidad joven. Seguimos trabajando para impulsar a la comunidad y a todas sus actividad para que sigan en aumento las suscripciones.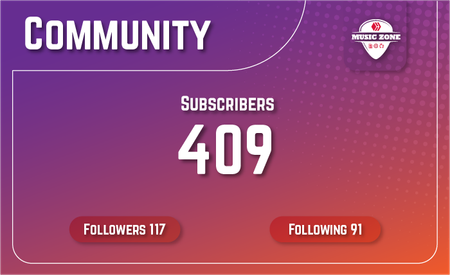 The reach we have had has been thanks to the collaboration of many who have believed in this community, mainly the community of @aliento and @theycallmedan, who gave the vote of confidence to Music Zone, and each of those who support this project; with all this it has been possible to achieve this number of reputation in such a short time.
El alcance que hemos tenido ha sido gracias a la colaboración de muchos que han creído en esta comunidad, principalmente la comunidad de @aliento y @theycallmedan, quienes le dieron el voto de confianza a Music Zone, y de cada uno de los que apoyan este proyecto; con todo ello ha sido posible alcanzar este número de reputación en tan corto tiempo.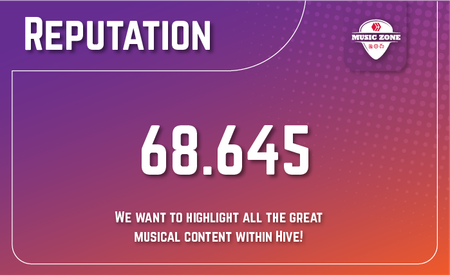 Music Zone in only nine months has generated an accumulation of organic and delegated HP; which we have reused to give more value to the participations of our artists and to the good music in general that is made throughout Hive.
Music Zone en solo nueve meses ha generado una acumulación de HP orgánico y delegado; el cual hemos reutilizado para darle un valor más a las participaciones de nuestros artistas y a la buena música en general que se hace en todo Hive.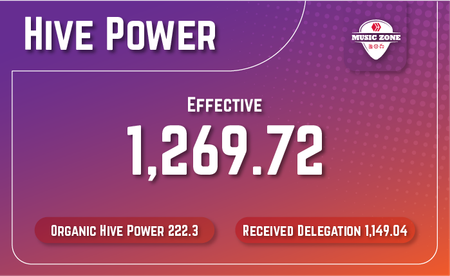 🔸

Advertisement | Publicidad

🔸



PUBLICATIONS
Publicaciones
Each publication represents hours of work, rehearsal, and dedication. Behind every performance are wonderful learning experiences. Music Zone is committed to elevating responsible, honest musical content and active participation. Music is an abstract language that can be used to express ideas and emotions in unique ways. This allows musicians to explore new concepts and forms of expression. Each participant has made great strides and we are happy for their evolution.
Cada publicación representa horas de trabajo, ensayo, y dedicación. Detrás de cada presentación existen maravillosas experiencias de aprendizaje. Music Zone está comprometido con elevar el contenido musical responsable, honesto y la participación activa. La música es un lenguaje abstracto que puede usarse para expresar ideas y emociones de maneras únicas. Esto permite a los músicos explorar nuevos conceptos y formas de expresión. Cada participante ha dado grandes pasos y nos sentimos felices por su evolución.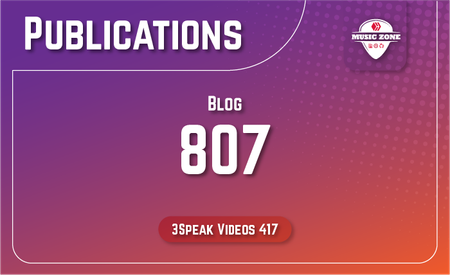 Magazine Zone is a section where users can find and read articles, reviews, interviews and other music related content. Our goal is to provide resources and tools to musicians and content creators to improve their performance, achieve a growth mindset in social, emotional and creative aspects. We have had great receptivity from the audience and hope to continue innovating and generating quality content for all Hive artists.
Magazine Zone es una sección donde los usuarios pueden encontrar y leer artículos, reseñas, entrevistas y otros contenidos relacionados con la música. Nuestro objetivo es brindar recursos y herramientas a los músicos y creadores de contenido para mejorar su performance, alcanzar una mentalidad de crecimiento en aspectos sociales, emocionales y creativos. Hemos tenido gran receptividad de la audiencia y esperamos seguir innovando y generando contenido de calidad para todos los artistas de Hive.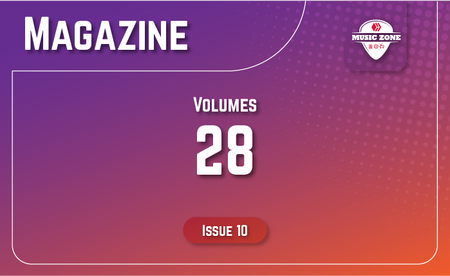 In Music Zone, the total number of views of a post represents the number of times that post has been viewed by users. This metric is an important and meaningful measure that tells us about the reach and interest of our posts. Post views are a measure of engagement, dynamism, acceptance and responsiveness. Posts that receive many views indicate that users are interested in the content and are participating in the discussion.
En Music Zone, el número total de visualizaciones de una publicación representa el número de veces que esa publicación ha sido vista por los usuarios. Esta métrica es una medida importante y significativa que nos habla sobre el alcance y el interés de nuestras publicaciones. Las visualizaciones de las publicaciones son una medida del compromiso, dinamismo, aceptación y receptividad. Las publicaciones que reciben muchas visualizaciones indican que los usuarios están interesados en el contenido y están participando en la discusión.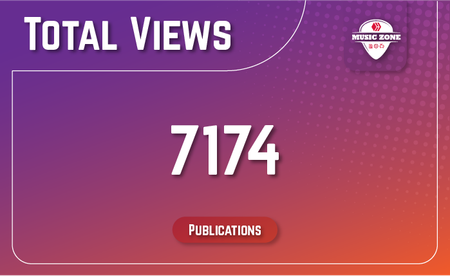 Capital Music Zone
Capital de Music Zone
Music Zone's gross equity is the total value of HBD and Hive revenue earned during the development of the project. This capital is used to pay rewards to content creators and contributors. This is an important indicator of the success of the community and tells us that it has a strong user base and that content creators are being rewarded and incentivized for their efforts. We have been clear from the outset that any profits earned are reinvested within the platform itself.
El capital bruto de Music Zone es el valor total de los ingresos en HBD y Hive que se han obtenido durante el desarrollo del proyecto. Este capital se utiliza para pagar las recompensas a los creadores de contenido y a los colaboradores. Este es un indicador importante del éxito de la comunidad y nos dice que tiene una base de usuarios sólida y que los creadores de contenido están siendo recompensados e incentivados por sus esfuerzos. Hemos tenido claro desde el inicio que las ganancias obtenidas se vean reintegradas dentro de la misma plataforma.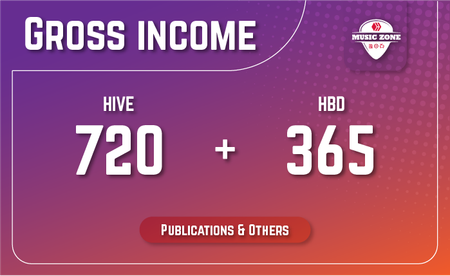 Equity distribution provides a source of revenue for content creators; an incentive for them to produce high quality content. They know that if they produce content that is popular with users, they are more likely to earn rewards. It also helps to create a strong community of music content creators who motivate each other, as they know there is an audience that appreciates them for the effort in generating their content.
La distribución de capital proporciona una fuente de ingresos para los creadores de contenido; un incentivo para que se produzca contenido de alta calidad. Ellos saben que, si producen contenido que es popular entre los usuarios, tendrán más probabilidades de ganar recompensas. También ayuda a crear una comunidad sólida de creadores de contenido musical que se motivan unos a otros, ya que saben que hay una audiencia que los aprecia por el esfuerzo en gestar su contenido.

🔸

Advertisement | Publicidad

🔸



Hive Music Festival
Festival Hive Music
Rewards have been an effective tool for increasing the number of participants in the Hive Music Festival. They have helped create an incentive for music content creators to participate in the festival, and contribute to the growth of the community. Thanks to the support of our sponsors we have been able to compensate the time and effort for content creators. We have stood out for being fair and transparent in the distribution of rewards and this has generated confidence in the participants of the project.
Las recompensas han sido una herramienta efectiva para incrementar el número de participantes en el Hive Music Festival. Estas han ayudado a crear un incentivo para que los creadores de contenido musical participen en el festival, y contribuyen al crecimiento de la comunidad. Gracias al apoyo de nuestros patrocinadores hemos logrado compensar el tiempo y el esfuerzo para los creadores de contenido. Nos hemos destacado por ser justos y transparentes en la distribución de las recompensas y eso ha generado confianza en los participantes del proyecto.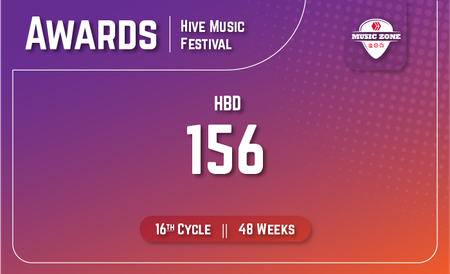 Hive Music Artist
Artista Hive Music
A few weeks ago this activity began and the receptivity has been incredible. The Hive Music Artist of the Week is a new program that recognizes and rewards outstanding music content creators at the Hive Music Festival. This new initiative is highly exciting, has captivated and incentivized the audience. The goal of the activity is to give special recognition to two additional participants each week, which we also reward.
Hace pocas semanas empezó esta actividad y la receptividad ha sido increíble. El Artista musical de la semana de Hive es un nuevo programa que reconoce y recompensa a los creadores destacados de contenido musical del Hive Music Festival. Esta nueva iniciativa es altamente emocionante, ha cautivado e incentivado a la audiencia. El objetivo de la actividad es hacer una mención especial de reconocimiento a dos participantes adicionales cada semana, lo cuales también recompensamos.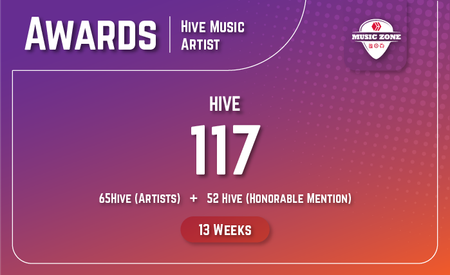 🔸

Advertisement | Publicidad

🔸



Other Awards
Otros Premios
The Music Zone Discord server is a place for music lovers to meet and connect with each other. The server offers a variety of activities for users to enjoy, participate and interact with other members of the community. On this server we offer a variety of events such as Hive Voices, Alternative Tuning and other random music contests; as well as live performances.
El servidor Discord de Music Zone es un lugar para que los amantes de la música se reúnan y se conecten entre ellos. El servidor ofrece una variedad de actividades para que los usuarios disfruten, participen e interactúen con otros miembros de la comunidad. En este servidor ofrecemos una variedad de eventos como el Hive Voices, Sintonía Alternativa y otros concursos aleatorios de música; además de presentaciones en vivo.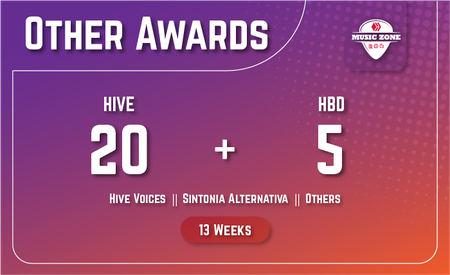 Hive Music Festival on the street
Hive Music Festival en la calle
The Hive Music Festival on the street is a unique opportunity to celebrate music and culture. With great enthusiasm and planning, we have been able to organize a fun and memorable festival outside of Hive's digital environment for all attendees. One of the purposes is to boost the name of Hive and, most importantly, our artists; who every day give their hearts in their performances in the various competitions that exist in our beloved Blockchain. The impulse of our artists and the ecosystem is one of our goals for Hive to have the recognition it deserves in the world. The outcome of our first street festival was extraordinary and highly satisfying. For the event, investments were made in the rental of transportation, equipment and other logistical elements, both with capital from the community and from sponsors present in the Blockchain.
El Hive Music Festival en la calle es una oportunidad única para celebrar la música y la cultura. Con gran entusiasmo y planificación, hemos podido organizar fuera del entorno digital de Hive un festival divertido y memorable para todos los asistentes. Una de las finalidades es impulsar el nombre de Hive y, lo primordial, a nuestros artistas; quienes día a día entregan su corazón en sus interpretaciones dentro de los diversos concursos que existen en nuestra amada Blockchain. El impulso de nuestros artistas y del ecosistema es una de nuestras metas para que Hive tenga el reconocimiento que se merece ante el mundo. El resultado de nuestro primer festival en la calle fue extraordinario y altamente satisfactorio. Para el evento se realizaron inversiones en el alquiler del transporte, equipos y otros elementos logísticos, tanto con capital de la comunidad como de patrocinadores presentes en la Blockchain.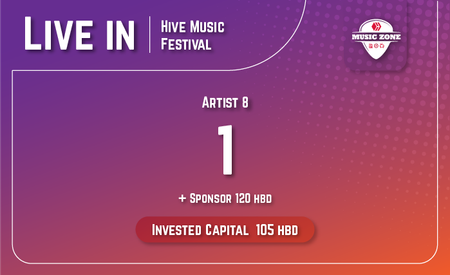 Incentives
Incentivos
Team incentives are a way of recognizing and thanking them for their contribution to the success of this project. Jurors are responsible for selecting the winners of the Hive Music Festival and Music Zone prizes and contests; their work is essential to ensure that prizes are awarded to the most deserving music content creators. Moderators are responsible for keeping the Hive Music Festival and Music Zone forums and discussion channels free of spam, hate speech and other inappropriate content. These responsibilities are essential to creating a safe and welcoming environment for users; as well as other responsibilities such as that of the Graphic Designer, who is responsible for managing the visual image of Hive Music Festival and everything that is posted on Music Zone. In this way we value the efforts of everyone, including contributors, people who contribute to Hive Music Festival and Music Zone in various ways, such as creating musical content, organizing events or supporting the community.
Los incentivos al equipo de trabajo son una forma de reconocer y agradecer su contribución al éxito de este proyecto. Los jurados son responsables de seleccionar a los ganadores de los premios y concursos del Hive Music Festival y Music Zone; su trabajo es esencial para garantizar que los premios se otorguen a los creadores de contenido musical más meritorios. Los moderadores son responsables de mantener los foros y canales de discusión del Hive Music Festival y Music Zone libres de spam, discurso de odio y otros tipos de contenido inapropiado. Estas responsabilidades son esenciales para crear un entorno seguro y acogedor para los usuarios; así como también otras responsabilidades como la del Diseñador Gráfico, encargado de gestionar toda imagen visual del Hive Music Festival y de todo lo que se publica en Music Zone. De esta manera valoramos el esfuerzo de todos, incluso a los colaboradores, personas que contribuyen al Hive Music Festival y a Music Zone de diversas maneras, como creando contenido musical, organizando eventos o apoyando a la comunidad.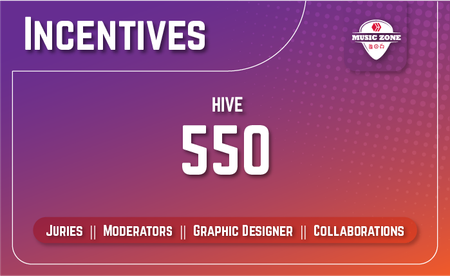 🔸

Advertisement | Publicidad

🔸



Acknowledgments
Agradecimientos
We want to express our deepest gratitude to all the musicians and artists who have contributed and believed in Music Zone. The participation of each of you are part of this incredible story that we are building together within Hive, of a unique moment for this community, full of passion and energy, bringing enthusiasm to continue. The talent that all the participants have overflowed in the Hive Music Festival inspires us to keep growing, reminds us how music has an impressive power in everyone's life, where Music Zone is a space to meet and see how cultural and language boundaries are broken.
All the ideas made song shared in Music Zone is a gift that promotes unity and harmony within the community, it reflects the passion and describes the love that everyone has for music. Thank you all for sharing your art in Music Zone, for contributing in this community to be your window to show yourselves. We appreciate the inspiration that each of you give us by sharing your dreams with your music. Thanks to all of you Music Zone is changing lives.
Queremos expresar nuestra más profunda gratitud a todos los músicos y artistas que han aportado y creído en Music Zone. La participación de cada uno de ustedes son parte de esta increíble historia que estamos construyendo juntos dentro de Hive, de un momento único para esta comunidad, lleno de pasión y energía, aportando entusiasmo a continuar. El talento que todos los participantes han desbordado en el Hive Music Festival nos inspira a seguir creciendo, nos recuerda como la música tiene un poder impresionante en la vida de todos, donde Music Zone es un espacio para reunirnos y ver como se rompen las fronteras culturales y del idioma.

Todas las ideas hechas canción compartidas en Music Zone es un regalo que promueve la unión y la armonía dentro de la comunidad, reflejan la pasión y describe el amor que cada uno tiene por la música. Gracias a todos por compartir su arte en Music Zone, por aportar en esta comunidad para que sea su ventana para mostrarse. Agradecemos la inspiración que cada uno nos otorga compartiendo los sueños propios con su música. Gracias a todos Music Zone está cambiando vidas.

Voting Power
Poder de Voto
The purpose of the delegations is to give greater value to the musical publications, as well as to the presentations at the Hive Music Festival and the different musical activities of HIVE. Your support has been of utmost importance and we thank you all for your support.
Las delegaciones tienen el propósito de darle mayor valor a las publicaciones musicales, tanto como a las presentaciones en el Hive Music Festival, como en las diferentes actividades musicales de HIVE. Su apoyo ha sido de suma importancia y les damos las gracias a todos los que hasta ahora han creído en este increíble proyecto.


🔸

Visit Our Community | Visita Nuestra Comunidad

🔸


Delega en la cuenta @musiczone, y ayuda a recompensar a los autores con un mayor voto.
Aquí algunos enlaces para delegar usando Hivesigner
Delegate to the @musiczone account, and help reward authors with a higher vote.
Here are some links to delegate using Hivesigner
| 50 HP | 100 HP | 500 HP | 1000 HP | 5000 HP |

We invite you! | Te invitamos
Music Zone

©2023 - Todos los derechos reservados

---
---