Cha-La-Head-Cha-La - Dragon Ball Z Opening by @musicandreview

---
Hi #hive friends! I'm Dina from @musicandreview and I'm very happy to present you what is perhaps the most iconic opening in the history of Japanese anime and it's nothing more and nothing less than "Cha-La-Head-Cha-La", which is the first opening of the mythical Dragon Ball Z. It was used during 199 chapters and in 9 movies.
The original song (Japanese language) is performed by the well-known Hironobu Kageyama and was released on May 1, 1989 in the album "Dragon Ball Z Hit Song Collection". It is worth mentioning that it has many versions in different languages and in this opportunity I have the pleasure to present the Spanish version which is performed by the Mexican interpreter and dubbing actor Ricardo Silva who died this year due to respiratory complications of COVID-19 and we also want to pay him this humble tribute.
Words would not be enough to explain how important this song is for the childhood of many and that spans several generations. Despite how old this anime is, it is still very much alive in our minds and it is not so difficult to see in the streets of any city in the world some reference to it.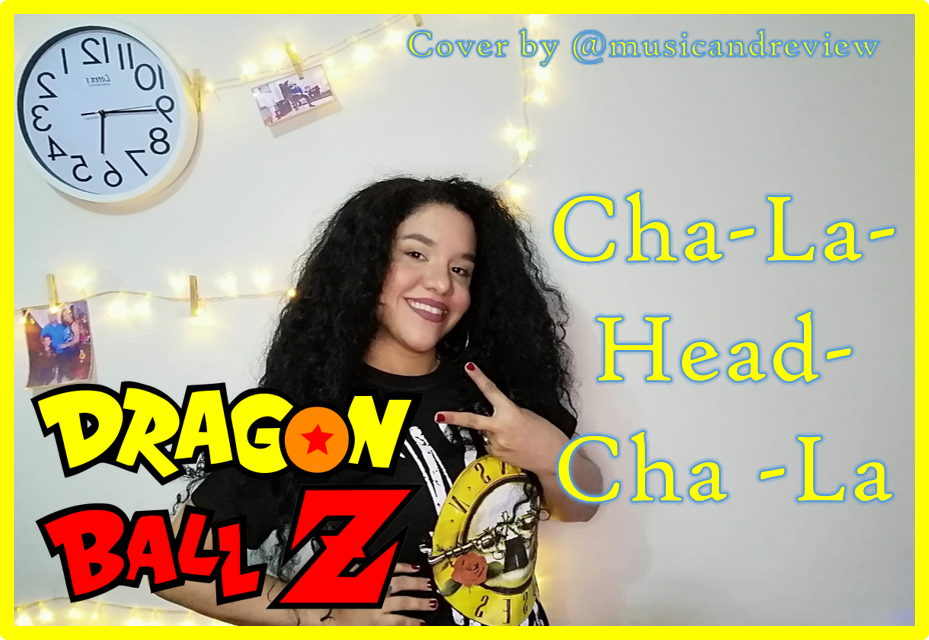 ¡Hola amigos de #hive! Soy Dina de @musicandreview y estoy muy contenta por poder presentarles el que quizá es el opening mas icónico en la historia del anime japones y se trata nada mas y nada menos que de "Cha-La-Head-Cha-La", que es el primer opening de la mítica Dragon Ball Z. Fue utilizado durante 199 capítulos y en 9 películas.
La canción original (idioma japones) es interpretada por el conocido Hironobu Kageyama y fue lanzada el 1 de mayo de 1989 en el álbum "Dragon Ball Z Hit Song Collection". Es de mencionar, que cuenta con muchas versiones en distintos idiomas y en esta oportunidad tengo el gusto de presentarles la versión en español que es realizada por el interprete y actor de doblaje mexicano Ricardo Silva quien falleció este mismo año por complicaciones respiratorias del COVID-19 y queremos también rendirle este humilde homenaje.
No nos alcanzarían las palabras para explicar lo importante que es esta canción para la infancia de muchos y que abarca varias generaciones. A pesar de lo antiguo que es este anime, sigue estando muy vigente en nuestras mentes y no es tan difícil ver en las calles de cualquier ciudad del mundo alguna referencia del mismo.
Voz: Dina Tapiquen

Letra:
El cielo resplandece a mi alrededor (alrededor)
Al volar, destellos brillan en las nubes sin fin
Con libertad puedes cruzar hoy el cielo azul (el cielo azul)
La verdad huye a un golpe de pronto en ti
Como si un volcán hiciera una erupción
Derrite un gran glaciar
Podrás ver de cerca un gran dragón
Cha-la head-cha-la
No importa lo que suceda
Siempre el ánimo mantendré
Cha-la head-cha-la
Vibrante mi corazón siente emoción
Haré una Genkidama
Cha-la head-chala
No pienses nada, solo escucha
Sueños hay en tu corazón
Cha-la head-chala
No importa lo que suceda
Sonreiré el día de hoy

Lyrics:
The sky shines all around me (all around)
As I fly, sparkles shine in the endless clouds
With freedom you can cross today the blue sky (the blue sky)
The truth flees at a sudden blow in you
Like a volcano erupts
Melt a great glacier
You can see a great dragon up close
Cha-la head-cha-la
No matter what happens
I'll always keep my spirits up
Cha-la head-cha-la
Vibrant my heart feels excitement
I'll make a Genkidama
Cha-la head-chala
Don't think anything, just listen
Dreams are in your heart
Cha-la head-chala
No matter what happens
I'll smile today

---
▶️ 3Speak
---
---