Heute feiern wir / Today we celebrate 😎🍻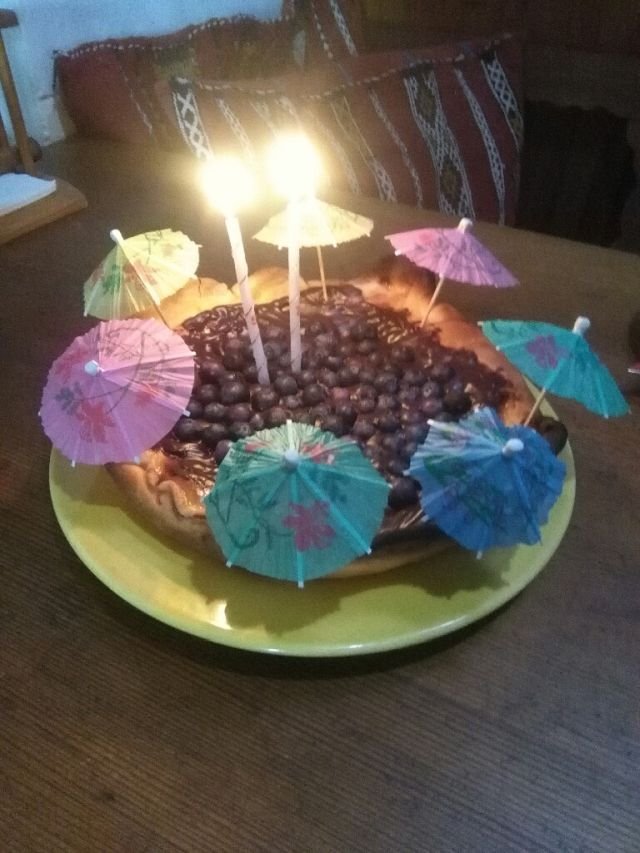 Wie ich gerade bemerkt habe gibt es einen Grund zu feiern.
Nicht nur das ich mich dem gesteckten Etappenziel, das 60igste Lebensjahr gesund zu erreichen, wieder erfolgreich genähert habe, auch auf der #HIVE Blockchain blicke ich seit kurzem auf 4 aufregende Jahre zurück. Okay, früher hieß das Ding noch anders, entwickelte sich aber prächtig und feierte, wenn ich richtig gezählt habe, ebenfalls gerade den zweiten Geburtstag nach der Abspaltung von einem schlitzohrigen Asiaten.
Viel ist passiert in dieser Zeit, was nicht gleichbedeutend ist mit viel dazu gelernt zu haben. Noch immer erfreue ich mich dem Mysterium HIVE, auch ohne es genau zu verstehen und habe meinen Spaß.
Ob es nun die bunte Fotocollagen Bastelei bei der #LMAC CHALLENGE von @shaka ist, der Besuch beim wilden Podcast von @stehaller und @leroy.linientreu, Auftritte beim #Wochen-Wahnsinn, der kürzlich vom @blue.rabbit wiederbelebt wurde, das Wissen was es mit einem Meme auf sich hat, vermittelt von @siphon, Mitgestalter des frei zugänglichen Fotoarchivs der #LMAC COMMUNITY Namens #LIL zu sein, oder all die irren wie wirren Beiträge aus eigener Feder mit denen ich euch zu unterhalten versuchte, nichts davon möchte ich missen und bleibe weiter am Ball.
Das es überhaupt soweit kommen konnte, ist nicht zuletzt der unglaublichen Hilfsbereitschaft vom @condeas zu verdanken, der mich gerade in den ersten Jahren mit engelsgleicher Geduld ans Händchen nahm und mir diese für mich neue Welt einigermaßen verständlich machte. Das ich Ihn heutzutage weniger mit bohrenden Fragen belästige zeigt, das ich doch etwas gelernt habe und seine Mühe sich bezahlt gemacht hat, zumindest für mich.
Manch aufmerksamer Leser wird sich nun denken, da hat der Muelli aber jemanden vergessen!?
Das hat er nicht.
Bevor er aber sein Bier zu @detlev´s aktuellen BeerSaturday und anlässlich der ganzen Jubiläen öffnet, möchte ich die Gelegenheit nutzen, Euch allen die mich bis hierher auf ihre Art und Weise begleitet und unterstützt haben, herzlich dafür zu danken. Ihr seid die Geilsten!
Daher gibt es heute Freibier, solange der Vorrat reicht! Wer mittrinken möchte, melde sich bitte in den Kommentaren!
As I just noticed, there is a reason to celebrate.
Not only that I have successfully approached the set milestone of reaching the age of 60 in good health, but also that I can look back on 4 exciting years on the #HIVE blockchain. Okay, the thing used to be called something else, but developed splendidly and, if I counted correctly, also just celebrated its second birthday after splitting off from a sly Asian guy.
A lot has happened in this time, which is not the same as having learned a lot. I still enjoy the mystery of HIVE, even without understanding it exactly and have my fun.
Whether it's colorful photo collage crafting at @shaka's #LMAC CHALLENGE, visiting @stehaller and @leroy.linientreu's wild podcast, appearances on #Week Madness recently revived by @blue. rabbit, the knowledge of what a meme is all about, conveyed by @siphon, being co-creator of the freely accessible photo archive of the #LMAC COMMUNITY called #LIL, or all the crazy and crazy contributions from my pen with which I tried to entertain you, I don't want to miss any of it and stay on the ball.
That it could come at all so far, is not least to be owed to the unbelievable helpfulness of @condeas, who took me especially in the first years with angelic patience to the hand and made this new world for me more or less understandable. The fact that nowadays I bother him less with probing questions shows that I have learned something and that his effort has paid off, at least for me.
Some attentive readers will now think, "Muelli has forgotten someone!
He has not.
But before he opens his beer to @detlev's current BeerSaturday and on the occasion of all the anniversaries, I would like to take the opportunity to thank all of you who have accompanied and supported me in their way up to this point. You are the coolest!
Therefore, there is free beer today, while supplies last! If you want to join us, please let me know in the comments!
Und nun zum eigentlichen Anliegen dieses Beitrags, dem #BeerSaturday.
Aus gegebenem Anlass habe ich mal etwas Geld in die Hand genommen und für stramme 9 Euro zwei Flaschen Bier gekauft, in der Hoffnung das sie diesem Anlass gerecht werden.
And now to the actual purpose of this post, the #BeerSaturday.
For the occasion, I took some money in hand and bought two bottles of beer for a hefty 9 euros, in the hope that they do justice to the occasion.
LOBO DO MAR, der Seewolf soll das erste sein.
Der Inhalt dieses hübsch anzusehenden Fläschchen macht auch eine gute Figur im Glas, geschmacklich kommt aber die Frage auf, warum das Bier so sauer schmecken muss?
Im ersten Moment war ich etwas erschrocken, wurde mir doch ein intensiver Hopfen versprochen, doch dann fand ich Gefallen an diesem extrem erfrischenden und mit 4,7% Vol/Alc eher leichten Weizenbier. Ein feiner Sommertrunk.
LOBO DO MAR, the Sea Wolf should be the first.
The contents of this pretty-looking bottle also make a good figure in the glass, taste-wise, however, the question arises, why the beer must taste so sour?
At first, I was a bit startled, as I was promised intense hops, but then I took a liking to this extremely refreshing and, at 4.7% Vol/Alc, rather light wheat beer. A fine summer drink.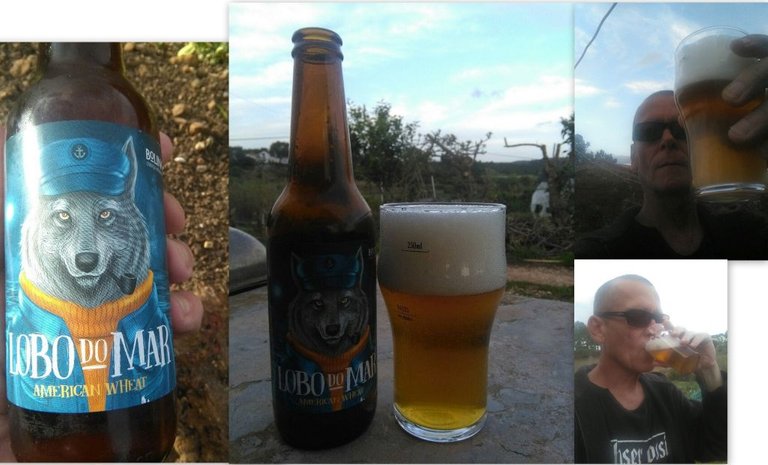 ORA ET LABORA, die nächste Flasche, verpasst sich ein BIO Gütesiegel und wäre gerne ein Pils.
Mit 4,5 % Vol/Alc noch ein wenig leichter als der Seewolf, gelingt es ihm auch ganz gut dem Namen Pils Bier gerecht zu werden. Zwar haut es mich nicht unbedingt vom Hocker vor Freude und ein zweites mal würde ich keine 4.50 Euro dafür bezahlen, aber man schmeckt deutlich heraus das sich die Brauer bemüht haben ein solides Pils zu produzieren. Könnte aber etwas herber sein.
ORA ET LABORA, the next bottle, gives itself a BIO seal of approval and would like to be a Pilsner.
At 4.5% vol/ac, it's still a bit lighter than the Seawolf, but it also manages to live up to the name Pilsner beer quite well. Although it does not necessarily knock me off my stool with joy and a second time I would not pay 4.50 euros for it, you can taste out that the brewers have tried to produce a solid Pils. But could be a little more tart.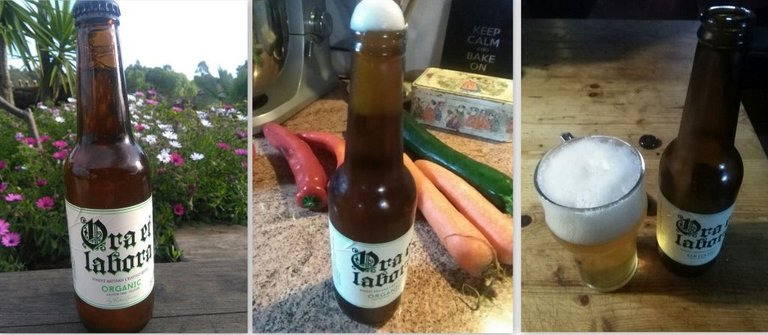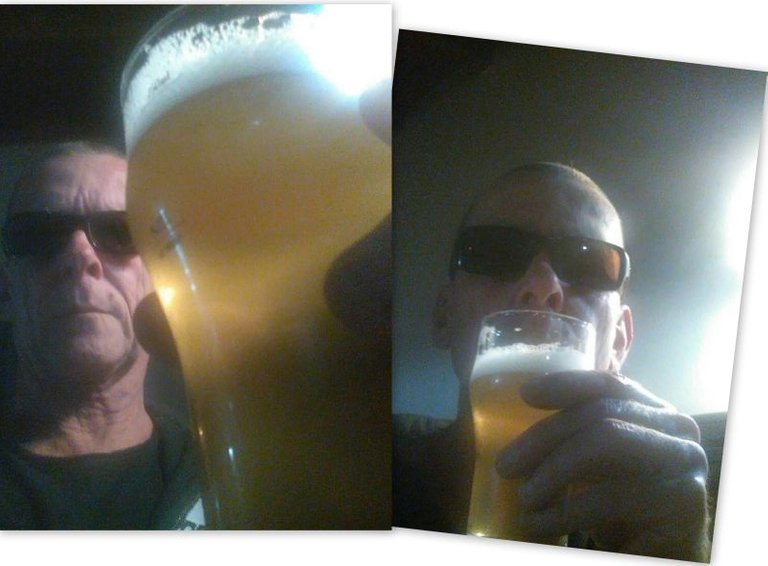 Fazit: Beide Sorten sind gut trinkbar aber viel zu teuer und schaffen es nicht sich in der ersten Liga der Braukunst zu behaupten.
Conclusion: Both varieties are well drinkable but far too expensive and do not manage to assert themselves in the first league of the art of brewing.
Das war es für heute, ich feiere jetzt weiter mit der Gang.
Bis bald mal wieder!
That's it for today, I now continue to celebrate with the gang.
See you again soon!
PROST, CHEERS, NASTROVJE & SAUDE!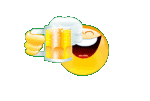 Photos: @muelli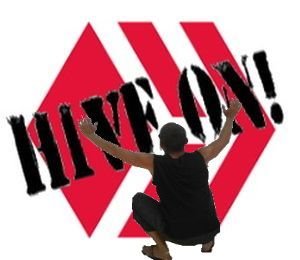 @seckorama will, as promised, participate with 2% of this contribution.
---
---