Quick chart update: Bitcoin breakout ongoing
Coming by to update our previous chart analysis.
Bitcoin has just broken out of the ascending triangle, which is exciting enough to let go. Let's remember the previous analysis.
Posted on LeoFinance, 3/25/2022: Chart Patterns Talk & Bitcoin
If Bitcoin is able to breach the 45,000 range with significant volume, I don't see why it wouldn't head to the upper resistance line at 65,000. If it doesn't break upwards on the triangle... then we might see a nasty retreat down to 30k.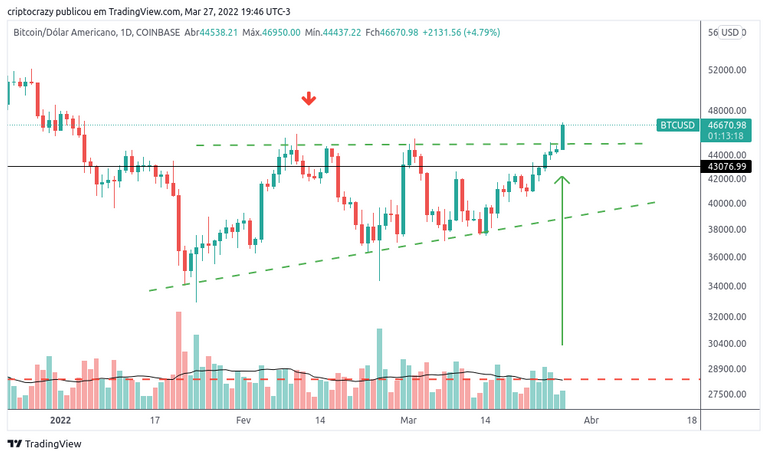 Bitcoin daily breakout
Volume is below average for a break-out, but we have to wait and see. Those who positioned themselves during the mid 30k dip are enjoying 30-40% gains. Remember: BUY THE DIP!
Ichimoku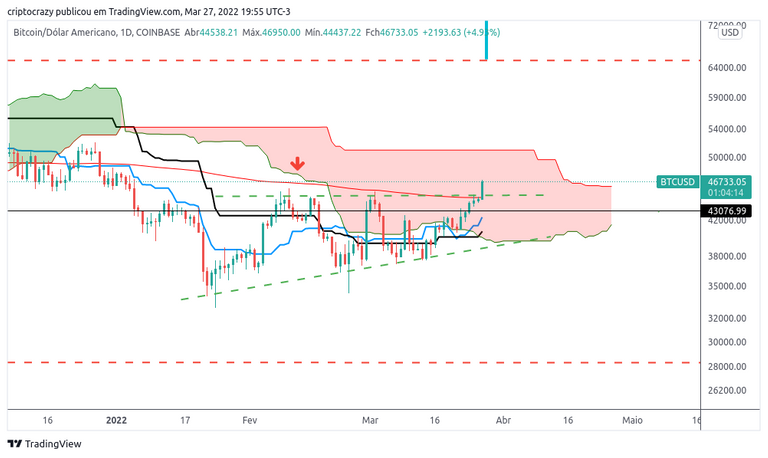 Bitcoin daily breakout
Bitcoin is still inside the cloud (no-trade zone), but has just broken out above the 200 day EMA (first time since December 21). If it can consolidate this resistance as support, it's quite probable that it'll pierce the cloud en route to 50-60k.
Warning: Bitcoin likes to slow down after a breakout to form what is called a Bart pattern (when it retraces back in a single red candle). However, it shouldn't scare us, hodlers, dip buyers.
Keep caml and hodl
The next weeks are going to be exciting. Have a beer, go enjoy the outside, don't trade, and spread to fundamentals to as many people as you can.
A super sexy Sunday for ya all!
Posted Using LeoFinance Beta
---
---