Chart Patterns Talk & Bitcoin
The problem with longer term Bitcoin analysis is that often times the market doesn't move.
It's been twenty-two days from my last chart overview. Bitcoin had touched the 40k range, on 28th of Jan., and I said it would need a weekly close above 43k to keep on going higher. It didn't. It's been oscillating — which is a supposed accumulation pattern — between 37,000 and mid 40,000.
Latest update: Inflation incoming, Brazil & Bitcoin update
Chart overview
Charting is almost Tarot. It's highly-subjective, often based on probability, and a way to try and understand the market sentiment. Some people work with indicators, others see the price action, a rare breed of chartists use Elliot Waves. I like patterns. Not only do patters give a glimpse of market sentiment, but also a long-recorded history provides us with probabilities. So, I'd like to share a weekly chart dating back to when I first began to study the subject, in 2017.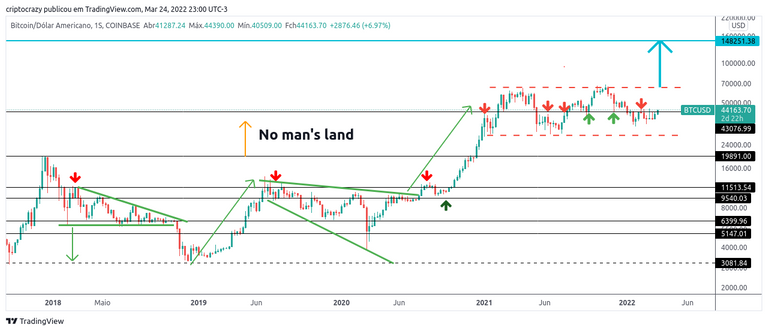 Bitcoin long-overview weekly chart
The first mega pattern happened in 2018. We can clearly see a descending triangle indicating loss of buying momentum. Buyers are defending the 6k range, while sellers are getting more anxious to sell. This happens because, most likely, those who bought tops are negative and eager to recover some of the investment back. When those people realize Bitcoin is not reaching their buying entry, they sell. Eventually, the price drops below the support line, triggering a cascade of stop-losses.
The second mega pattern developed between Jul. 19 and Jul. 20. That's called a descending broadening wedge, or mega phone. The broadening wedge is tricky and reflects disagreement in the market. However, it is a bullish reversal 80% of the time.
The last mega pattern is developing right now and is named as rectangle formation. The rectangle can serve as either a reversal or continuation formation, acting as a tug of war between buyers and sellers. Ultimately, either accumulation or distribution prevails, and the price breakout or breakdown.
Is this rectangle accumulation or distribution?
A few factors make me believe we are seeing a continuation pattern (accumulation). It's the perfect storm.
the world is experiencing negative interest rates;
there's an economic world war;
inflation is rising;
fiats losing value (and trust);
people realizing the government can seize their currency;
It's worth noting: this analysis is based on my subjective interpretation of Bitcoin's value. Speculators and big market makers might see it differently and decide to move the whole market down, even though I don't see that movement. (We'll se on the daily chart).
The daily chart
Inside the rectangle things are interesting. Ever since I last posted a chart analysis, Bitcoin has been forming an often bullish ascending triangle.
On the ascending triangle, the horizontal line represents overhead supply that prevents the security from moving past a certain level. It is as if a large sell order has been placed at this level and it is taking a number of weeks or months to execute, thus preventing the price from rising further. Even though the price cannot rise past this level, the reaction lows continue to rise. It is these higher lows that indicate increased buying pressure and give the ascending triangle its bullish bias. — Stock Charts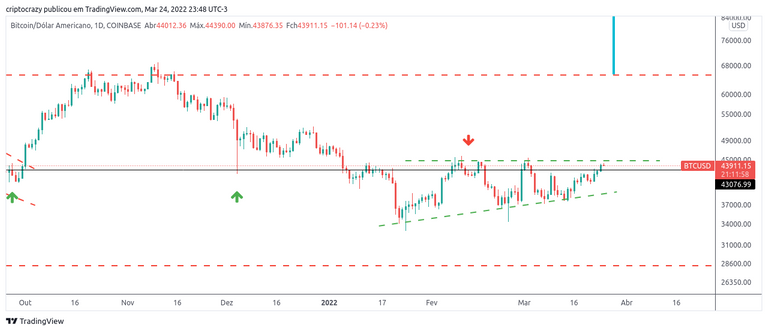 Bitcoin daily chart
There's been significant volume defending the mid 30,000 range, which indicates it's a matter of time until the market swallows the overhead supply. The war and several mining bans may be the cause for the selling pressure at 45,000.
How long until it's breached? If Bitcoin is able to breach the 45,000 range with significant volume, I don't see why it wouldn't head to the upper resistance line at 65,000. If it doesn't break upwards on the triangle... then we might see a nasty retreat down to 30k.
Ichimoku Cloud
Sometimes I like to see the Ichimoku indicators to have an idea of what's going on. At the moment, Bitcoin has entered the no-trade zone inside the cloud. It's also touching the 200 day EMA and the Tenkan is barely above the Kijun.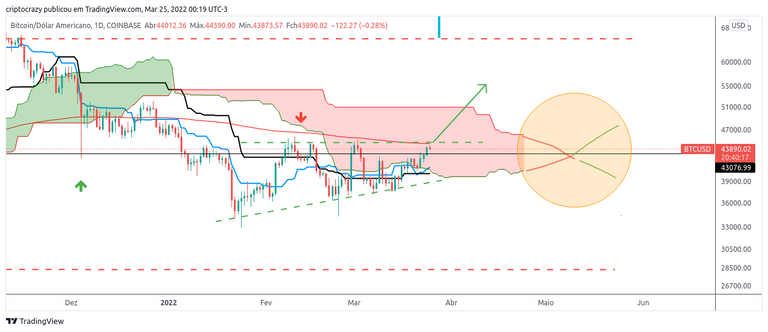 Bitcoin daily Ichimoku
Ideally, Bitcoin needs to consolidate a support above the 200 day EMA before it can move higher. Then, I'd like to see a cloud flip, as shown in the orange circle, which are good signs of a price reversal. Only time will tell.
Conclusion
It's hard to give an unbiased analysis as a Bitcoiner. However, keep in mind: The fundamentals (subjective) are solid; the tech is proving bomb-proof; and the future of fiat currencies is uncertain. If people haven't realized by now the role of Bitcoin in this wild world, they won't ever understand the value of freedom.
Let's keep on watching the price and accumulating those sats.
Cheers
Posted Using LeoFinance Beta
---
---