Axie Infinity - everything we know about ...
Talk to Axie Infinity OGs and land whales and they will tell you Axie Infinity 'the game' is not just about the PVP arena where you battle other teams or the PVE adventure mode that both provide opportunities to 'farm' SLP. The game is much more. The game includes: engaging with others on the Axie discord server; of course breeding; and investing in higher value Axie assets such as Mystic Axies and land. As far as I can tell the Axie Infinity team have not released a roadmap in recent times but we do know that there is a long road ahead. There are lots of key developments in the pipeline. From time to time, in the discord server, on twitter, in the Lunacian newsletter, or elsewhere, little nuggets (hints) to do with the pipeline are dropped. Devoted Axie community members are tuned in to these nuggets and, with a little reading between the lines, narratives build for: what land play will look like; how LUNA governance will work; and how valuable holding Mystic Axies will become.
This post is a nod to Axie community members enjoi (creator of the outstanding Axie website Axie Edge) and baronar who have done the hard work to aggregate the nuggets in to bite (byte?)-sized resources. This type of content really gets me excited for what the future of Axie Infinity could look like!
Everything we know about ...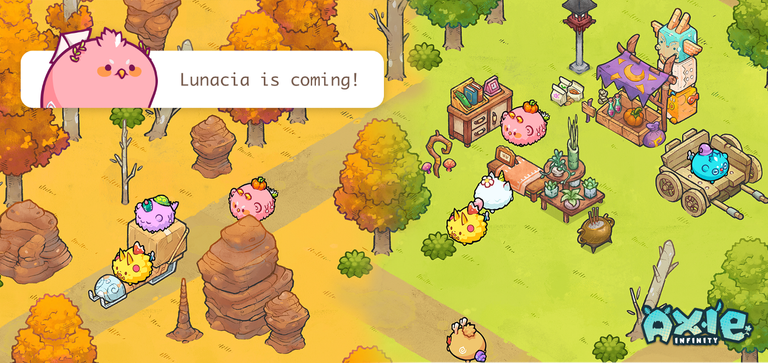 Loving this Axie land art! Source
Key takeaways -
only one quarter of all land has been released. All released land is sold out. Folks can still buy and sell land on secondary marketplaces.
there are different types of land. In ascending order of rarity, these are - savannah, forest, arctic, mystic and special land (genesis land and luna's landing).
there are also land items which came with land in bundles from the original sale. These can be bought and sold separately on secondary marketplaces. Items can functional or purely aesthetic.
roads and rivers are part of the Lunacian landscape - your land's proximity to these will affect its value.
there is a range of locations that we know about.
*resources (eg wood, stone, etc) will be tradable commodities that will be used in Lunacia.
there will be options for land owners to monetise their assets.
This article (I believe) was posted in February 2020. In May 2020 the Axie Infinity team released further details in a very informative article. Some new information to come out of this article:
land will be highly customisable.
Axies will have the ability to collect resources through their adventures in Lunacia and take these back to their own land plots for later use, eg for building structures.
Lunacia will be a social space for the Axie community to interact with one another.
Mystic Axies are the rarest and most valuable Axies. There were 4088 'Origin' Axies (the originals - there are now hundreds of thousands as a result of breeding). Origin Axies with mystic parts became known as mystic Axies. Not a lot of information is out there about the potential utility of mystic Axies but those in the know in the Axie community believe that they are worth holding on to!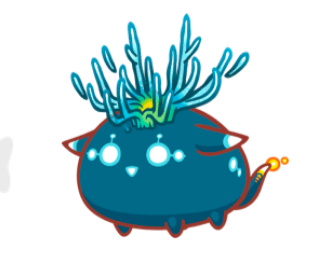 Amazing looking mystic Axie - Stella
Key takeaways -
The chance that an origin Axie could have a 'mystic' part was approximately 29%. The chance for two mystic parts was about 3.7%, three was 0.28%, four 0.0127% and so on. The chance for more than four mystic parts was so slim that none have ever come to fruition. Just three quad mystic Axies exist.
Having an Axie in your team with a mystic part may increase your chances of receiving chimera (chimera are the monsters you fight against in PVE mode) drops.
Mystic parts will at some point in future be upgradeable to legendary status (whatever that is - sounds cool though!).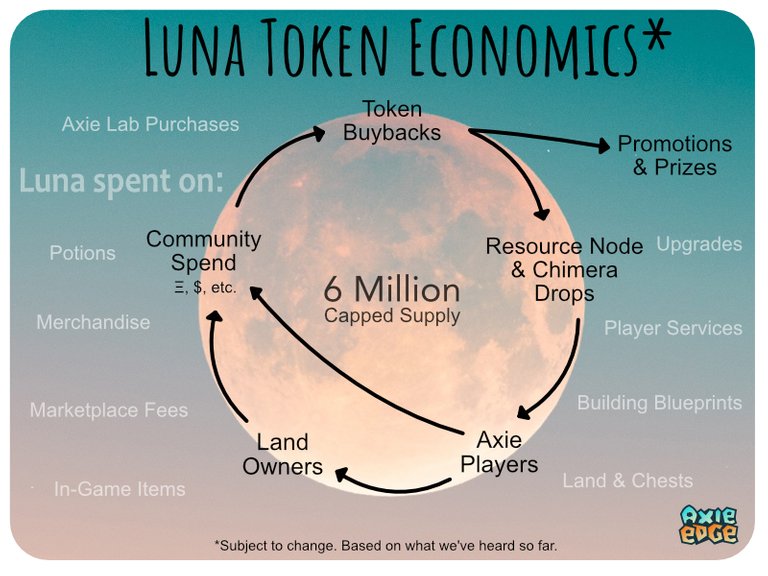 Nice flywheel that shows the potential utility for LUNA. enjoi's amazing work!! Source
Key takeaways -
LUNA is the native currency of Lunacia.
LUNA was issued to participants of the initial land sale. Refunds of 10% of the value of land plots were given to participants in LUNA who referred others.
LUNA could then be used as the currency to buy more chests.
Now that the land sale has ended there is currently no utility for LUNA. It cannot be bought or sold on exchanges.
It is sometimes awarded as prizes in promotions or tournaments.
Future (rumoured) use-cases for LUNA are: a currency for buying land and chests for future land sales (remember only one quarter of land has been up for sale); purchasing of in-game items; upgrading land; upgrading Axies; staking; governance.
High levels of engagement in the (yet to be released) land game play space should reward users with LUNA drops.
Mystic Axies may earn LUNA at a faster rate than other Axies.
Earned LUNA must be brought back to the owner's land. Along the way some of the LUNA will drop, thus bringing a small passive income to other land owners. Sweeet!
People can build structures on their land and open shops as a means to earn LUNA!
Thanks for reading. See also - baronar's video.
If you're interested, here are my previous Axie Infinity posts on Hive:
---
---