Need for Speed: A single round match with Pyre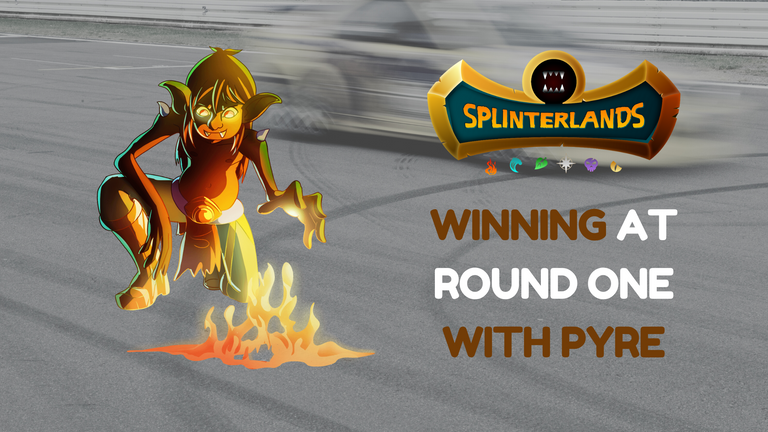 Hey hey hey! Welcome to another episode of Share My Battle series, where I will share with you some of my favorite matches across Splinterlands. For this post, we will be featuring a fight that highlights the importance of speed. Watch how this match between two Fire Summoners was concluded in just the first round of the match.

Match details
This match was fought with two rulesets: Equal Opportunity and Rise of the Commons. It has a mana cap of 32, and two active Splinters: Fire and Life.

---
Preparation phase
Equal Opportunity maximalist
When preparing my team with an Equal Opportunity, I am always reluctant to put 1 health monsters in the team it can be easily by a direct hit or simply from an adjacent blast. However, I have been recently experimenting with high speed teams, and I thought: "maybe I can win this match with low health damage dealers as long as I attack first?". So that is what I did. I focused my lineup entirely on these two principles: 1) increase the speed disparity with my enemy and 2) deal damage with blast monsters. The idea behind this is, I want to kill all my enemies as fast as possible, and make sure that I am the one who will be attacking first. This also helps me maximize the equal opportunity ruleset as most low health monsters are not placed up front.
---
Team lineup discussion
The core members of my team can be divided into two:
Speed contributors

For my Speed contributors, I have Pyre that gives +1 speed to all my monsters, and Goblin Shaman (5) that slows down my enemy with a -1 Speed debuff. The -1 health debuff from Goblin Shaman is also a hefty bonus that works well with Blast.
Blasting damage contributors

For the damage dealers with Blast, we have my favorite Exploding rats, and my semi-favorites: Exploding Dwarf and Fire Elemental. Exploding Rats is perfect for this strategy because it already has a high base speed of 6.
Now that we have our lineup in place, it is time to head for battle. Let us hope that we won't be facing a thorns team or a strong Taunt!

Battle time!
Let's look at what our enemy has in store for us.
Match replay link
It seems like we had the same idea of going for monsters with the Blast ability. The main difference is I have also prioritized Speed, which in this scenario has paid off handsomely. Even with my enemy's Goblin Shaman on the board, the speed buff and enemy debuff from both my Pyre and Goblin Shaman makes the speed battle a win for me.
Exploding Rats wiping out 3 monsters
With the first hit coming from my all-time favorite Exploding rats, Malric's Goblin Shaman and Exploding Dwarf vanished at the first instance -- putting the entire team in jeopardy. Therafter, the remaining members of my team finished it off pretty smoothly. Only Exploding Dwarf died from my team, as Fineas Rage tried to settle a score before the match ends.
From the enemy's side, only Serpentine Soldier and Fineas Rage had the chance to land an attack. The entire match ended at Round 1, all thanks to the high damage output coming from my Blast and the Weaken debuff from Goblin Shaman.

That was a blast!
This might be my favorite match for this month. What was a way to end September. I mainly had fun because this is the match where I realized how important Speed is in setting up teams, and also because my Exploding Rats setup is finally working! Watch out for more Exploding Rats and Fire Splinter teams posts from me in the future.
There you have it! Thank you for reading this far. I hope all of you also had a blast while watching this match.

Splinterlands for all the game-related images used
All the cool-looking dividers are made by flauwy
Cover photo made in Canva

---
---