How to BUY CARDS in MonsterMarket and GET 3% CASHBACK from your purchases!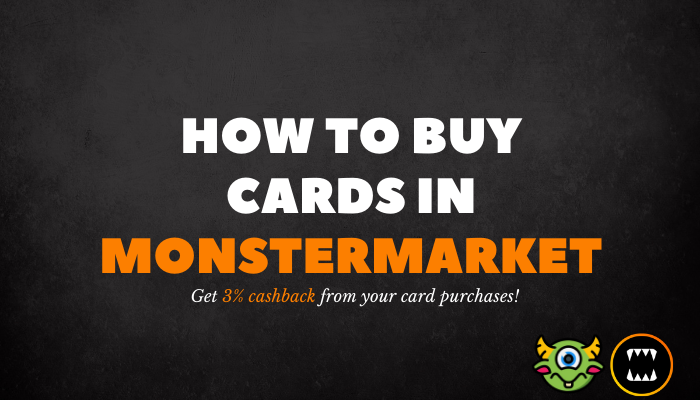 This guide aims to show how easy it is to BUY CARDS from MonsterMarket and enjoy the 3% cashback from your card purchases!
If you are following this guide for MonsterMarket transactions, I highly recommend using a PC because of the potential differences in steps when doing it in mobile.
Buying in MonsterMarket: Three easy steps
Step 1: Go to Monstermarket.io and Login via Hive Keychain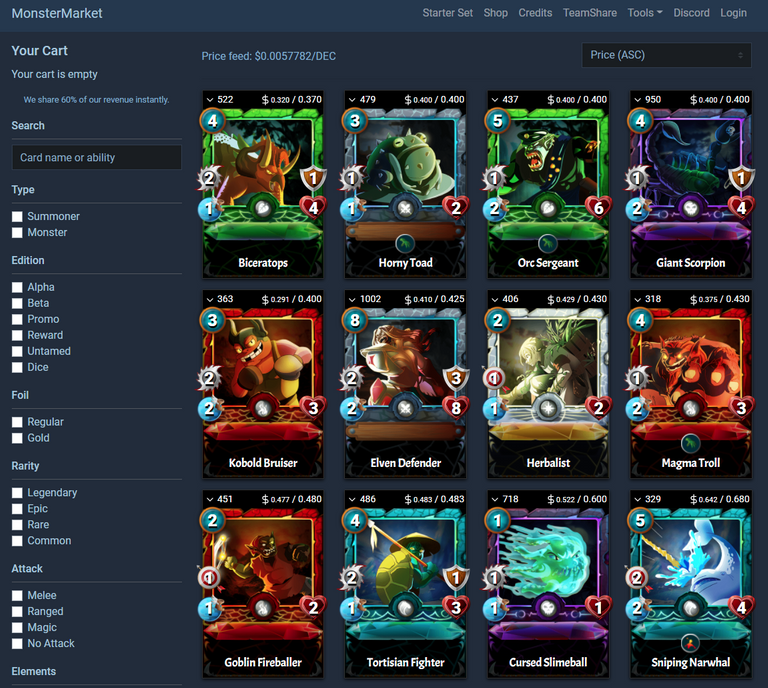 Simply input your username while logged in the keychain!
Step 2: Search for the card that you want to buy

Fill out the search bar on the left side of the screen (see red arrow) with the card that you want to buy and click on the card.
In this example, I want to buy a Pelacor Mercenary, so I simply typed "mercenary" in the search bar. It automatically showed cards that contain the word "mercenary" in their names. After that, I clicked on the first card because I am looking for a regular foil Pelacor Mercenary.
Step 3: Add to cart and checkout!
After clicking on the card that you want, the interface below will pop-up.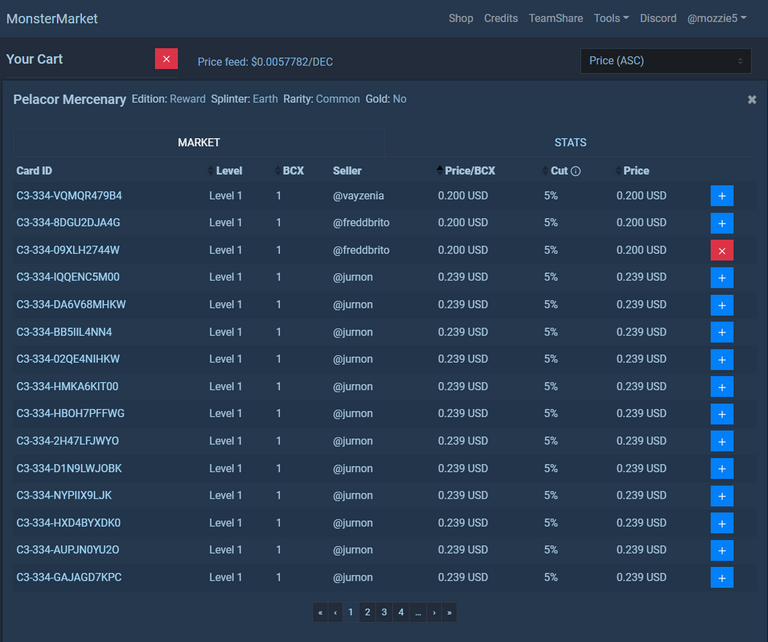 Choose from the list for the card that you want to buy. Then simply click on the + sign in the right-most part of your desired card.
After choosing your card, close the pop-up window by clicking on the close button in the upper right of the pop-up or clicking anywhere outside the pop-up interface.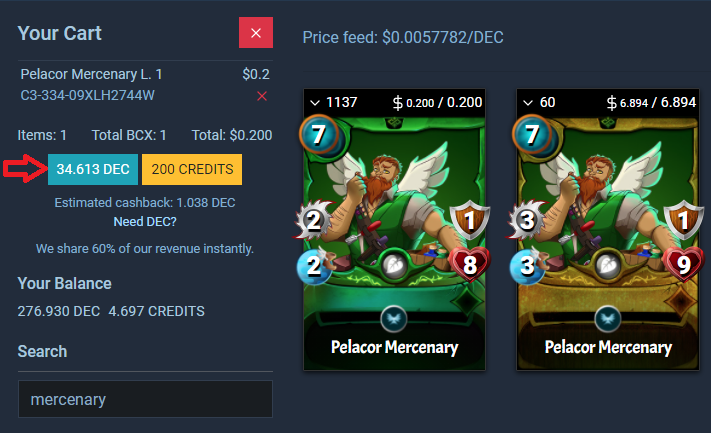 Choose your desired payment method by clicking on either DEC or Credits as shown in the image above (arrowed portion). For my case, I chose to pay with DEC.
Note: You can see the estimated cashback directly below the payment options. For this example, we have an estimated cashback of 1.038 DEC.

As you can see in the balance history inside Splinterlands, our transaction pushed through. Now we just have to wait for the cashback.

Checking and withdrawing cashback
Checking cashback in Hive wallet
Cashback from MonsterMarket is directly deposited to our Hive Engine wallet. This means that we have to transfer it to our in-game wallet to use it for in-game transactions.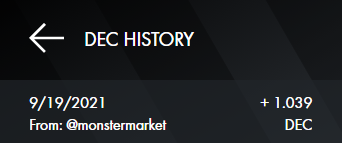 See the DEC from @monstermarket?
In less than 5 minutes, the cashback for my Pelacor Mercenary purchase already reflected in my Hive wallet. To check, simply click on the TOKENS portion in your Hive Keychain wallet. After that, scroll down to see DEC, and click on the icon beside "DEC". See screenshots below for reference.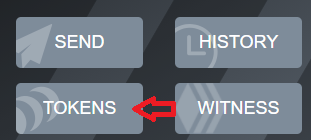 Click on the "Tokens" button

Note: This screenshot was taken after I transferred the DEC cashback to my in-game wallet
Transfer DEC cashback to in-game wallet
To transfer the DEC cashback to your in-game wallet, simply click on the DEC icon inside your Splinterlands account.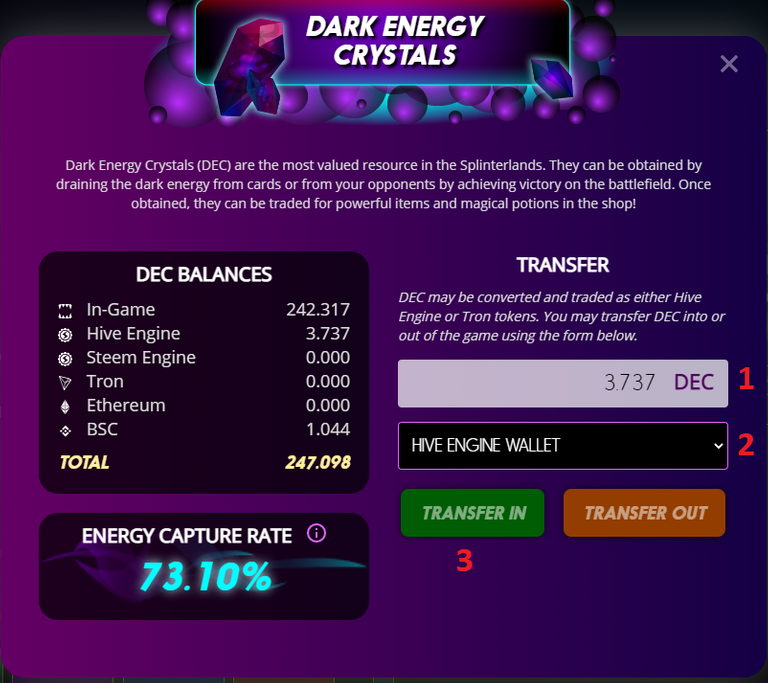 After that, this interface will pop-up. Simply follow the steps below:
Fill out the form with amount of DEC that you want to transfer
Change the dropdown to Hive Engine Wallet
Click Transfer In
There you have it! You can now enjoy 3% cashback from all your purchases via MonsterMarket. Enjoy!

CREDITS
flauwy for the nice-looking dividers
All screenshots are taken from MonserMarket & Hive keychain interface
MonsterMarket PNG logo from this post
Cover photo made in Canva

---
---