Food festival - A nice day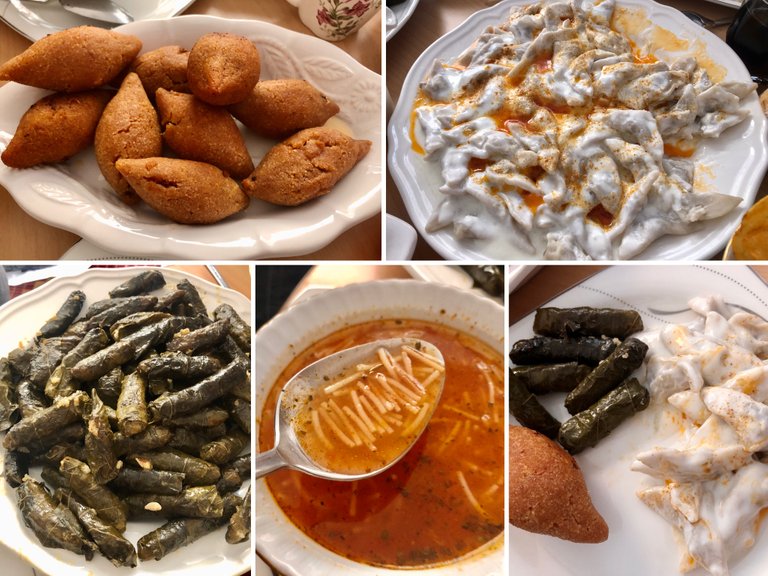 Hello friends.
We came to Ankara to spend time on vacation and see our families. Ankara is very cold. I didn't expect it to be this cold.
That's why I didn't bring thick clothes.
Fortunately, the houses are warm and I manage. I came to visit my sisters.
TR
Merhaba arkadaşlar.
Tatilde vakit geçirmek ve ailelerimizi görmek için Ankaraya geldik. Ankara çok soğuk. Bu kadar soğuk olmasını beklemiyordum.
Kalın kıyafetler de getirmedim o yüzden.
Neyse ki evler sıcak da idare ediyorum. Ablamlara ziyarete geldim.
My sister is very talented. He can cook any meal. When all the talents are given to him, it's not up to me 😄
He can paint, his hand skills are very good. I always wanted to be able to draw. I wish my painting skills were so good. But all the features are loaded on it 😄
TR
Ablam çok beceriklidir. Her yemeği yapabiliyor. Tüm yetenekler ona verilince bana kalmamış. 😄
Resim yapabiliyor, el becerileri çok iyi. Ben ise hep resim çizebilmek istedim. Resim yeteneğim keşke çok iyi olsaydı. Ama tüm özellikler ona yüklenmiş 😄
Anyway, I came to visit my sisters. Actually, I wasn't hungry, but when I had the things I liked, I had a snack.
TR
Neyse ablamlara ziyarete geldim. Aç değildim aslında ama sevdiğim şeyler olunca atıştırdım.
Which of us does not like leaf wrapping?
TR
Yaprak sarmasını hangimiz sevmeyiz ki?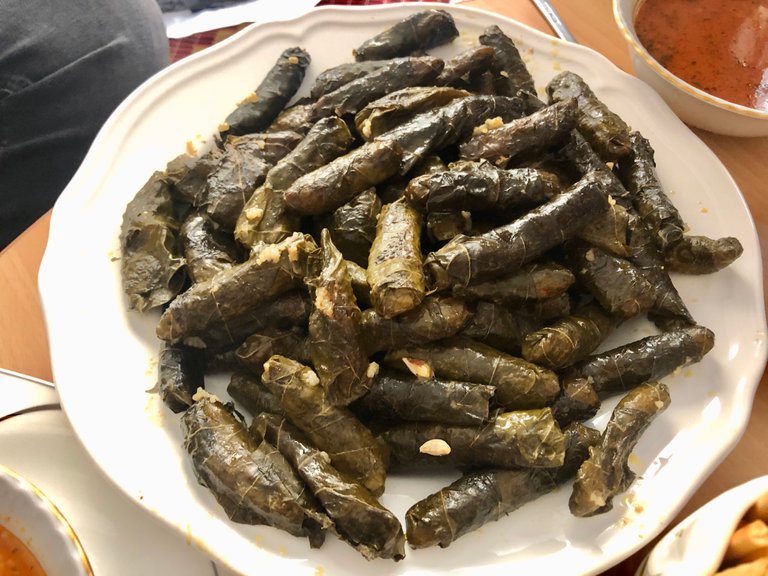 Even though I was not hungry, I ate ravioli. I was already very weak these days. I am now 48 kilos. I think I'm pretty weak. 😄
52 was the ideal weight for me. That's why I try to eat a lot so that I can reach my ideal weight.
TR
Mantı da olunca aç olmasam da yedim. Zaten bu aralar çok fazla zayıflamıştım. Şu an 48 kiloyum. Bence bayağı zayıfım. 😄
52 benim için ideal kiloydu. O yüzden bol bol yemeye çalışıyorum ki ideal kiloma ulaşayım.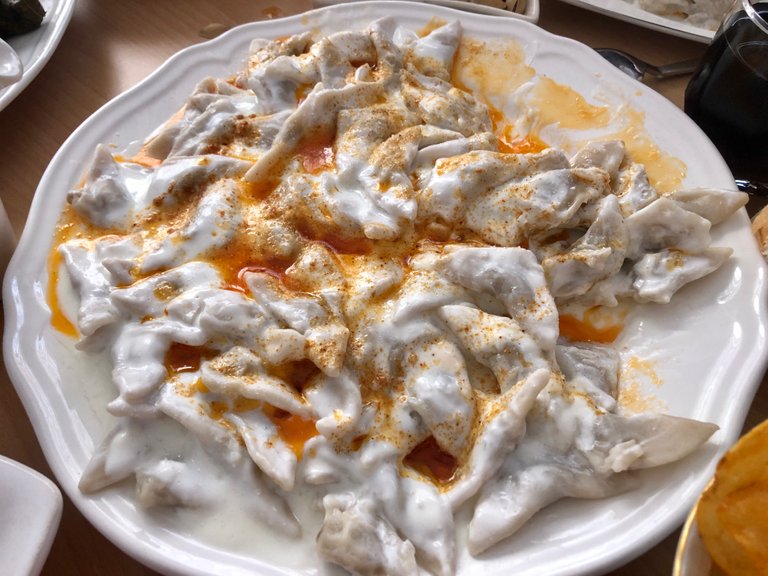 My sister makes the stuffed meatballs very well. I wanted him to do it to me too. It will do too much. I will take you to Urfa. I'll put it in the freezer there and fry it when I want to eat it. Kibbeh is actually a dish famous in the east. But I like what my sister does more.
TR
Ablam içli köfteyi çok güzel yapıyor. Bana da yapmasını istedim. Fazlaca yapacak. Ben de Urfa'ya götüreceğim. Orada buzluğa atıp yemek istediğim zaman kızartacağım.
İçli köfte aslında doğuda meşhur olan bir yemek. Ama ben ablamın yaptığını daha çok seviyorum.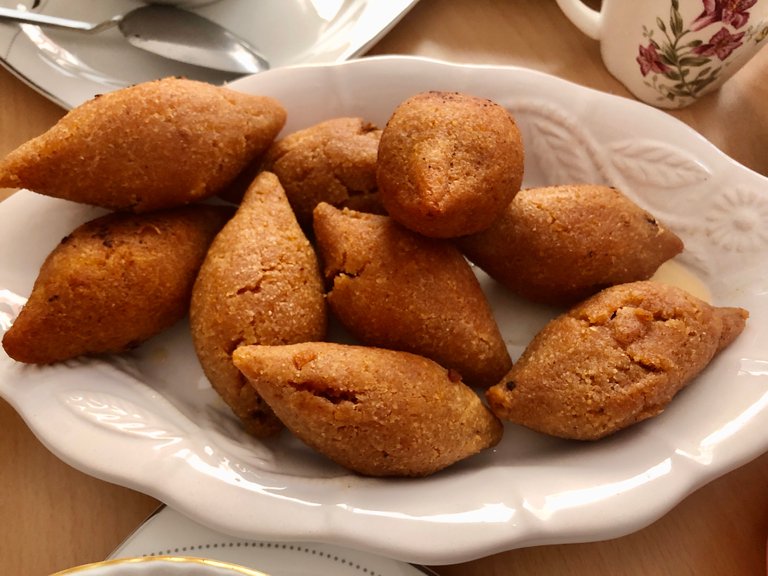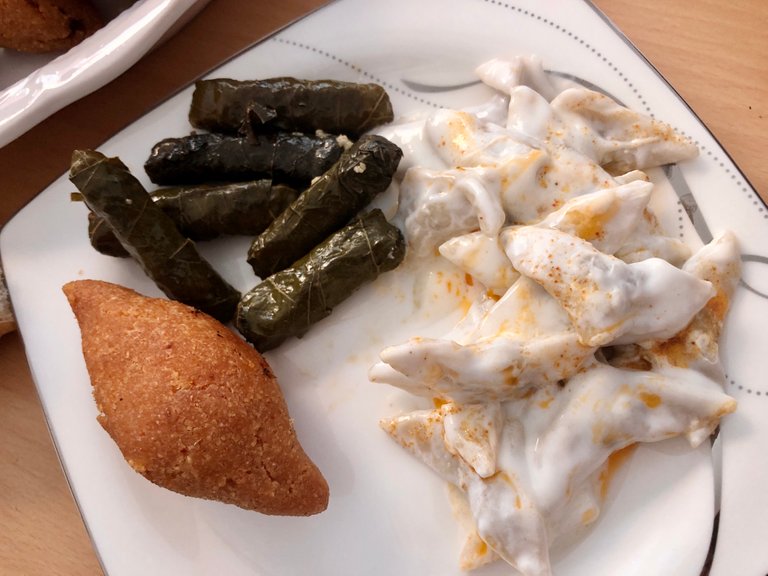 I made myself such a plate. I may have eaten 1 more stuffed meatball. 😄
TR
Ben kendime böyle bir tabak hazırladım. 1 tane daha içli köfte yemiş olabilirim. 😄
It was a day when I ate with pleasure. I'm having a good vacation.
I am relaxing.
I hope to be more energetic when I come back.
TR
Afiyetle yemek yediğim bir gün oldu. Güzel geçiyor tatilim.
Dinleniyorum.
Geriye döndüğümde daha enerji dolu olmayı umuyorum.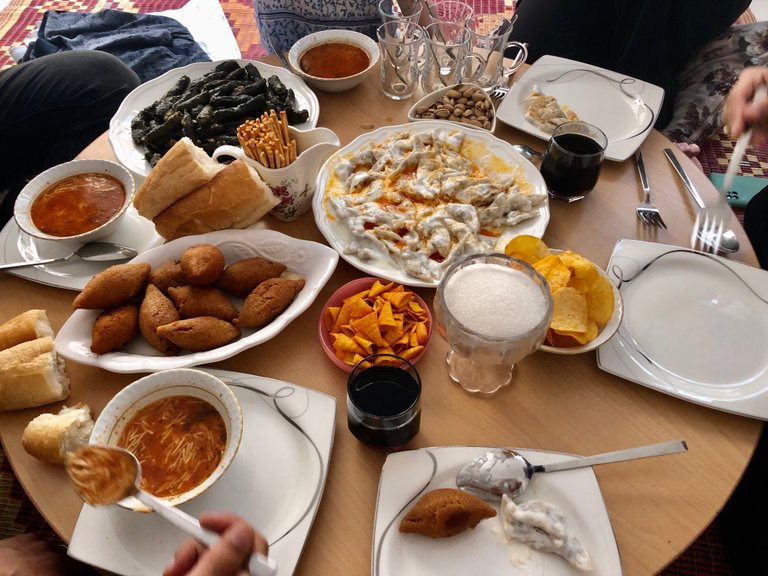 Thanks for reading my post. See you.
TR
Yazımı okuduğunuz için teşekkürler. Görüşürüz 🤗
---
---