#MyMotherhoodJourney: Winner Announcement [ENG – ESP] || Challenge of the Week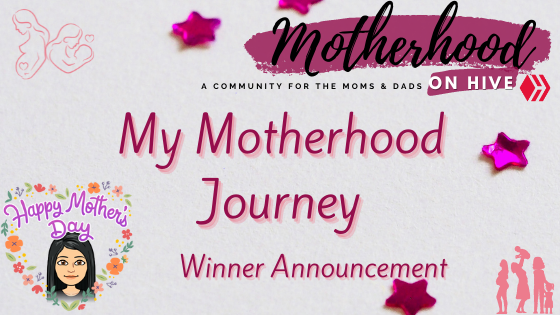 ---
Thank you all for participating!

This post will be short just to announce the winner of our Mother's Day special #MyMotherhoodJourney challenge, we wanted to congratulate all and thank you for participating, like always making our community more beautiful with your content. I couldn't chose only one mom so I picked 2 =) who would be sharing the prize!
Este post será breve solo para anunciar a la ganadora de nuestro desafío especial del Día de la Madre #MyMotherhoodJourney, queríamos felicitar a todas y agradecerles por participar y como siempre hacer que nuestra comunidad se vea más hermosa con su contenido. No pude escoger una sola ganadora asi que tenemos dos que compartiran el premio!
---
Participants List
List de Participantes

Winners of the Week | Ganadoras de La Semana
---
Thank you all for participating and remember we are always on the look out for new ides for challenges so if you have one just leave in the comments down below or shared them with us in our discord https://discord.gg/wN8K7mc our next challenge of the week will come out tomorrow so stay tune!!
Gracias a todas por participar y recuerden que siempre estamos en busca de ideas para nuevos challenges de la semana asi que si quieren dar la suya dejenmela en los comentarios o compartanla con nosotras en nuestro discord https://discord.gg/wN8K7mc nuestro proximo challenge sale mañana asi que esten pendientes!!

Introducing: #Motherhood, The Community for Moms on The Hive Blockchain
Are you a Mom or a Dad? Of a human or a Cat or a Dog or of anything? Join us in our Community!

To learn more about the Community please read our intro post and you can also join in our discord server
---
Proud Member and Supporter of The Minnow Support Project, If You Are Not Yet on The Community What Are You Waiting For?? CLICK below!!!

---
😗 Follow us on our Other Social Media...❗️⬇️⬇️⬇️⬇️
---
---