Mouth-watering traditional Mistivat Recipe from Nabanna ceremony.
People are always keen to discover something new in their daily life that makes things just that much more comfortable and enjoyable. And since one of the things we spend a lot of time on is food, it has also become the field where we come up with new ideas all the time. It isn't very distant idea to grasp once you consider the development in dietary options as a dominant sign of evolving as a species.
Everyone from small children to the elderly love variety in foods. Who doesn't like to decorate the dinner table at home? Everyone likes to serve food of different tastes as well as eat them. That's why people go to new restaurants in their spare time. And the same reason as to why delicious food is prepared in different ways at home.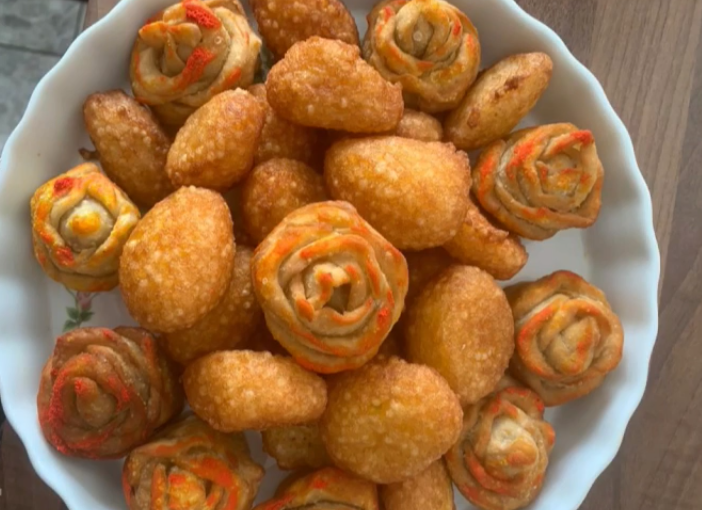 Pitha, a cake made from fried rice flakes and Besan .
Rice is more or less found all over the world. Rice is considered as staple food in many countries. Rice bread, rice cake, rice pies, rice curry, rice khichuri, and who knows how many sweets are prepared and served all around the globe. And all that from one simple ingredient; rice.
Rice can be roasted, then powdered and mixed with molasses or sugar to make a ball and eaten for a long time. Long ago, people had to travel long distances to do business, and would carry these nutritious balls made from rice. Till date many and many cultures still proudly carry on the traditions of rice balls and dishes made from rice powders.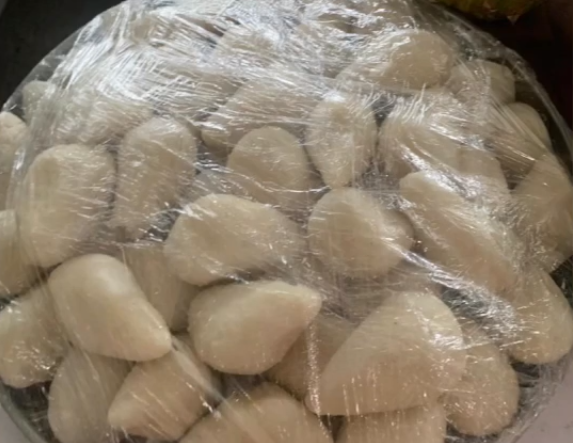 Chaal Pitha, a cake made from rice and filled with either coconut shavings or sugar.
When the farmers pick the rice from the new paddy, they perform a ceremony in Bangladesh called Nabanna. In this Nabanna ceremony, different types of rice confectionery are made. At this time, married girls go to visit their father's house. Then they all make salted or sweet rice and serve it.
---
Today I will present a simple recipe for making one of the sweets made in Nabanna; Mistivat or Zardavat.
Ingredients:
One cup of white rice
Half cup sugar
Two tablespoons ghee
Cardamom four, two inch cinnamon pieces
Two bay leaves
Different types of nuts
6 cups of water
Preparation:
Wash and clean the rice, boil it in water and when the rice is boiled, remove it from the water.

Then heat ghee in a pot and fry the nuts in it. When the colour changes, take it out.

In the Ghee add the bay leaves, cardamom, cinnamon and fry them thoroughly until a delicious scent wafts out of the pan.

Then fry the hot white steaming rice with some red food coloring, and add sugar to the rice. Stir lightly until the sugar is mixed with the rice. As soon as the color is mixed thoroughly, it will turn into a fun yellow color.
---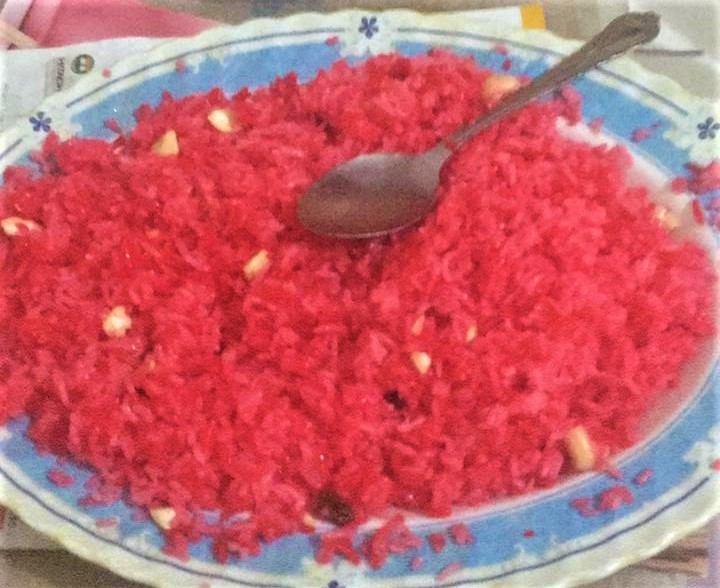 This is the simplest way to make the incredibly delicious Mishtivat at home. It can be served cold or hot. You can also store it in the fridge for many days. This traditional sweet made from rice is a crowd favorite!
---
---