[ENG| ESP] ~ My Son's First Steps As a Clarinetist
My son's first steps as a clarinetist.
Los primeros pasos de mi hijo como clarinetista
---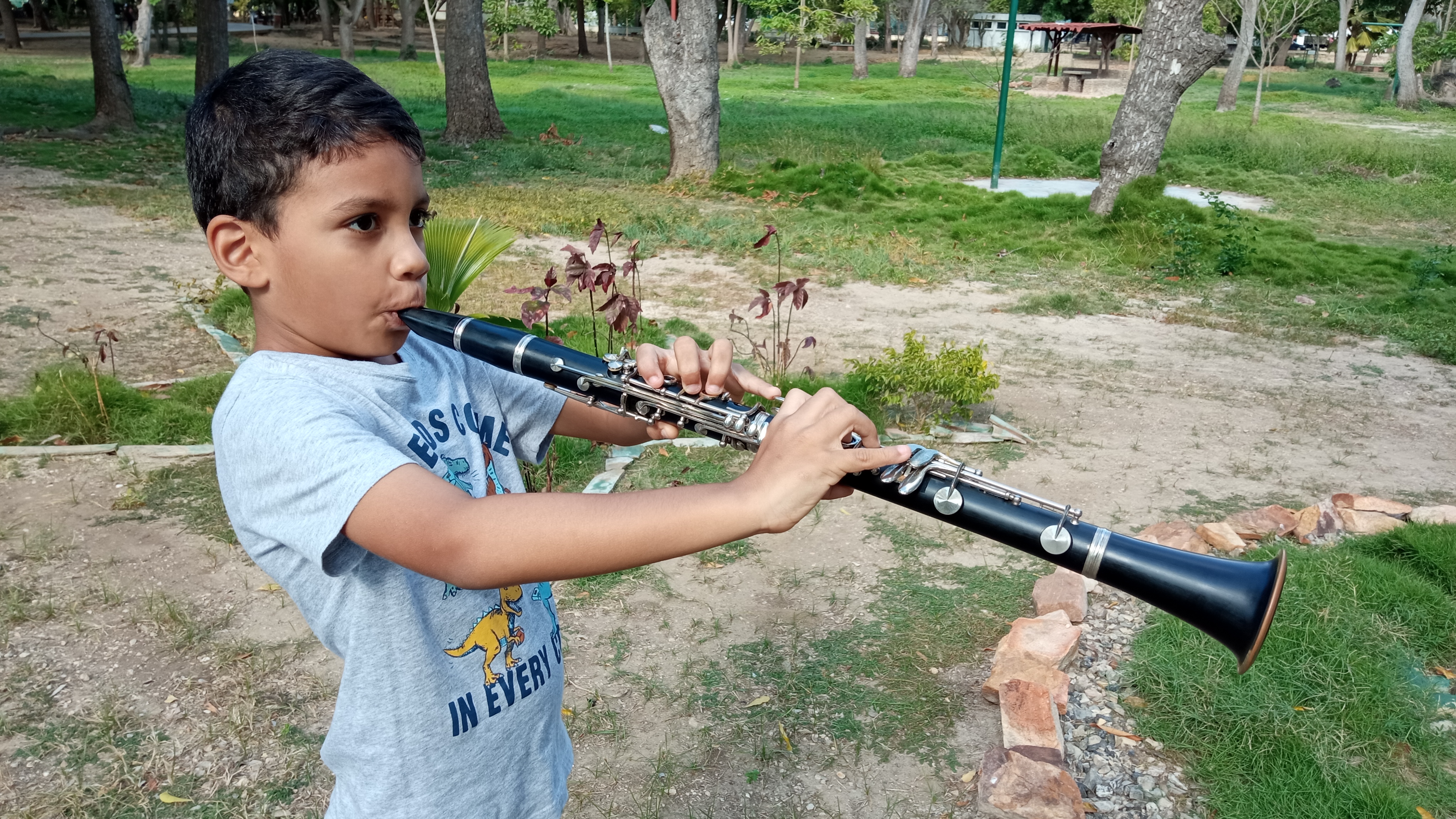 Warm greetings friends of
#hive
especially to those who make life in
#Motherhood
. After some time reading and analyzing the dynamics of the community, today I decided to share with you for the first time. Some of you here know me, to those who don't I tell you that I am the mother of two children, Mariana, 10 and José Guillermo, 7.
---
Saludos cordiales amigos de

#hive

en especial a los que hacen vida en

#Motherhood

. Luego de un tiempo leyendo y analizando la dinámica de la comunidad, hoy me animé a compartir por primera vez con ustedes. Algunos aquí me conocen, a los que no les cuento que soy madre de dos niños, Mariana de 10 y José Guillermo de 7 años.
---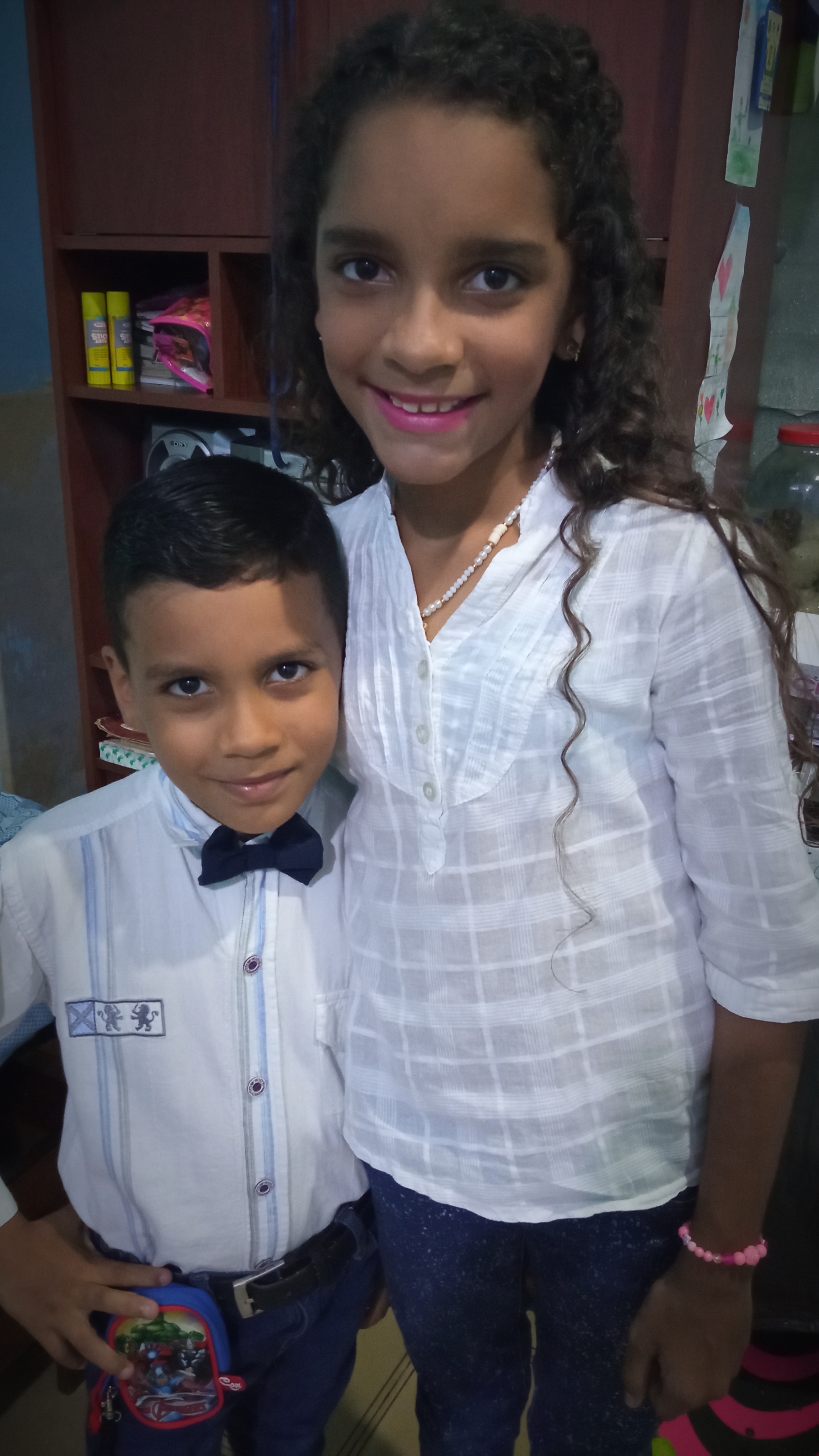 My children, Mariana and José Guillermo || Mis hijos, Mariana y José Guillermo

My children have grown up in an environment surrounded by music, as their father is a pianist, choir director and singer, and in my case I have 12 years singing as a mezzo-soprano in different choirs in the city. When my daughter turned 6 years old I asked her if she was interested in playing an instrument and she immediately answered yes; she wanted to play piano, at first I thought that her choice was because it was the instrument that her father played, however, over time she showed that her interest was genuine and according to her teachers, she has the conditions.
---
Mis hijos han crecido en un entorno rodeado de música, pues su papá es pianista, director de coros y cantante, y en mi caso tengo 12 años cantando como mezzosoprano en diferentes coros de la ciudad. Cuando mi hija cumplió los 6 años le pregunté si estaba interesada en ejecutar algún instrumento e inmediatamente respondió que si; quería tocar piano, en un principio pensé que su elección se debía a que era el instrumento que tocaba su papá, sin embargo, a lo largo del tiempo demostró que su interés era genuino y dicho por sus profesores, tiene las condiciones.
---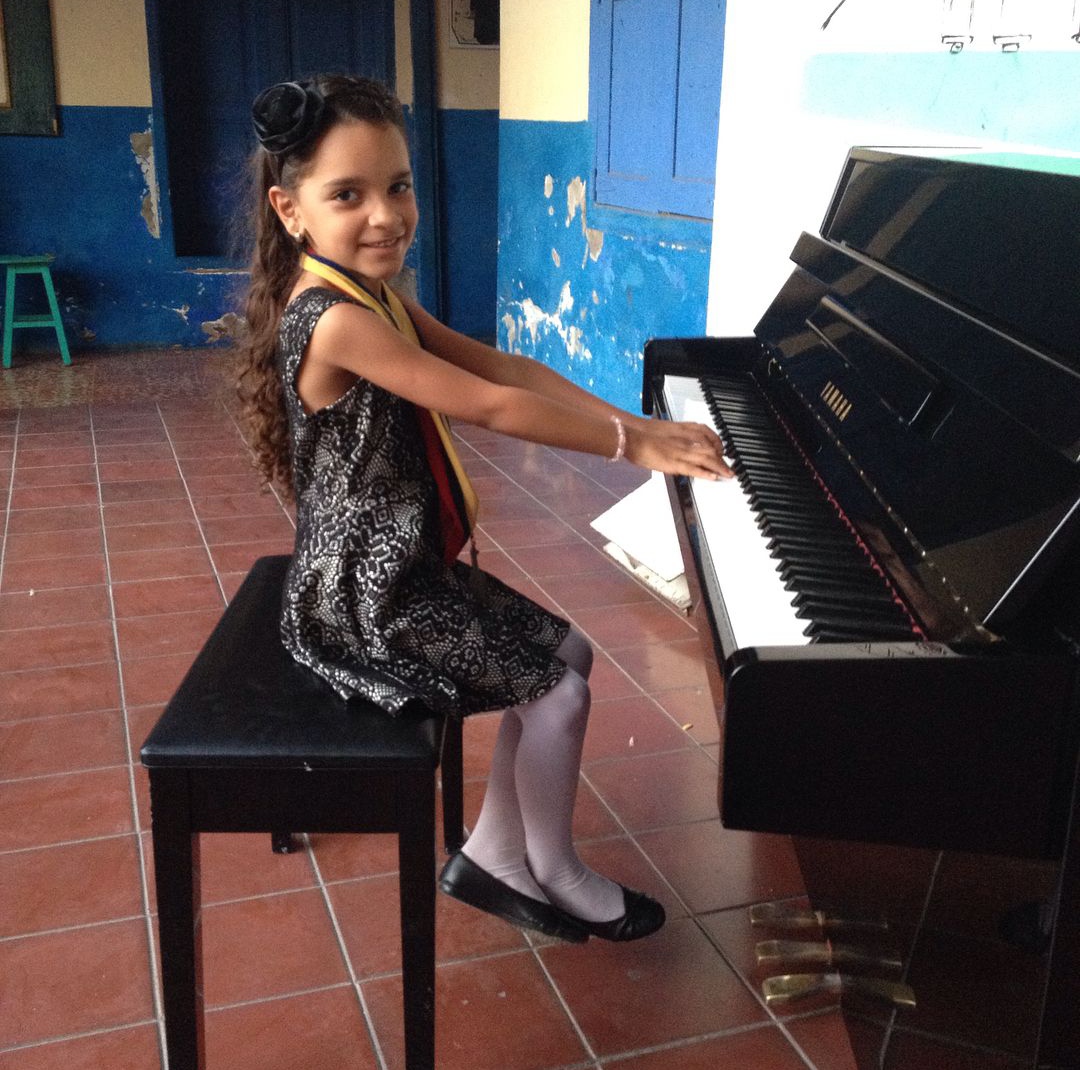 Mariana's first piano recital at the age of 6 years old || Mariana es su primer recital de piano a los 6 años
---
With José the decision was not so easy. When I asked him which instrument he wanted to play the first thing he said was the cuatro (the Venezuelan instrument par excellence), I made arrangements for several months for him to receive lessons, but for one reason or another it was not possible. He also said he would play piano like his sister and his father, he received some lessons, but he did not show enough enthusiasm in the classes. I would take him to choir rehearsals so he could vocalize, and despite having a beautiful voice and being very in tune, he was embarrassed to sing and preferred to play with the other children. I confess that I came to think that maybe music was not his thing. Until one day during a recital of the piano class to which my daughter belongs, they presented a piano and clarinet ensemble, José soon said that he had already made up his mind, he wanted to play clarinet. My reaction was of surprise and at the same time of emotion, because although I had heard the sound of this instrument in several orchestras, for me it was something new.
---
Con José la decisión no estuvo tan fácil. Cuando le hice la pregunta de cuál instrumento quería tocar lo primero que dijo fue cuatro (el instrumento venezolano por excelencia), hice las gestiones por varios meses para que recibiera clases, pero por una razón u otra no fué posible. También decía que tocaría piano como su hermana y su papá, recibió algunas lecciones, más no mostraba suficiente entusiasmo en las clases. Me lo llevaba a los ensayos corales para que vocalizara y a pesar de tener una voz hermosa y ser muy afinado le daba pena cantar y prefería jugar con los demás niños. Les confieso que llegué a pensar que lo suyo tal vez no era la música. Hasta que un día en un recital de la cátedra de piano a la que pertenece mi hija presentaron un ensamble de piano y clarinete, José no tardó en decir que ya estaba decidido, quería tocar clarinete. Mi reacción fue de sorpresa y a la vez de emoción, pues a pesar de que había escuchado el sonido de este instrumento en varias orquestas para mí era algo nuevo.
---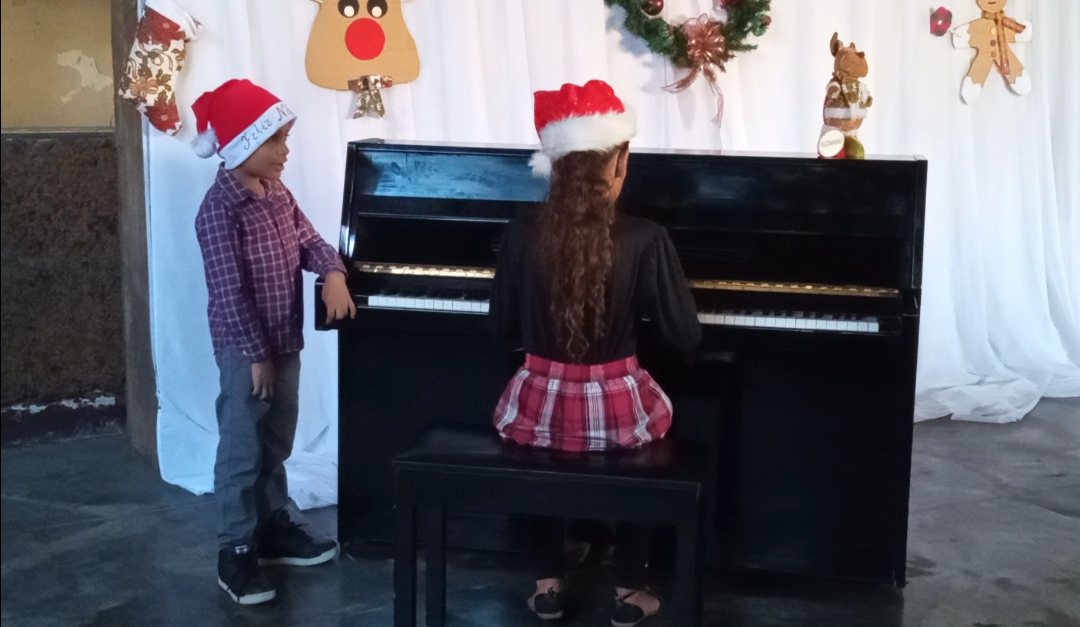 José accompanying his sister to perform a Christmas song || José acompañando a su hermana a interpretar una canción navideña

I quickly made arrangements to enroll him in the middle of last year in the system of choirs and orchestras in the city, but it was not until last month when they called me to let me know that there was a teacher and they would assign the instruments. Jose was very excited, his first class was a group class of musical language, the first impression of his teacher was very positive, because he followed the indications he was given in an effective way.
---
Rápidamente hice las gestiones para inscribirlo a mediados del año pasado en el sistema de coros y orquestas de la ciudad, pero no fue sino hasta el mes pasado cuando me llamaron para avisar que había profesor y asignarían los instrumentos. José estaba sumamente emocionado, su primera clase la hicieron grupal de lenguaje musical, la primera impresión de su profesor fue muy positiva, pues siguió de forma efectiva las indicaciones que le dieron.
---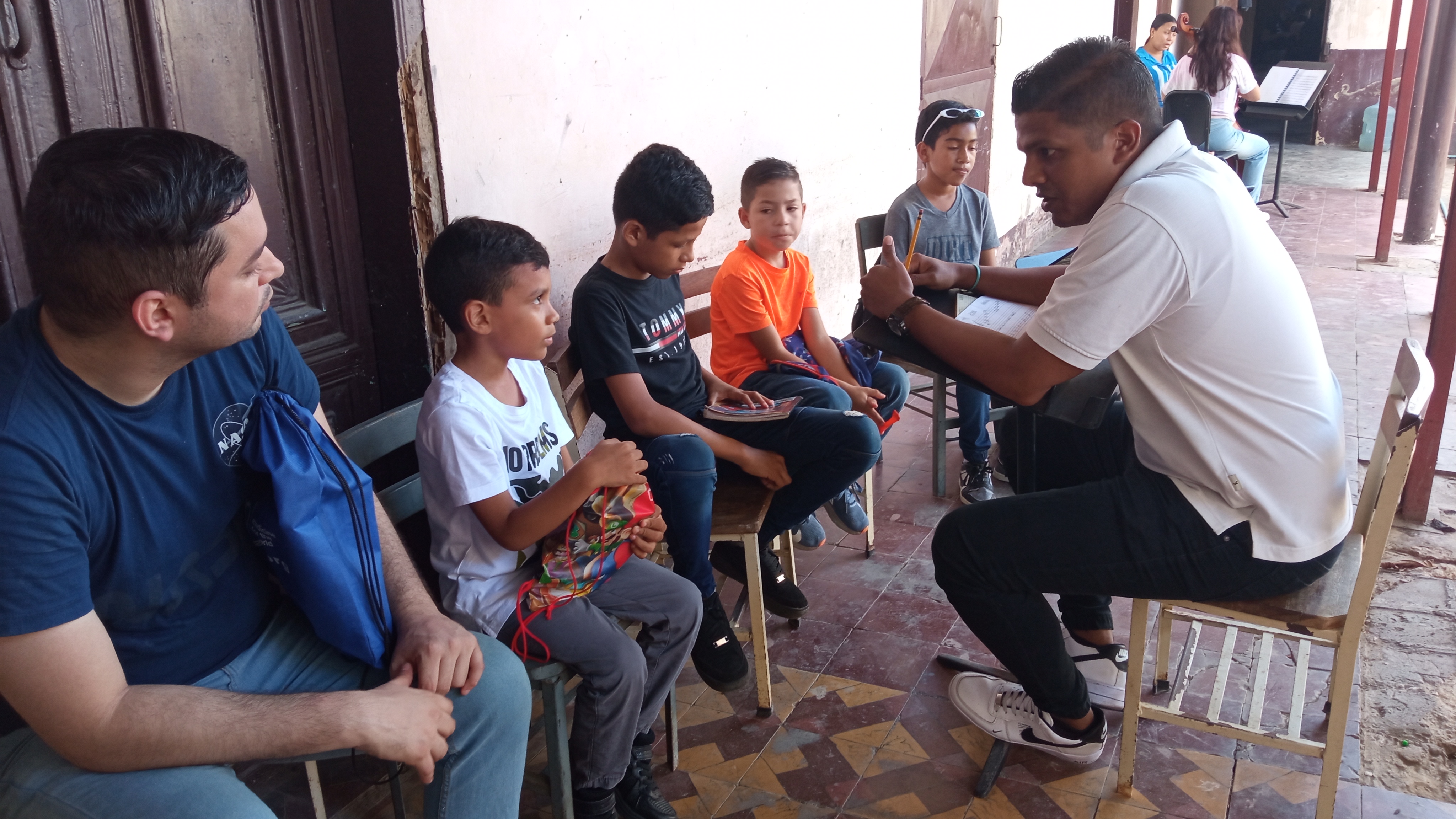 ---
The first two weeks of classes passed and the instruments had not yet been delivered due to a series of administrative procedures that the teacher had to carry out, when the long awaited day arrived my child was extremely happy and excited, you can imagine the joy that this meant to me. As I told you at the beginning, I knew very little about this instrument, so I had to do some research to help him and guide him in the first theoretical tasks assigned to him.
---
Pasaron las primeras dos semanas de clases y aún no habían entregado los instrumentos por una serie de trámites administrativos que debía realizar el profesor, cuando llegó el tan esperado día mi niño estaba sumamente alegre y emocionado, se podrán imaginar la alegría que eso significó para mí. Como les dije en un principio era muy poco lo que sabía de este instrumento, así que me tocó investigar para ayudarlo y orientarlo en las primeras tareas teóricas que le asignaron.
---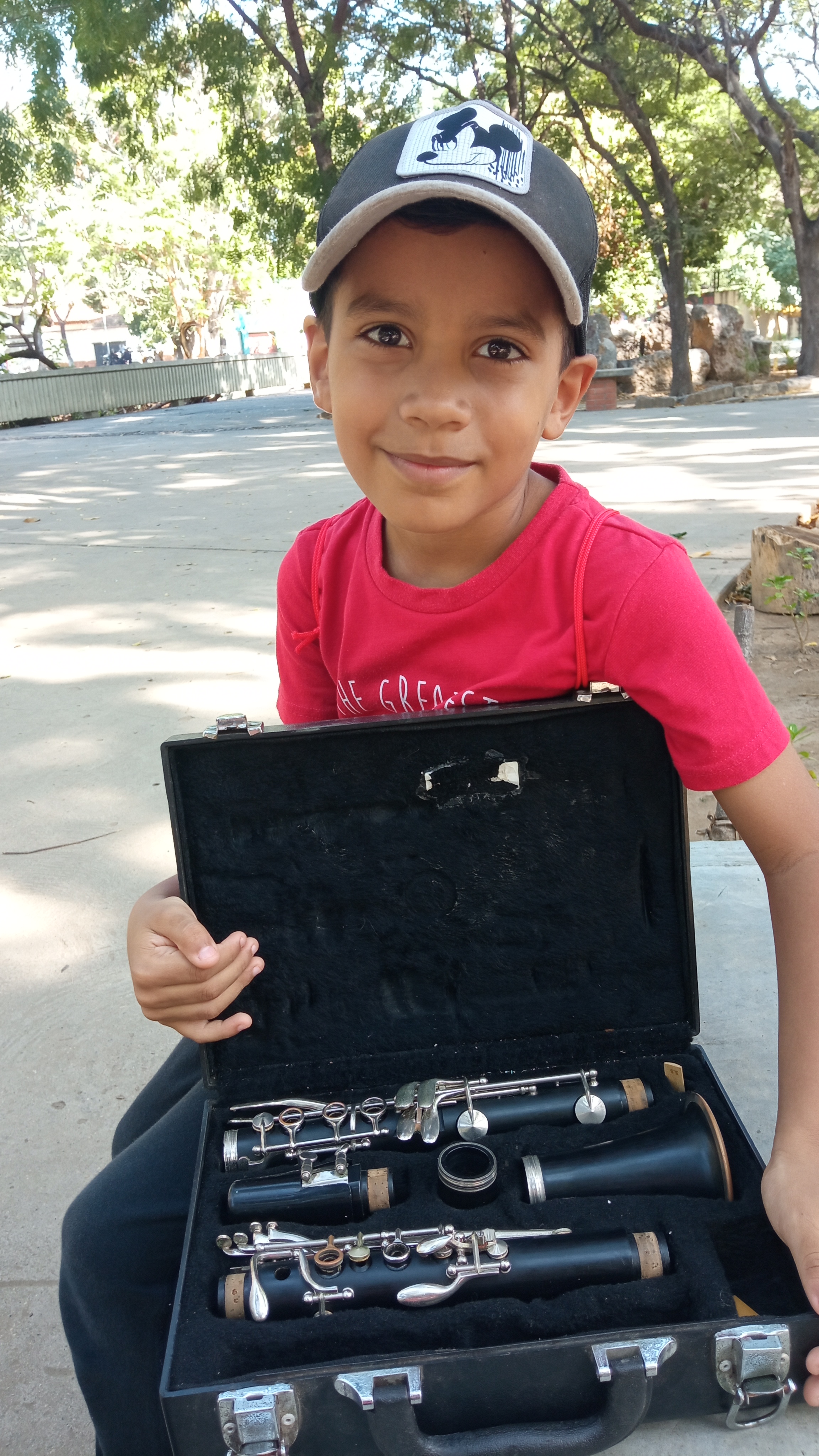 First day with his clarinet || Primer día con su clarinete
---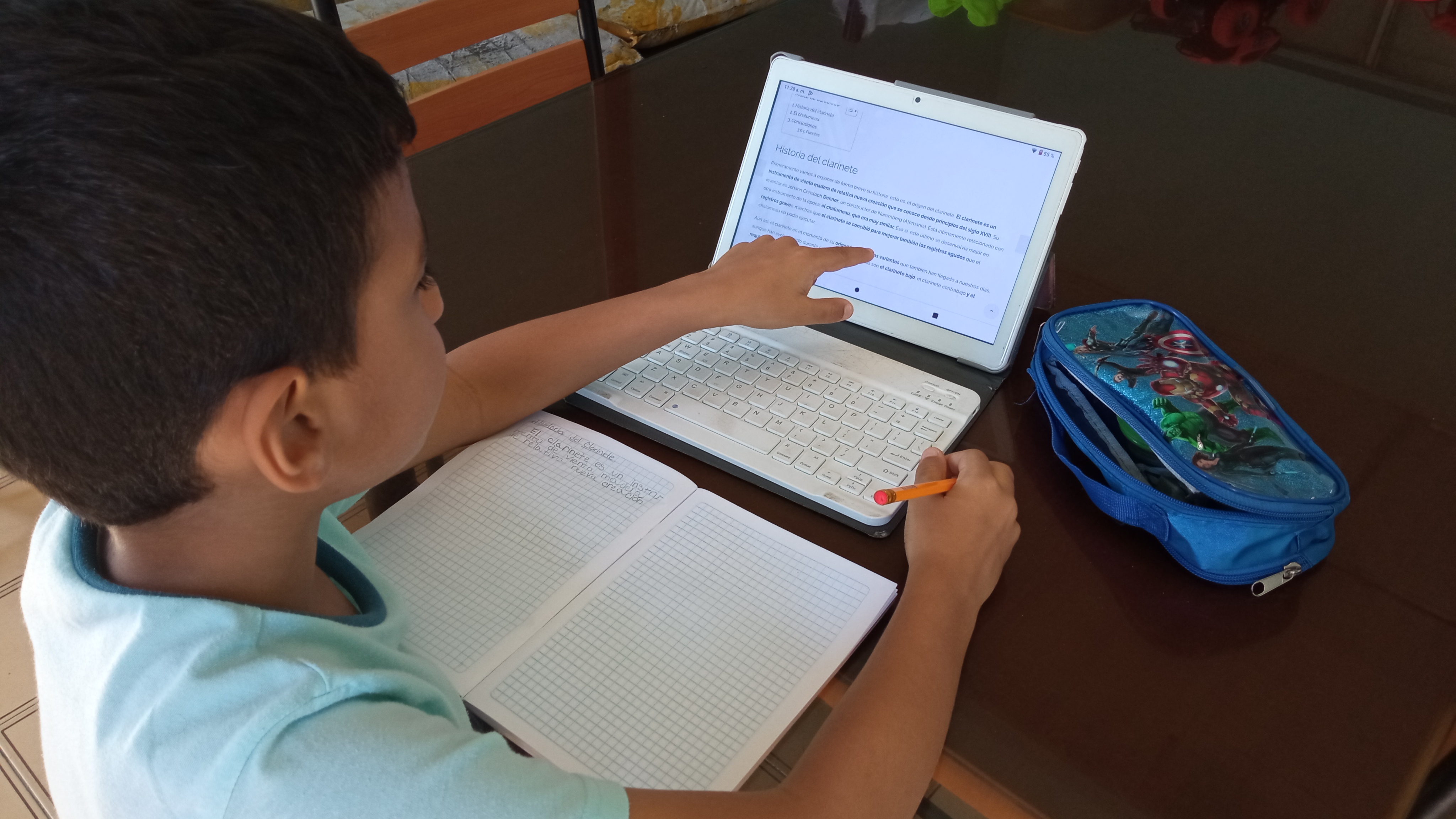 Researching the Clarinet || Investigando sobre el Clarinete
---
Another surprise I got was that to play this instrument we had to share a reed, a small and thin piece of wood that is placed in the mouthpiece and allows to emit its particular sound. Each reed has a cost of 5$ and in the words of one of the teachers of the System, when they are learning they are reed eaters, heh, heh, so surely for a while I will have an income with this piece.
---
Otra sorpresa que me llevé fue que para ejecutar este instrumento debíamos compar una caña, una pequeña y delgada pieza de madera que va colocada en la boquilla y permite emitir su sonido tan particular. Cada caña tiene un costo de 5$ y en palabras de una de los profesores del Sistema, cuando ellos están aprendiendo son unos come caña, je,je así que seguramente por un tiempo tendré una renta con esta pieza.
---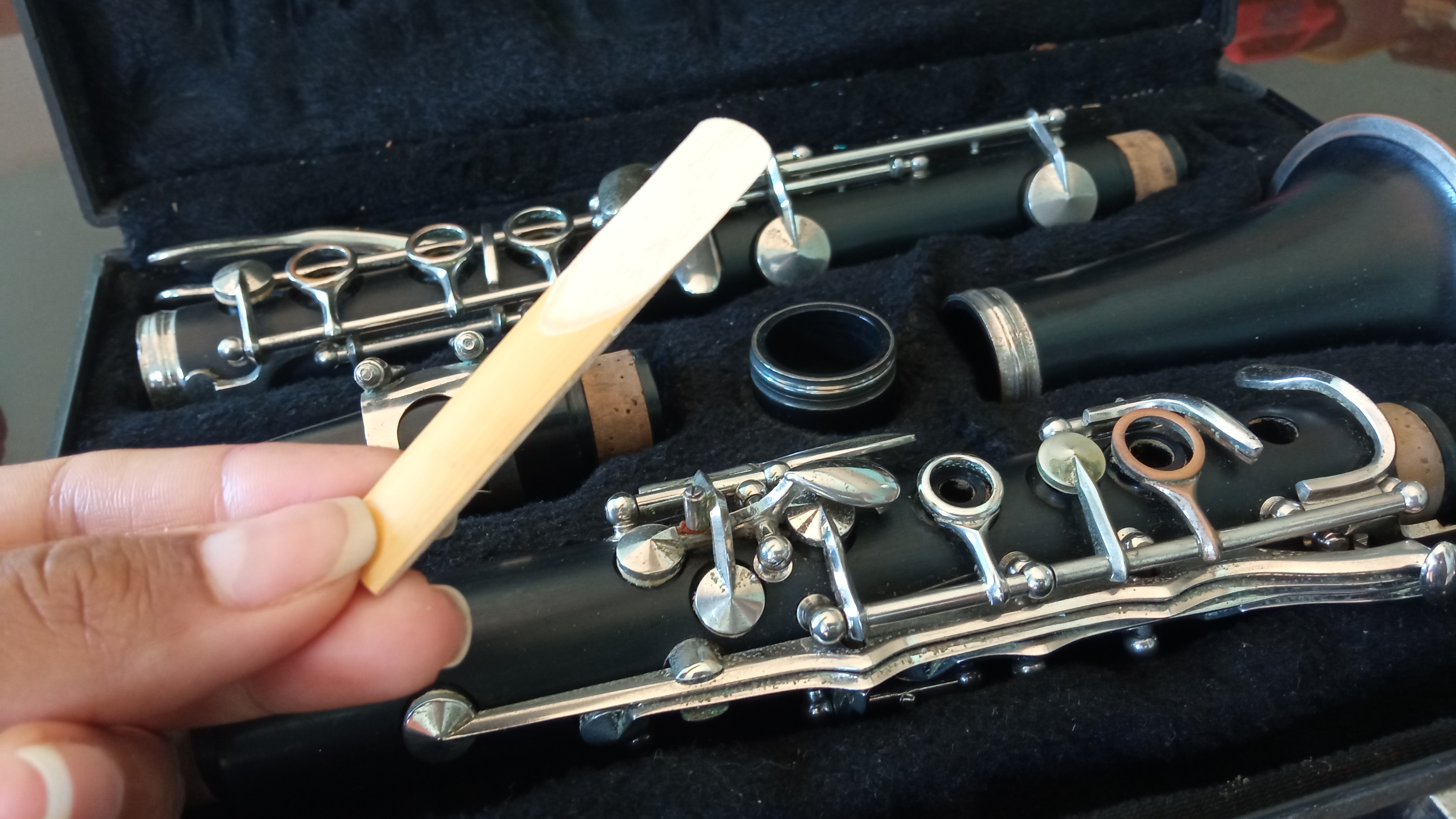 The truth is that with this experience I learned that as parents we must allow them to try and discover what their talents and virtues are, many times I have seen children doing what their parents could not do and that seems to me a big mistake, I think we should always be willing to fight for the happiness of our children, but above all learn to listen to them and guide them to develop any extra academic activity that they like to do. For obvious reasons music will always be present in their lives, but if the day comes when they no longer want to play I will be there to motivate them and guide them in the search for their destiny.
---
Lo cierto es que con esta experiencia aprendí que como padres debemos permitir que ellos prueben y descubran cuáles son sus talentos y virtudes, muchas veces he visto niños haciendo lo que sus padres no pudieron hacer y eso me parece un gran error, creo que siempre debemos estar dispuestos a luchar por la felicidad de nuestros hijos, pero sobretodo aprender a escucharlos y orientarlos a desarrollar cualquier actividad extra académica que ellos tenga a gusto realizar. Por obvias razones la música siempre seguirá presente en sus vidas, pero si llega el día en que ya no quieran tocar ahí estaré para motivarlos y guiarlos en la búsqueda de su destino.
---
---
Thank you all for reading me, until next time.
---
Gracias a todos por leerme, hasta una próxima oportunidad.

Traductor || Translator: Deepl
Todas las imágenes son de mi propiedad tomadas con un Xiaomi Red mi 9 || All images are my own taken with a Xiaomi Red mi 9.
Separador de texto || Text separator
---
@morenaluna 03/02/2023
---
---