Taking my Canon M50 tests seriously.
Today I woke up in the morning, and as usual the first thing I did was to go downstairs and check on my mom, she was still asleep, so I started to take my cactus out in the sun as they needed it, but while I was doing that I noticed some small mushrooms growing under the sunlight, that made me want to take pictures of them and I couldn't resist myself.
Hoy me levanté por la mañana, y como siempre lo primero que hice fue bajar y ver como estaba mi mamá, estaba dormida aún, así que me puse a sacar mis cactus al sol ya que les hacía falta, pero mientras lo hacía noté unos pequeños hongos creciendo bajo la luz del sol, eso me hizo desear hacerles fotografías y no me pude resistir.
---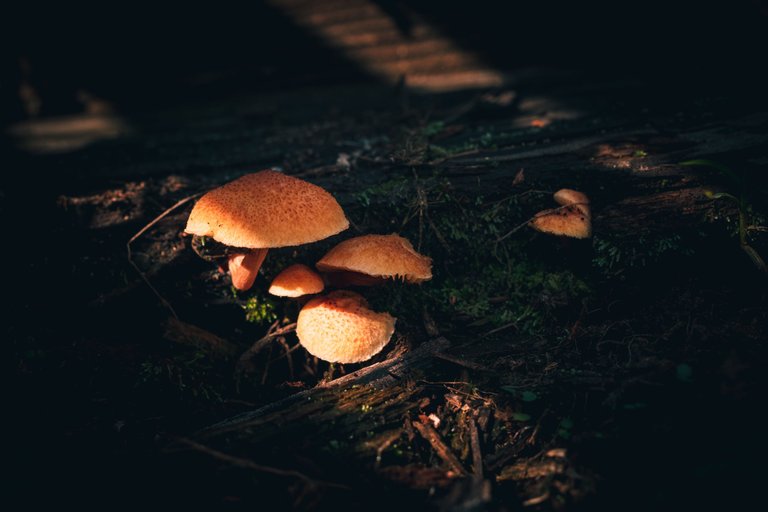 The two photographs of today have the same style, especially in the editing, the big difference lies in the shooting mode, since in this image I shot in manual mode and with an aperture of F/8 was a difficult photograph because of the dynamic range in the scene, we have a fairly bright area and a fairly strong shadow area, the truth is that I decided to take the picture in manual mode because in aperture priority it raised the ISO too much and I didn't want a lot of noise in my image.
Las dos fotografías de hoy tienen el mismo estilo, sobre todo en la edición, la gran diferencia radica en el modo de disparo, ya que en esta imagen disparé en modo manual y con una apertura de F/8 fue una fotografía difícil por el rango dinámico en la escena, tenemos una zona bastante iluminada y una zona de sombras bastante fuerte, la verdad decidí hacer la fotografía en modo manual porque en prioridad a la apertura me subía demasiado el ISO y tampoco quería mucho ruido en mi imagen.
---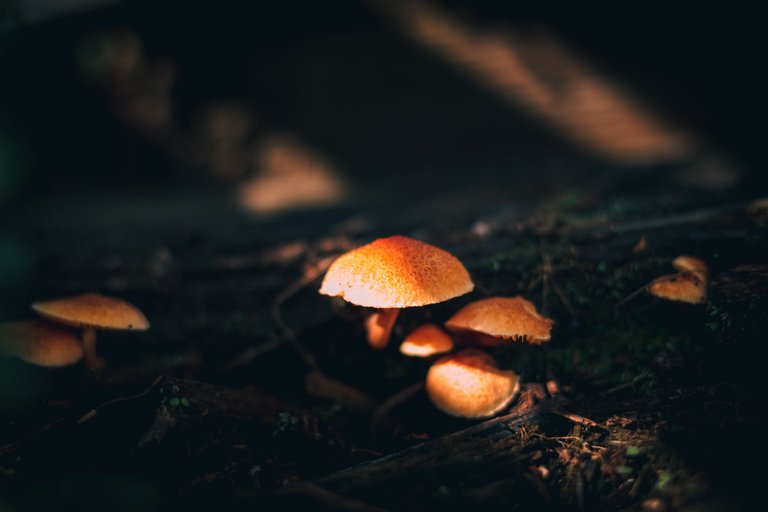 In this image we can see the scene very differently, first I shot in aperture priority, at F/2.5 which causes a beautiful bokeh but because of the illuminated area it gave me chromatic aberration, of course I removed as much as I could in editing, I know I could have taken the photo at F/8 as well as in manual mode, but as I mentioned, I am trying to understand the true results that this new camera will give me.
En esta imagen podemos ver la escena muy diferente, en primer lugar dispare en prioridad a la apertura, en F/2.5 lo cual provoca un bello bokeh pero por la zona iluminada me dio como resultado aberración cromática, claro que eliminé lo más que pude en edición, sé que pude haber hecho la foto en F/8 al igual que en modo manual, pero como he mencionado, me encuentro intentando entender los verdaderos resultados que me dará esta nueva cámara.
---
The truth is that having the Canon M50 is a dream come true, and although in theory yes, it serves to do the same as my previous camera, the truth is that I feel totally different, the colors, the white balance is great so much that I keep it on automatic, in short I need to do a couple more tests to adapt myself better to the camera, today I took advantage that one of my brothers came to the house to start editing, today is a week since the death of my aunt, and my mom is a little more sensitive again, I took this time to edit and distract my mind.
La verdad es que tener la Canon M50 es un sueño hecho realidad, y aunque en teoría sí, sirve para hacer lo mismo que mi anterior cámara, la verdad es que siento totalmente todo diferente, los colores, el balance de blancos es buenísimo tanto que lo mantengo en automático, en fin necesito hacer un par de pruebas más para adaptarme mejor a la cámara, hoy aproveché que uno de mis hermanos vino a la casa para ponerme a editar, hoy se cumple una semana de la partida de mi tía, y mi mamá anda un poco mas sensible otra vez, aproveché este momento para editar y distraer mi mente.
---
I'm trying to take few pictures with the M50, first of all because I've had almost no time to take pictures, but mostly because I want to be more selective, the files are bigger and I don't want to finish my storage space so fast, plus the more pictures, the longer it takes me to edit and it's a luxury I can't give myself until I'm sure my mom doesn't go into a permanent depression stage, I'll still wait a couple of weeks giving her all my attention, she deserves it.
Estoy tratando de hacer pocas fotografías con la M50, en primero porque casi no he tenido tiempo de hacer fotografías, pero más que nada porque quiero ser más selectivo, los archivos son más grandes y no quiero acabar mi espacio de almacenamiento tan rápido, además de que mientras más fotos, más tardo editando y es un lujo que no me puedo dar hasta estar seguro de que mi mamá no entre a una etapa de depresión permanente, todavía esperaré un par de semanas dándole toda mi atención, ella lo merece.
---
All photographs are my property, taken by me, @monster-one
---
Thanks for watching my post, see you in the next one.
---
---

---
---
---
---