Pocket Academy Simulation Game 👩‍🎓🏫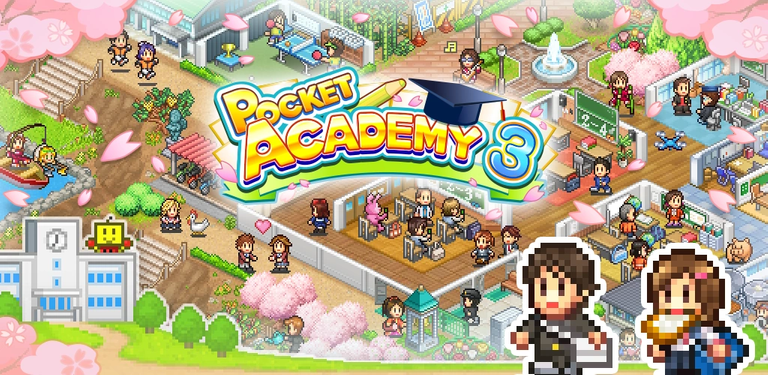 Hello everyone! I'm back with a new Kairosoft game called "Pocket Academy 3." This is a simulation game where you manage/build a school. I've mentioned in the past that I love games from this company, if you're into simulation games as well I recommend checking them out! This post will be my play through, and first impressions on this game, as this is my first time playing this one. Time to create the new school!
Okay first of all, I love the cherry blossoms in the title screen, they are so pretty! 🤩 and the fact we can customize the uniforms for the boys and girls is nice. The title screen image inspired me to name this school "Cherry Blossom Academy" which also just makes sense because it's spring here in New Zealand, the time when these trees blossom. I chose these uniforms for my school because it reminded me of this old game named "Yandere Simulator" which I used to play in the past.
They also allowed us to customize our first student. So I thought it would be fun to create myself. To my surprise there was also an option of bunny ears! I got very excited about that haha. I decided that her personality will be 'charming' because with those bunny ears she's giving off that energy. 😆
(Btw I didn't add images of all the dialogues or this blog post would be very long haha - so I'll just add screenshots of specific things.)
We're starting with only two students in the school first. I got to rename the other guy, he looked like a frat boy so I named him "bro dude" 😛 It seems in this school the students can join clubs which sounds interesting. They can even form relationships which I didn't know of! Will be interesting to see the high school couples that form, I wonder if we're able to choose or if it's random who develops relationships with who? (I later found out that it's random, which definitely makes things interesting!)
It's time to build the first facility in the school. I decided to build a nurse room first thing because that seems pretty important to have in any school. We started with quite a bit of money to spend which is nice. Time to make this school look fresh. 😎
There are also newspaper articles in this game just like every other Kariosoft game. Which is a unique touch. Usually when something big happens we get this dialogue pop up. I usually skip these dialogues but it can have some helpful tips in it sometimes.
After a few minutes, a student has already made a request. Listening to their requests improves our school, as listening to students voice is important when running a school so it makes sense. I placed a vending machine as requested. I don't have any vending machines in my own school in real life actually. Is this normal for other places? It would be really cool to have one though. Not only are there facility requests but a student can request a skill increase. In this case the dude student wanted a higher spirit so he could bungee jump without crying, which is quite funny. 😆
We seem to have received a transfer student. Our school is growing nicely already. You can also look at students info to see their strengths. As well as use items to increase these strengths. His personality is also 'charming' it seems. He takes videos of his own snoring which is interesting 🥴 What a quirky personality trait.
Ooh we can now build clubs in our school. There was a few choices, I decided to go with the soccer club because why not. That seems to be a club in most school in real life. I'm assuming we can build more later on hopefully, because it would be fun exploring the art club and stuff.
Something interesting that can happen when creating the layout of the school is something called a "popular spot" I created one accidentally haha, but it's actually a good thing! The school's popularity goes up significantly and powers up the facilities as well. I put the water pump by a tree and big rock, which is a popular spot combination. So what a great coincidence!
Over here it shows the classes subject skills and the classes average. Hosting a special class causes the average to go up. Which means students will do better in tests. This is beneficial because you can get more money if students do good at the tests which could be used to improve your school even more!
We only have one teacher so far, so now it's time to hire one more. We have an applicant. We can see the teacher's stats and see their strengths. This guy seems to be best at teaching Spanish. However we can spend money to level up the teacher any time and their stats will increase meaning they'll be able to increase the other student's stats more effectively.
Now I feel like it's time to do something with our club. With the soccer club we can go to the soccer practice match which is what I'm going to do now. A little animation came up of the bus driving off which I thought was cute.
The animations for soccer practice match comes up which is really cool I had no idea it was that detailed. Anyways because of our low stats on the team we unfortunately lost the practice game. You can't be perfect first thing, it takes some time, patience and practice. So I need to invest on making my team stronger soon!
Something I forgot to mention is from news articles our school reputation goes up. This is useful because I'm assuming it will bring in more students to our school? Hopefully so. Anyways, this is what my school looks like so far, it still needs a bit more improving but looks good at the moment. I'm excited to continue growing my school, cherry blossom academy. This game has been fun!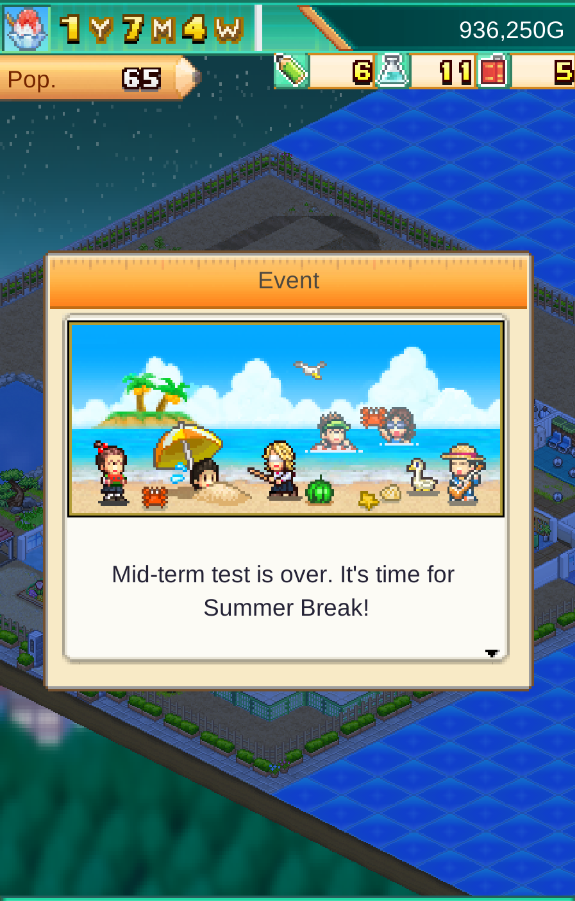 This blog post is getting a bit long so I'm going to end it here. Fast-forward time a little bit, The tests were over so it's time for summer break for the students. The next season starts when you just click the screen. There's still lots more to do in this game, like my students haven't started relationships yet and there's more facilities and clubs to be unlocked. Students also try get their dream job once they're done. I'm very excited to see where my school goes and how my students do. I hope you enjoyed watching along as I played Kairosoft Pocket Academy.

🌸 🌸 ~ Thanks for viewing!! ~ 🌸 🌸
---
---