LIZA FOX A RARE DEATH MONSTER WITH STUN ABILITY | DIAMOND LEAGUE UNLOCKED
Hello Splinterland warriors!
How are you all guys hope you will be blessed and fine here is another post about the Splinterlands game in which i will be sharing the quest rewards of today along with a new card from the gladius edition which belongs to the death family and also the Tire advancement.
LIZA FOX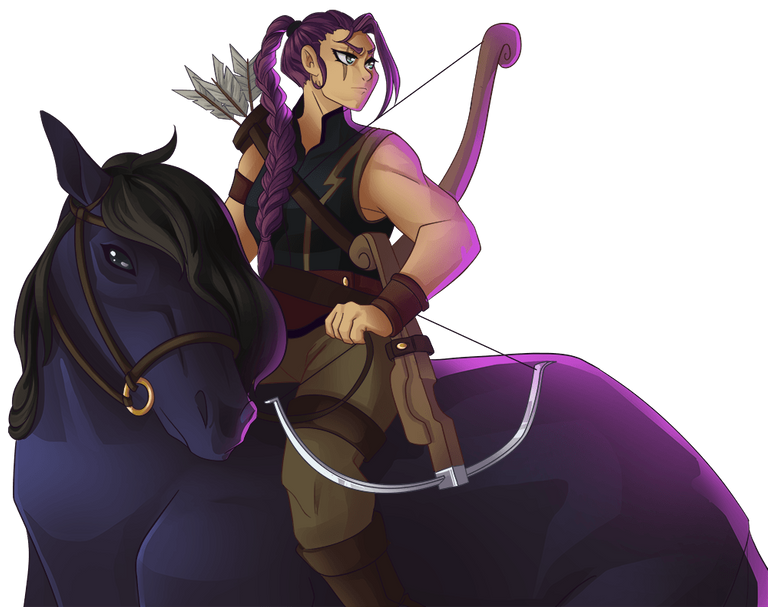 The human highlanders of Khymeria rarely make the trip to Shimmer City for supplies, as they never receive a warm welcome by the Order of the Silver Shield. It is therefore difficult to say how a young lady of the archers has found her way into the ranks of the Moxian Gladiator camp. Even more strange is the fact that Liza Fox fights not for the Life Splinter, but DeathRead more
LIZA FOX is a rare monster from the gladius edition which belongs to the death family and it will give you a perfect range attack with its bloodblust ability at level 1. Another week for brawls in which i got some merits like 1600 and i bought a pack with that merits and got these cards that you can see here and below in this post in the pack opening snap and rest of the cards are old in my collection that i shared but this one is a new card in my collection which is really awesome that i will use especially in the current open brawls.

ABILITIES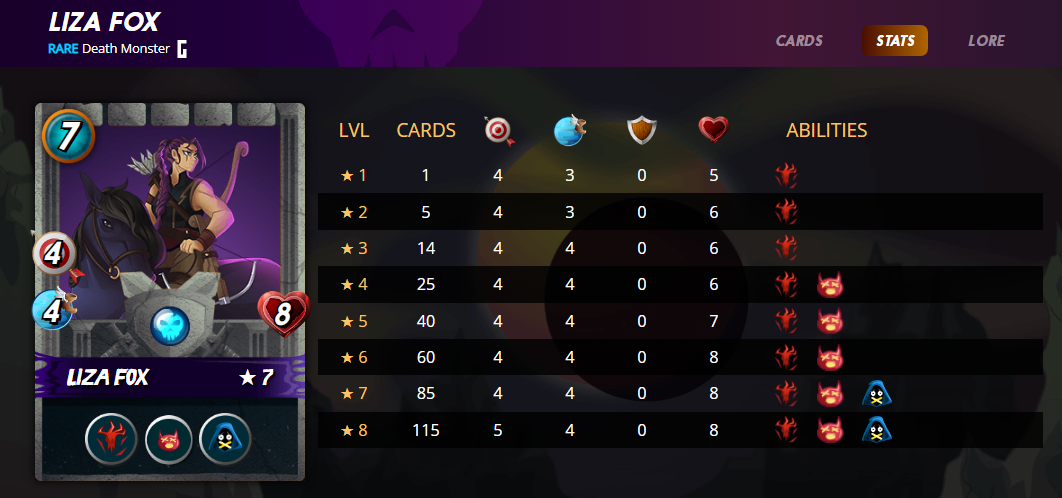 Well, in abilities portion you will find some nice abilities in this card the one is bloodlust which is the base ability in all card but the stun and silence is a great abilities to silence your monster with this gladius card and reduce the magic attack of your enemy team along with the stun for that you need lots of BCX and will wait to get these abilities because the brawls are not open for everyone and nor you can buy packs of gladius in the open market but only with merits that you can get only by playing and participating in the guild.

DIAMOND III LEAGUE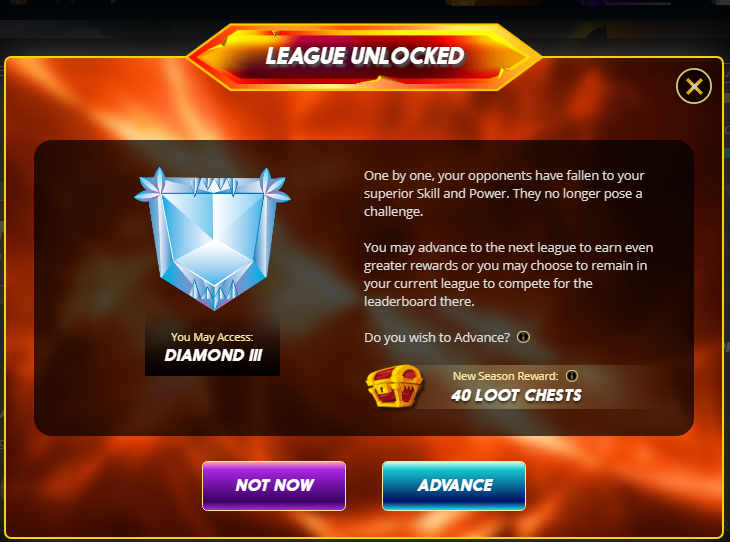 Only 1 day and 20 hours left in the current season so glad that i reached the diamond league before the season end where i will get some nice perks of claiming extra quest rewards and at the end of season as a rewards i will get 40 loot chest for the rewards hope to get some nice rewards from that rewards and not like the recent rewards. Also, unlocking the diamond league is giving me some nice dec by playing battles and will play more battles to reach the diamond 2 league if possible but will not let down below the diamond 3 league because i will not get the extra loot chest if my rating went down again.

PACK OPENING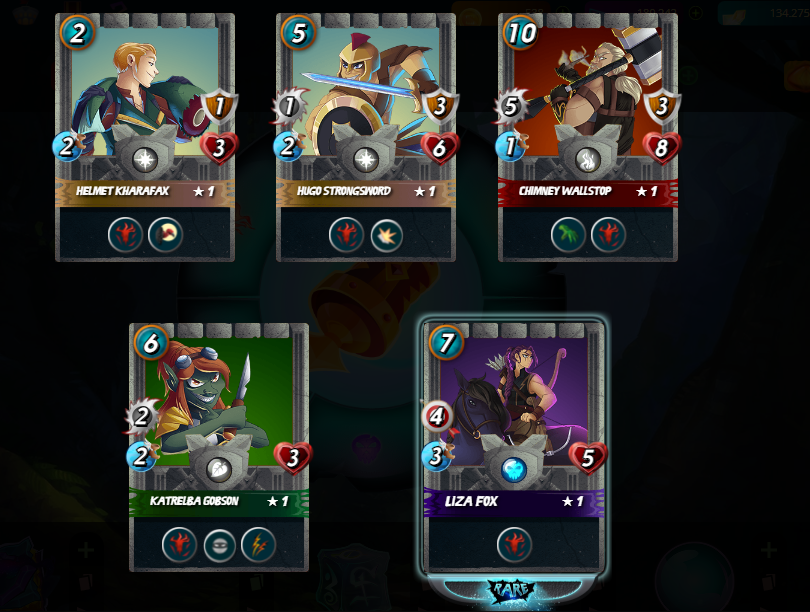 Here is the pack opening result of gladius edition that i bought with merits earned from the brawls battles and got these cards from this pack same like the other packs each pack have 5 cards one will rare or better and rest of the cards will depend on your luck may be you get a legendary or gold foil legendary or epic etc but for me still these are new card in my collection and lots of more to come from the upcoming packs opening.

QUEST REAWDS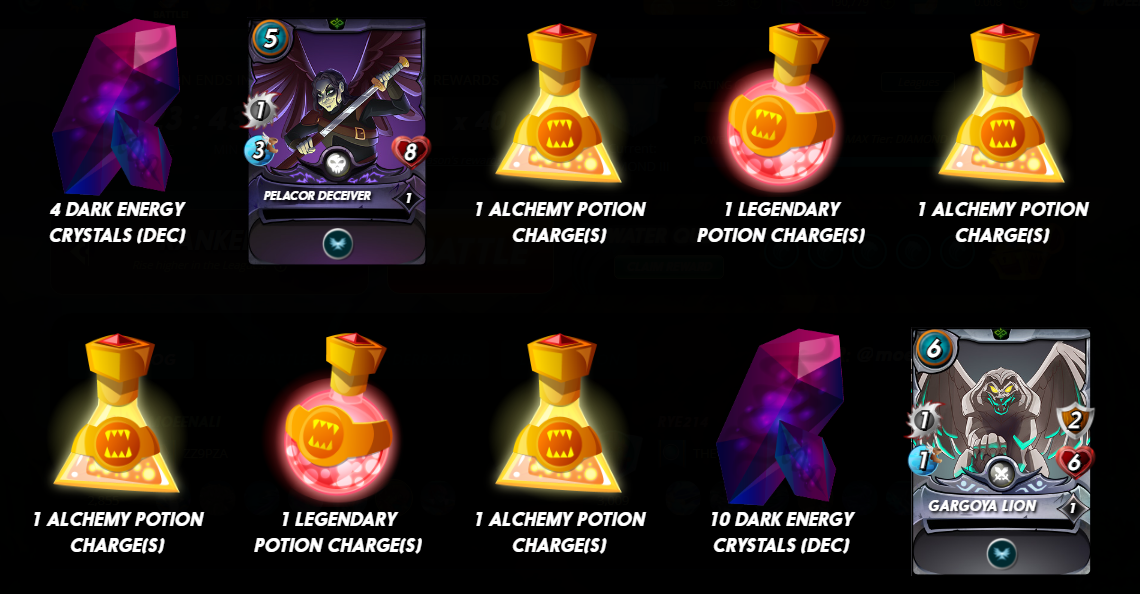 Today i claimed the quest rewards in diamond 3 league and got such a useless quest rewards from it that you can see in the snap because in the 10 loot chest you can see 6 potion charges and two common cards with total of 14 dec tokens lol. By the way let's talk about the hive price which is really really in good position and recently touched his all time high mark with $3.4 and now strong at 2 USD hope it will rise more and more because of the few projects like the splinterlands, Leofinance, and Risingstar games etc and lots of more awesome projects on hive which help in the hive price pump and to be honest i very happy with my investment in this platform which is now 10x or more.

All images are from the Splinterlands website

If you are new to this game then signup here to play the game click here for signup
---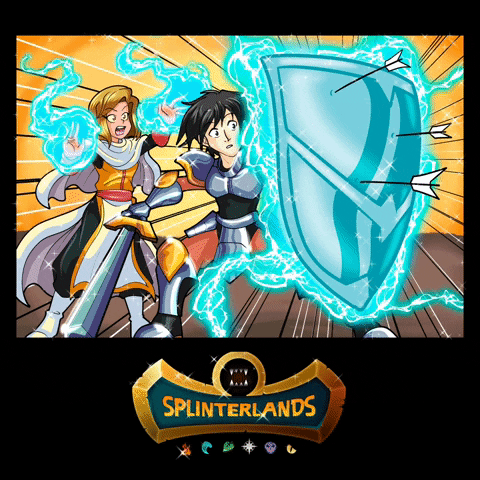 ---
Thanks For visiting my Blog
Best Regards @moeenali
---
---