Fungi Friday || Two Types of Mushroom Pictures From Me For Friday In Early December || December 02, 2022
Hello friends, how are you all on this very happy Friday. I hope we are all still in good health and fine, continue to be enthusiastic in participating in the activities.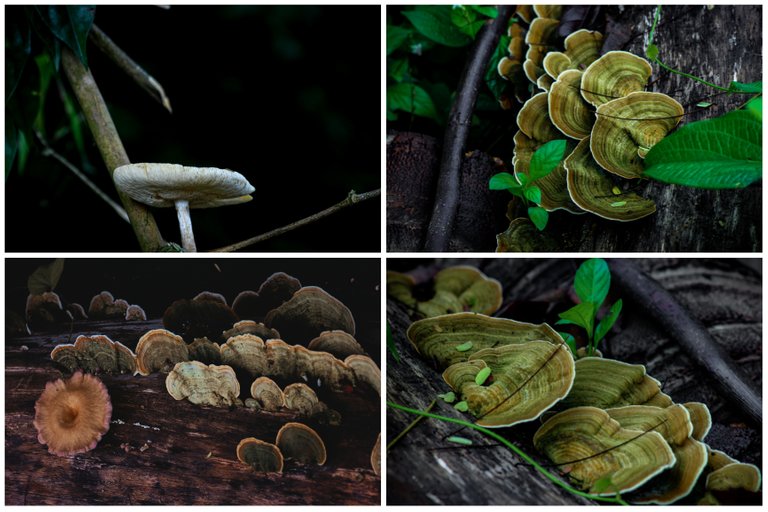 ---
---
On this very happy Friday morning I would like to bring back some very interesting pictures of mushrooms that I have taken. I found these mushrooms in two different places, Both of these mushrooms grow on cut wood and some grow on the ground. Indeed, the mushroom habitat that we often see is growing on weathered wood or growing on the ground. Right now I just woke up this morning and immediately grabbed my smartphone to share this Friday mushroom post,So from last night until this morning it is still raining in the area where I live and I think this is a long rain and of course in the future there may still be lots of mushrooms growing, Whether it's on the ground or in rotting wood. So the mushrooms that I display today are the mushrooms that I prepared a few days ago and I think these two types of mushrooms are very good and very interesting.The mushroom plant is indeed one of the plants that has beauty both in terms of shape and color and on this earth there are many types of mushrooms that live, of course, have different shapes And also the difference in color.
In Indonesia, a country with a tropical climate, of course, when we go to the mountains or to the forest, there are still many species of mushroom species that grow. Not only on the mountain, but if we are diligent to surround the small forests in the countryside, there are also many types of mushrooms that live very fertile. Like when I found these mushrooms, of course at that time I went to a small forest in the countryside and I saw these mushrooms growing very fertile.Still as usual when I see the beauty of mushrooms, of course I definitely take the opportunity to be able to take pictures of these mushrooms.Because for me this mushroom is a plant that has beauty then there are some of these plants that are very useful for humans because they can be consumed,And even some types of mushrooms can also be processed into medical materials by humans, from this I think this mushroom plant is very beneficial for human life,But there are also some types of mushrooms that are dangerous for human consumption because they contain poison in them.So for all of us we still have to be careful in choosing the type of mushroom that can be consumed. All right, friends, let's take a look at some of the pictures that I have prepared.
---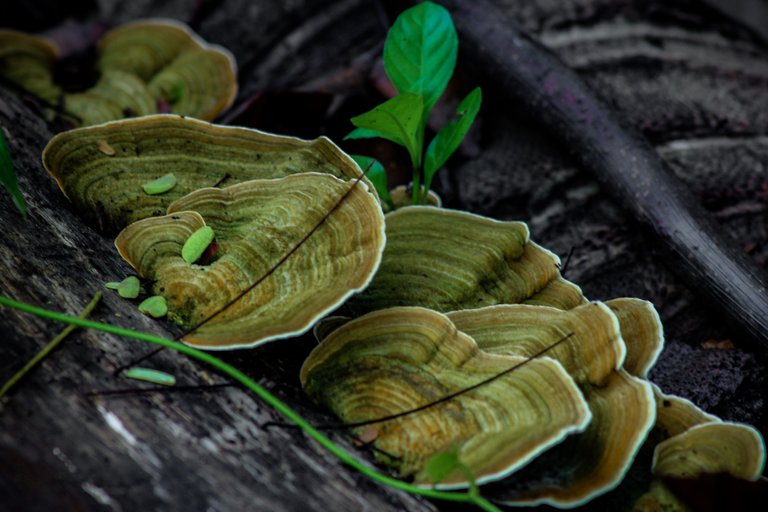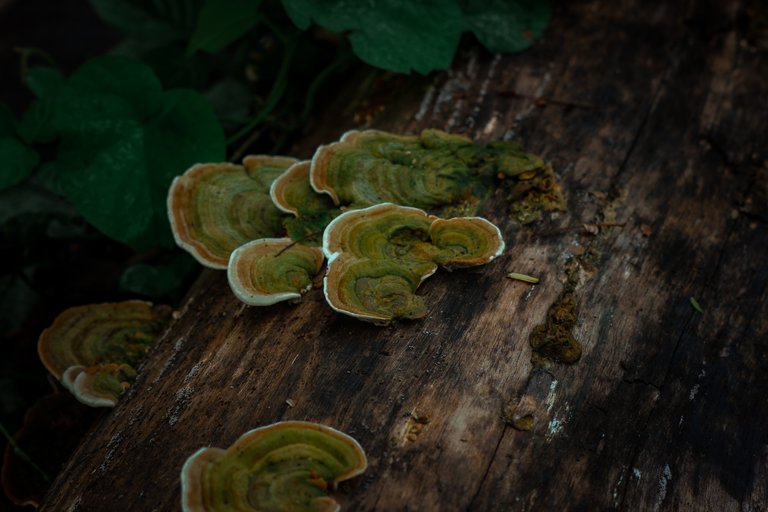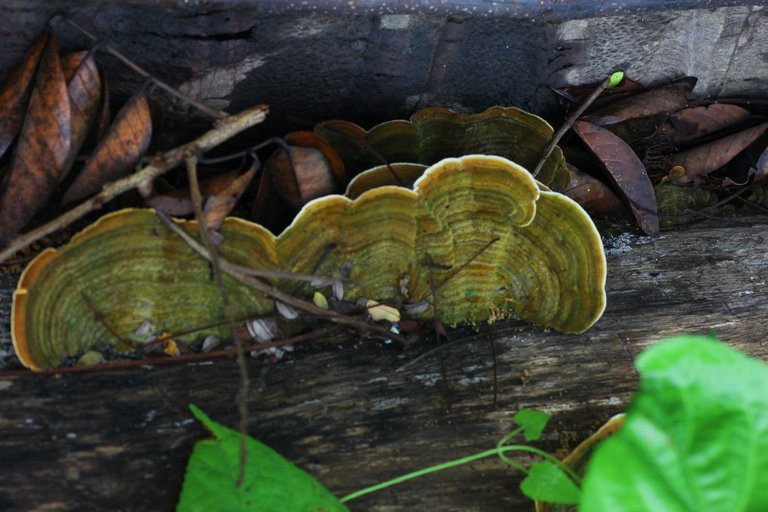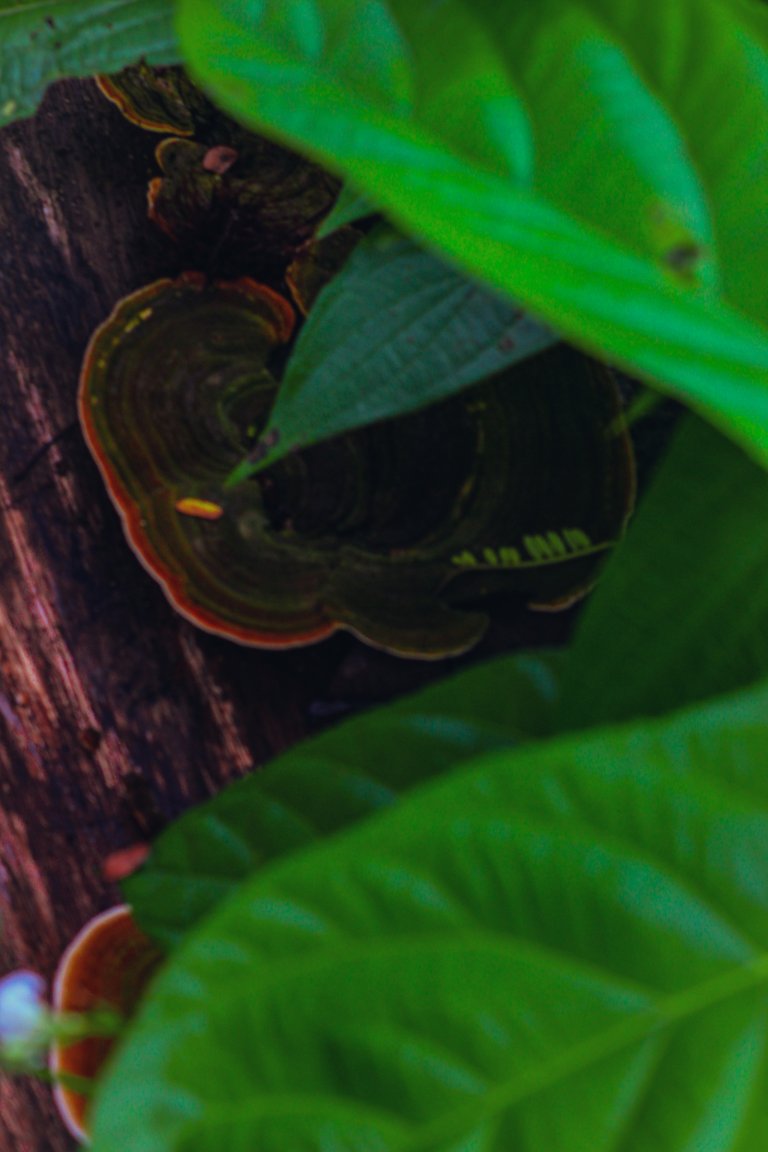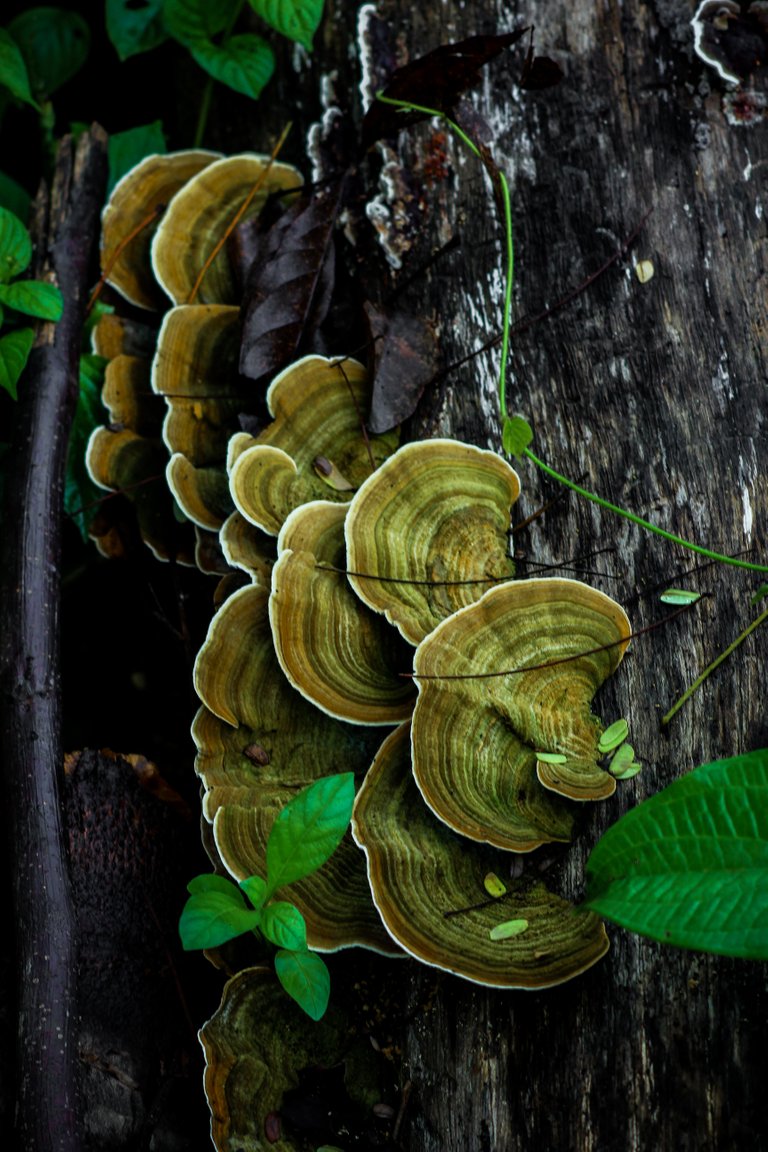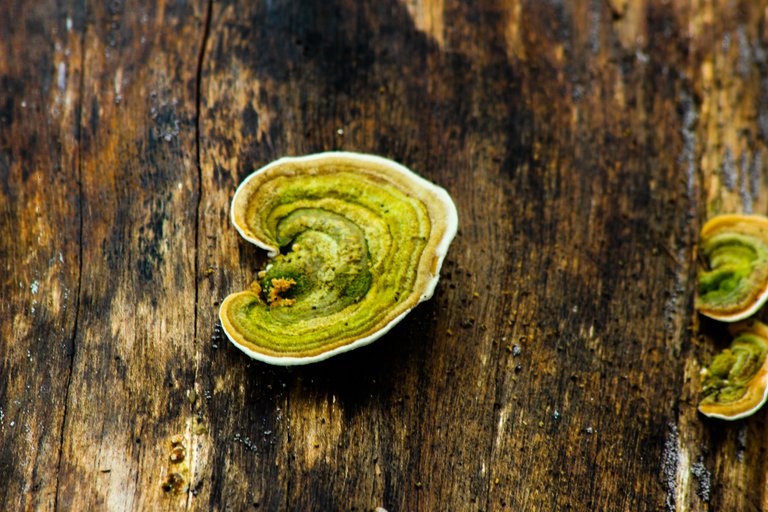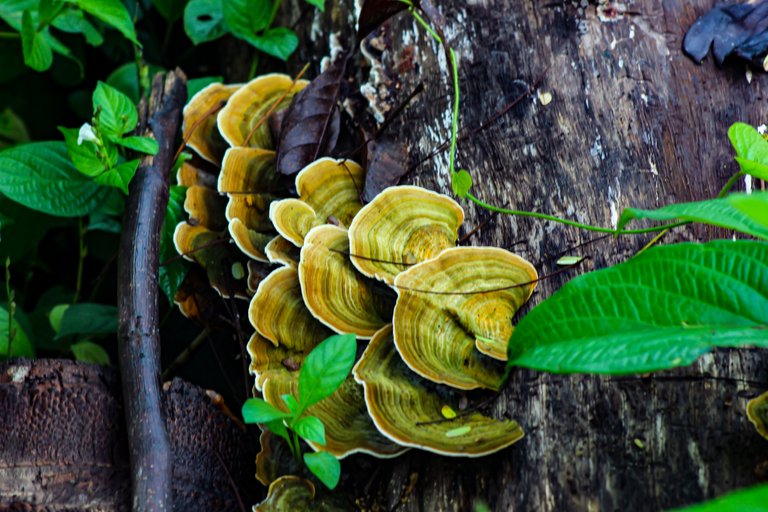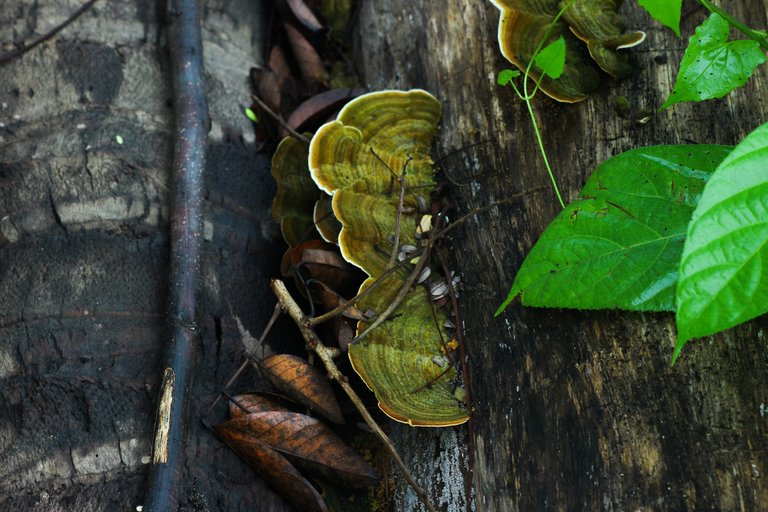 What I'm showing above is a type of turkey tail mushroom, This fungus grows on weathered logs that have been wetted by rainwater and above the logs already have high humidity so that the mushrooms can grow and thrive.This I took When I went to a place where There is a wood storage area for a factory cutting wood to make planks. But I didn't go into the factory location but I just took pictures of the wood stored outside the factory fence on the side of the road.I see this mushroom growing and very fertile with large groups.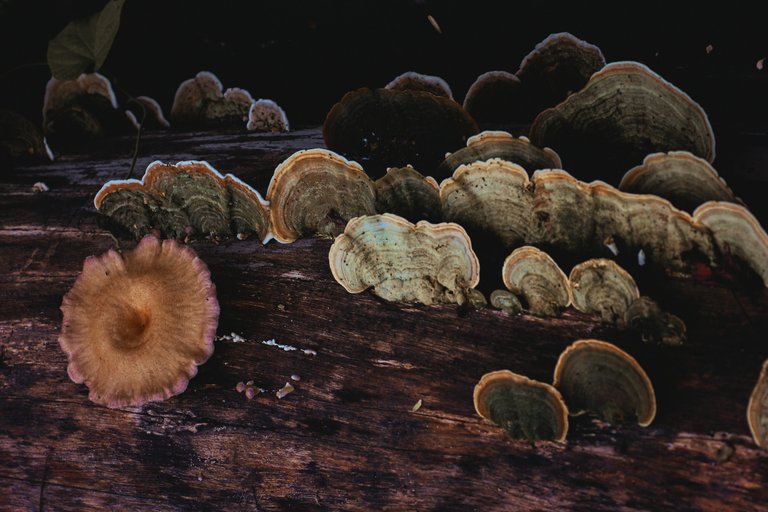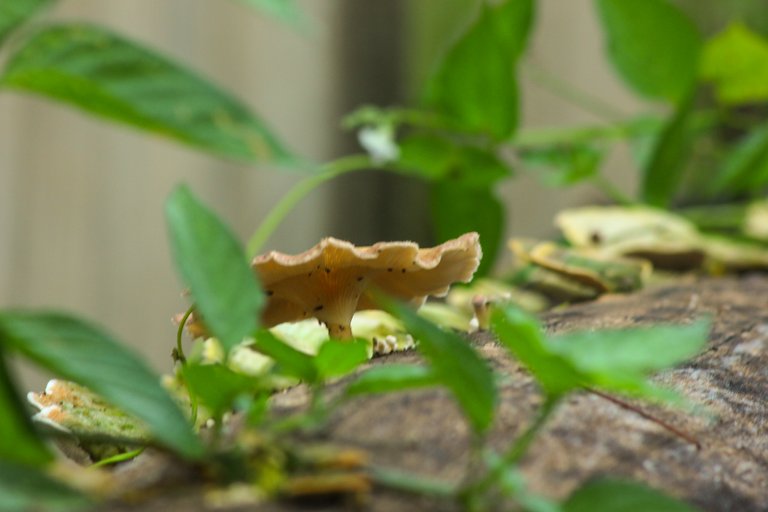 The two pictures above are mushrooms that have stems that live among the turkey mushrooms, So I found this mushroom in the same place as the turkey tail mushroom that I have shown above.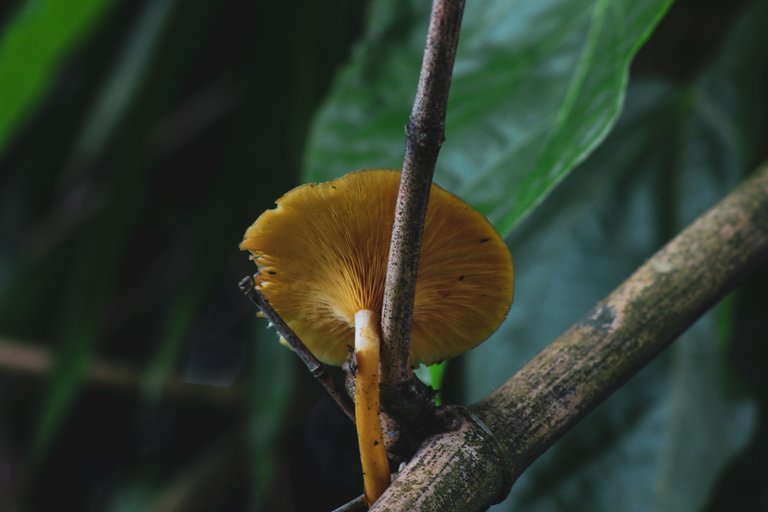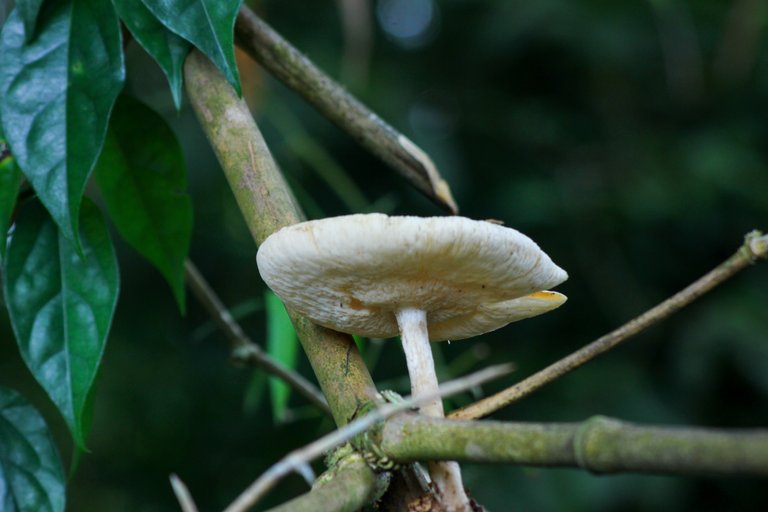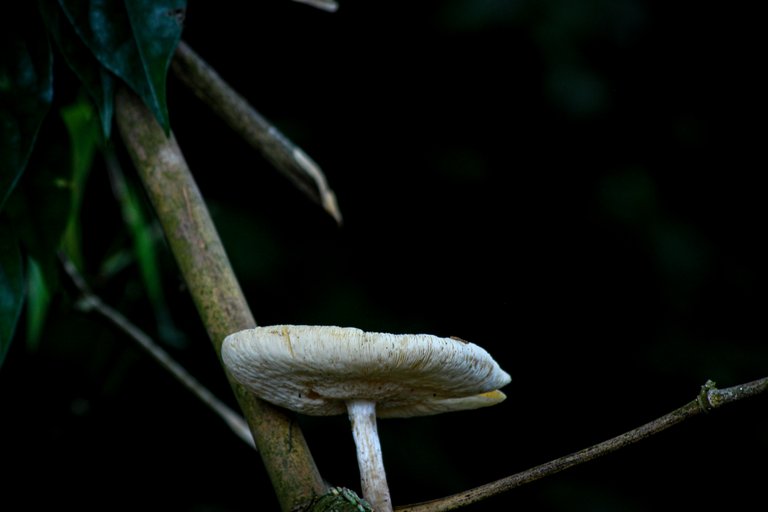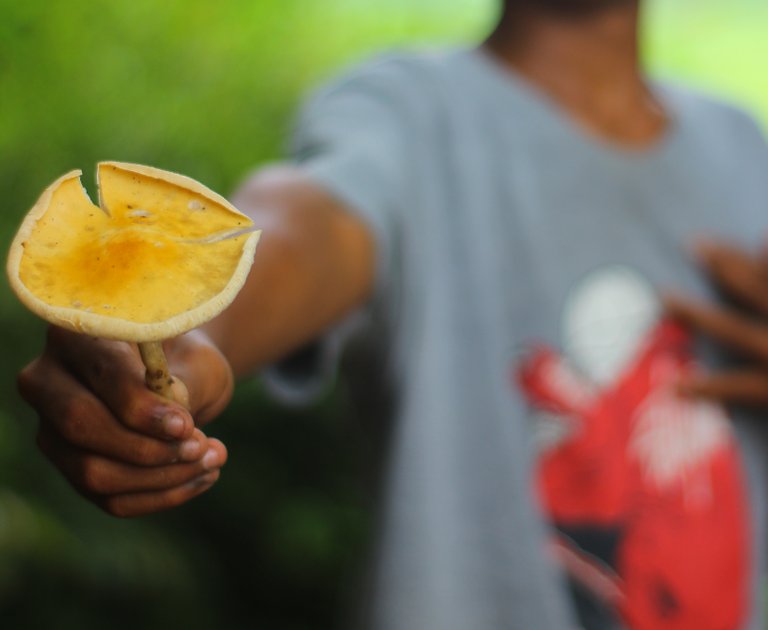 The 4 pictures above I found in a different place from the turkey tail mushrooms above.I found this mushroom in a small forest near the small forest where there were lots of bamboo trees and on the sidelines of the bamboo trees this mushroom grew on very fertile soil. one of my friends picked this mushroom and he said he wanted to take it home to ask his parents if you can eat it.sure that feeling i tried to take some shots of this beautiful mushroom.
Alright dear friends, here are some very interesting mushroom display pictures that I can present you on a very happy Friday. Hopefully with some display of this mushroom picture we can all see this mushroom picture and also become entertainment for all of us.Thanks to all of us and see you again next Friday with me.
---
| Photography | Mushroom |
| --- | --- |
| Camera Used | Canon |
| Model | 600 D |
| Photographer | @mnurhiver |
| Location | Aceh, Indonesia |
---
---