Sobriety is not unmanly.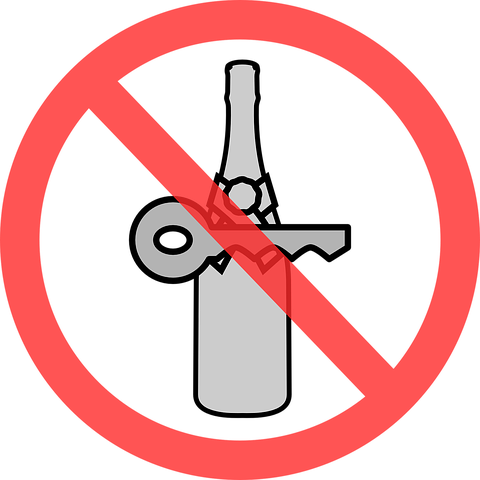 I'd stop by to see my friend yesterday evening. Coincidentally, there was a hangout just few miles away from his business premises. My friend was to join the hangout.
Since I had earlier ticked all that was in my to-do list, I thought to myself;
"Mfoniso (that's my first name, by the way) how about a hangout for a change?"
I wasn't too excited about the idea, but at the same time didn't see it as a crime. Even if it were to be a crime, it would certainly not be the the worst crime on earth. So I unenthusiastically went along with him. Maybe I went with him just so that I could avoid feeling like a monk. I have been feeling like one lately.
The thing is; I don't get along with random people real quick, I do sometimes but only on rare occasions. I don't flow too well with crowds, but don't ever mistake that for an inability to address a crowd of people. I'm an elocutionist par excellence. (No boasting intended. Just a statement of fact)
When I have the privilege of speaking to a group of persons, I do got them looking at my unassuming face, dim eyes, thin lips and tender looking fingers which will most likely be flipping with my arms as I gesticulate to create connection with the listeners.
I'm sure the amusement is usually due to the fact that I look anything but energetic, yet I do talk up a storm.
No! I'm not just making that up. I have had people walk to up to me, after a long engaging speaking session, to say;
"Sir, where's the energy coming from?".
I might have been confused by such an indirect compliment some years back, but not anymore, I have heard it so long enough to have sought and found its implication.
I'm just all for anything that has a resemblance of a public speaking scene.
From my earlier rants, you should be able to rightly guess that a group hangout is what I seldom do, and that I haven't been to one lately.
I might have hung out on the premise of a gospel, career or a self development talks, couple months ago, but this one was different from those.
There was no garnishment of any kind; just a naked fun-filled atmosphere in a nice open bar, packed with people sitting around tables, sipping all kinds of liquid content from either a bottle or a red cup, while lolling, and occasionally standing up to jiggle and wiggle their waist in coordinated and uncoordinated motion, all in an attempt to dance to the music that was blasting through the speakers from the live performances by some skilled artiste who were on a well lit stage, facing the audience.
It seemed like everyone got into flow apart from a slim, quiet, calm and gentle looking boy, who was absent mindedly sitting with a bottle of an apple flavoured soft-drink branded as Ferrouz. Do I need to tell you that I was the boy?
A guy on our table whose mission was unknown to me, stretch forth his right arm gesturing for a handshake, I returned the honour.
"Guy, why are you taking a soft drink?" He asked in an intimidating tone.
Before I could answer him other people on the table; who knew me too well, beat me to it.
"That's his brand, that's what he wants to drink"
They chorused unharmoniously; a direct contrast to the melodious music that filled the atmosphere.
There is somewhat of an unwritten code among guys, I can't speak for the universe, but I see it a lot around here. The code says that a guy shouldn't take anything other than alcoholic drink in outings. For that reason inebriation has become a common trait amongst guys, mostly. A lady can be forgiven for taking non-alcoholic drinks, but it's a disgrace to menfolk. At least they make it appear so.
Though I don't drink, I see nothing wrong in taking alcohol but in being drunk.
I definitely see everything wrong in not honouring people's choices.
I'm afraid that a lot of young men have been pressured into towing the path of alcoholism in fear of being regarded as not being man enough.
Dear comrades in masculinity, who have chosen sobriety as a way of life, I'm writing to you from the my heart of hearts just to inform you that drinking alcohol is not a sign of manliness, infact if you're coerced into it, it makes you the opposite_a coward.
Don't let anyone pressure you into doing what you're not comfortable with just so you prove your masculinity to some halfwits.
The frontal tail dangling between your legs is already enough proof.
To this from me.
Yours in masculinity @mmykel
---
Posted via proofofbrain.io
---
---