¿Qué comer hoy?/ What to eat today? - Fotografía y texto descriptivo - Daily&Fresh (143/365)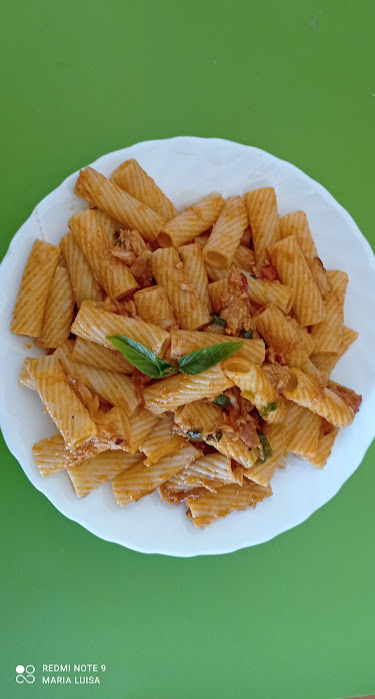 Macarrones con salsa de atún/Macaroni with tuna sauce
¿Qué comer hoy?/ What to eat today?
Llegué a casa después de la hora de la comida y con mucho apetito. Por el camino venía maquinando que íbamos a comer, así que entré en la cocina con la comida planeada.
Puse a hervir el agua para la pasta y me dediqué a preparar la salsa de atún.
-Utilicé:
.1 diente de ajo
.1/2 cebolla pequeña
.1 trozo de pimiento rojo
.1 tomate pequeño
.hierbas provenzales
.salsa de tomate
.2 latas pequeñas de atún
.albahaca (de mi propia cosecha)
.1 lonja de tocineta ahumada
.sal y pimienta
_Piqué, ajo, cebolla, tomate, pimiento, tocineta e hice un sofrito.
_Cuando los ingredientes ya estaban salteados, agregué el atún, la salsa de tomate y las especies.
_Dejé que se rehogara durante unos minutos.
_Y me dediqué a la pasta, que ya había puesto en el agua hirviente. La colé y mientras se escurría en el colador, removí la salsa y apagué la cocina.
_Pasé los macarrones del colador a la olla, le agregué la salsa, removí y serví los platos.
_Adicional, salsa de tomate y/o queso a gusto.

I came home after lunch and hungry. And on the way I was planning that we were going to eat, so I went into the kitchen with the planned meal.

And while the water was coming to a boil, I dedicated myself to preparing the tuna sauce (canned).

I used:
.1 clove garlic
.1 / 2 small onion
.1 piece of red pepper
.1 small tomato
.Provencal herbs
.ketchup
.2 small cans of tuna
.basil (my own harvest)
.1 slice of smoked bacon
.salt and pepper

I minced, garlic, onion, tomato, pepper, bacon and I made a sauce.

_When the ingredients were already sautéed, I added the tuna, tomato sauce and spices.

_I let it sauté for a few minutes.

_And I devoted myself to the pasta, which I had already put in the boiling water. I strained it and while it was draining in the colander, I stirred the sauce and turned off the stove.

_I transferred the macaroni from the strainer to the pot, added the sauce, stirred and served the dishes.

_ Additional, tomato sauce and / or cheese to taste.
♠Para el texto en inglés, utilicé el Traductor de Google Chrome.
♥Mi amiga @sacra97 sigue la iniciativa Daily&Fresh de @gamer00, yo los sigo a ambos.
♥Las fotografías y los separadores de párrafos son de mi propiedad, puedo utilizarlos en otras publicaciones.
♥Publicación original de @mllg
♠ For the English text, I used Google Translate.

♥ My friend @ sacra97 follows @ gamer00's Daily & Fresh, I follow both of them

♥The photograph and the paragraph separators are my property. Y could use them in other posts

♥Original post by [@mllg]

GRACIAS POR LEER Y VALORAR MI PUBLICACIÓN

THANK YOU FOR READING AND VALUE MY POST



---
---