My Weekend Highlight || Experienced Some Delays At The ATM Gallery || Got Home And Prepared Chicken Sauce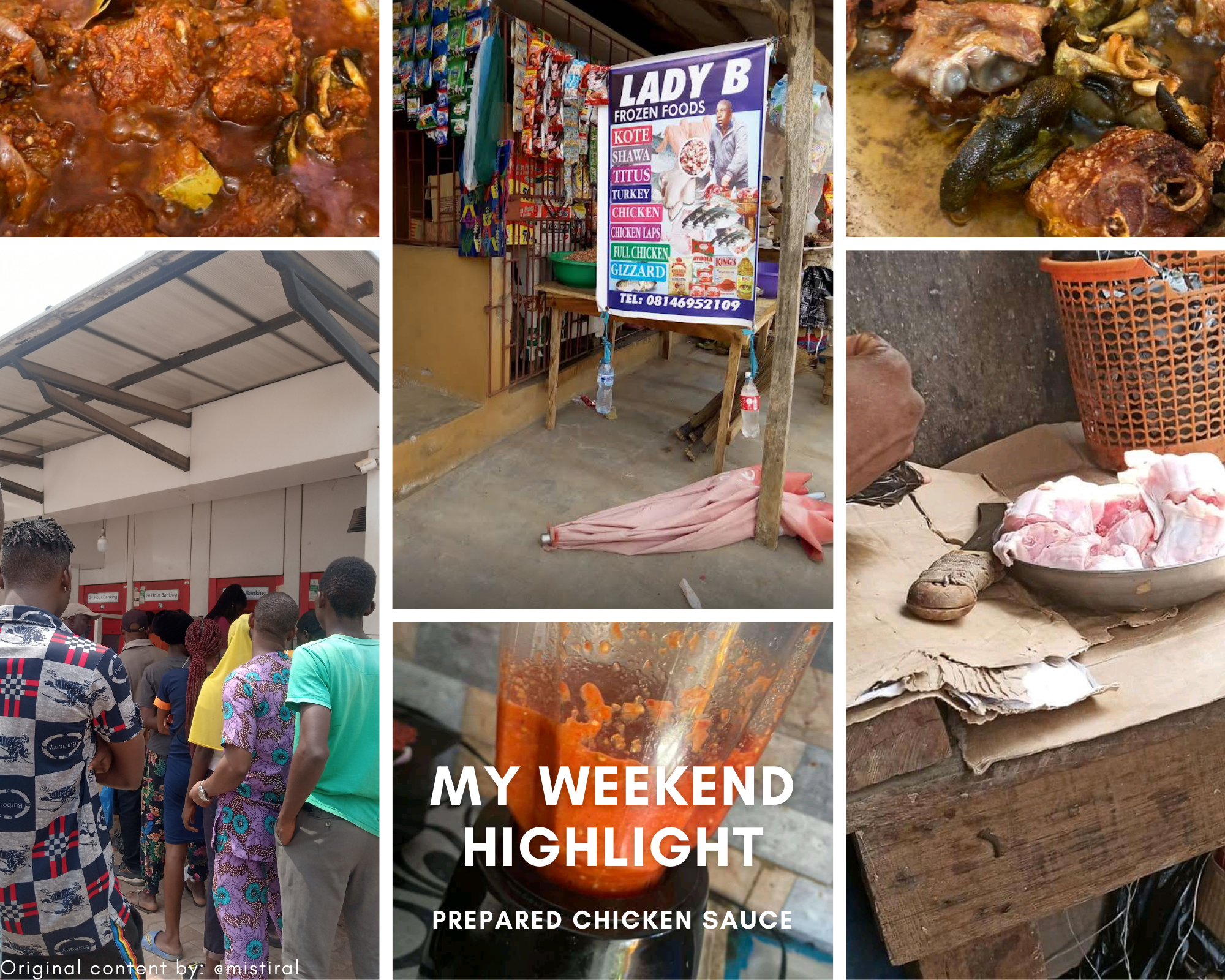 Happy new week guys, hope you enjoyed your last weekends. Today I will bring you the details of how I spent my last weekend.
I woke up very early, earlier than my normal 5am, I was even up before my Mum woke up. As usual I said my silent prayer, there was no light so I went straight to the window to open the curtains. The sky was still a bit dark since it wasn't really morning.
I went straight to the bathroom to pee and wash my face, then I took my tooth brush and brush my teeth. I went back to the living room and met my Mum, she was surprised has this was the first time I'm actually waking up earlier than her. She congratulated me and smiled.
In no time the light was restored, I quickly went to the kitchen to boil water for my morning bath, I did this because the power wasn't stable.
After some mintues I took my bath, and dressed up in a causal wears. My mum then asked me what I would like to eat for breakfast. I told her I'm carving for rice with chicken sauce. Here in Nigeria chicken is very expensive. But my mum will always made sure I got whatever I want.
Around 9:23am she gave me her ATM, to go and withdraw some cash at the bank and go to go to a Frozen food shop to get the chicken.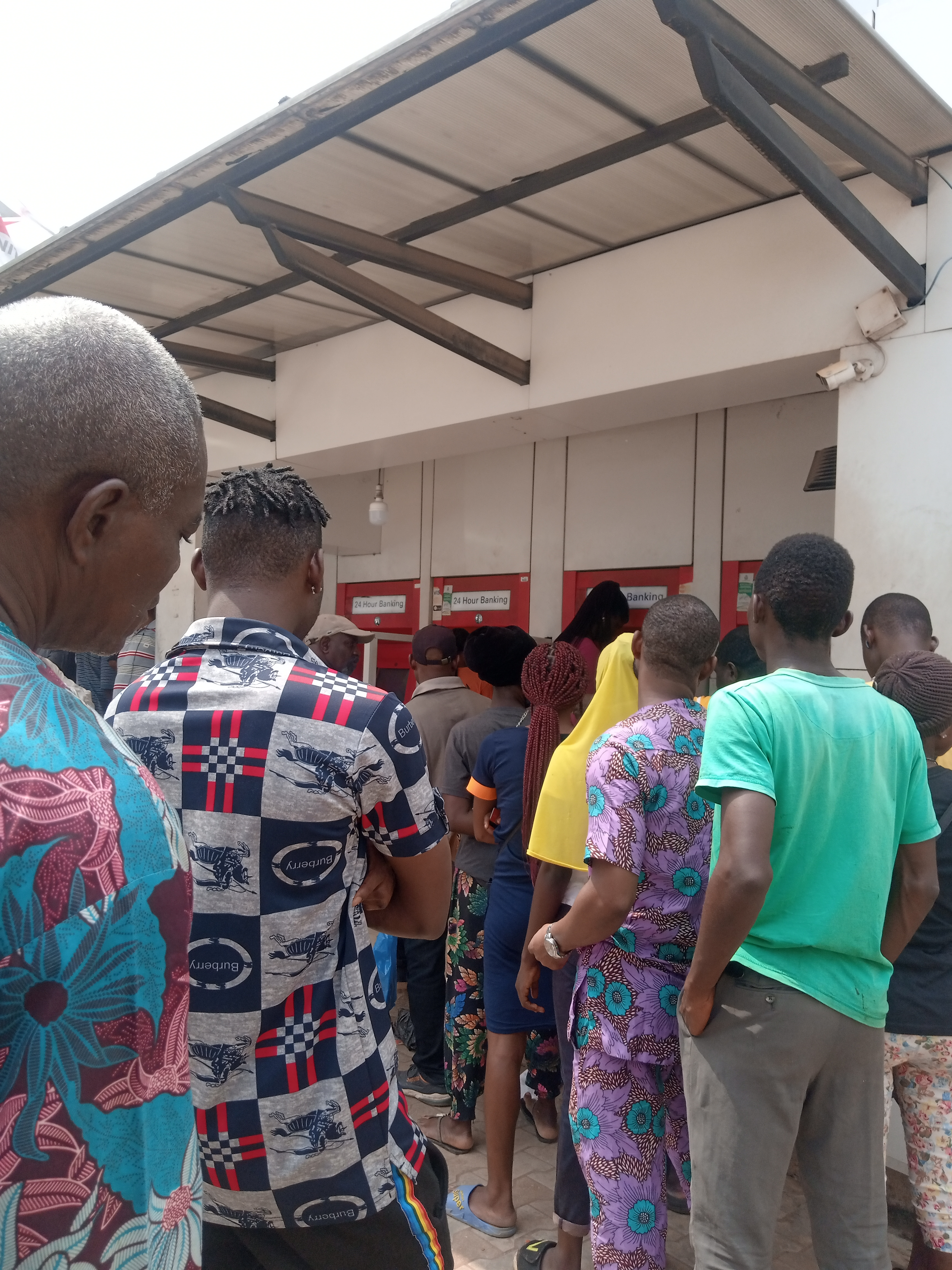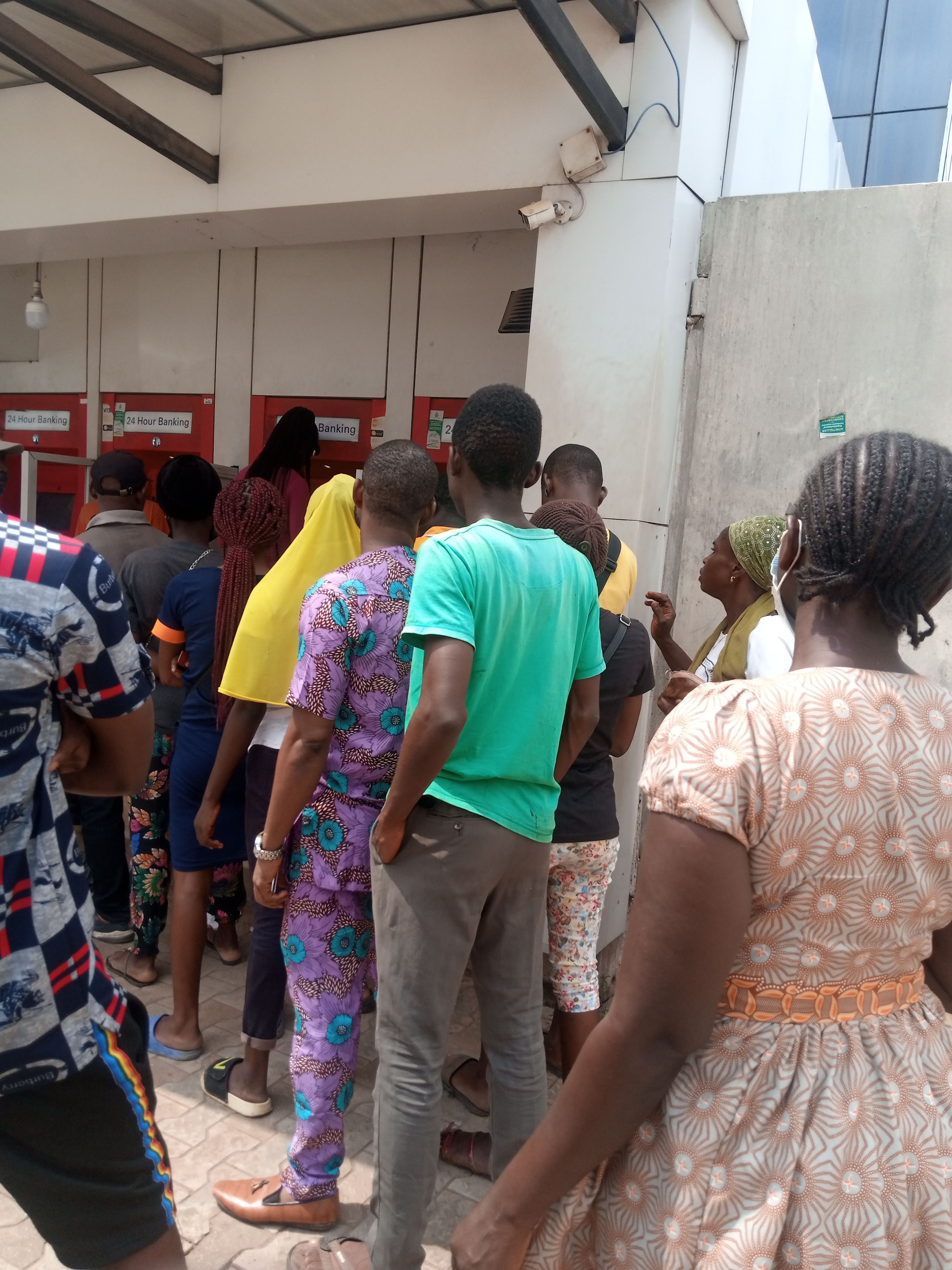 ---
As you can see from the picture, the ATM gallery is really crowded, and I had to wait in line for my turn. There was a difficulty because only one machine was dispensing; I waited more than 1¹/2 hours for my turn, so after I withdraw the cash I went straight to the frozen foods shop to buy the chicken right away.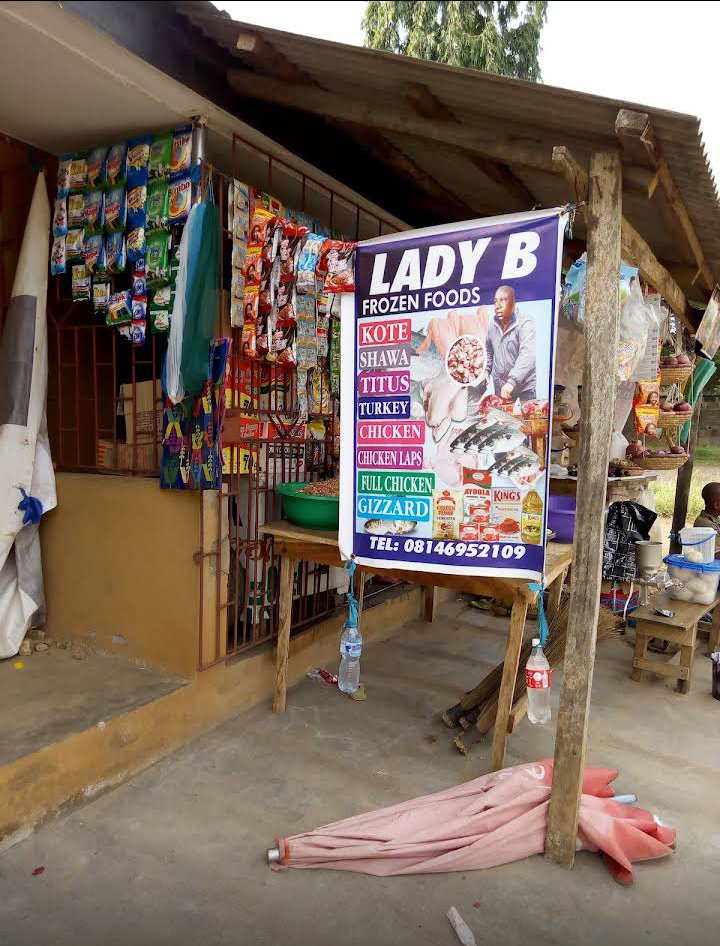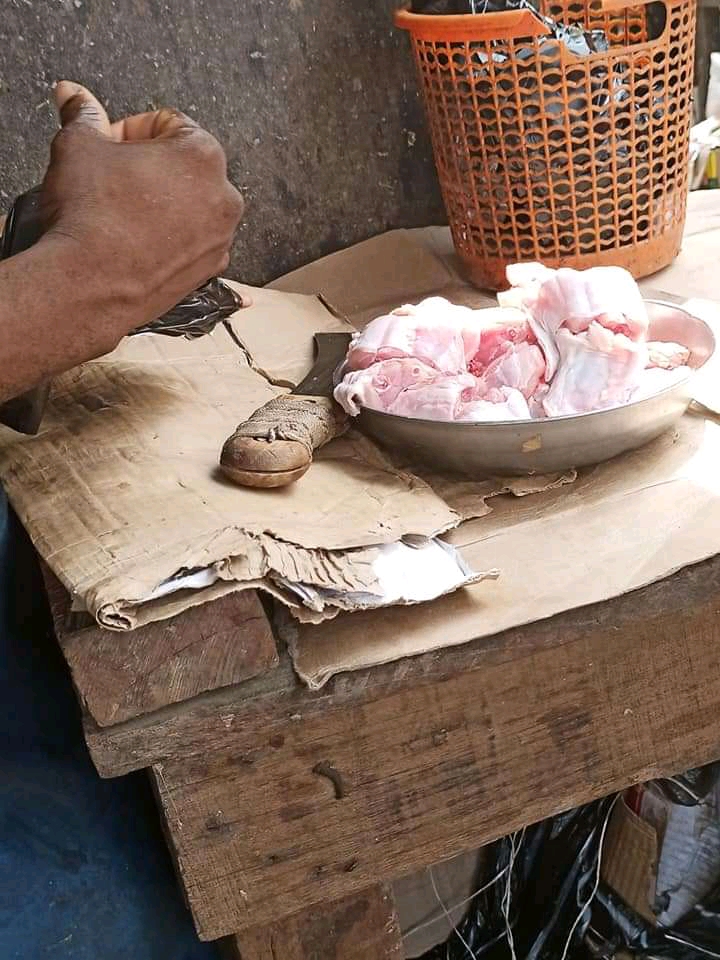 ---
I got the chicken and some other ingredients, the chicken cost about N6000 in my local currency (Naira) that is about $12 and 11.8 Hive at the current price of Hive.
I headed home, I took bike because I've wasted much of my time waiting to withdraw cash from the ATM gallery. I reached home and met my mum outside waiting for me, she was worried, I explained things to her, she sighed softly and we went inside.
---
Preparing The Chicken Sauce
---
I started cooking right away, intending to prepare the chicken sauce and serve it with rice, but because we didn't have much gas, I'm only interested in preparing the chicken sauce and will wait till we refill the gas to prepare the rice.
The Ingredients
The Chicken

Red pepper, Tomatoes and Onions

Tomato (paste)

Vegetable Oil
Jollof and Chicken spicy

Maggi and Salt
Step 1: I took out the chicken and wash it, then seasoning it and allow it to boil for some minutes. Then took out the Pepper, wash it also.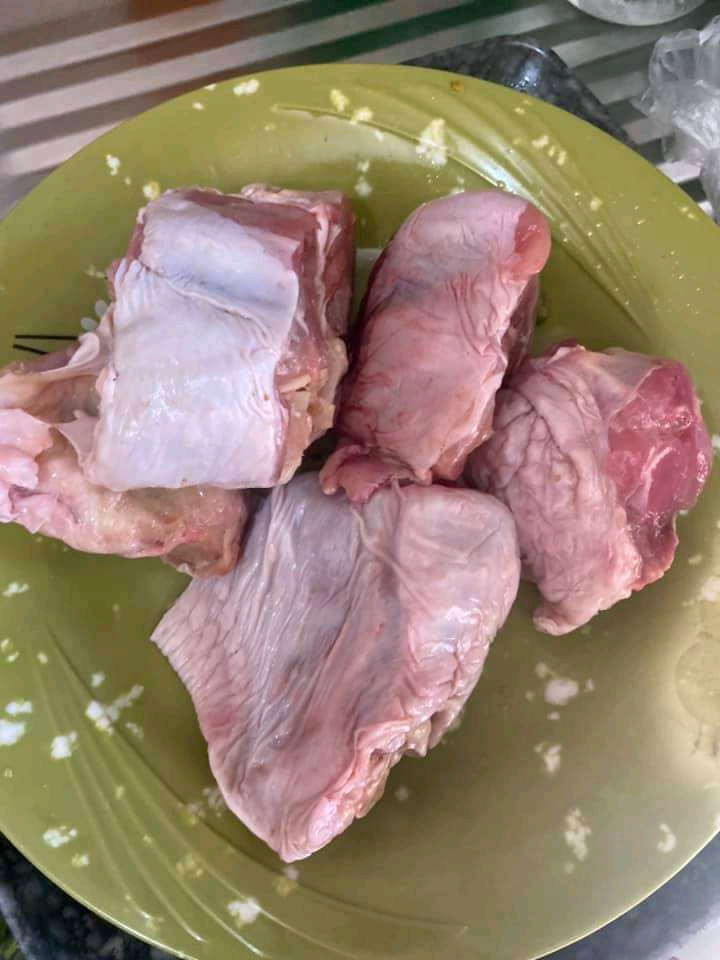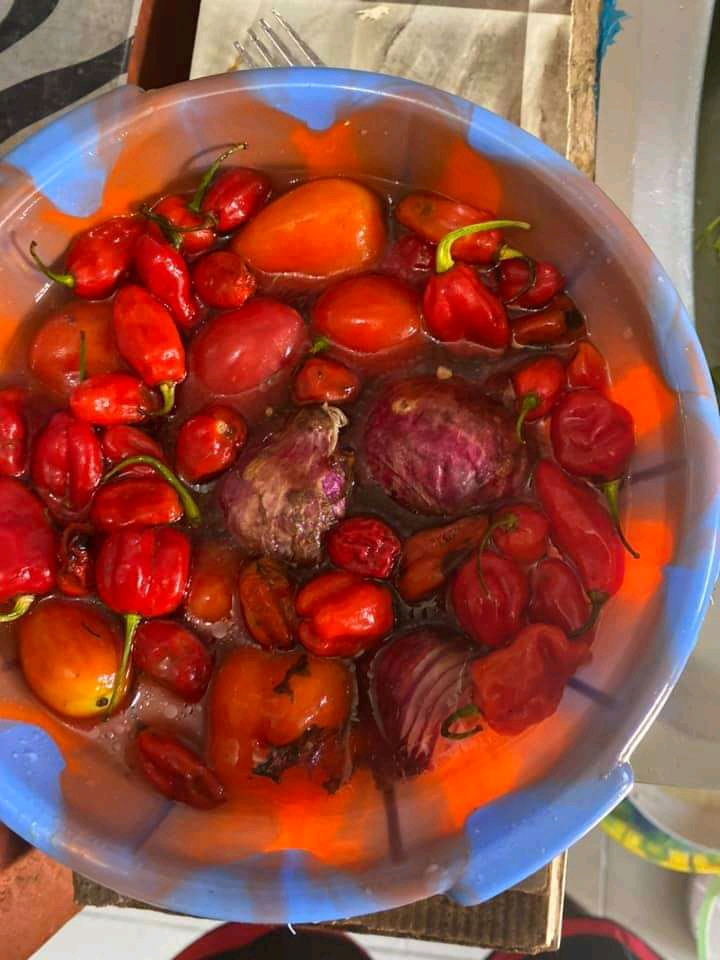 ---
Step 2: After washing and rinsing the pepper, I sliced the onions and place it together with the pepper in the blender and blend at the highest pace..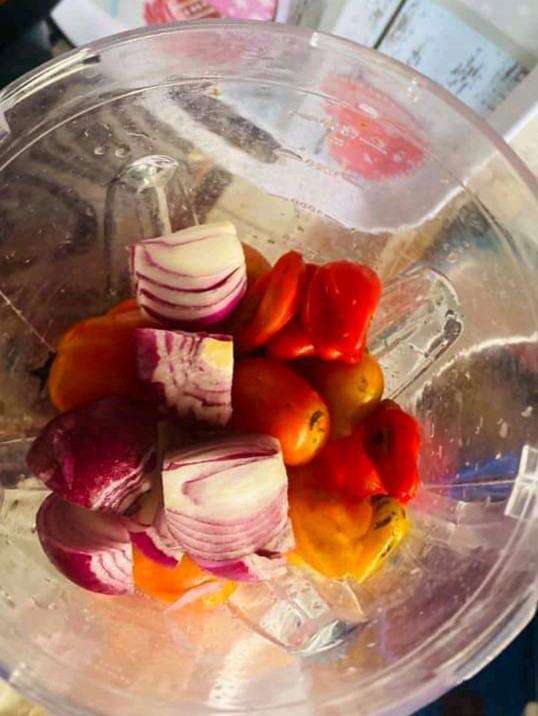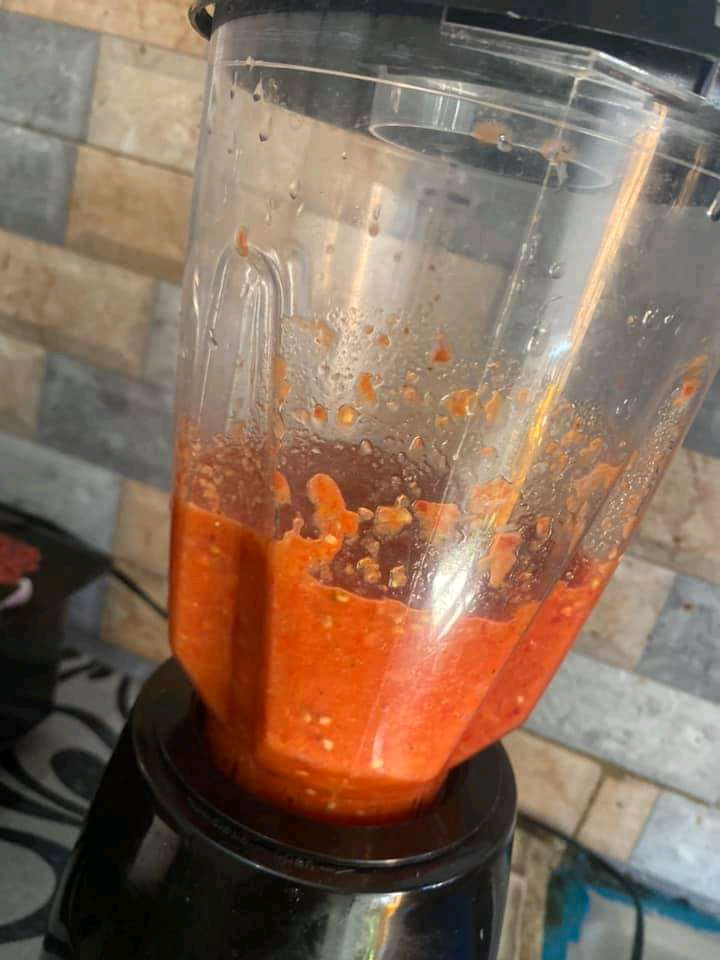 ---
Step 3: Then I place the sauce pan on a low medium heat, pre-heat for a minute, then add the vegetable oil and preheat again. Add some sliced onions and fry for a minute before adding the chicken and fry till it turn golden brown.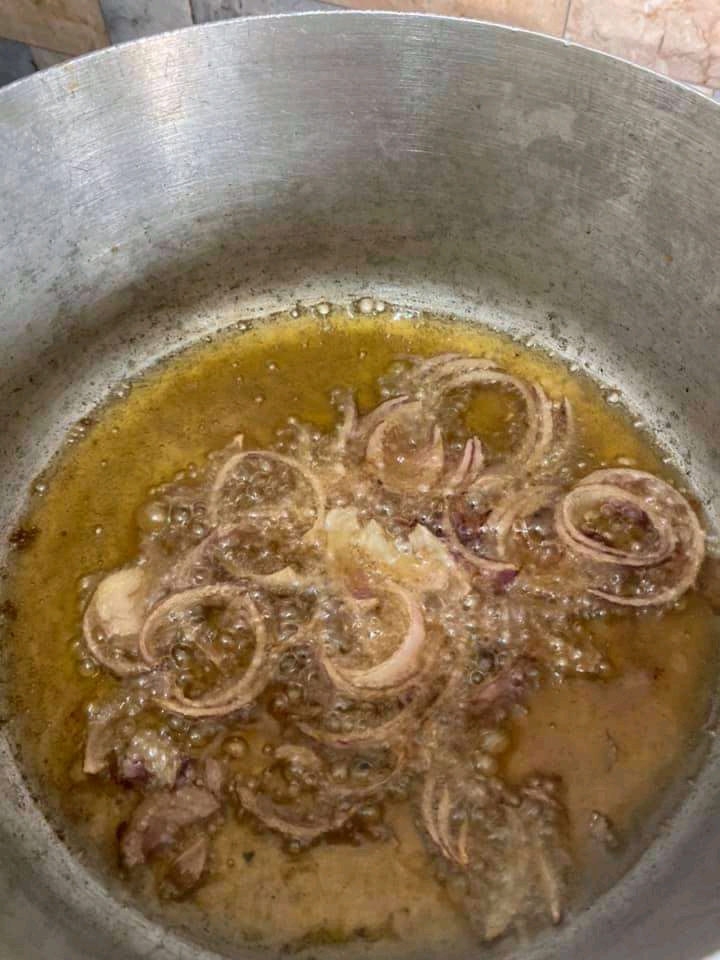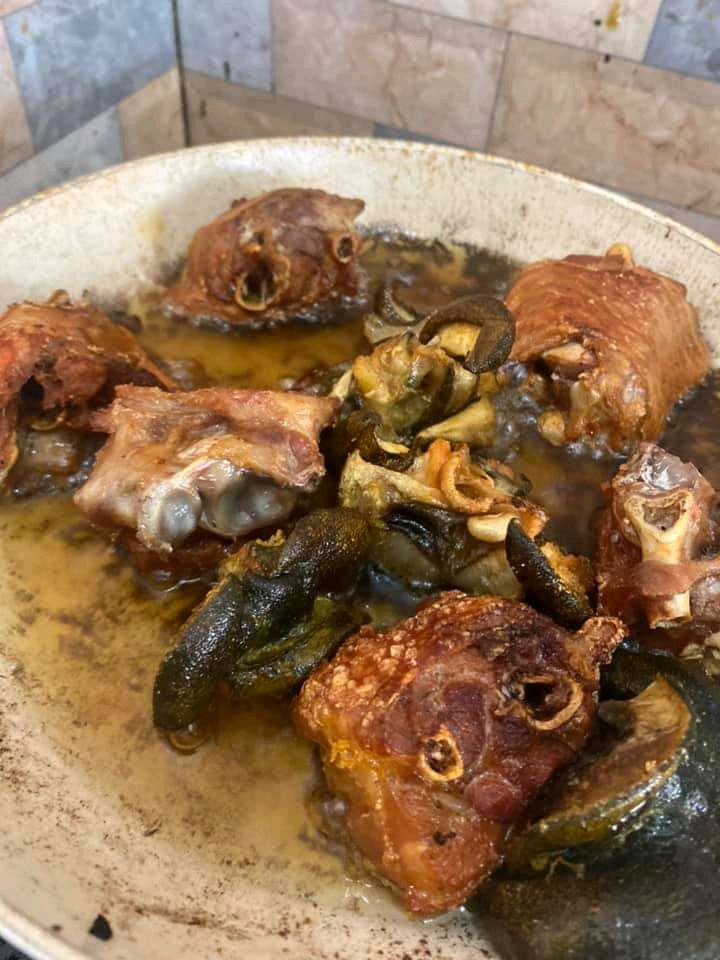 ---
Step 3: Mix the tomatoe paste and the jollof and chicken spicy together, then boiled the blended Pepper till all the water dried off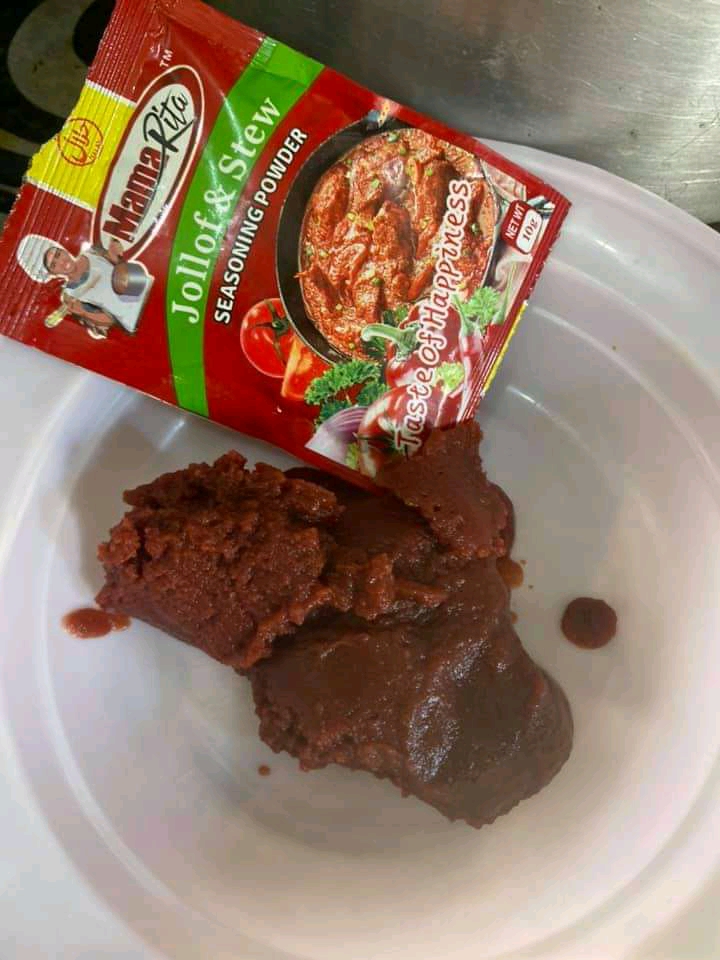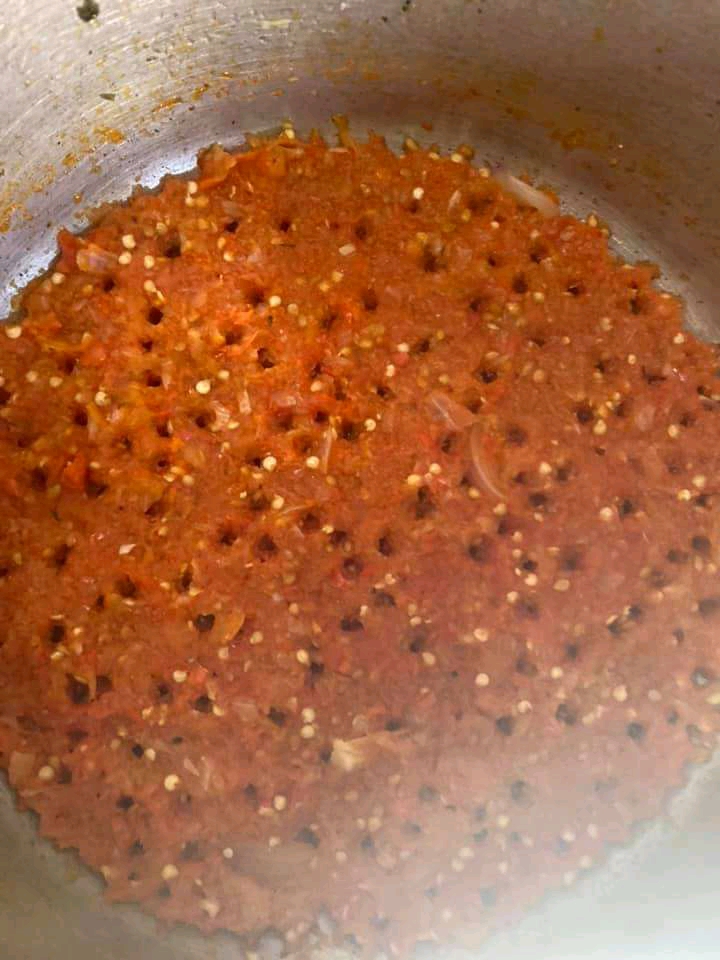 ---
Step 4: Add the boiled pepper into leftover of the vegetable oil used to fry the chicken, then allow it to fry keep stiring to avoid burnt. Do this for about 3 minutes, then add the chicken and a little water then allow it to cook for 5 minutes.
Remove from heat and serve with anything you like: rice, yam, or even a soft drink.😋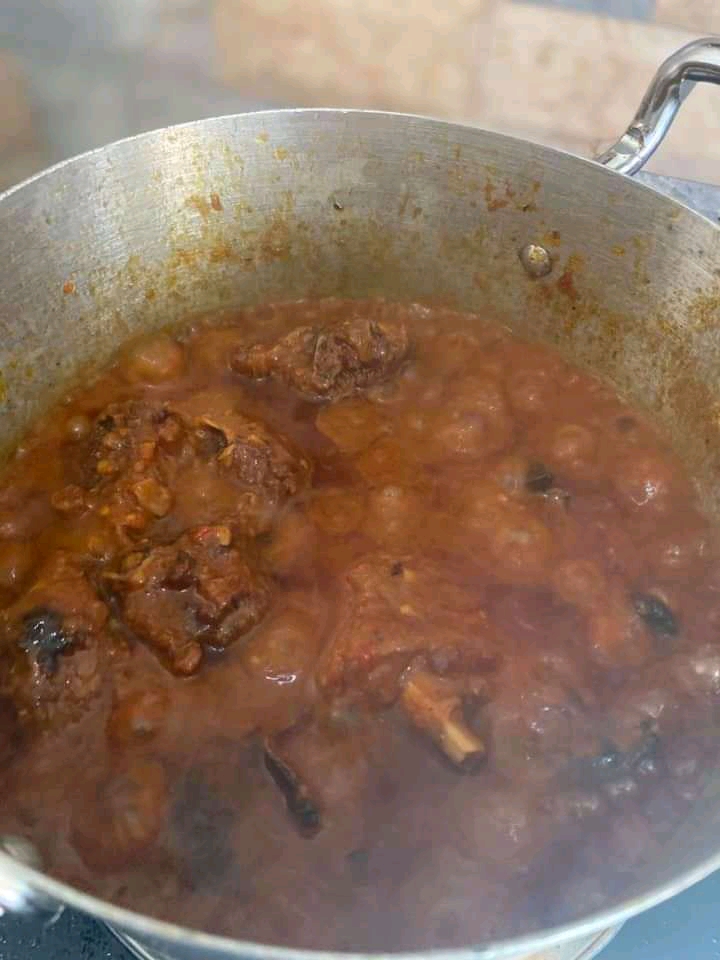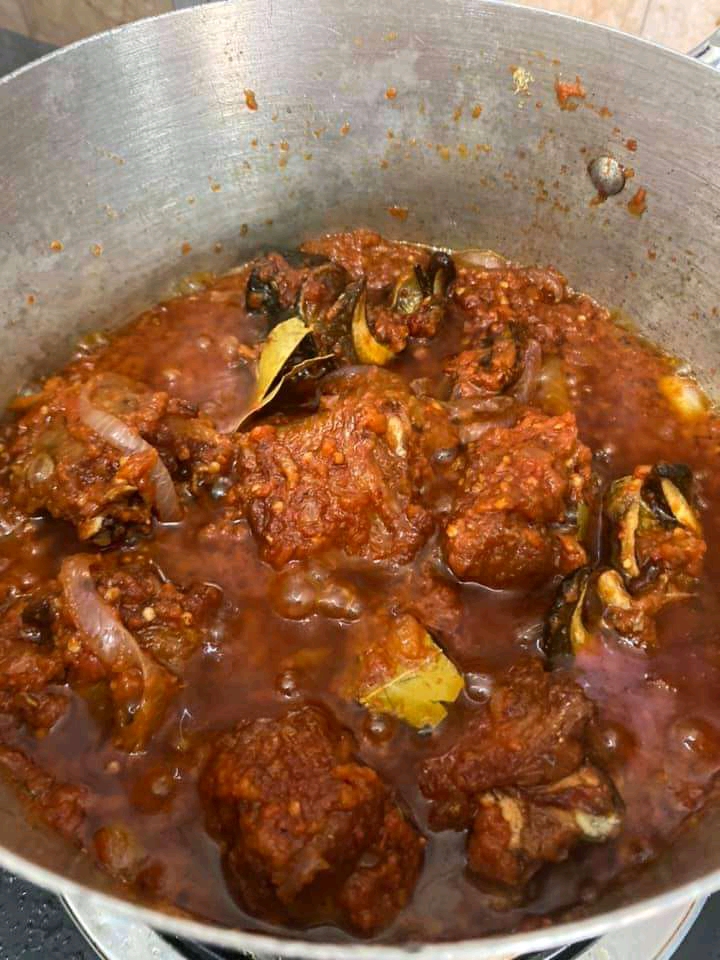 ---
In my next post, I will show you how I prepare the rice, I intend to parboil it, then enjoy it with the chicken sauce. I will show the step by step process as usaul stay tuned to my blog.
Note: the reason why I couldn't make the rice was because of the limited gas.
---
Thank you for visiting my blog ♥️. I hope you have learnt one or two things from my blog today, you can follow me for more quality contents, you can check out My Introduction Post To know More About Me
---
If you find my article useful or interesting, please appreciate my work by leaving a comment, upvote, and probably rehive it so that more users can see it.
---
---
---