My First Two Months On Hive || Highlights Of My Achievements So Far || Special Appreciation To All My Supporters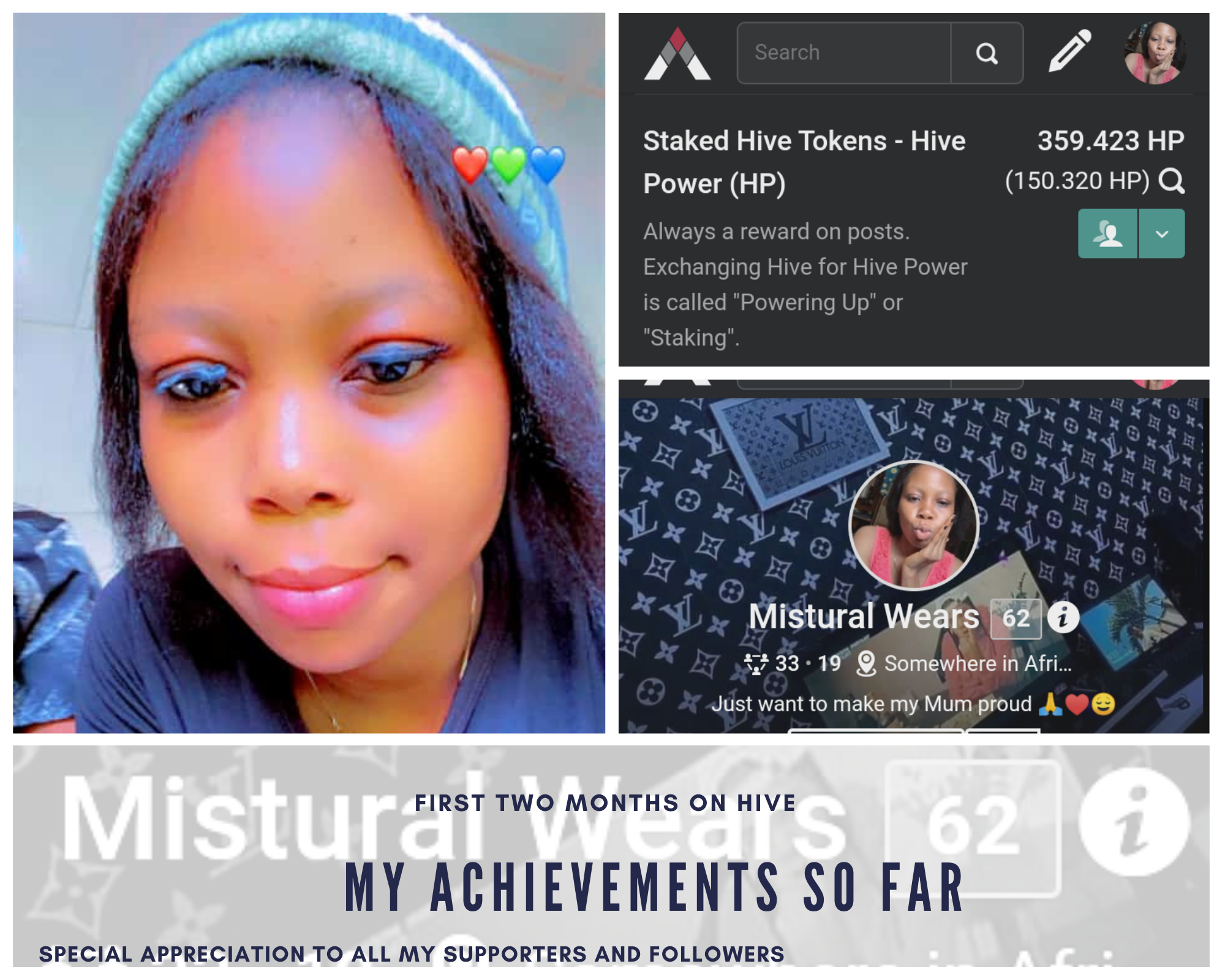 Hive is the best thing I have ever come across, not because it has paid me in any way, but because it has demonstrated to me that your time and ideas can pave the road for you. It has proven to me that the time you spend on Facebook, Twitter, and Instagram can be earn you money if spent on Hive.
In just two months, my reputation has risen to 62.

In comparison to the 10 followers I had in my first month, I presently have 33 people following me on Hive.

There are 336 posts in total on my blog (including comments)
This one astonished me; I've received a lot of support on my posts, and my HP has increased significantly; I've just reached a new milestone of 359.423 HP in just 2 months, this milestone is remarkable for a newbie.


Special Appreciation

It's probably self-evident that today is a particularly momentous day for me. First and foremost, I want to express my gratitude to Almighty God, the creator of life, for his unending grace toward me. It hasn't been an easy journey, but God has been faithful to me. There are certain difficulties, but I am able to overcome them with God's support.
Of course, I owe it all to @josediscuss and @starstrings01. Maybe you're wondering why I keep mentioning them. These gentlemen are a gift from God; their unfailing support, particularly off the chain, has been invaluable to me. The two gentlemen has been quite helpful to me; they keep on emphasizing the value of engagement and commenting to me, they discuss how it has assisted them on the chain. How they have meet and engage with different users on the chain.
Finally, I want to express my gratitude to everyone who has ever assisted me in any way.
Furthermore, I wish all of the people who were chosen for the newbies initiative program the best of luck over the remaining months. Let us keep growing; the sky is our limit.

Thank you for visiting my blog ♥️. I hope you have learnt one or two things from my blog today, you can follow me for more quality contents, you can check out My Introduction Post To know More About Me
---
---
If you find my article useful or interesting, please appreciate my work by leaving a comment, upvote, and probably rehive it so that more users can see it.
---
---
---
---