MONOMAD : GERRONEMA VIRIDILUCENS

This is my entry for the daily #monomad challenge hosted and curated by @monochromes
To take part in today's #monomad contest, I'd like to show you some Macro Photo of an Mushroom. This is a mushroom photo that I took a few days ago when my friends and I were hunting for mushroom photos in the forest not far from where we usually rest while enjoying a cup of coffee and talking quietly on various topics.
First I will try to find out the name of the mushroom that I share on Google lens by matching the photos that are in my smartphone gallery, after matching some photos on the google lens, I finally decided to call the mushroom that I shared with the name "Gerronema Viridilucens", I think this is the name of the mushroom that looks most similar to the mushroom that I share this time. Unfortunately, actually I doubted and had time to think whether this is a mushroom with the name "Lichenomphalia Umbellifera", I really have a hard time identifying the correct name for this mushroom, if here I am wrong and my friend knows the name of the mushroom I shared this time this, I really hope if friends tell me through comments on the posts that I share this time.
Okay friends, here are some photos of mushrooms that I will share for this monomad challenge, and by the way all the photos I share are taken using a smartphone camera and the help of a macro lens, hope you like it;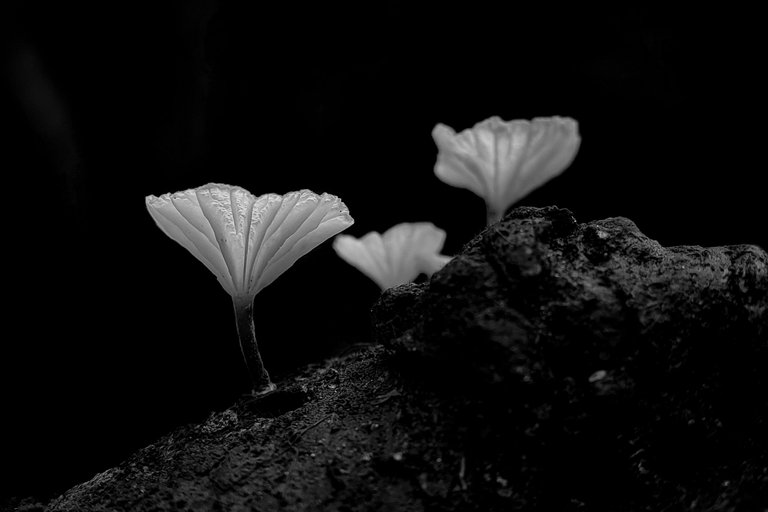 ---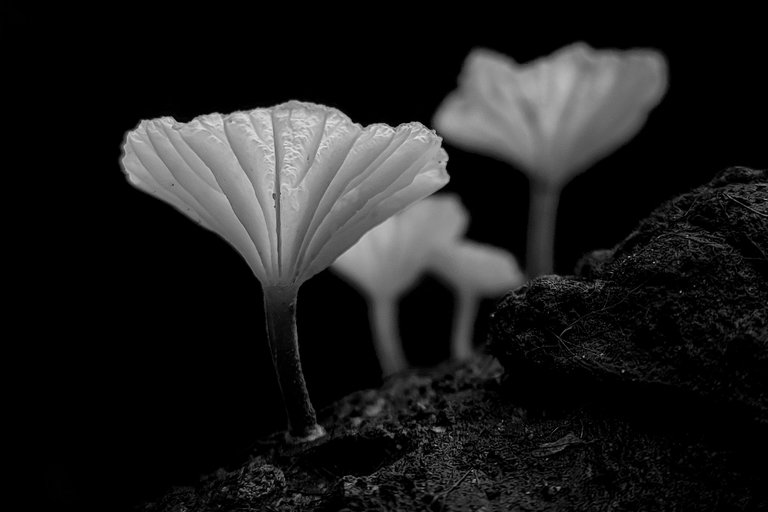 ---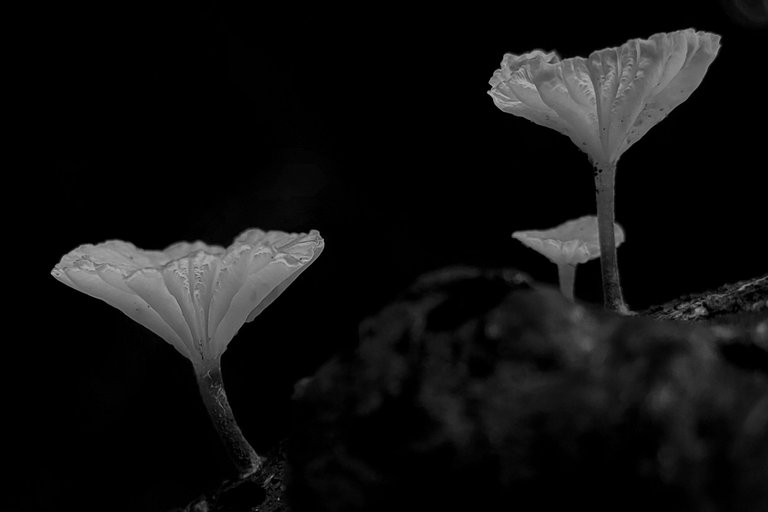 ---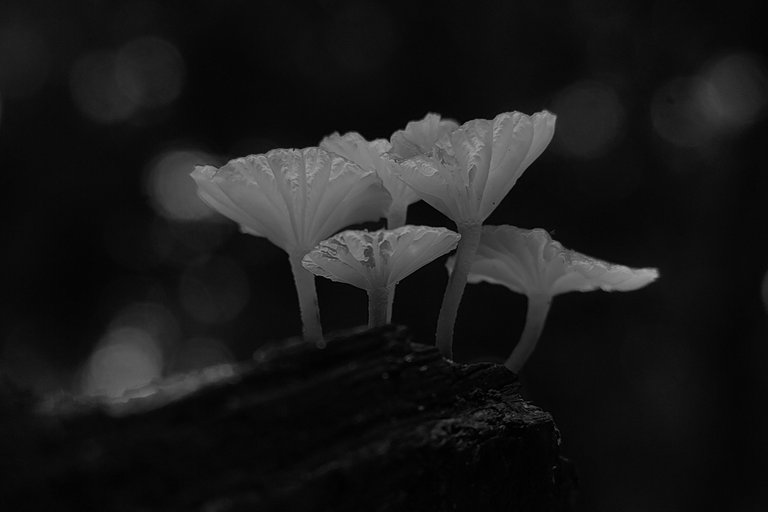 ---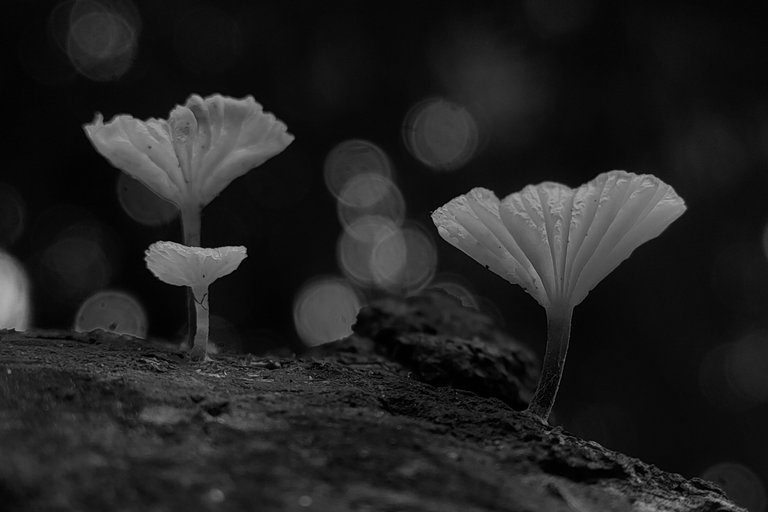 ---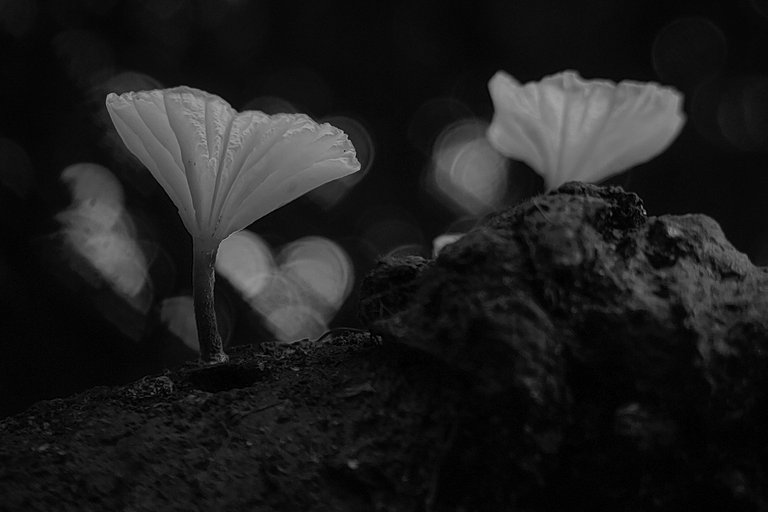 ---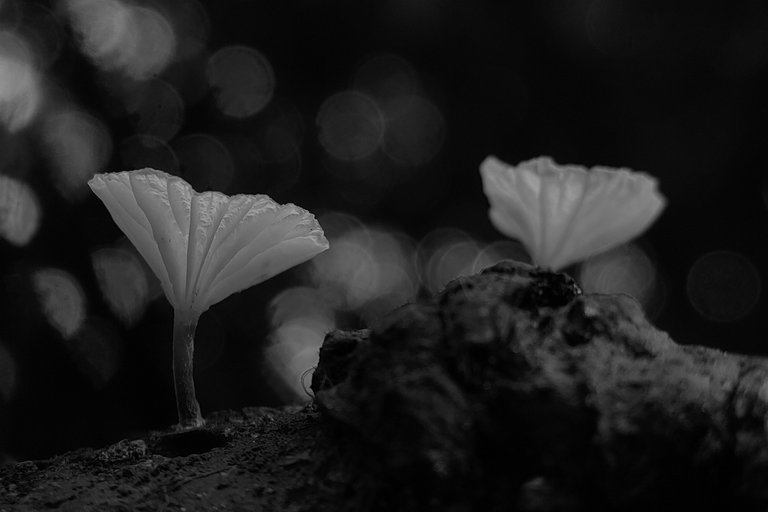 ---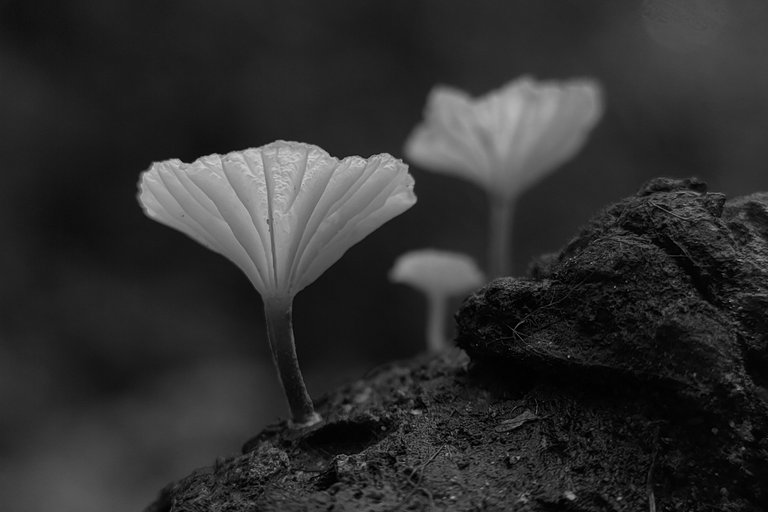 ---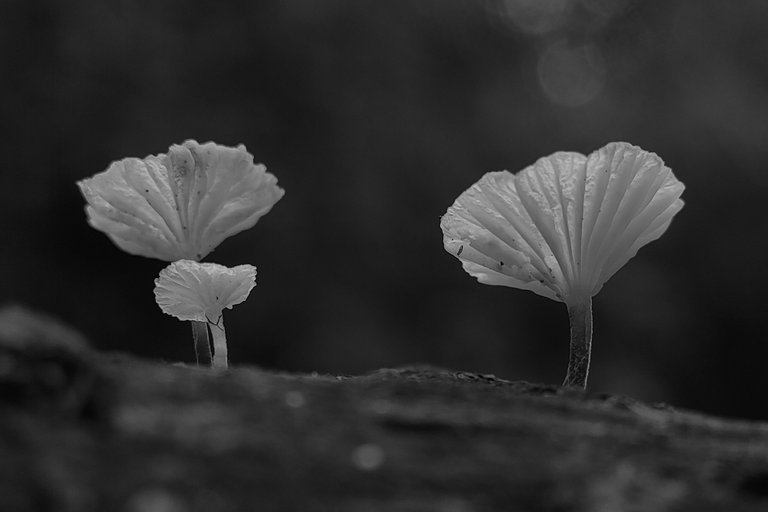 ---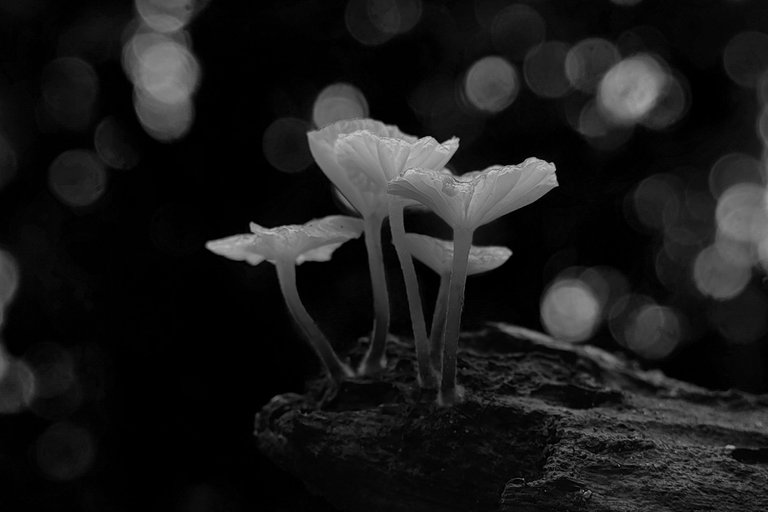 ---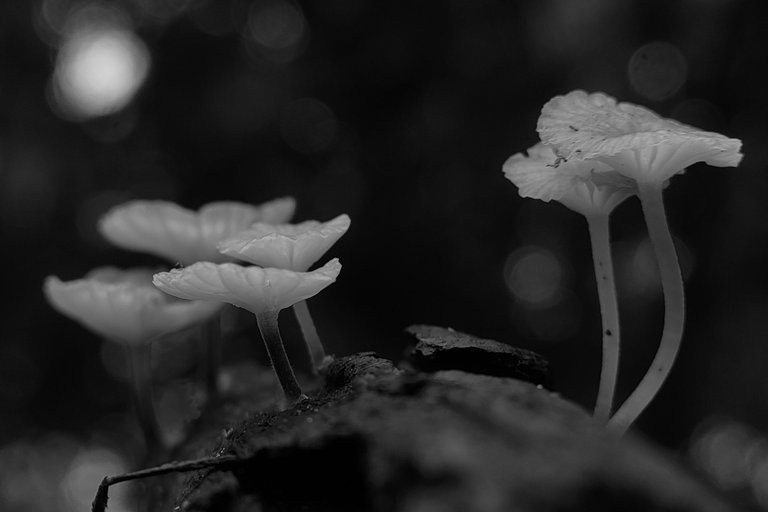 ---
When viewed from above this mushroom will look like in the image below;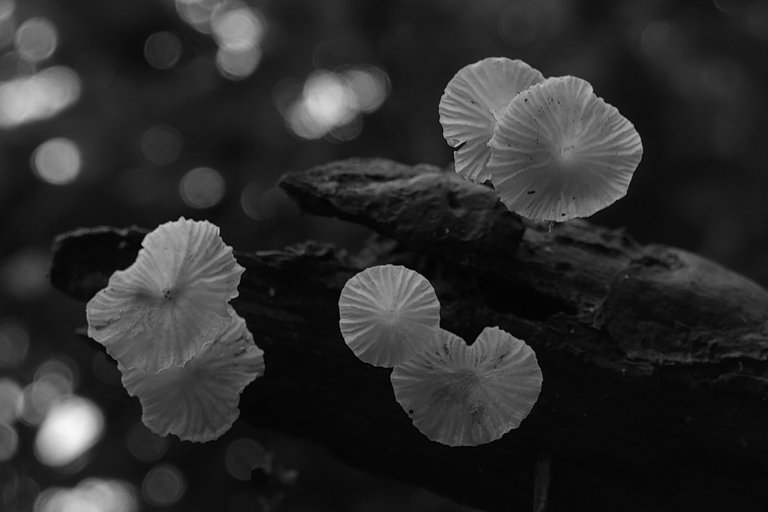 ---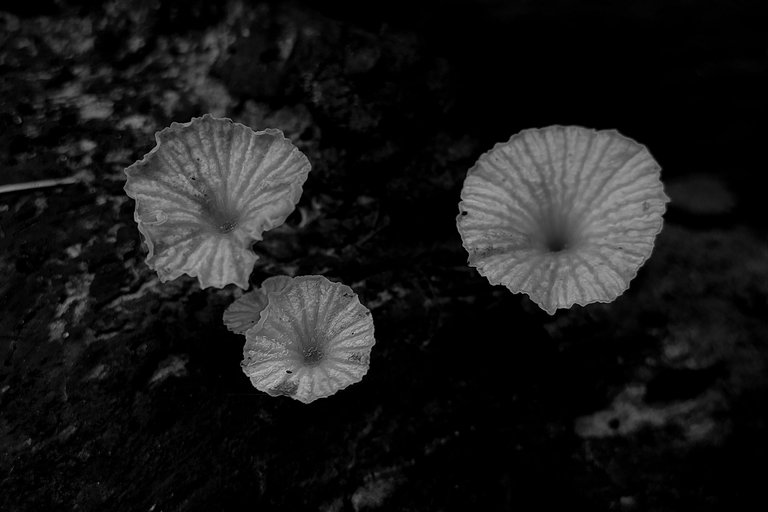 ---
Below I will also show the size of the mushrooms that I share in this post, this is a photo of the mushroom that I took with my fingers so that all friends can know the size of this mushroom, below is the photo I mean in the paragraph this ;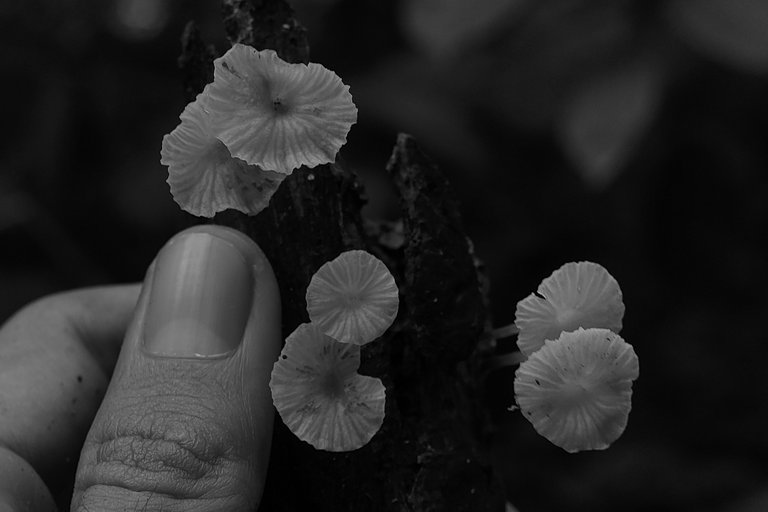 ---
Okay buddy, maybe that's all I can say in this post, sorry if there are some words that are difficult to understand, because here I am still using the help of Google translator to translate my writing into English. See you in my next post, don't forget to smile every day, because that smile is charity :)
---

INFORMATION
| Camera | Poco X3 NFC |
| --- | --- |
| Lens | Sony 25mm & Q-Lens 35mm |
| Photography | Mushroom - Gerronema Viridilucens |
| Process | Mobile Lightroom |
| Category | B&W Macrophotography |
| Location | Indonesia - Aceh |
| Photographer | @mirz |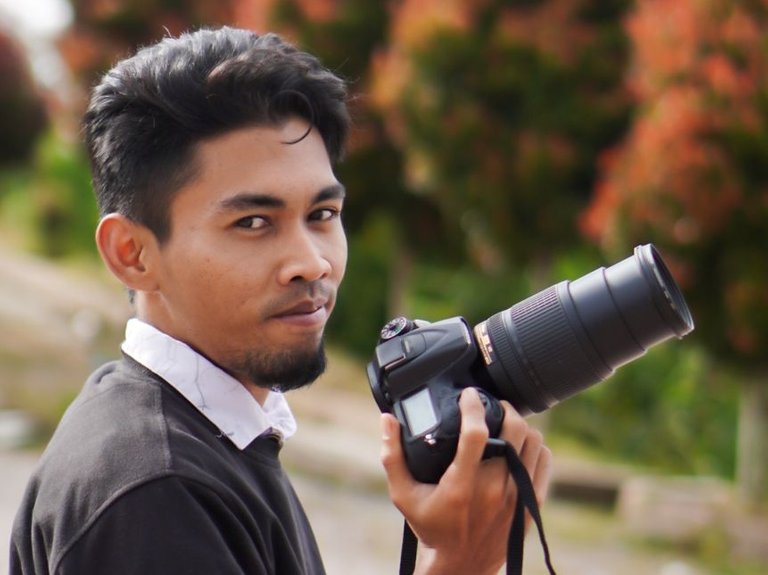 M. Alan Mirza (@Mirz)
My name is M. Alan Mirza, My friends used to call me Alan and many also called Mirza, I am currently 29 years old, I come from Asia, to be precise in Indonesia - Sumatra Island - Aceh - Lhokseumawe. I work as an emergency room administrator, namely in the Medical Record section at Cut Meutia Hospital - North Aceh.
My hobbies are uncertain, my hobbies follow my mood, sometimes I like reading, sometimes I like writing, sometimes I like photographing small insects and other small object, sometimes I also like to play games for a long time, but now no, now i want to focus on work, playing games for a long time will only make my time run haphazardly in vain. 😁

---
---