Are Farming Methods Coming Full Circle?
I had a horticultural training recently. It was provided as part of the assistance by government to try and get me back into work. With it being over 20 years since I've been officially employed, I'm not seen as very employable, hence the obligatory assistance.
Not surprisingly, communication between the people offering the course and the employment agency sending me there wasn't great. For the induction I was told 10am over the phone, then 11am in a text, then 10am again when I double checked. Needless to say it was 11am and I turned up an hour early, which is better than late, I guess.
I was told there would be a certificate at the end of the course and potential for employment, also food and drink would be put on. They had a kitchen and you could make yourself a cuppa if you wished, but no food, and there was no certificate or anything really to say you did the course. It was really just a brief overview of a course and you could state that you did it on any applications you might put in for work in the growing region.
The potential employment was in the form of taking you to some local growers after your done the theory in the morning. Most of them were actually winding down for the season and no longer needed workers, which were essentially pickers and packers.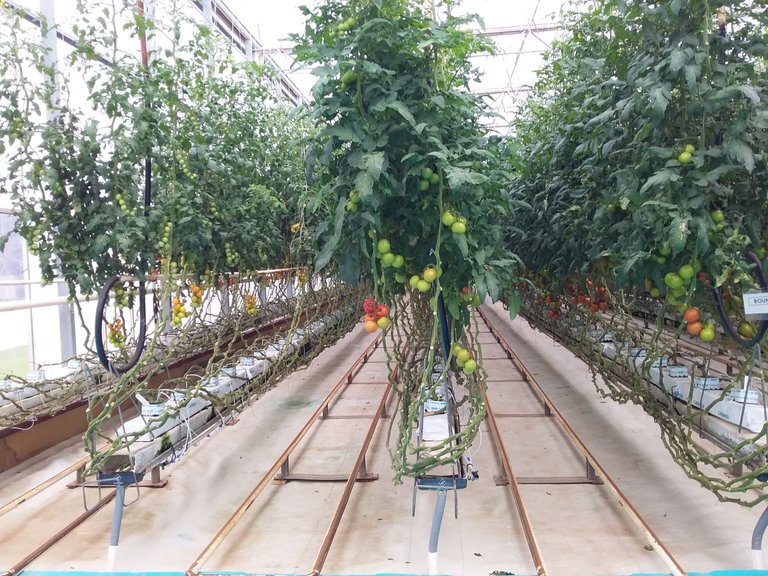 At SA tomatoes, who ironically don't even supply South Australia, but Queensland and New South Wales instead.
Yet, ever the one to take what I can from any given situation, I think I came home with lots of new information. After half a day of compulsory Work Health and Safety, which I've heard multiple times before, I also gleaned from our trainer that some of the growers in Adelaide are starting to move over to alternative methods for pest control in the form of the good bugs programme. Our first grower visit actually demonstrated this in their greenhouses. The next day we went much more in depth into the multiple pest control methods some of the growers have been using and why.
The region has been growing food crops for 30+ years and has an horrific pest problem, because after all that time spraying the pests have developed resistance to the pesticides. This means that short of going more and more toxic, which starts to pose a real danger to both workers and consumers, they are running out of options. As many growers use greenhouses, using predator bugs to tackle the pests is more easily contained than releasing them out in the open. Sadly the first year was a failure, because the pest loads were just too high. However, as the beneficial bugs began to build up, they started to see the programme working in the subsequent years. As more growers started using the bugs their populations increased as well, improving things further. They went from spraying regularly to spraying only a couple of times a season, and occasionally not at all.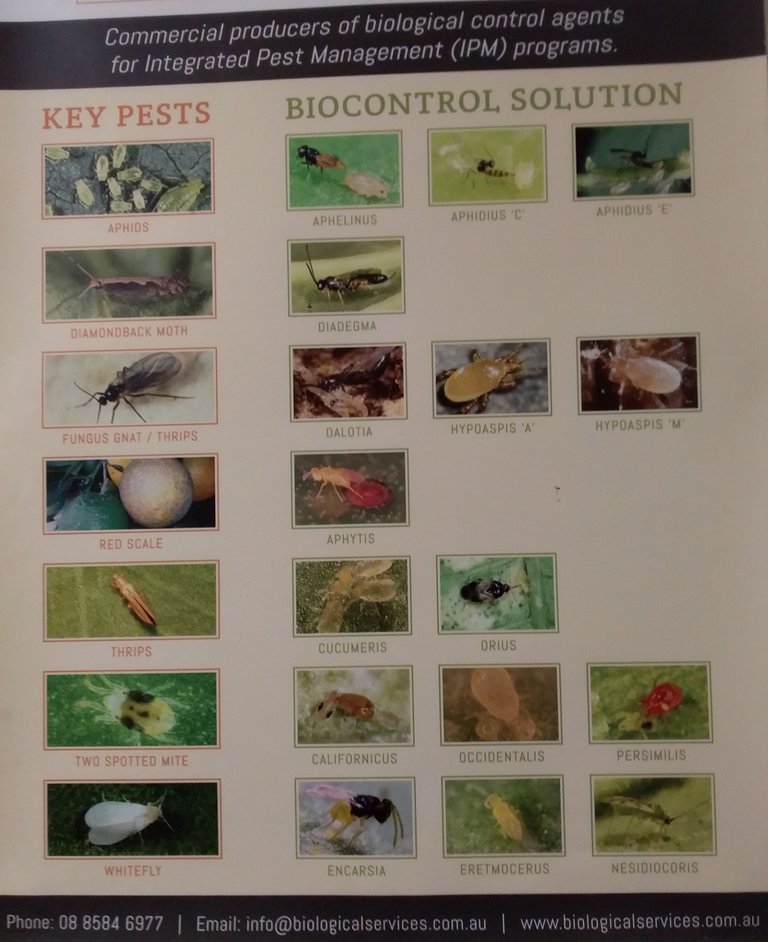 Along with the good bugs, other measures are implemented around the farms. A two door system in the greenhouses reduces the amount of pests finding their way in. There is a clear zone around the growing areas which is kept meticulously weed free, so as not to allow the pests a habitat to breed in. Boundary hedges have been replanted as wind breaks which stop pests from being blown in from neighbouring farms or being tramped in by people wandering from one farm to another. In the greenhouses they have sticky insect traps so the levels of pests and beneficials can be monitored. Action isn't taken unless the pests get above a certain tolerance level. Then the health of the plants is a high priority as well, because they will resist pests much better if they are strong and healthy.
Workers are taught to recognise diseases, pests and their effects on the plants, so that when something is spotted the area can be quarantined to stop spread and the necessary action can be taken. For some diseases it may still mean that the entire greenhouse needs treating, but if it's caught early is can be handled with less toxic methods than if it were to get out of hand.
As someone who is passionate about organic growing practices this was exciting news for me. Finally commercial growers are starting to see the benefits of not constantly spraying poisons onto crops.
On the third day the trainer talked about getting growers back to using compost and cover crops for crops grown in the soil (many are grown hydroponically). Much of the soil health has been lost due to intensive growing for decades. I couldn't help but comment that we're coming full circle back to the practices used before artificial fertilisers.
These growers aren't trying to grow organically by any means. For many of them the clincher has been that the practices have saved them money. It's much cheaper not to have to constantly pay for the chemicals needed to spray every few weeks. Using compost reduces fertiliser costs, increases yields and helps the soil to retain moisture which reduces water usage. I asked about alternative options to herbicides on the farms, for example steam or boiling water, but they are less cost effective than weed killers, so unfortunately it seems herbicides will continue to be used for the foreseeable future.
Sadly many of the older growers are stuck in their ways and are afraid of the risks of changing how they've done things all their lives, so winning them over has been slow going. For the time being they are also not really looking into using the good bugs programme outside of the greenhouses. One of the farms we visited was growing hydroponic lettuces which were shaded, but not in greenhouses. I asked how they managed with pest control there with it being open and the response was that they would have to spray. I felt like they didn't even have it in their sights to try the good bugs programme for farmlands as a whole. Yet if all the growers in the region began to apply the programme, while it may take time for the beneficial bugs to build up, they would eventually and I think if they took a closer look they'd realise this. After all, they've already acknowledged that more farmers doing the good bug programme in the greenhouses has increased its effectiveness, so they obviously don't stay in the greenhouses, they must also be breeding outside of them.
I feel like it's a positive step and while progress is slow over time farmers are moving towards more regenerative practices.
---
---