A Work In Progress
I've been working on a game with @chibititan for a while now. Sadly, I've been pretty busy lately and progress has been slow. We have planned to do comic books as well to tie into the world. Personally, I've been working on ideas for this world for years. It was originally meant to be a comic book. I even created a very bad 10 page preview a long long time ago and sent it off to Image comics. 😅
I created Eddy specifically for the game. But it takes place inside the same world I've been planning so I've been also planning to revamp some of my old characters and use them in the game.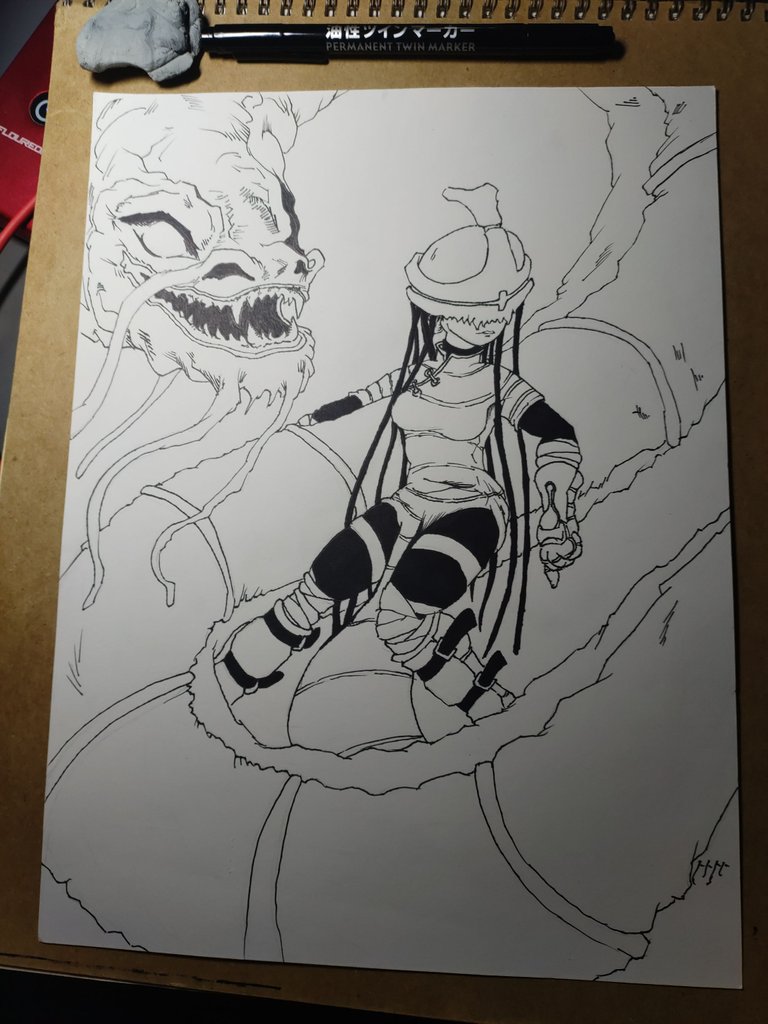 This is one such character. I created her probably about 12 years ago. She has evolved a lot since then. I have never actually given her a name yet. But she is kind of a wandering loner type character with a pet dragon. She wears a helmet that was fashioned out of a dragon skull and mostly fights with her fists. Or the katar like weapons in her gloves.
Her role in the game is going to be to inform the player of the locations of the next titans. She is especially in tune with the world and can direct Eddy to where he needs to go. So most of the little bit of story that will be in the game will be between Eddy and her.
For the art, I've been really wanting to do old fashioned pen on paper lately. And I thought I'd go a more comic style route for this one. I think it turned out okay. I'll probably try to properly scan it sometime soon to get it into Krita for coloring. When I finish it I'll probably post up on the Chibi Titan blog with more game related explanations. Until then, I thought I'd be cool to just show a bit of the work in progress here!
Hope you like it! 😁
---
---