Pulling Off A Quickie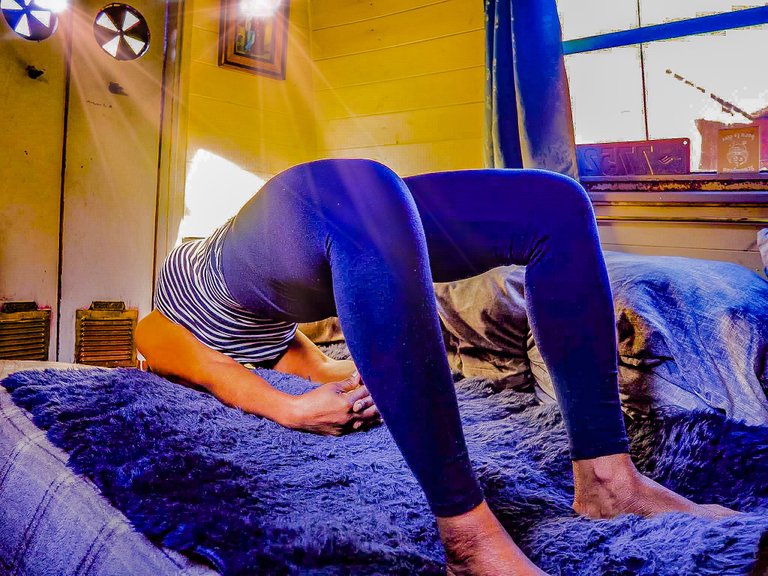 Living on a narrowboat, especially one as small as mine, can be challenging for full vigorous sessions; so I had to find a way to pull off quickie yoga routines in bed to incorporate with my other fitness activities for my well-being.
---
It's morning, and as the sunrays gleam in, I get into position to salute the sun. Yoga upon rising is convenient and sets the mood right for the rest of the day, and doing stretches before breakfast on an empty stomach with just a glass of water is highly recommended anyway.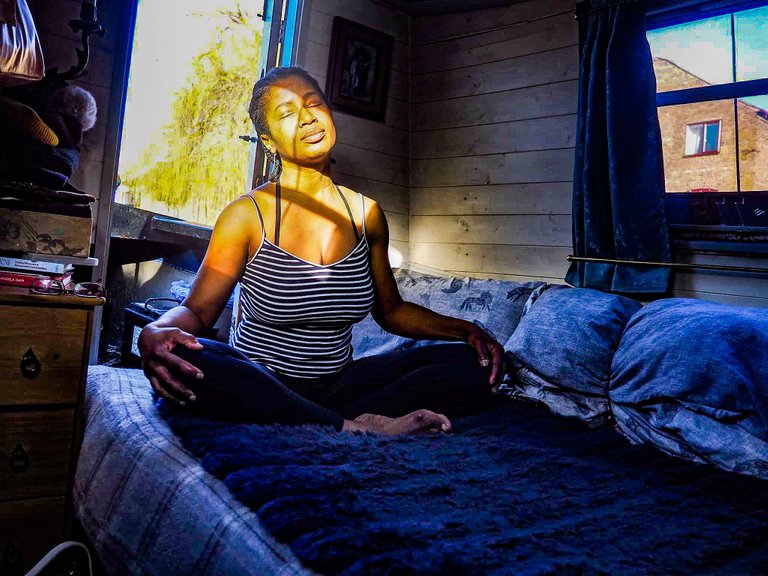 Of course, doing yoga on the bed limits a total workout, because the support from the bed is not as firm as what being on the ground provides. Still, a quickie is better than none at all.
I like to start in a seated position
A little warm-up deep breathing exercise is good for you to bring your attention to your breath, and it's a good time for you to think about what you would like to achieve from your practice (focus your intention); whether it's to focus and become more aware and being in the present, becoming more mindful of applying all senses to your everyday activities, or just to be in the moment void of distractions, tuning into the sounds and movements around you.
---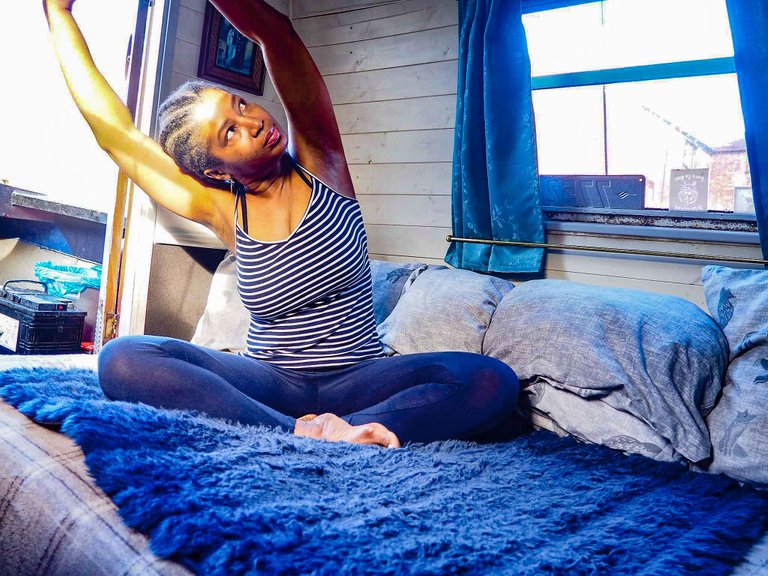 The most natural seating position for me, that I'd also recommend to others is sitting cross-legged in a half-lotus position, as it feels comfortable, helps to open my hips, and gives them a good stretch all the way done to my knees and ankles. I even sit like this while working from my bedroom office, so it was only time before I'd start adding a few stretches here and there to keep my blood circulation flowing.
Do you have a weak core? Don't worry!
Sitting cross-legged makes it easier for me to elongate my spine, simultaneously stimulating my pelvic area, lower abdomen, and bladder.(a little tongue-twisting there).
This upright position also enables me to have better control of my breathing because my spine is activated and engaged, which makes me feel calm.
I'd recommend this to everyone.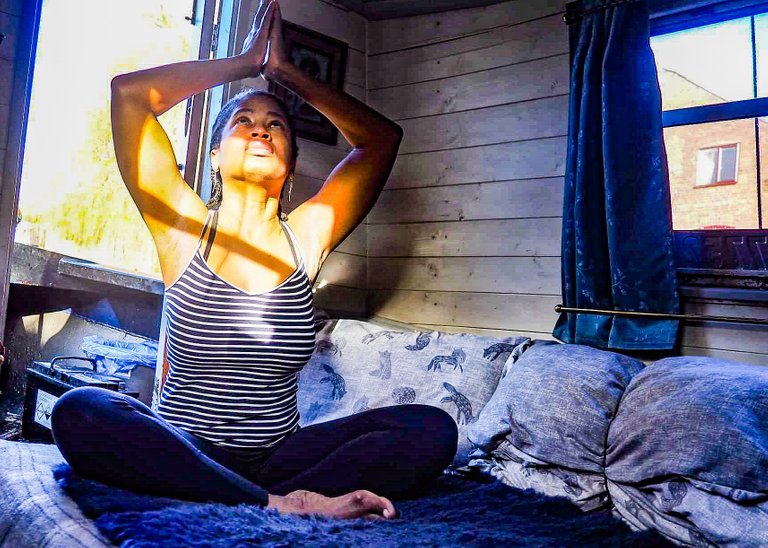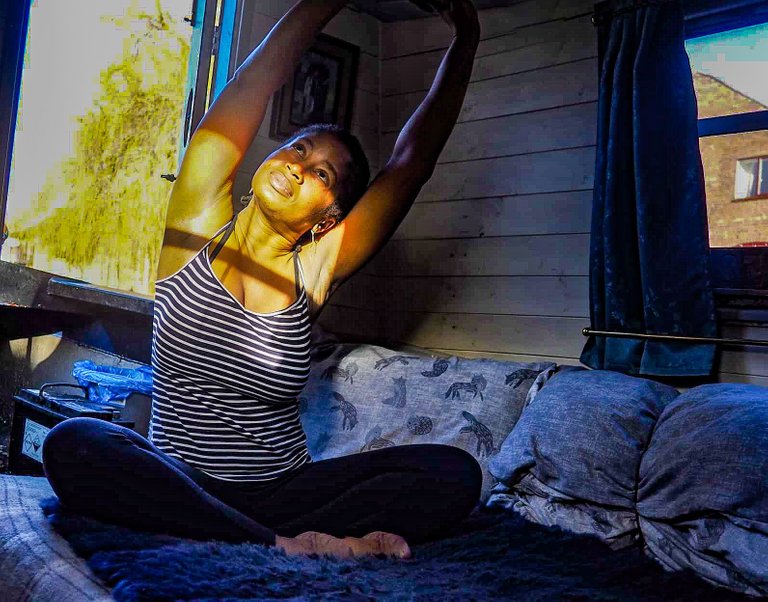 ---
Another benefit I get from the half-lotus position is that it helps to restore energy to my sacral and root chakras (the lower abdomen area below the navel, and the base of the spine, respectively); With both areas balanced, I feel more grounded and confident to face challenges and it also improves my ability to control my emotions and that of others around me.
For Yoga On The Bed
I recommend seated or lying positions over standing ones, as you need to feel properly supported to avoid injuries. Hugging, twisting, and folding of the body, helps to release toxins, tension, and overtime helps to release tightness and restrictive movements in the hips and shoulders, especially. These simple movements also help to strengthen our core area, and they are good for toning the tummy too.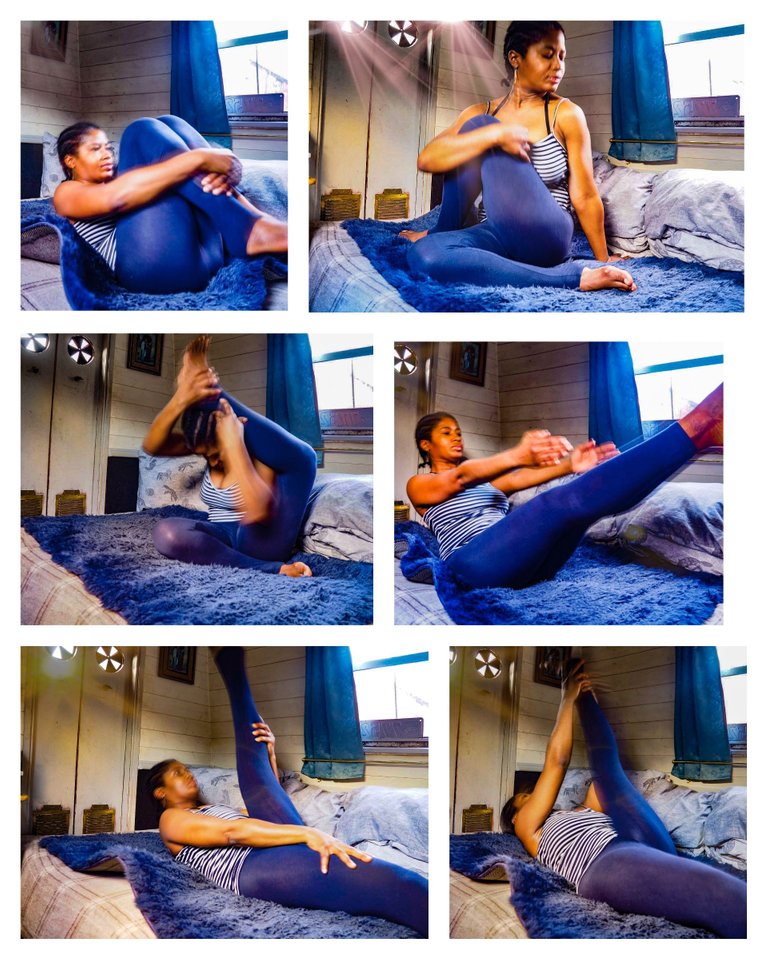 Each pose is held for the count of 5, on each side, while focusing on taking deep, even breaths.
Regardless of the length, yoga can be done anywhere, and at anytime; whether it's a five minute quickie or an hour-long session.
Yoga is for everyone!
Some of us sit at our desks for extended periods, which can cause our bodies to feel lethargic, and heavy. Yoga shouldn't be considered as a time consuming exercise, because quickie yoga sessions are effective too.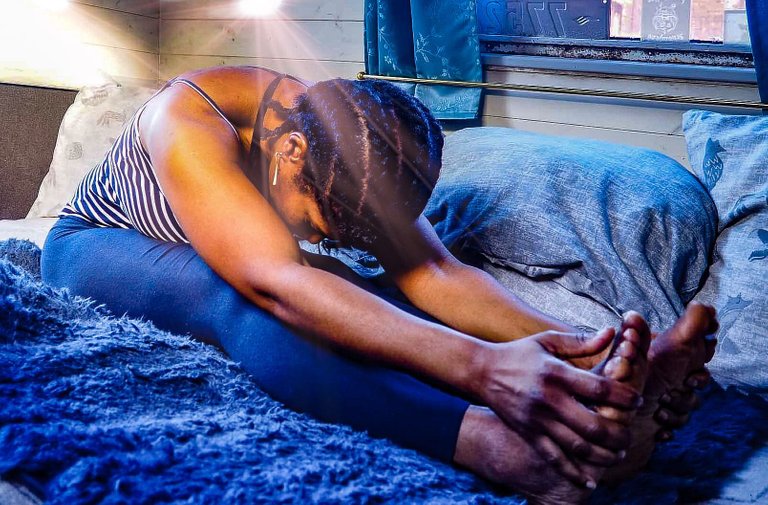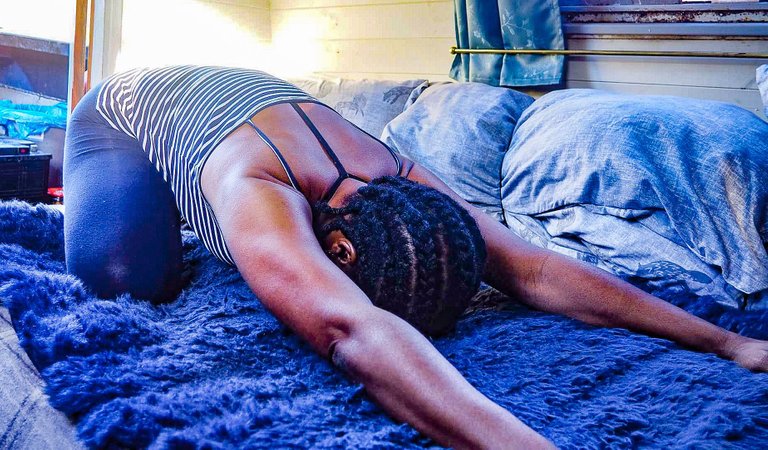 ---
Do you have difficulty getting out of bed in the mornings?
The good news is that while you contemplate getting up, you could lie like a happy baby and rock side to side. This is good for massaging your spine and back muscles. A healthy spine is key to longevity. Without a good spine, we're going no where.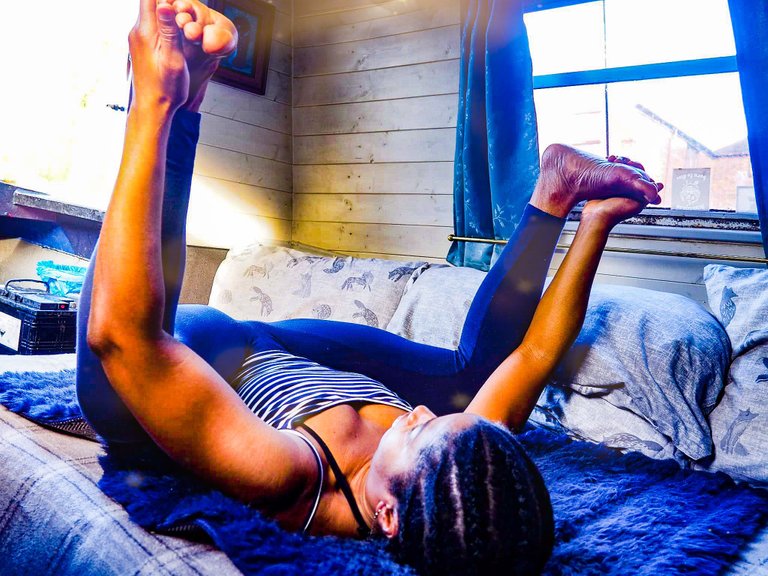 ---
Inverted Positions
I try to limit inverted yoga positions on the bed too. However positions such as downward dog is manageable. This helps to give a total body stretch and rejuvenates the body by helping the blood flow to circulate.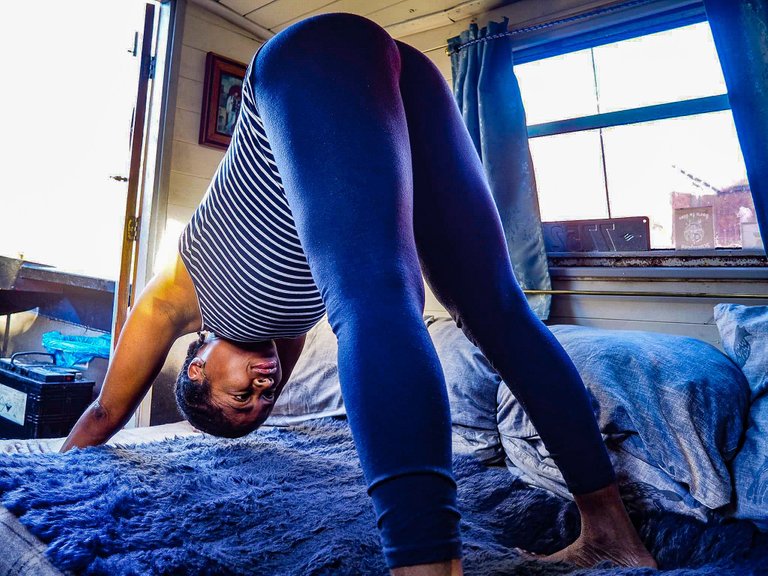 Downward Dog is a good resting position to catch the breath, but it's still an active position that stretches the shoulders, spine, neck, hips, thighs, and ankles. Furthermore, the inverted position sends the blood pumping which helps to restore and energise you.
Regardless of where I do my yoga, I always end the session in corpse pose, savasana. This is a great pose to reward the body for the hard work it has done in the yoga session.
Flat on back, feet hip width apart, shoulders relaxed with arms extended; I take normal breaths for about 5 minutes, and then I slowly wiggle my toes, fingers, and rotate my ankles to awake my body.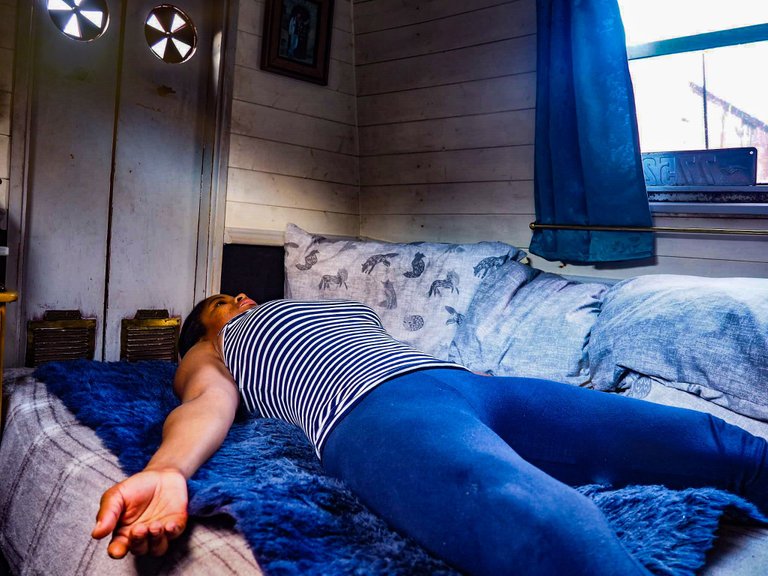 ---
These are just a few good, simple movements that can be done right on your bed in your pyjamas if you fancy.
With continuous practice, I just might find other positions that are suited for yoga in bed.
I'd like for you to give some of these a try, and leave me a comment, as I'd like to hear how you get on.
Thanks for stopping by to check this out:)
---
---
---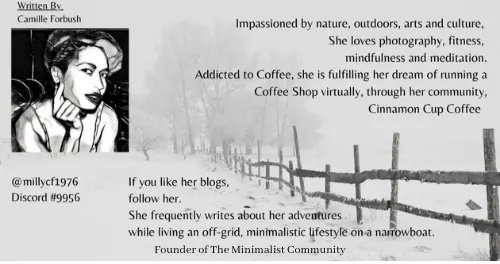 ---
---