Bizarre Memories of Coffee & Cafe Moments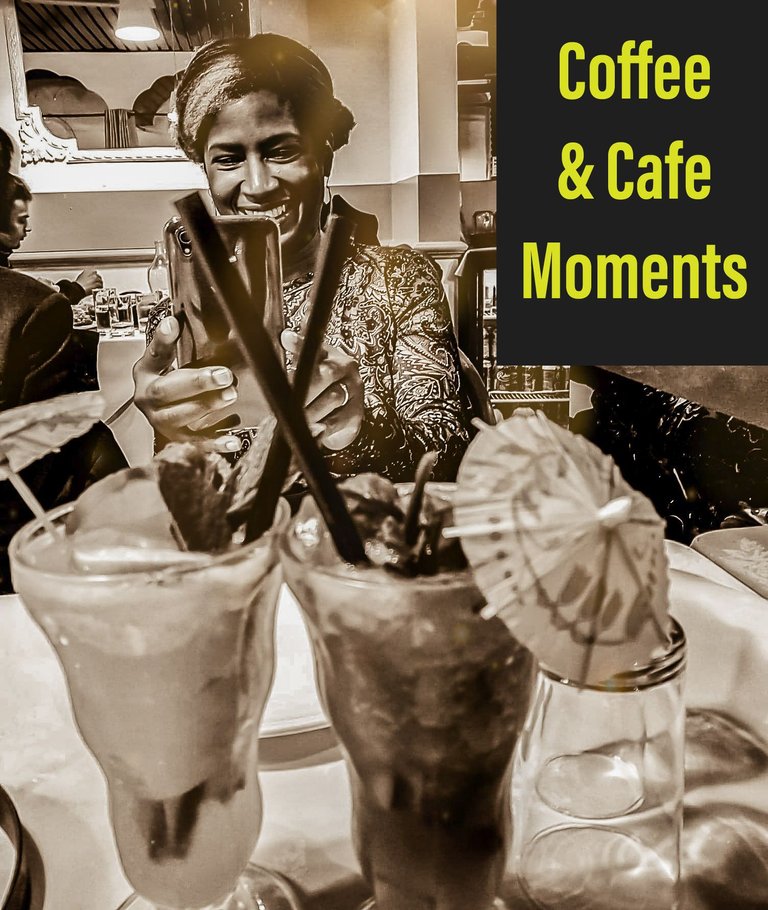 Thoughts of coffee moments make me smile.
Reflecting, I've experienced many special coffee and cafe moments; Still, my most memorable are those spent with my best friend Racquel.
Year 1998.
It was just another morning working at the Hotel Front Desk, when an attractive, outspoken young lady arrived and asked to see my manager. She stated her name, which I identified as the person my boss told me he was expecting for an interview. I notified my boss, and he came to meet her in the hotel lobby.
Hired on the spot, my boss handed Racquel over to me, for me to give her an orientation, and an overview of what duties on the front desk entailed.
I liked her immediately, as she seemed level-headed with an aptitude for learning.
Come lunch time, Racquel and I, and another young lady on her first day on the job, all went off property to eat lunch.
While dining, my use of colourful words, had them holding their chests, as they breathed sighs of relief.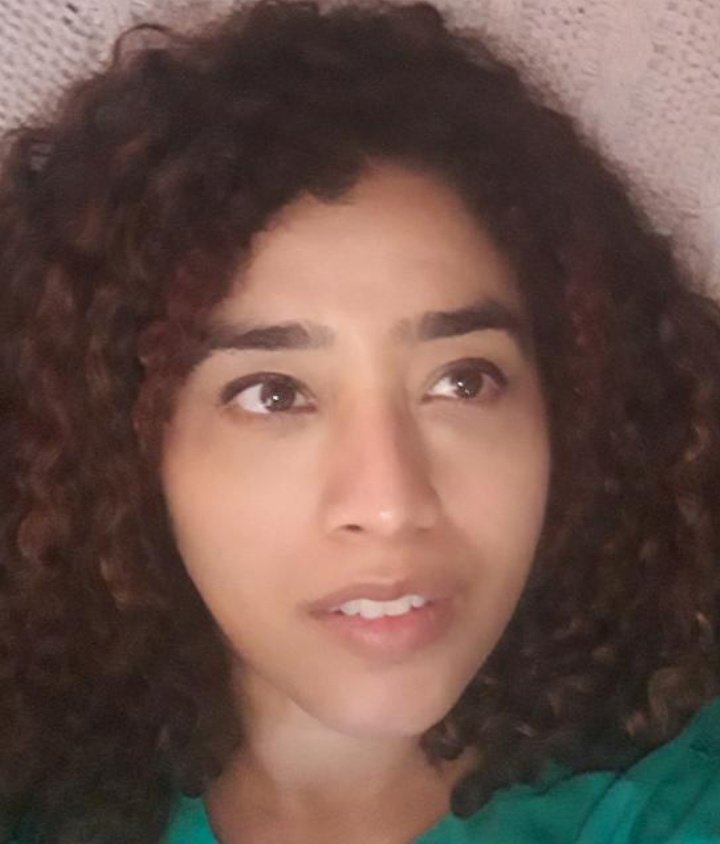 "OMG, you swear!"
said Racquel.
"Yeeees," I responded.
She laughed, and told me that I'd scared them when they met me.
I said, ME?
---
Racquel said, YES, you were so diplomatic at the desk; You had the biggest friendly smile, but you were very direct in looking in our eyes while telling us both good, and bad things, in no uncertain terms, (all with a big smile).
We were petrified.
Your demeanour was upright and serious, and we thought you were a perfectionist.
We were worried to make a mistake.
I said, I'm ever so sorry for that. I just think it's very important for you to know the rules and what exactly is expected of you, and the best way I believe is to tell it as it is...we hit it off as friends immediately.
A year went by, and Racquel and I were both promoted to Front Office Shift-leaders. Coincidence or not, that separated us, as we would now be working alternating shifts.
---
We had many things in common: Racquel loved coffee, vintage items, and stationery, and I also loved coffee, vintage items, and Italian Clothing. We would save our tips from guests, to treat ourselves accordingly, and our favourite place was a coffee shop on the resort.
Nothing fancy, but the perfect escape for us to recharge and reset our batteries.
It was a small coffee shop located in the shopping village, on the far eastern end of a 400-acre property; owned by an Austrian, the Managing Director's wife.
Bright yellow exterior, tropical shabby chic interior decor, with a few high chairs close to the pastry display, and some additional outdoor seatings.
To get to the Coffee Shop, Racquel and I would take a shuttle bus which ran every 15 minutes from the hotel lobby to the shopping village.
In the cozy, comfortable setting, we always occupied the seats by the display, as they were convenient for us to chat with the familiar barista.
We were always greeted by our names, with a friendly smile, and felt a genuine welcome.
The menu selection was small, with special concocted drinks. Our usual orders were extra large Lattes with slices of Jamaican Rum Cake.
We'd coax the barista to feed our cake with extra white rum, to enhance the taste and increase the texture. The boozy kick made the cake super delicious, and we'd sometimes order second servings.
---
On one particular day, there was an overlap of shifts where I'd finish a few hours before Racquel. We had arranged to have a late lunch together, and I would linger after my shift, till Racquel's shift ended.
Arriving at the coffee shop, we observed that all seats were taken, and we quickly decided that we'd still order, but have a takeaway. (not quite the same, but we were totally psyched up for the lattes). We received our orders, left, and hitched a ride on the shuttle bus back to the hotel lobby.
Racquel went straight back to working on the front desk, frequently slipping to the back office to take sips of her latte, while I offered to double check guests correspondence for Racquel, as this would enable her to leave work on time.
Retreating to the reserved small partitioned office, I locked the door, and started reviewing files; while I munched my rum cake and sipped my latte. It might have been the effects of the extra rum, but I was feeling rather warm.
Not surprising though, as my uniform was an impractical white jacket and black and white stripe short sleeve undershirt, with knee length black skirts, and dark stockings.
---
In an attempt to get comfortable and cool off, I removed my jacket, my shirt, and upper undergarment, and adjusted myself comfortably, to focus and accurately check all files.
On auto-pilot, Racquel unlocked the door to find me meticulously reviewing guests files in a comfortable, yet shocking state; I had forgotten that Racquel had a copy of the key to the private room.
Flabbergasted, Racquel bursed out laughing.
Me: "I'm feeling hot!"
Racquel: [Laughing uncontrollably] "Oh Camille, they're like 2 bright headlights."
Me: "I don't walk around in the sun like this, so of course, they look pale."
Racquel: Continues laughing; pops out her boobs.
We were both laughing uncontrollably.
Then came running, the other four young ladies from the front office, to find out what was going on.
Before I could even process what was happening, all ladies were standing topless, laughing and chattering loudly, comparing each others boobs.
I stood frozen, trying to make sense of what happened in a flash.
Is this what guys do at the urinal? I wondered.
In a distance, we hear the familiar rattling of keys; our cue to stand upright and look busy.
"Jingles!!😳" Said all of us in synchronised harmony; (the established nickname I'd given to our boss).
We listened apprehensively to his fumbling footsteps and jangling keys, as he approached the front desk; while we hurriedly got dressed.
Manager : Where are the ladies?
Guys Manning The Desk : At the back, sir!
Manager : What are they all doing at the back?
Guys Manning The Desk : Comparing boobs, sir!
All six of us stood at the back suppressing laughter, peeking at our manager. We watched the poor fellow holding his head with two hands in disbelief, looking as if he wanted the ground to open and swallow him.
(Our manager, was a shy devoted Church man, so handling "problems" of this nature was not his forte).
Manager: So where is Camille?
Guys Manning The Desk: Camille is at the back, sir!
Manager: And Racquel?
Guys: At the back, sir.
Manager: So how did that happen?
Guys Manning the Desk: Ask Camille Sir...
... all I wanted was to enjoy my latte and rum cake.
I have NEVER done another take-away coffee!
---
So you see, Coffee Shops play an important part in my life.
It's nice to sit in the comfort of coffee shops whether alone or with company. The aroma ignites the senses and lifts the mood, and triggers me to engage in conversations when I'm with friends.
Manning a virtual coffee shop excites me, and I'm always delighted to see a new post; It's like seeing a customer enter.
---
I love waking up to the smell of coffee. It brightens my mornings and makes me feel alive.
Breakfast in bed, does not appeal to me, as I'm a rise and shine kinda person.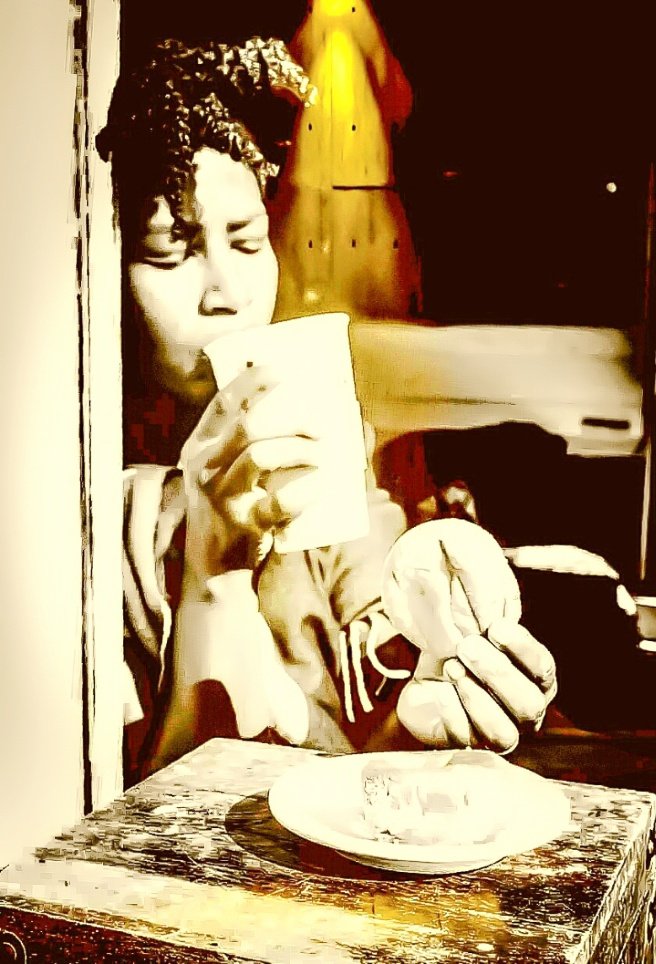 I'll never forget waking up for sunrise yoga class in the Philippines. I arrived the studio enthusiastic, only to discover that the class was cancelled. Feeling a little annoyed, I sat and drank my coffee I'd taken in a flask.
Energised and feeling perky, I was just about to hop on my trike when I noticed a Spa across the street was open.
Normally I had a regular masseuse come to my home, so I thought I'd opt for a body scrub.
They offered my favourite - A Full Body Coffee Scrub.
This was my coffee in bed moment!
The room was dark as the lights were dimmed low. The pleasant smell of aromatherapy oils and fragrances were soothing my senses. The lady had a strong firm touch, and there was ambient relaxing music that drowned out loud gibberish from sidewalk idlers.
The application felt good.
Don't stop, I thought to myself before zoning out.
I was alerted by a timer, and the therapist smiled and instructed me to walk through the backdoor to the shower.
Sure, no problem! I said.
I got to the shower room, switched the lights on, and locked the door.
My eyes popped!
There was a full bucket of cold water waiting for me to shower.
I DON'T do cold showers!
There was no kettle.
There was no way around getting the coffee scrub off my body.
I twitched at every splash.
I almost died many times.
It was a brewed rude awakening.
Unforgettable coffee moments...
---
I thank you for reading my post; a response to a posting contest hosted by @galenkp in Cinnamon Cup Coffee community.
Of course, my post does not qualify as an entry, but I thought it would be nice to share my coffee and cafe moments stories that always bring back fond memories.
I'd love to hear yours.
Follow the guidelines to be eligible.
---
---