A Passante In Tamworth, UK
Since relocating back to the UK 6 months ago, this is my 1st participation in #MarketFriday hosted by @dswigle.
I love market scenes, and have always enjoyed roaming streets, alone, (main ones and off-beaten tracks) to observe the intertwining of narratives and actions of, and in familiar and unfamiliar persons and places.
In fact, I can be as engaging and involved as I choose to be, or a distant detached observer at other times, and Street Photography fills a void.
However, I've had to wait a week before writing about this experience since Tamworth Street Market is held only twice per week, on Tuesdays and Saturdays. Nevertheless, this wait has allowed me to get creative with my edits, and to relive and smile at some of the nuances and beautiful moments I observed of people going about their lives.
My reason for visiting Tamworth, was for upgrading our narrowboat engine from a problematic one, to a new reliable engine; which arrived within the 6 weeks waiting period quoted by a trusted and highly recommended local boat mechanic, Mark. However, I'm still in town as we're in the process of prepping the engine bay before installation of the new engine; and soon we'll be on our way continuously cruising again.
So, killing time, and trying to avoid boredom, I've made several trips to the Tamworth town centre, an hour walk from where my narrowboat was downgraded to a butty boat, and moored at a boatyard.
---
Frankly, my first impressions of Tamworth's town centre, an old town with many plain huge brick buildings, and narrow streets lined with coffee shops, restaurants, individual shops, and bars; were synonymous with "a face only a mother could love."
It definitely warrants a facelift, as it looks drab, and there really isn't anything special about it; everything is centred around the antiquated Shopping Centre, Ankerside.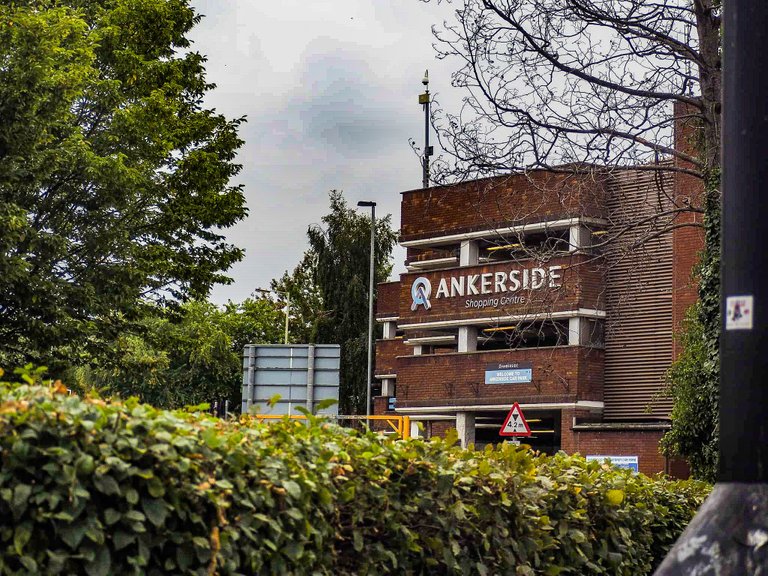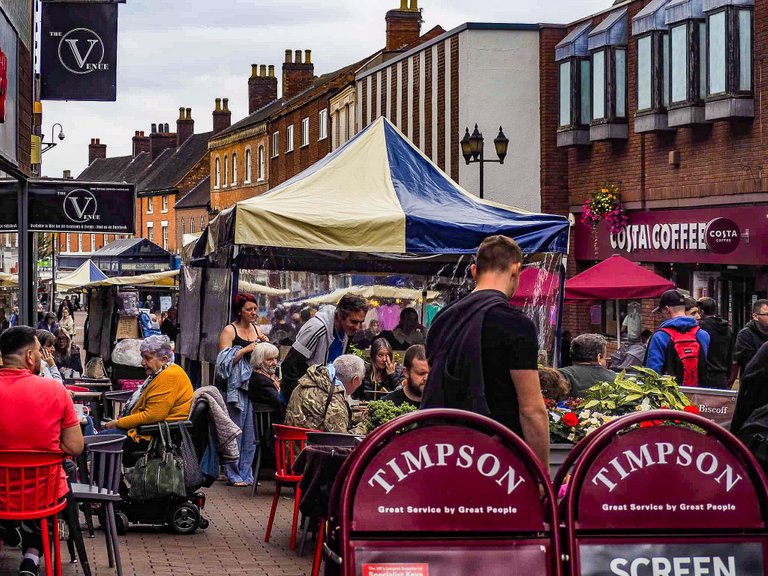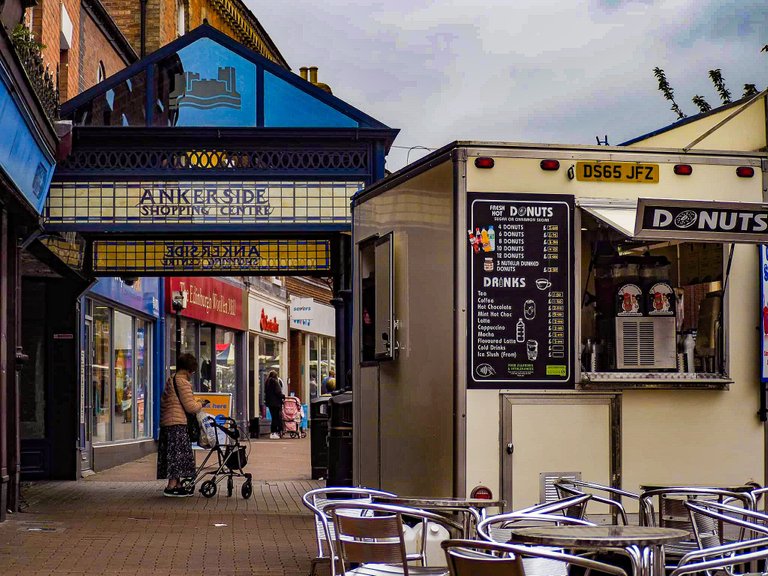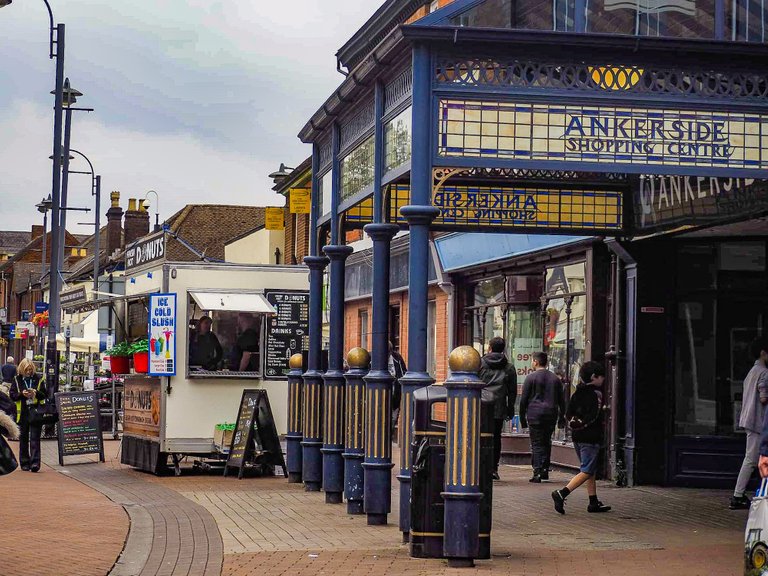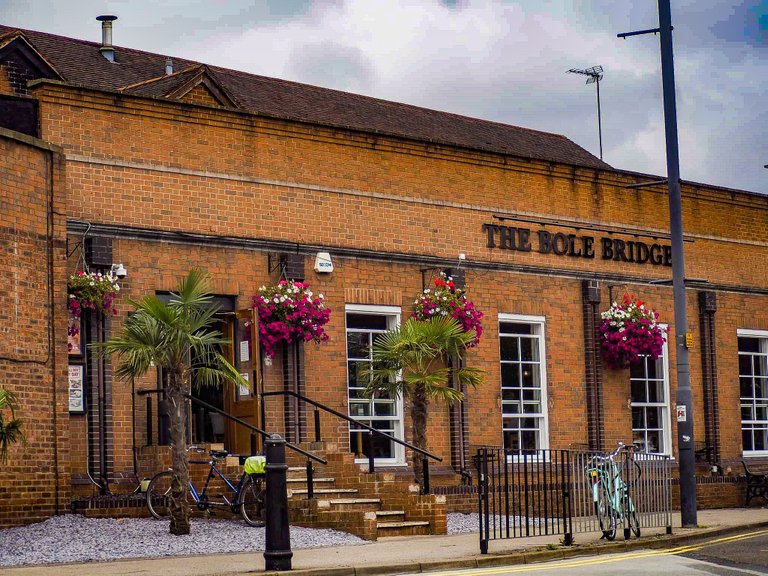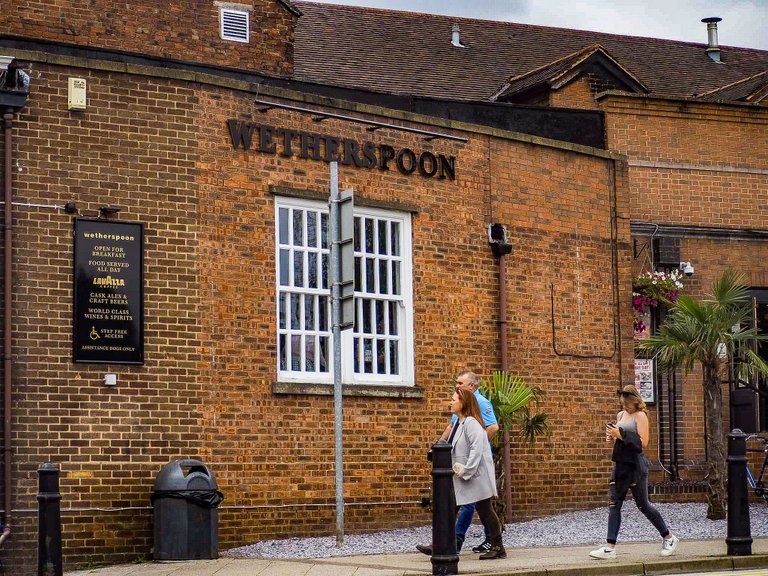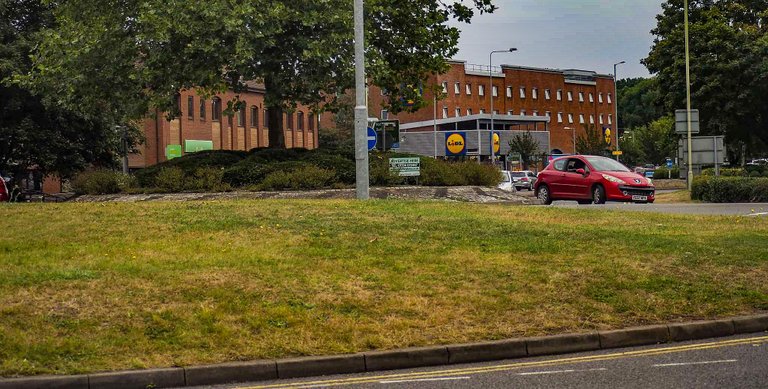 Still, I kept exploring and quizzing my mind about what I could do to make my visits more interesting.
While walking through the town exploring the streets, I overheard a man answer his phone saying:
Hi Pam, what can I "do you" for?
I chuckled, with the hope that Pam's sense of humour was as funny as this jovial lad.
I then thought, is this gonna be the highlight and lasting memory of my time in Tamworth?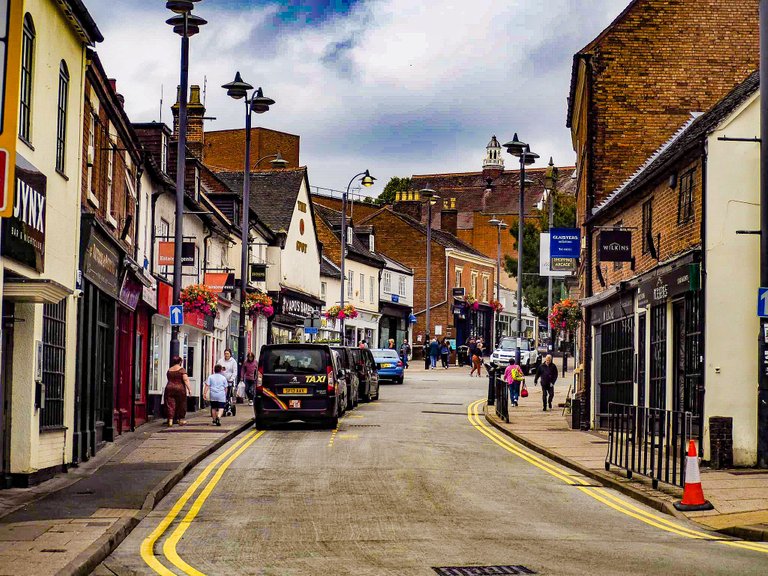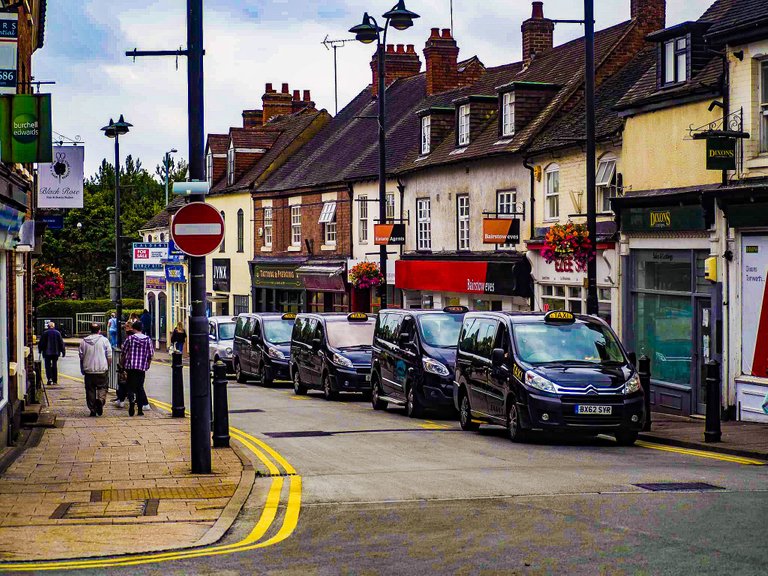 ---
Ding!
The idea for Market Scene photos, dawned on me.
I walked to the ideal imaginable location that I thought would have been perfect for a market, but there was nothing. Popping into a store along the street, I told the shop clerk that I was not from the area, and I asked her for directions to the local market. She explained that the market days are on Tuesdays and Saturdays only, at the very place I thought it might have been, and also along St. George Street, the Main Street, adjacent to Coleshill Street.
---
Market Day
I sprung out of bed, showered, had a quick bite, packed my camera bag inside my backpack, with my water bottle and a pack of Haribos (a relapsed addiction, my guilty pleasure), then headed down the towpath.
On a mission, I paced myself with long fast steps, to avoid any distractions.
In just 45 minutes, I dashed through some back street alleys, to the centre of the town where the action was.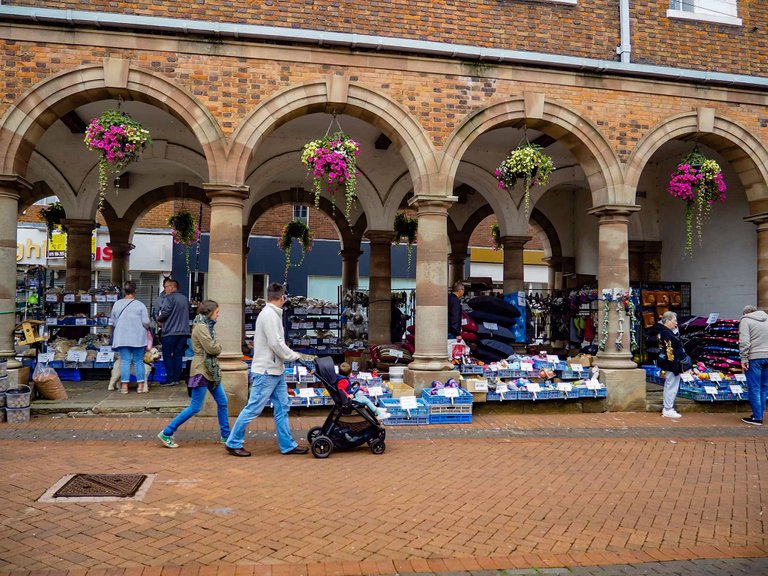 There was a wide variety of stalls; from phone repairs, flowers, fruit & Veg, clothes & shoes, antiques, household and haberdashery items.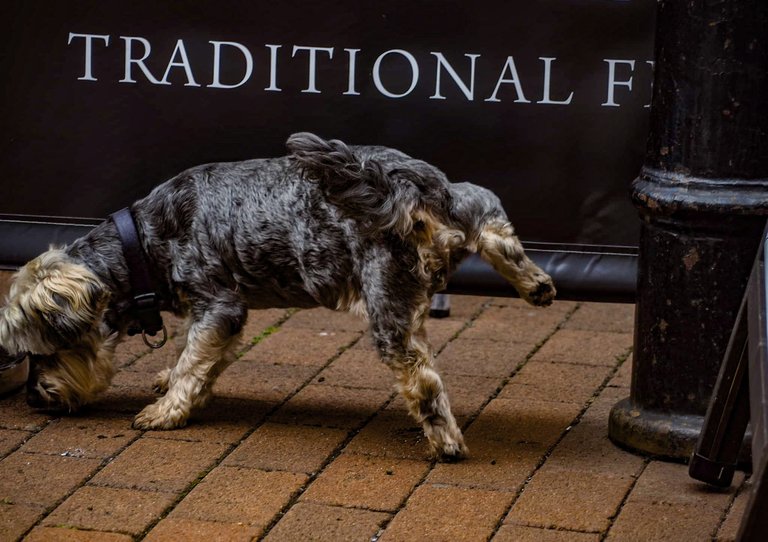 Yes, like that of a traditional market.
An arcade dedicated to dogs
If you're looking to create a dog's palace, you would find everything to accessorise and decorate it here: Beds, pillows, blankets, toys, seasonal clothing, and everything one might wish to provide for their dog.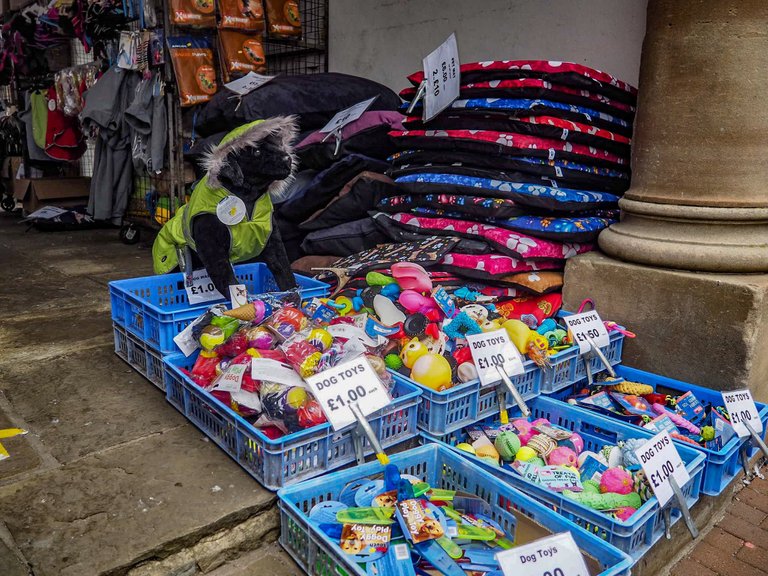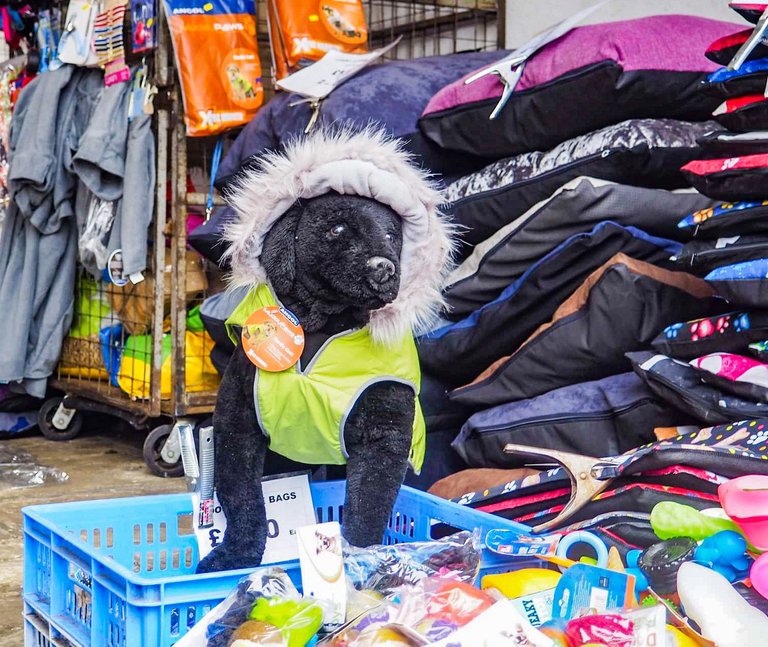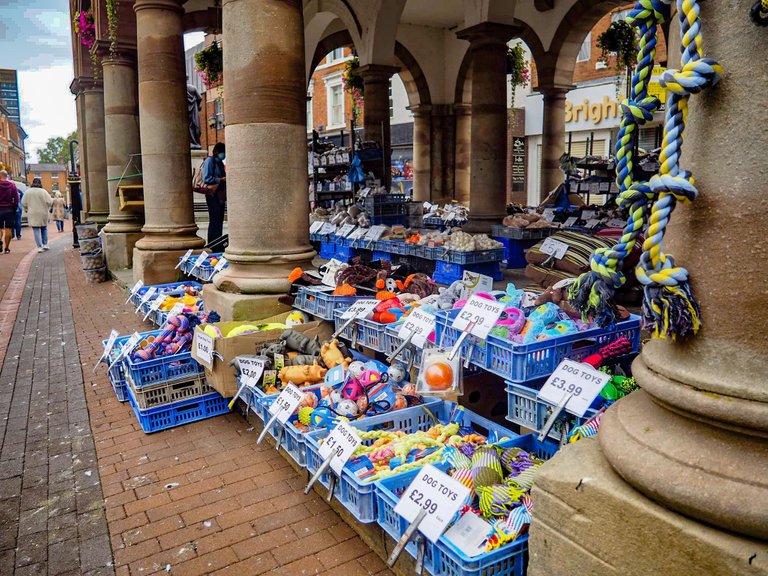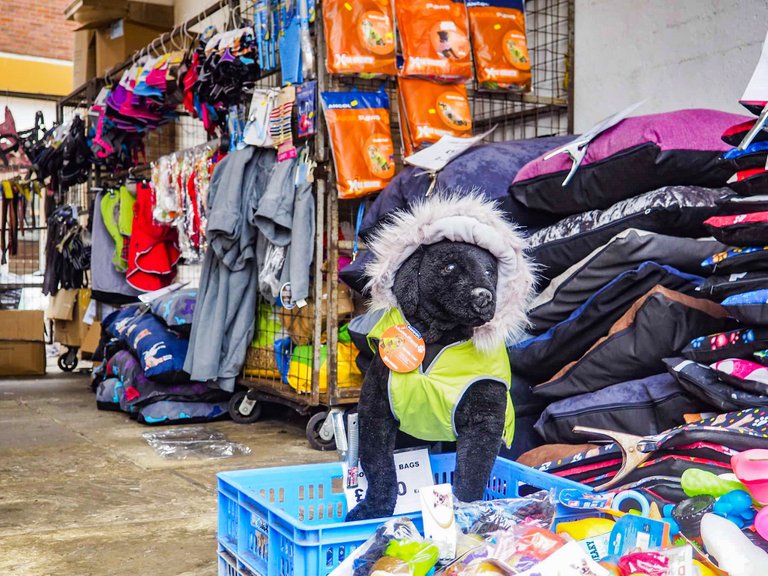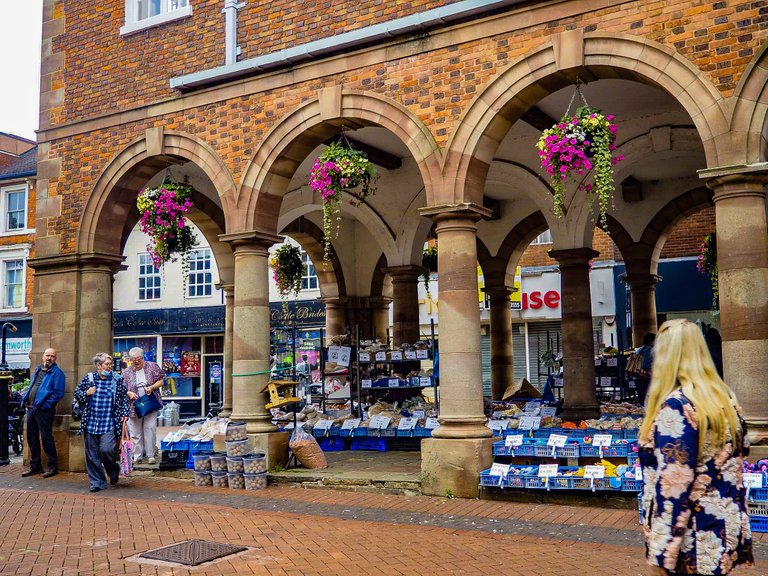 ---
Family Day-Out
Market Day in Tamworth appears to be a day of choice for family outings. People of all ages could be seen enjoying moments in some way. Playful and curious kids, grandparents and other elderly and young individuals meandered the streets in a familiar fashion, exchanging pleasantries with usual vendors.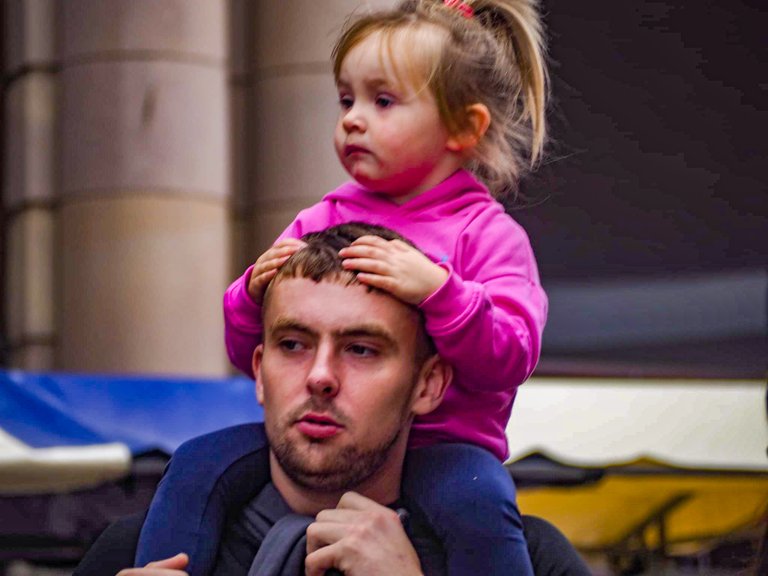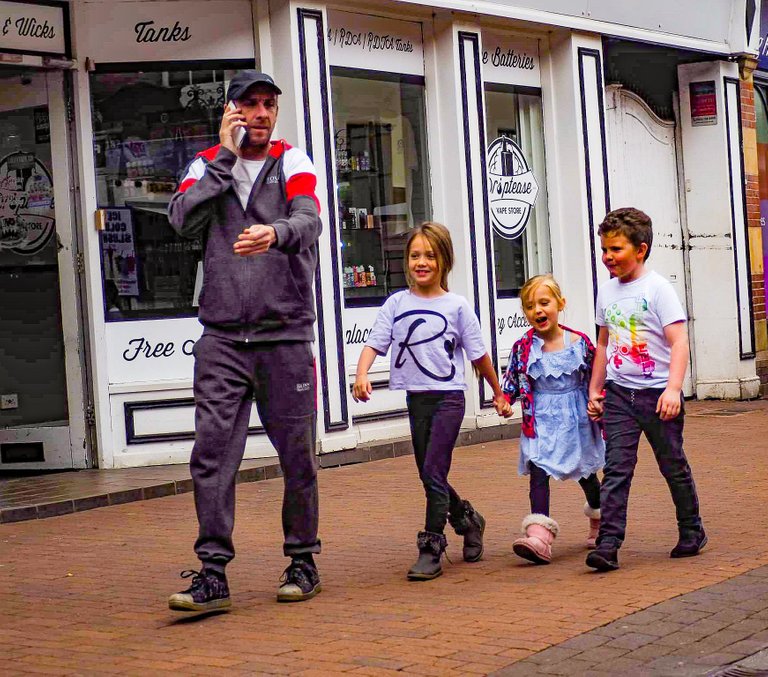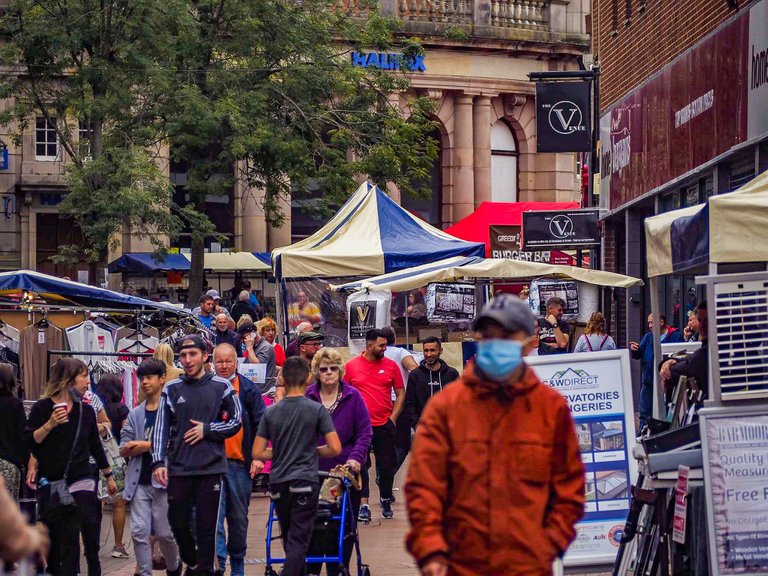 the curious one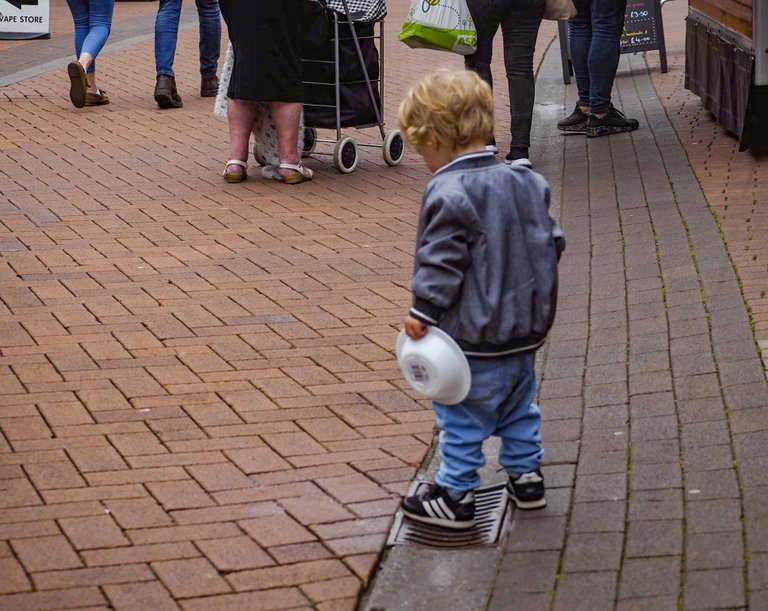 Children roamed and played in the streets freely while creating their own little worlds amidst the chaos.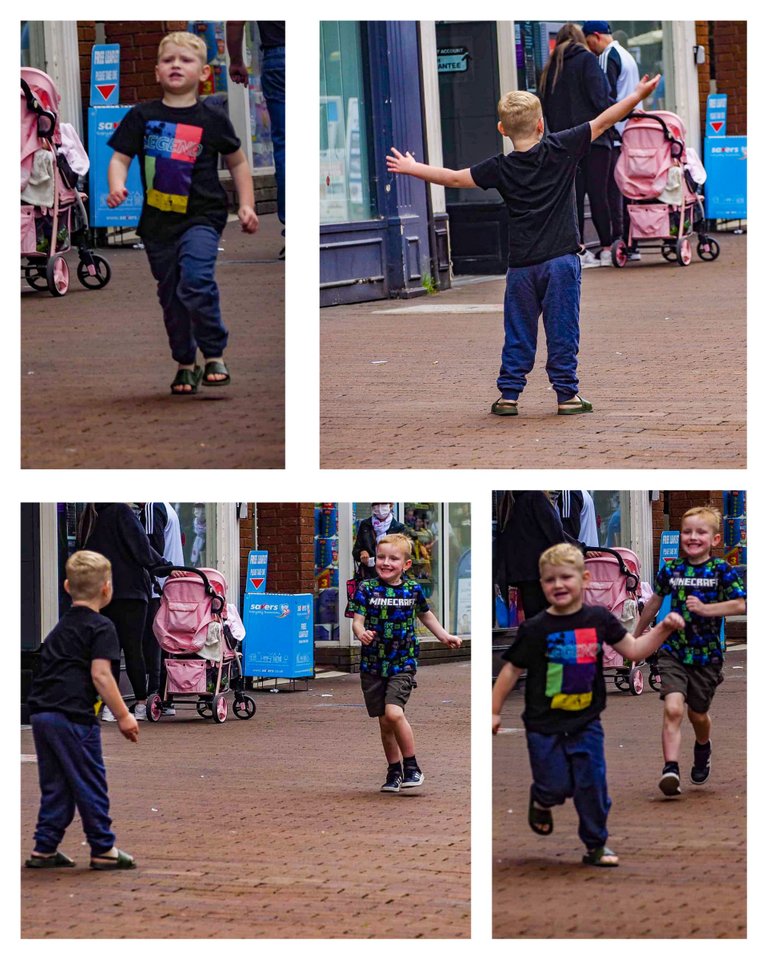 Eeny, meeny, miny, moe
said this little girl, window shopping and licking her ice cream.
No complications.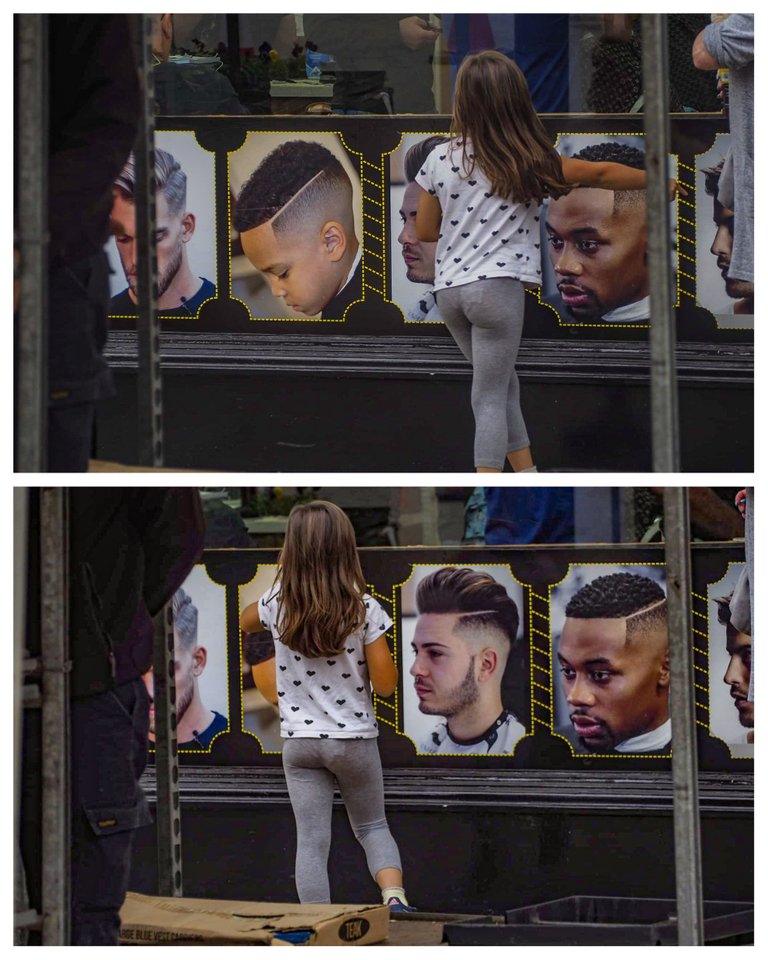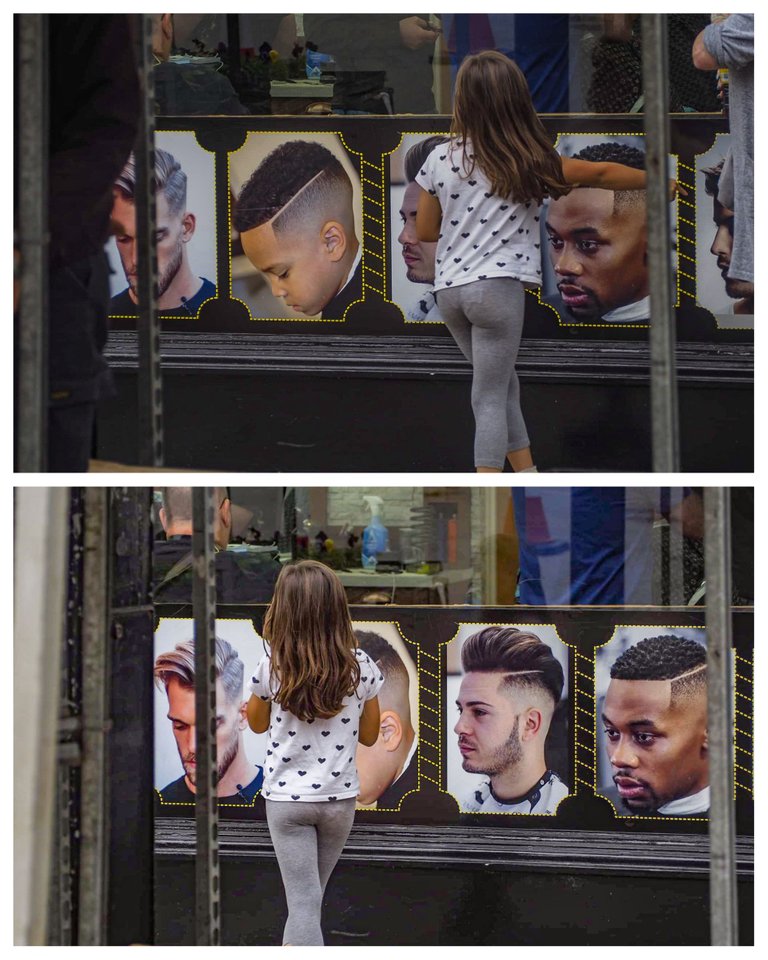 If only picking "Mr Right" was that simple...
Could it?
Should it?
---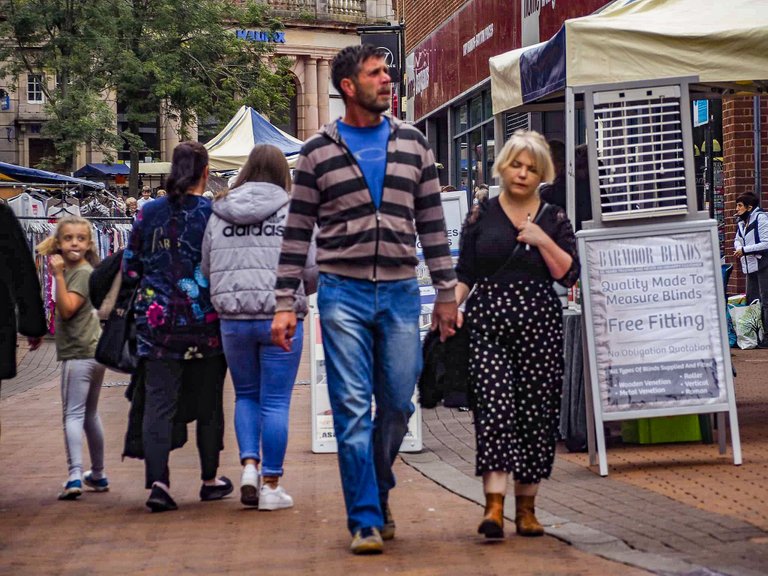 Paparazzi Shot?
No!
Just candid shots of a nice looking couple.
Seeing mature couples holding hands, makes me smile.
What about you?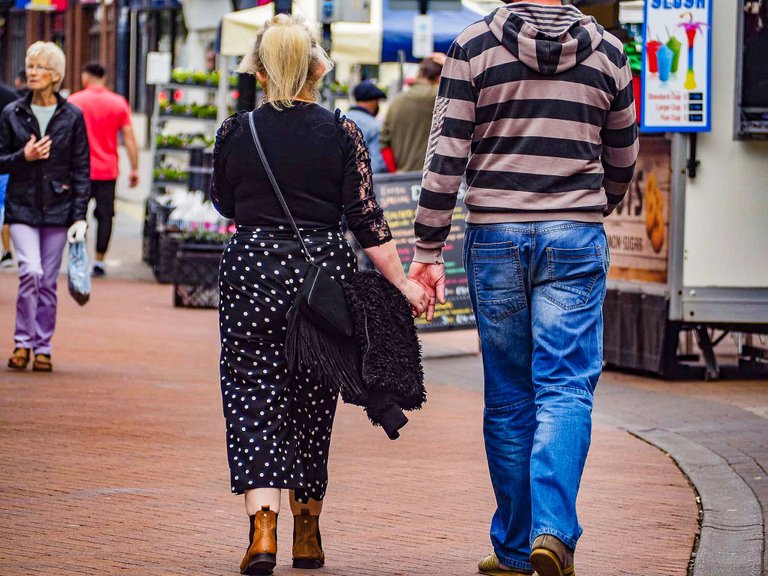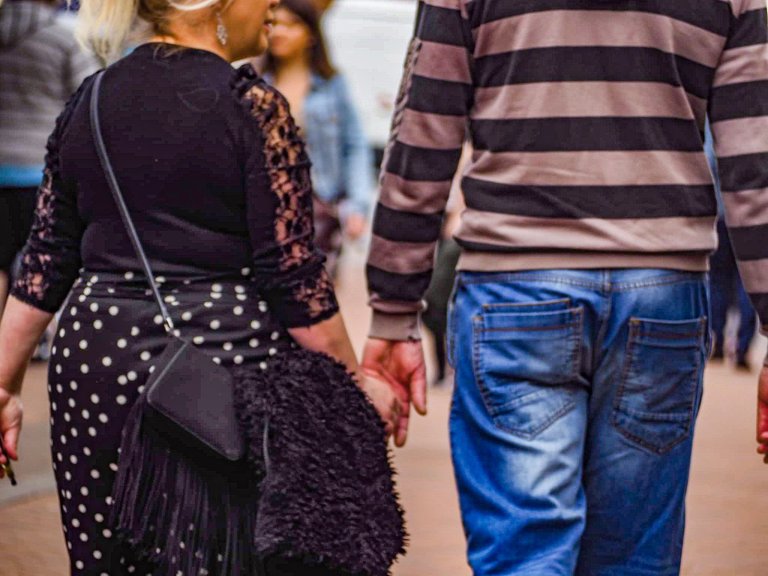 ---
Fresh Flowers - Always a flower!
There's never a market without flowers.
Do you like flowers?
I'm carefree, and I like to see flowers growing wild.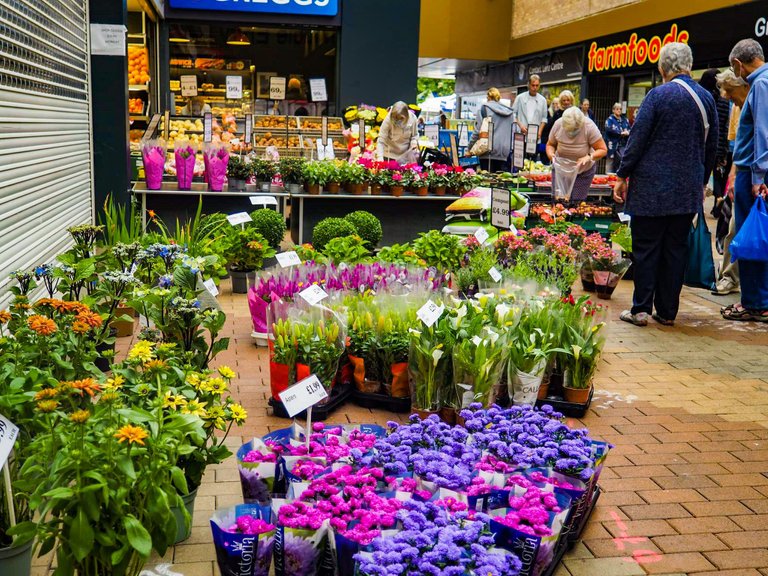 It's the last days of summer. Still, there are flowers, plants and seeds galore. In fact, on two separate occasions, I ran into a couple from Tamworth who mentioned that there was normally a big display of flowers at the market, and that very soon they would just discard them all. So much for the seasons. What's your favourite season?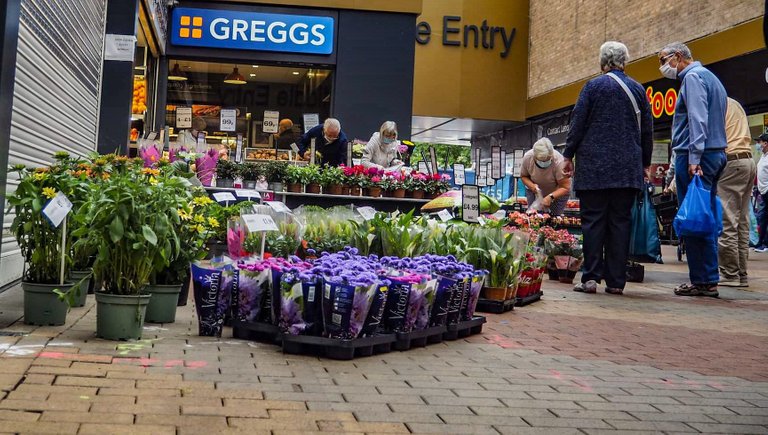 ---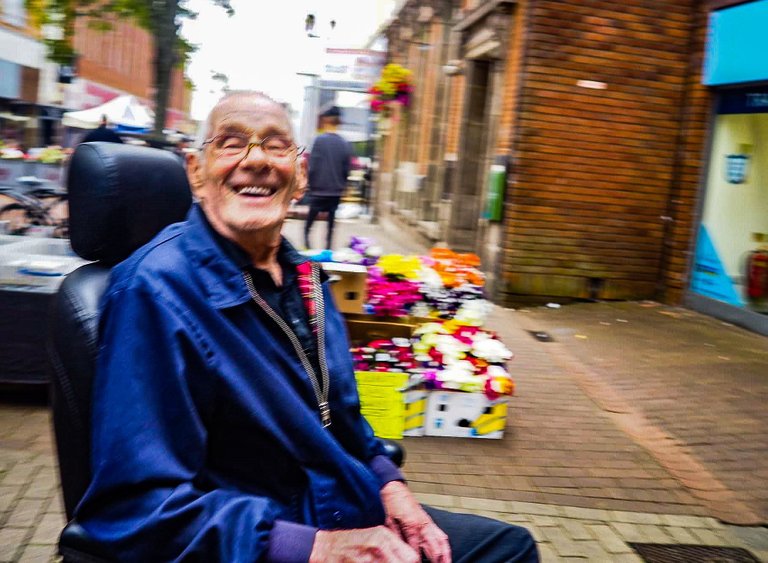 This photo was taken only by the request of this happy smiling man. I wasn't ready, as I was taking a moment to clean my lens, hence it's a bit blurred.
I had to add it though;-
Happy day, happy person, happy moment!
---
Flower Vendor
It was a pleasure watching him shuffle all the potted flowers on the display stand.
I actually went across the street and switched to my zoom lens.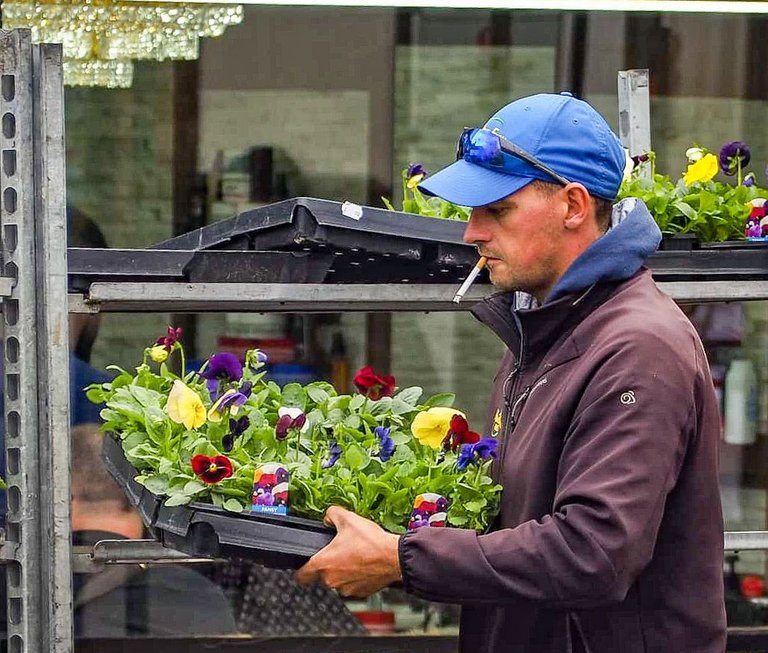 and here's his better backside.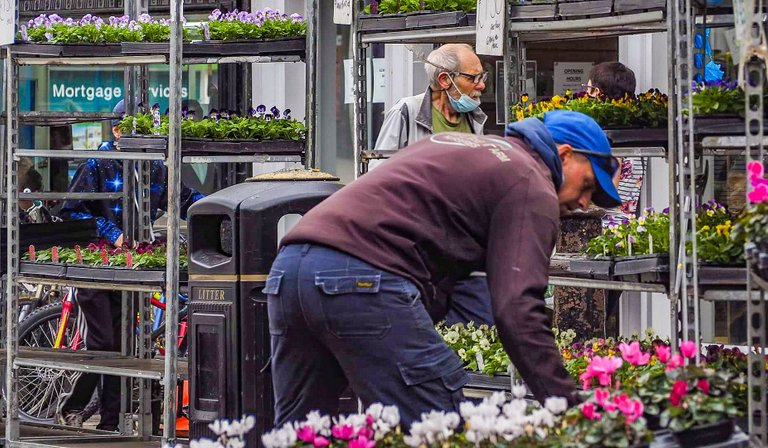 Pretty Colourful Plants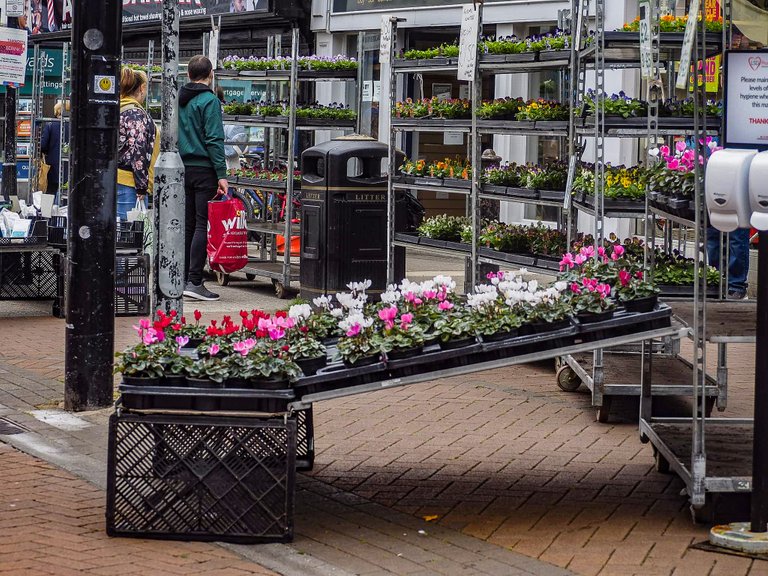 Assorted Seeds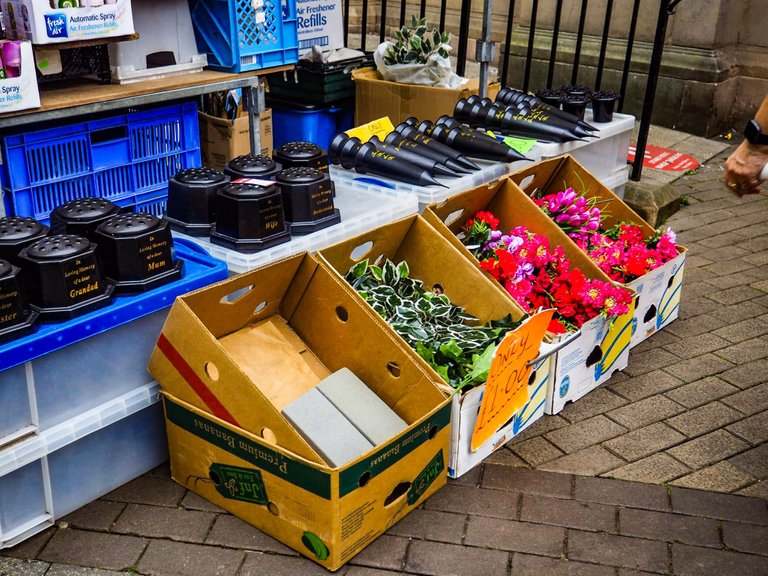 ---
At the top of St. George Street where most people enter the market, there was a phone stall with new phones and accessories, and also providing minor repairs.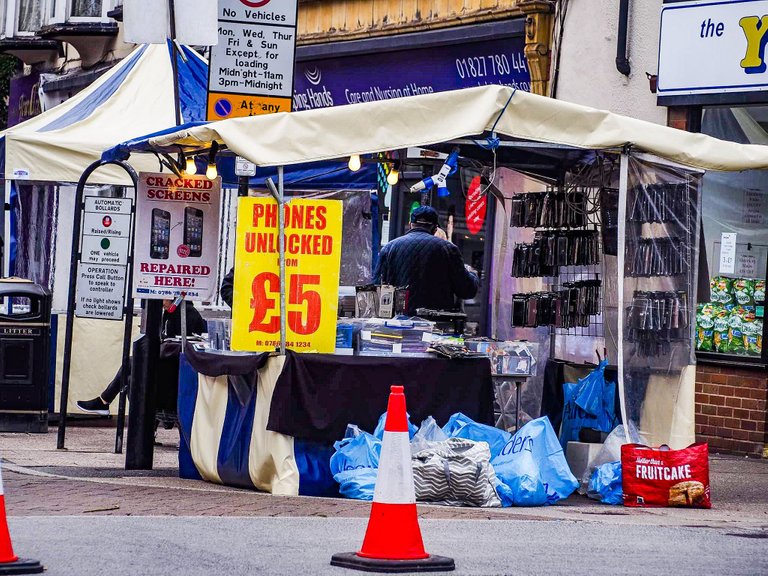 There's never a town without memorable characters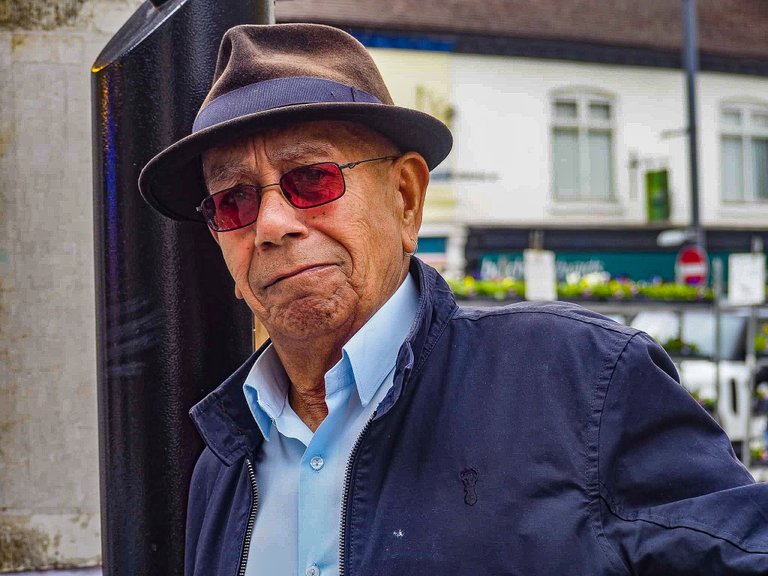 This lovely chap and I has a good chat. He quickly identified with me, as his dad is originally from Barbados, and he himself has visited and spent time in Jamaica, my homeland.
He has many tales, and we both had good laughs.
In fact, when I told him that I visiting the town specially for photography of the market, and that I live on a narrowboat, he remarked:
"The best thing about living on a narrowboat is that if you do not like your neighbour, you just move."
I complimented his accurate viewpoint!😜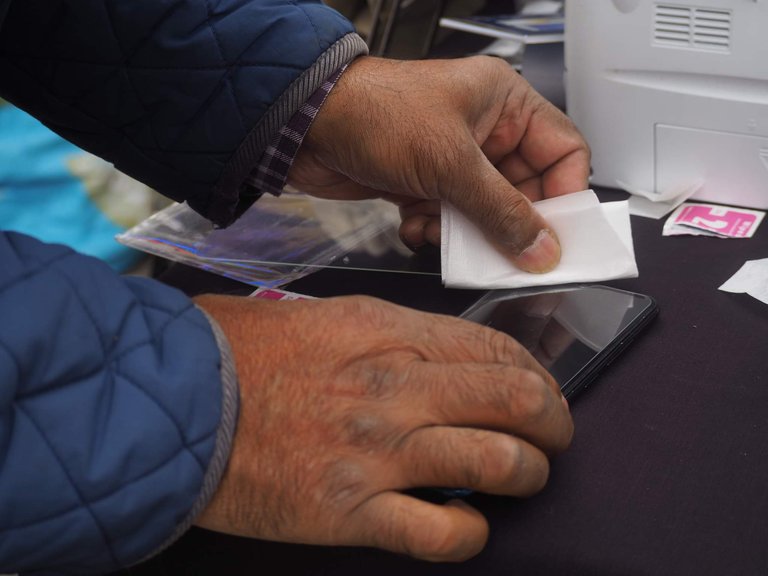 I decided to change my scratched screen protector. Although they were not familiar with my Vivo phone from the Philippines, with tenacious effort, they found a similar size screen to apply. He and his companion made fun, and mentioned that my phone looked like it has been around the world. A fact indeed!
I'm not a big phone user, so I don't see the need to invest in or update my phones, unless they die.
---
Street Scenes
Busker #JasonAllan has a pretty decent voice.
Smooth, good range, and controlled vocals.
He had a surrounding audience of ladies on all fours, and floored, in awe.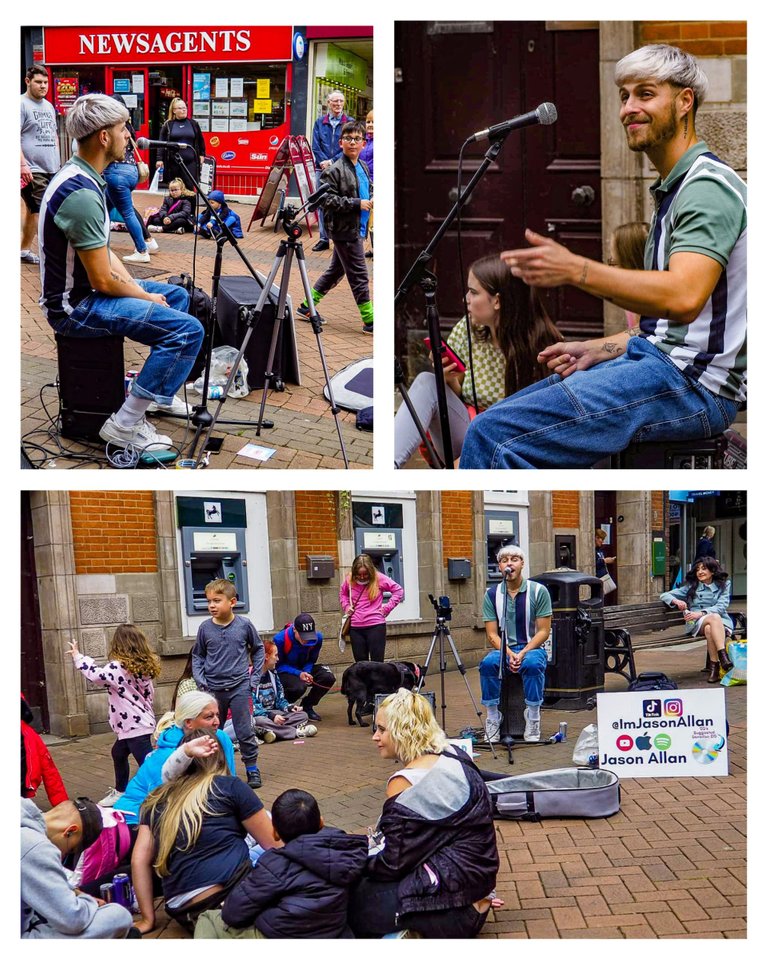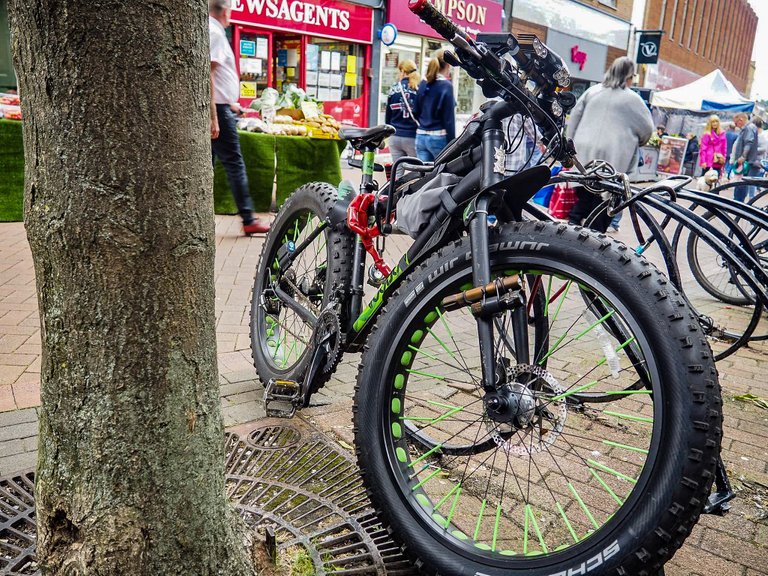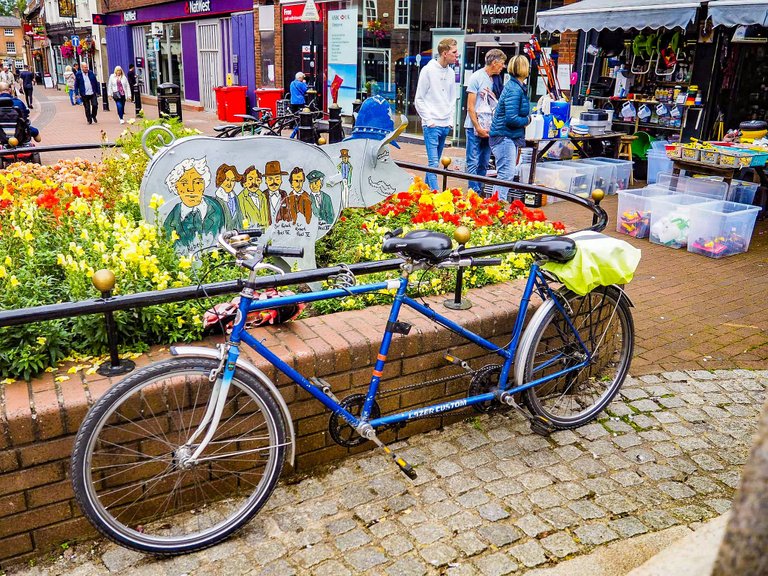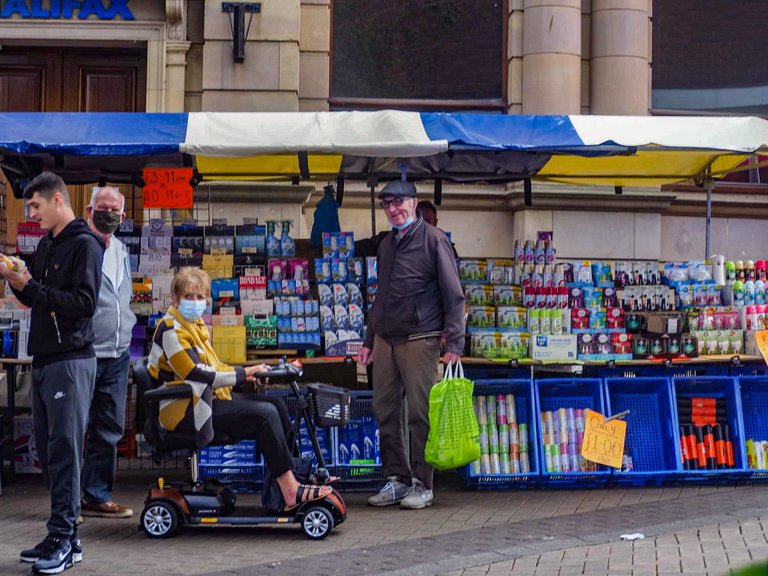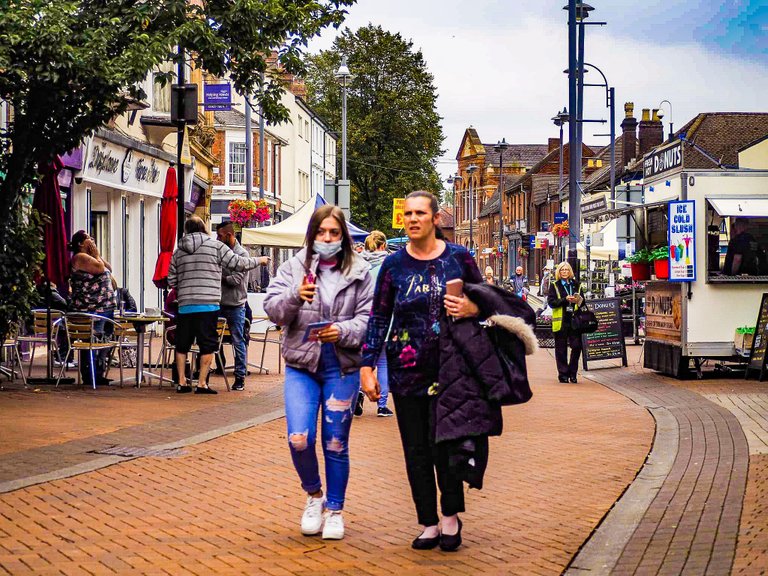 ...yes, they got the dress code memo...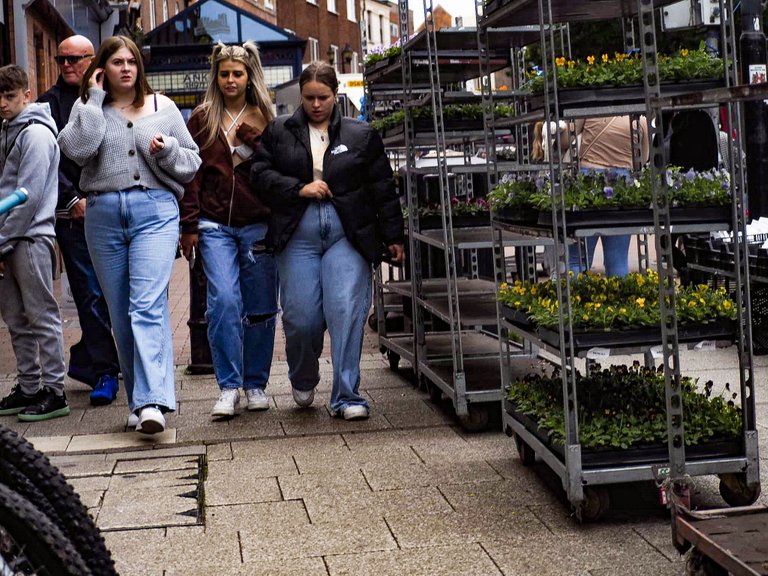 Happy faces everywhere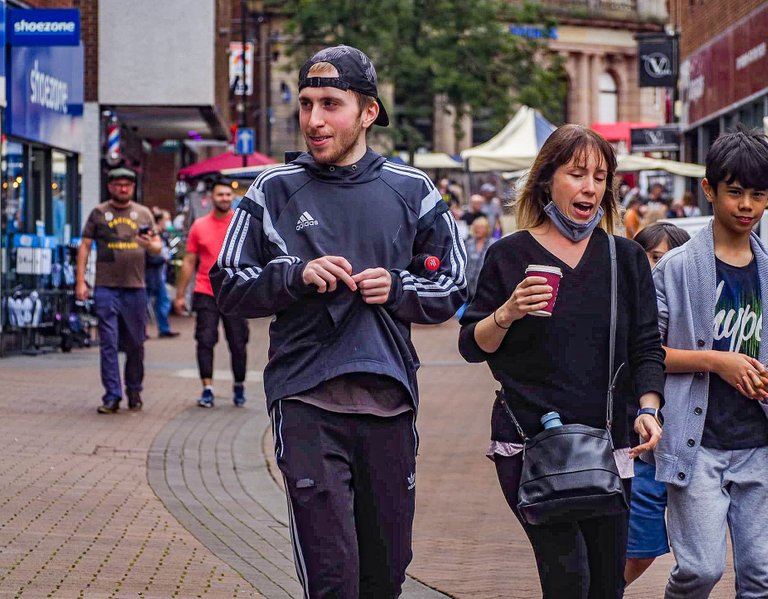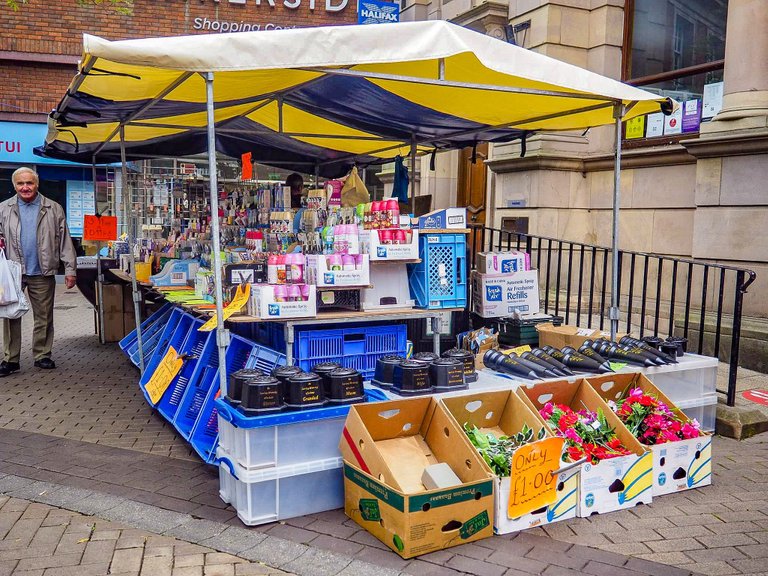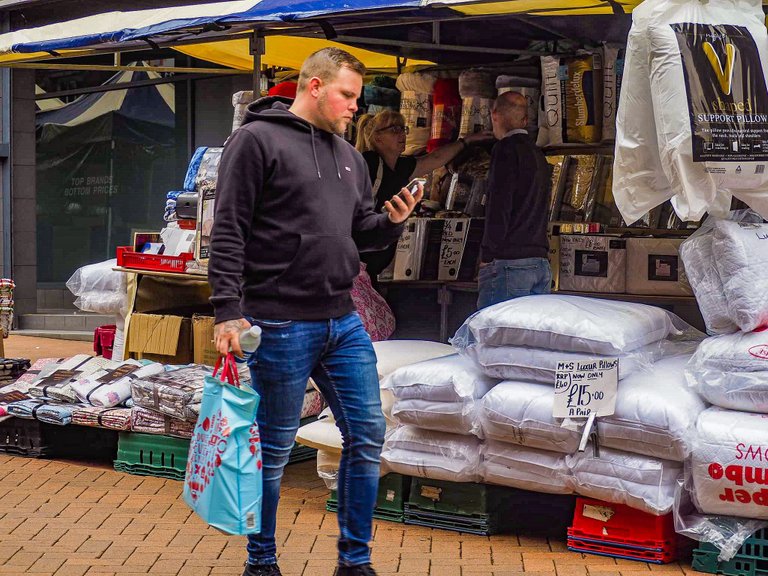 Who, What, Where, When, Why?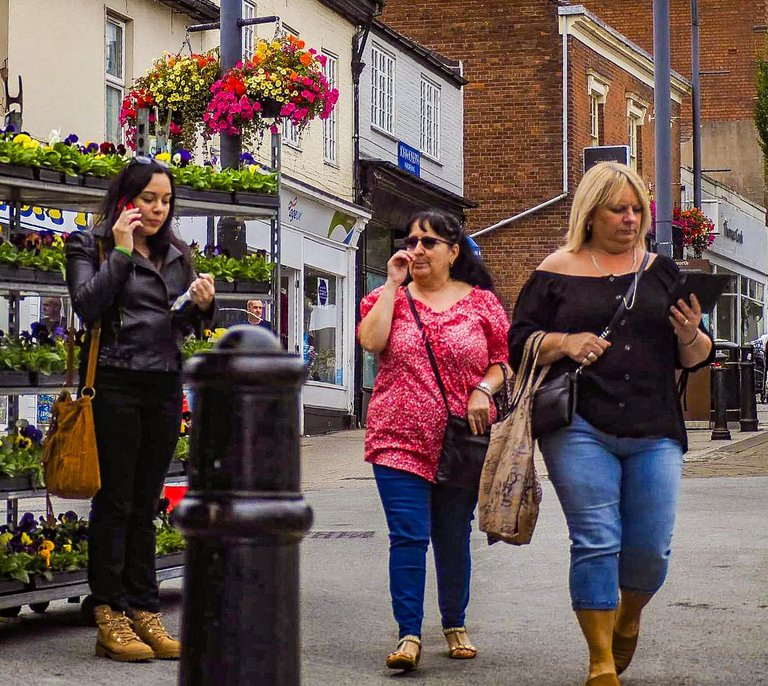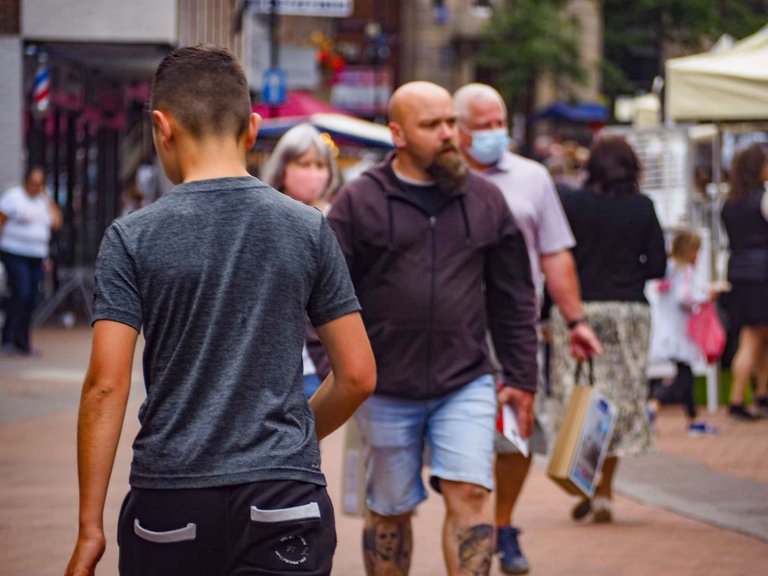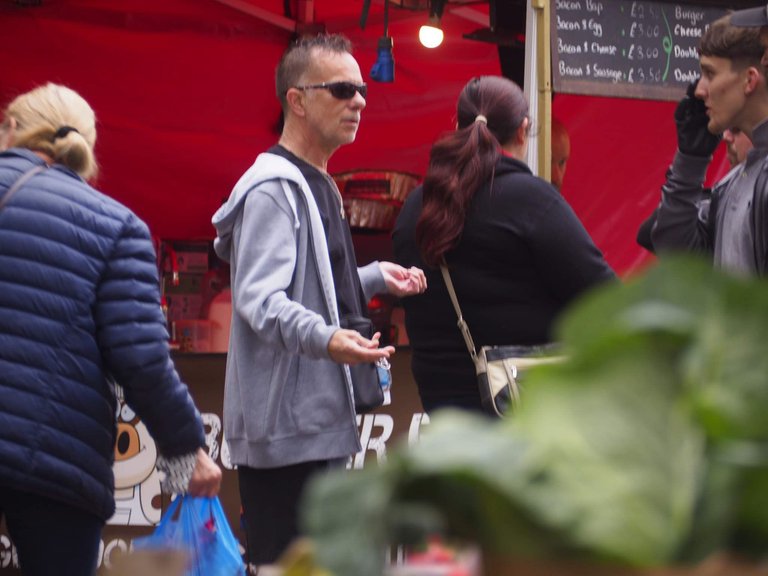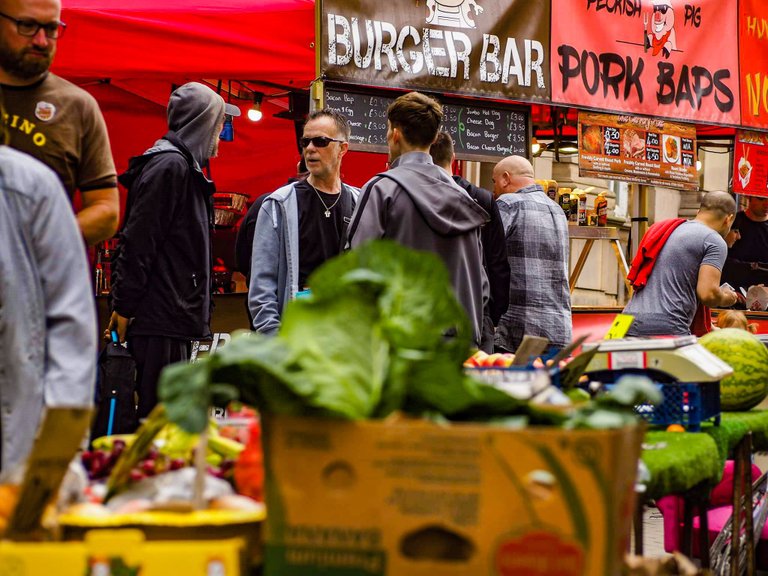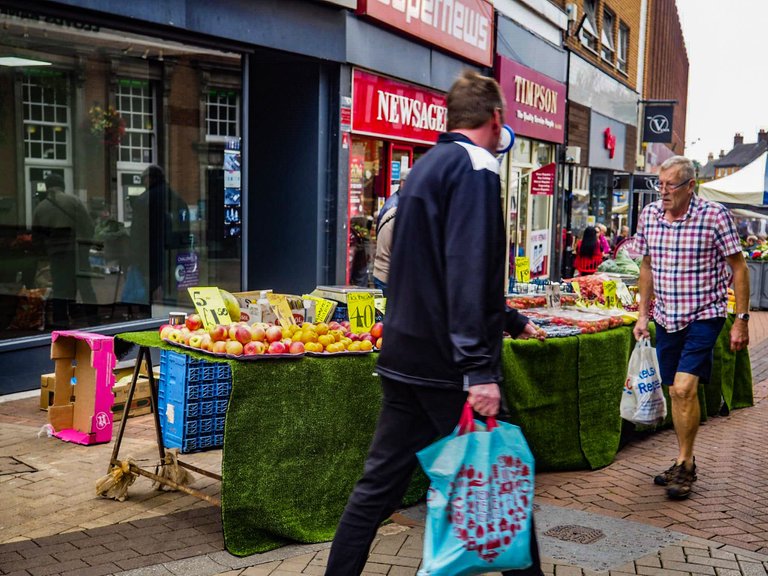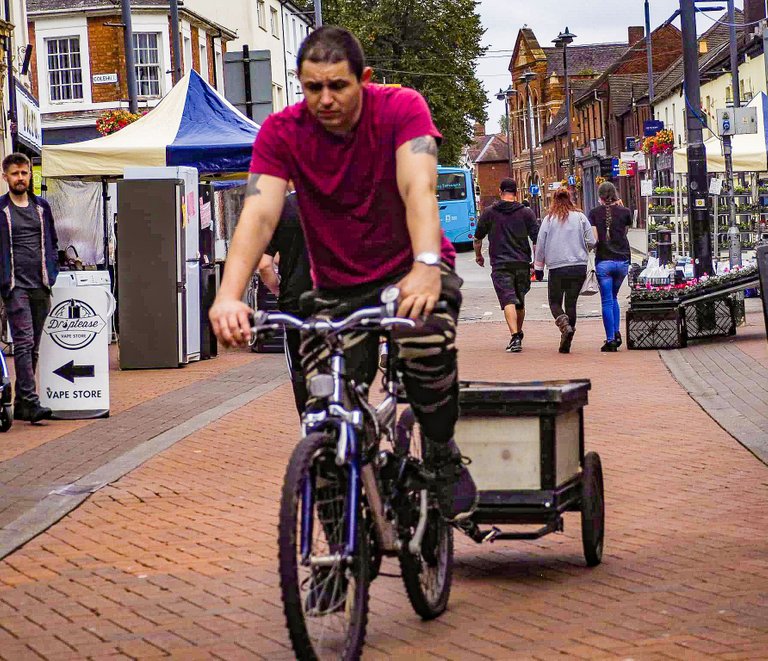 ---
Food stalls provided a nice aroma throughout the town
I love a nice juicy sausage !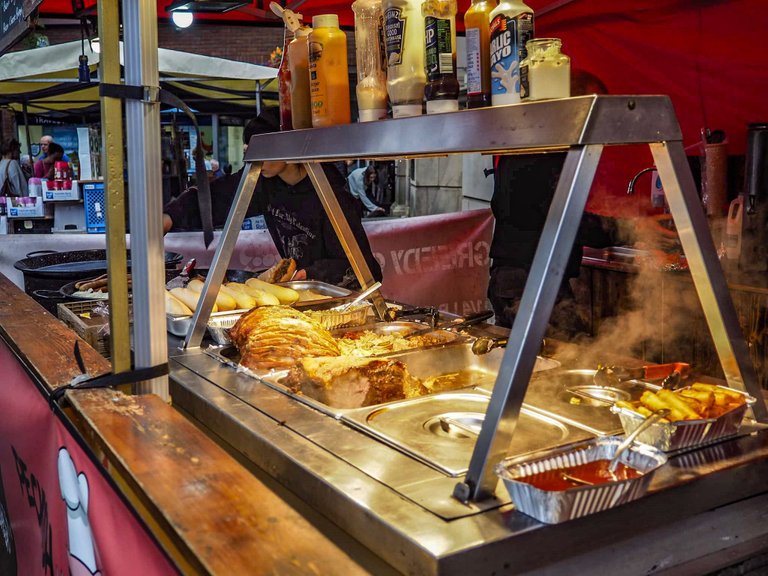 The smell made me feel peckish, but I resisted having any of it.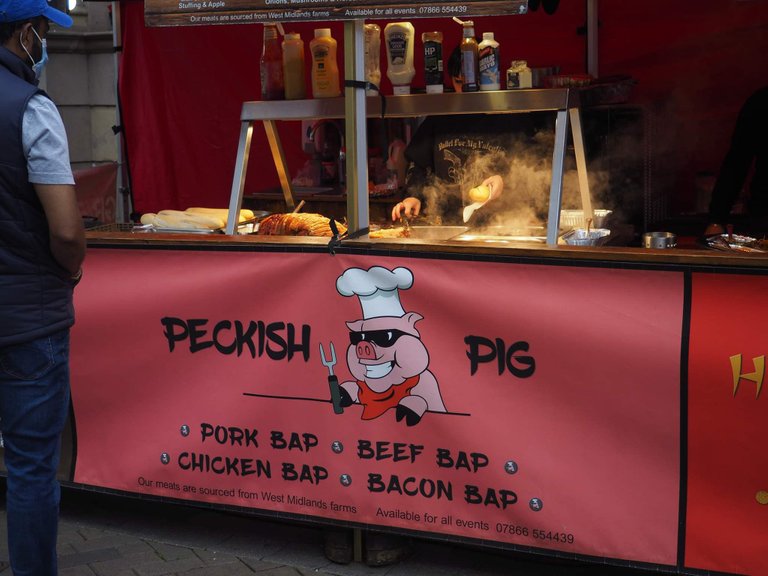 After passing here a few times, they could have been referring to me...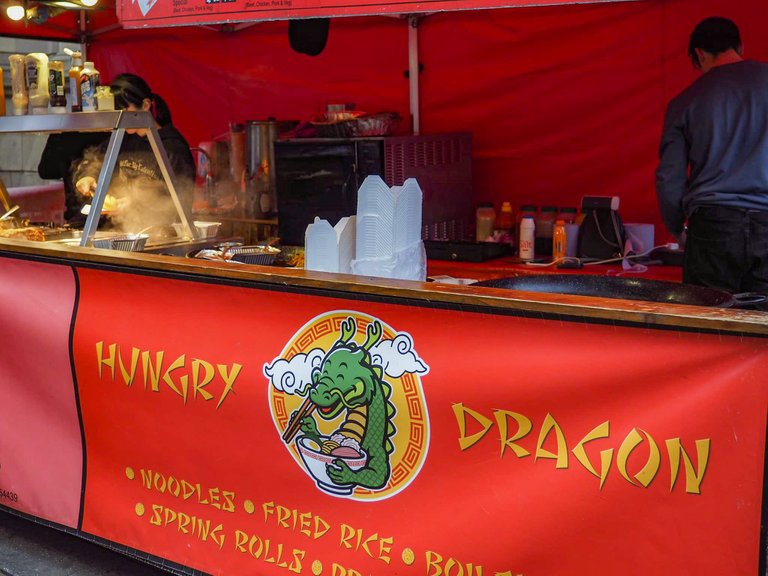 I blanked my eyes while passing this food cart.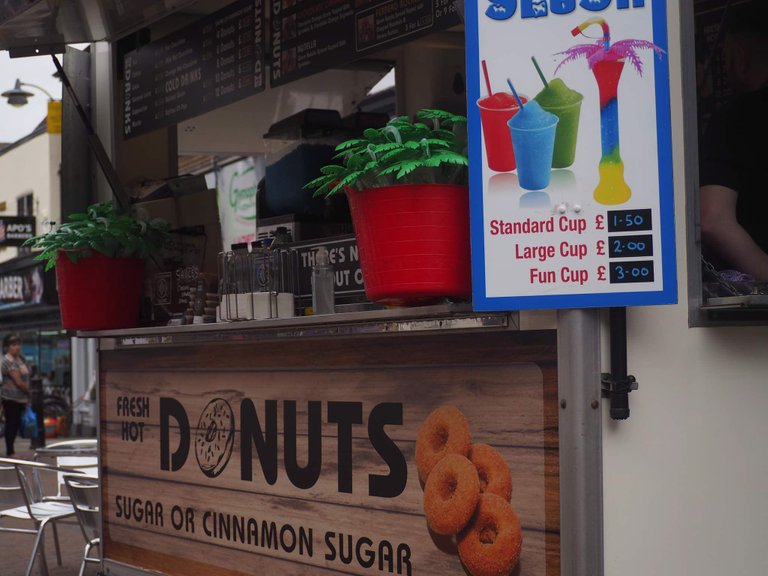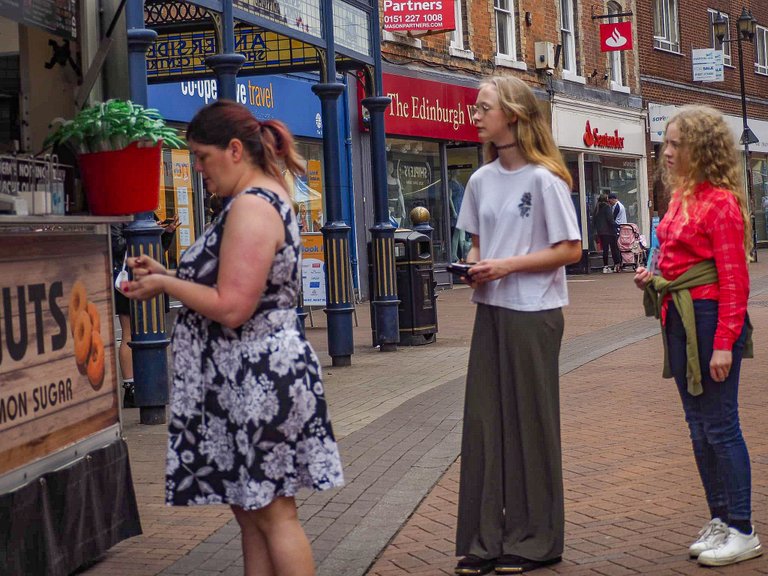 A Noticeable Pair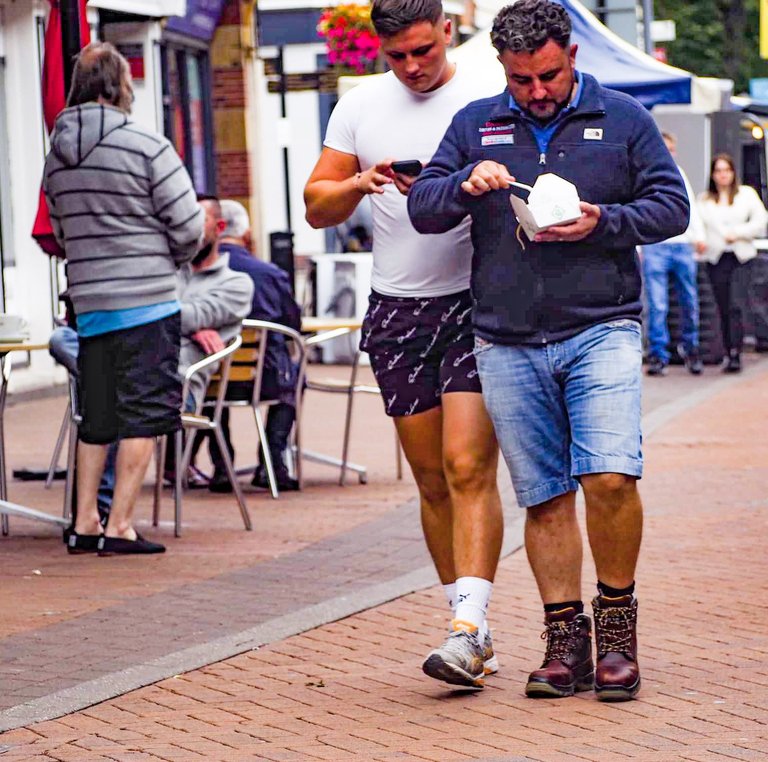 ---
Clothes Stalls along the streets with unique pieces and high street fashion at reduced prices.
Marks & Spencer was a popular brand.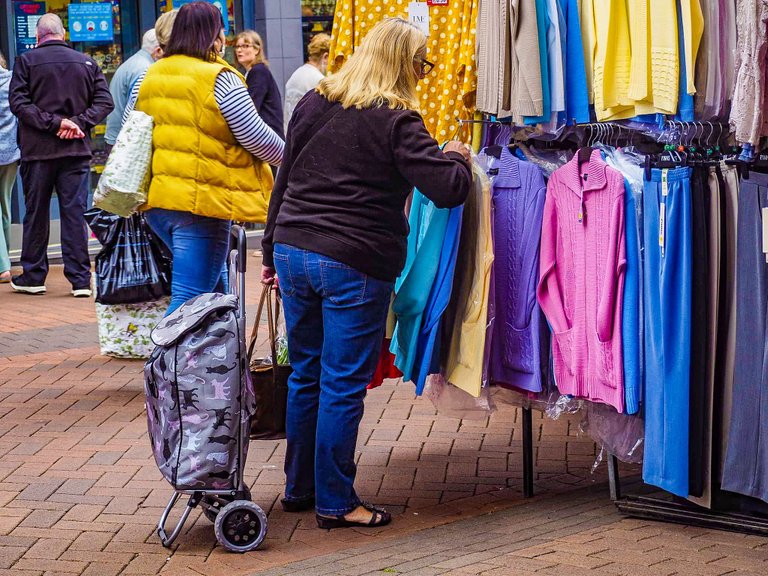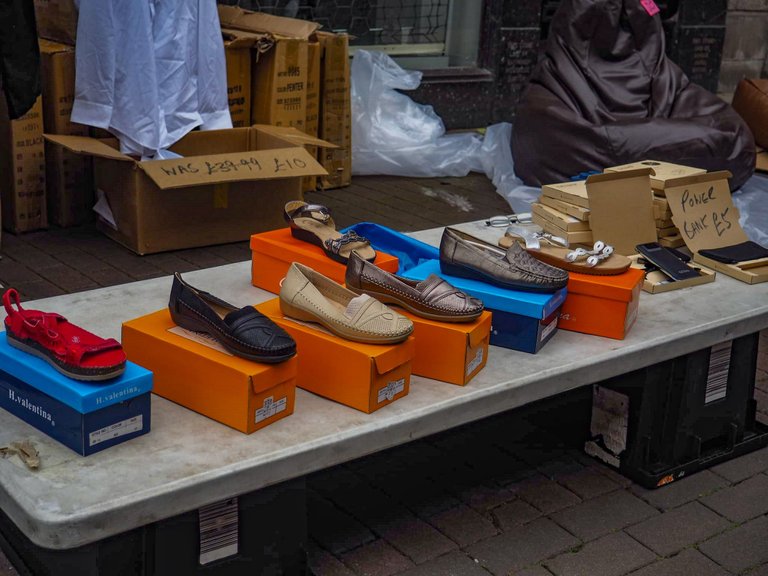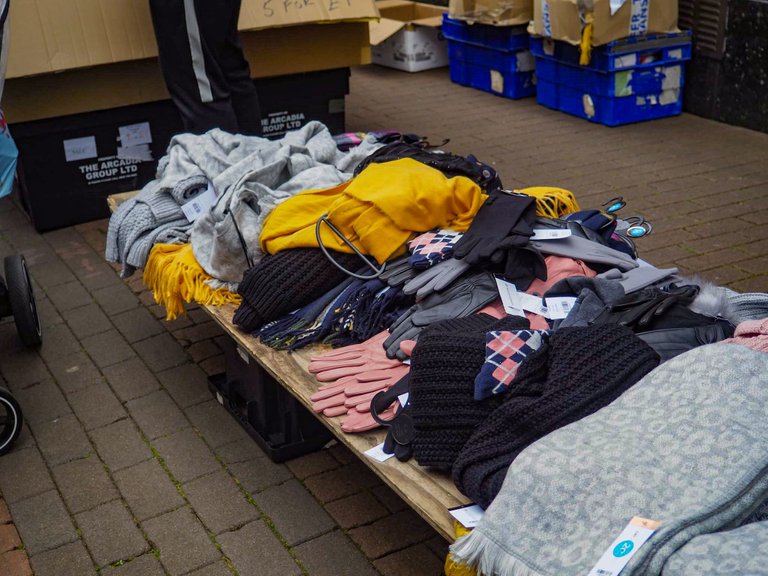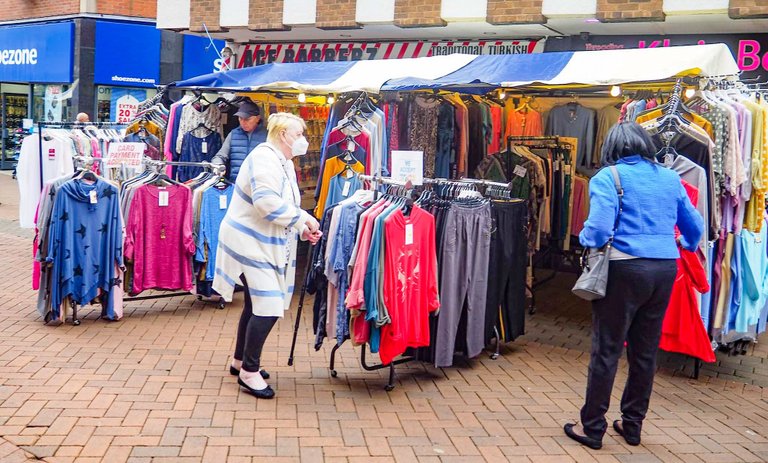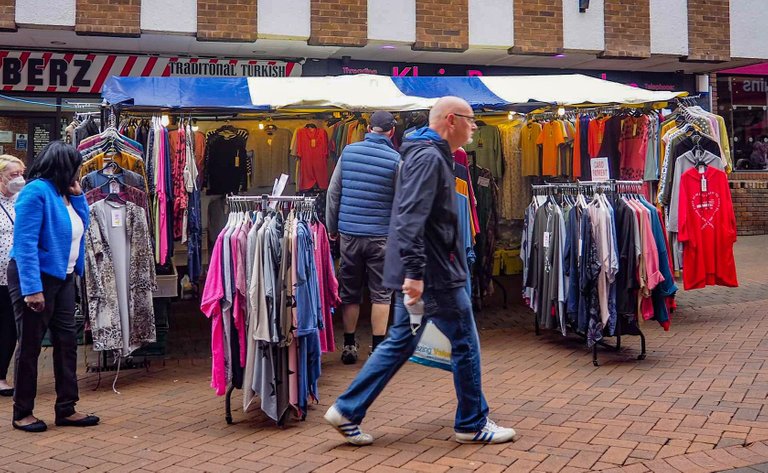 ---
Snug, Comfy Pillows & Bedding For Sweet Dreams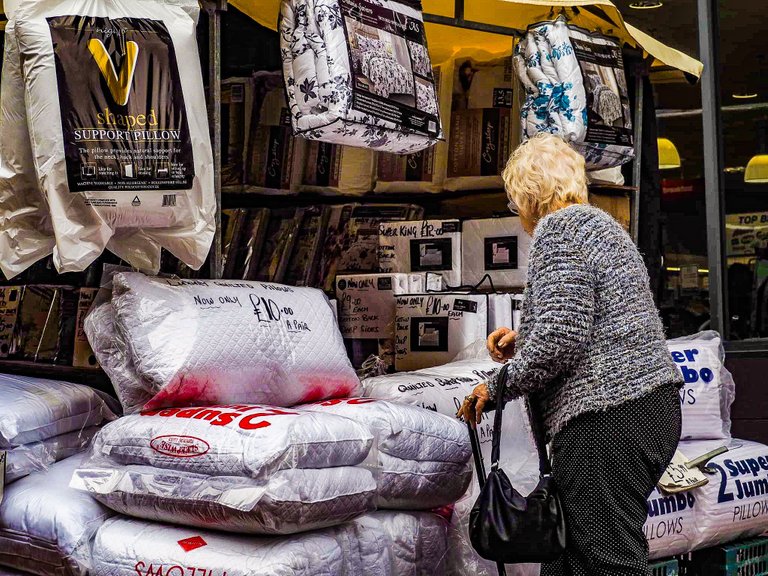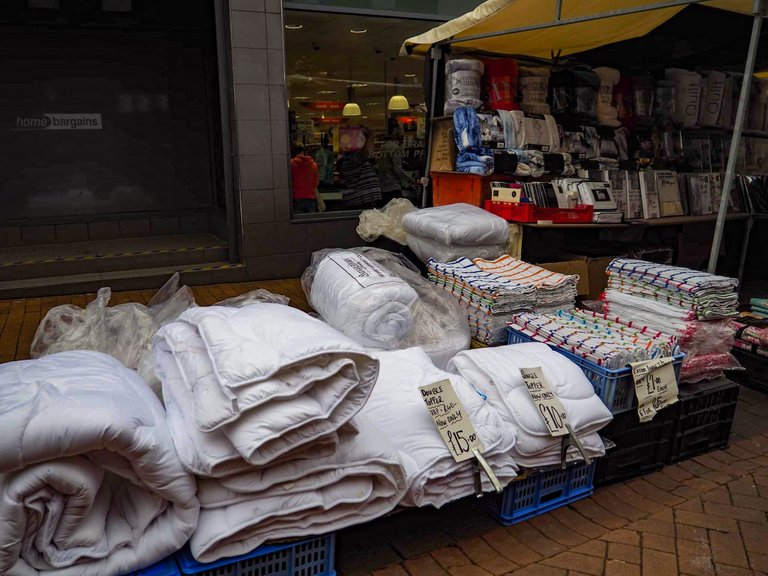 Should she get another plant?, she wonders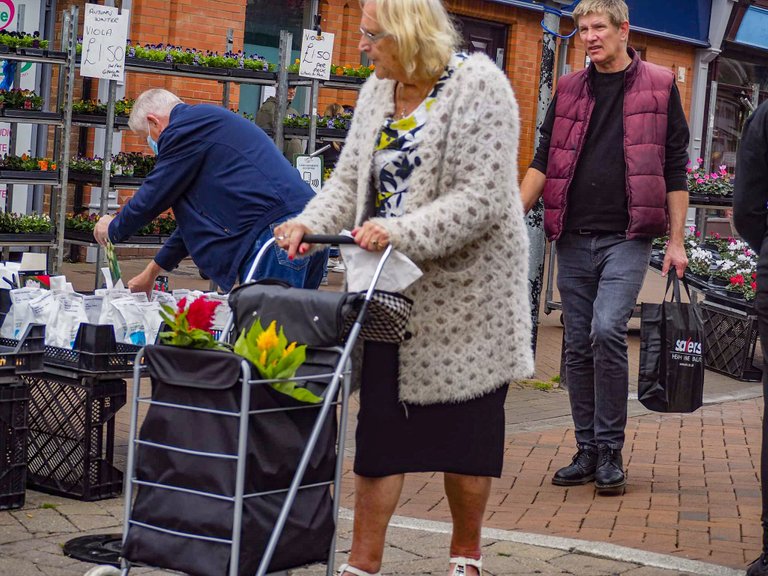 ---
Antiques
Excited silver ladies with palpitating hearts & feasting eyes.
So funny watching them.
We all can relate to seeing items from our younger days that evoke happy memories.
Their minds are sharp; they enquire about availability of specific colours and sizes.
I love older folks. So much to learn from them!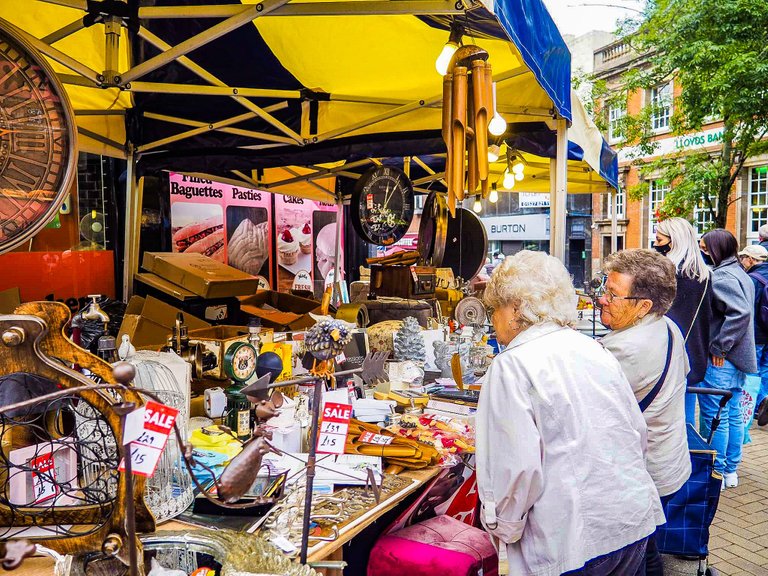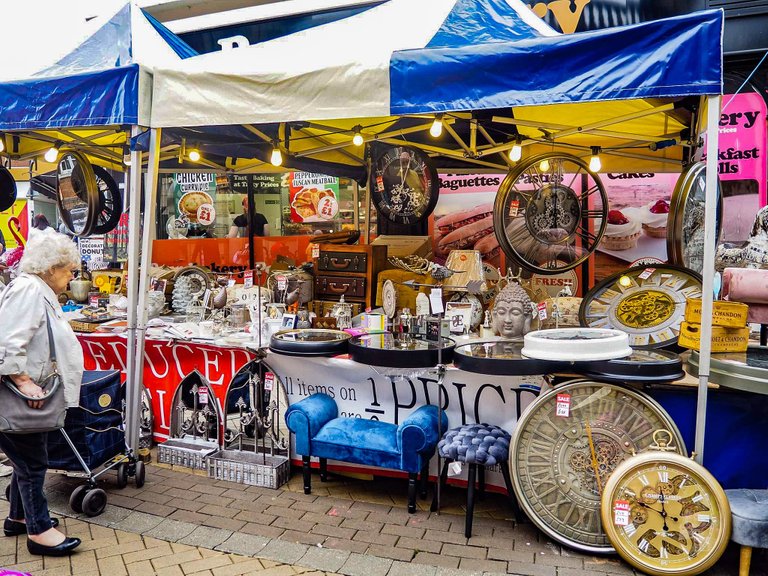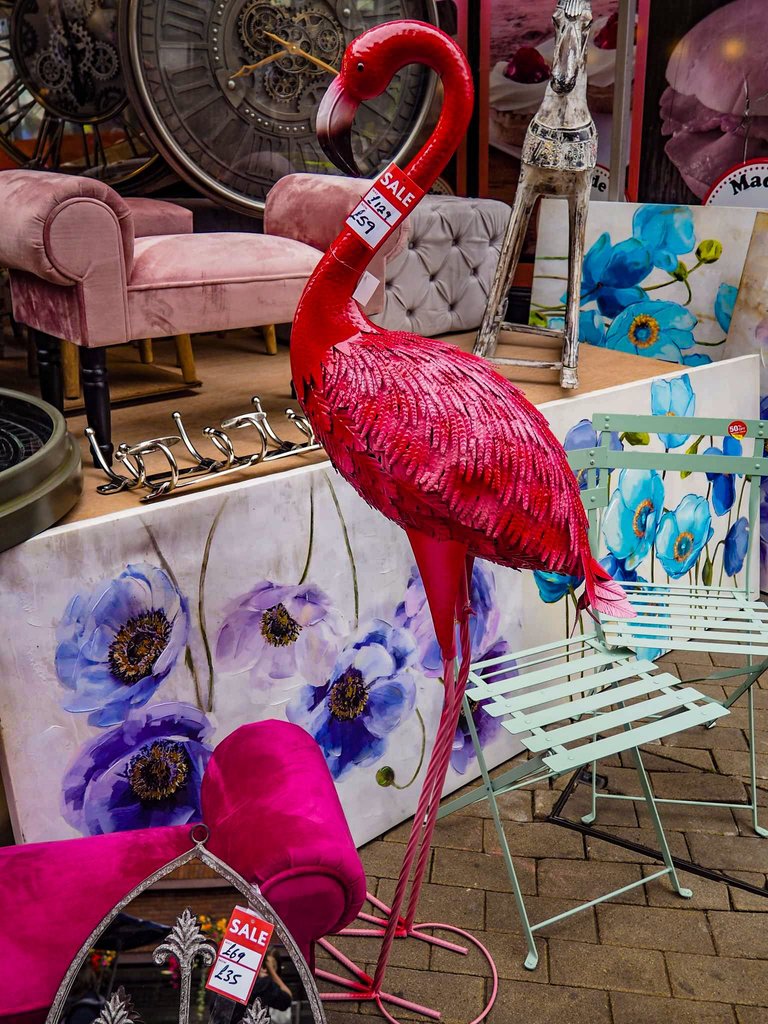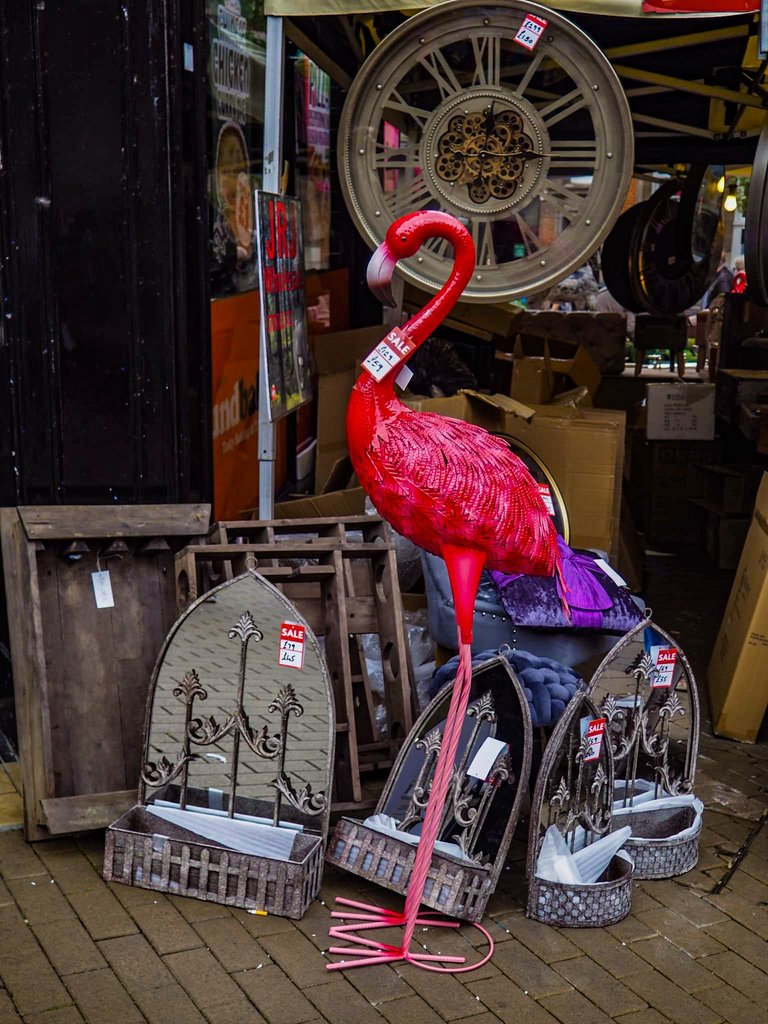 ---
Zoom-in ... "Gold Finger" (Fresh Fruit Anyone?)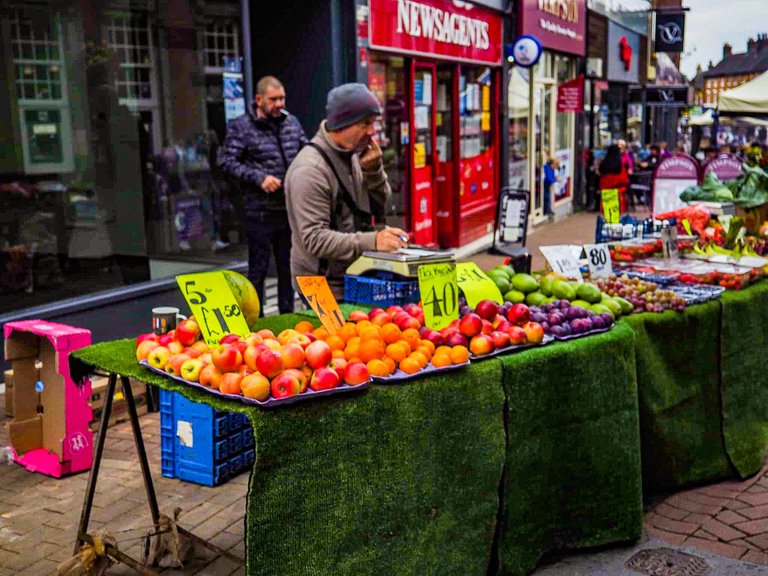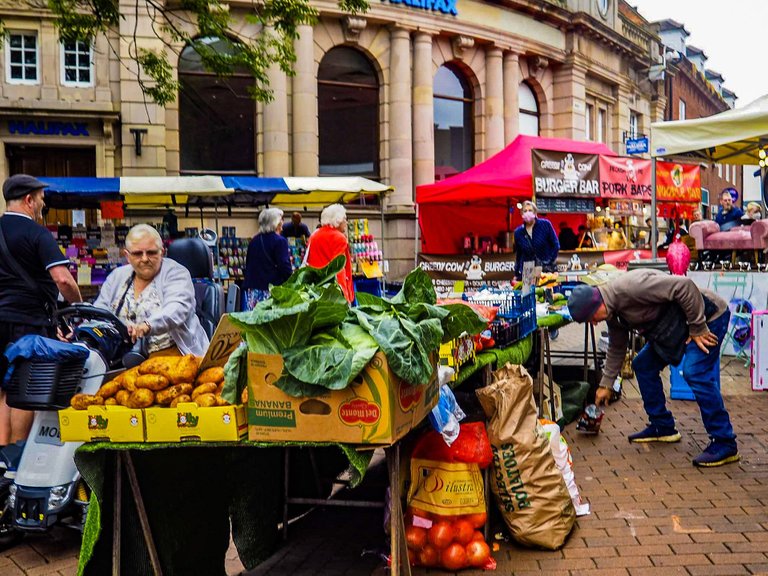 ---
It was a long wait for Market day, and throughout the week I kept hoping that the weather would be great for my anticipated day.
It was indeed.
Not too hot, not cold...no wind, luckily!?
I had a pleasant walk to the town, and had chats with some friendly locals who love and enjoy living in Tamworth.
Truthfully, it might not be one of the most modern developed towns, or cities in the UK, but from observation, its a fairly affluent town in a relatively appealing and convenient rural area of the UK.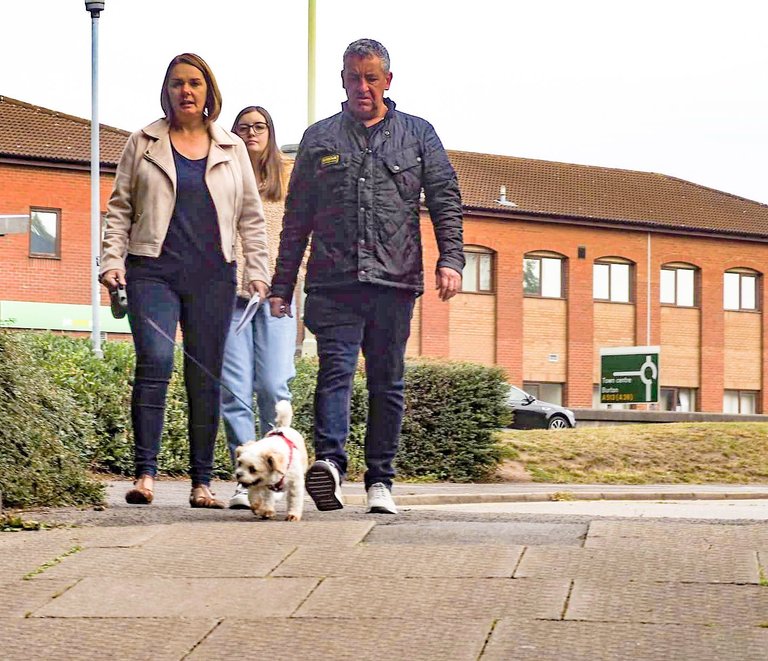 As I said, street photography fills a void; and I'm eager to resume my nomadic way of life, as soon as our narrowboat's new engine is installed, tested, and approved.
Thank you for stopping by and reading about my day spent roaming the streets of Tamworth on Market Day.
---
---