New Year's Eve 2022 / Celebrating with Family -Initiative- [Ing-Esp]
💕¡Feliz Año, gente linda!
💕Happy New Year, beautiful people!
Here's to a New Year full of blessings, health, prosperity and renewed joys for all hive friends and especially for the lovers of this wonderful community
@family
&friends. I am an eternal fan of the Christmas holidays, because it is a propitious time to share with our loved ones, which is why today I join the beautiful Christmas 2022 initiative, where I recall how I spent the last hours of the year 2022 and the importance of maintaining family unity.
Brindo por un Año Nuevo portador de muchas bendiciones, salud, prosperidad y alegrías renovadas para todos los amigos de hive y especialmente para los enamorados de esta maravillosa comunidad de
@family
&friends. Soy una eterna fanática de las fiestas decembrinas, porque es un tiempo propicio para compartir junto a nuestros seres queridos, es por esto que hoy me sumo a la bonita iniciativa navideña 2022, en donde rememoro cómo pasé las últimas horas del año 2022 y la importancia de mantener la unidad familia.
---
---
I consider Christmas to be the most beautiful time of the year, because of the atmosphere that surrounds us, it is something magical that fills us with light, loving energy, kindness and generosity among human beings. This festive and joyful atmosphere is felt at home every day, from the moment I wake up I turn on the local radio station and there they play bagpipes, Christmas carols and very happy music with Christmas themes all day long.
Considero que la navidad es la época más bonita del año, por la atmósfera que nos envuelve, es algo mágico que nos llena de luz, de energía amorosa, de bondad y generosidad entre los seres humanos. Este ambiente festivo y cargado de alegría se siente en casa todos los días, desde que me despierto enciendo la emisora de radio local y allí ponen todo el día gaitas, villancicos y música muy alegre con temas navideños.
---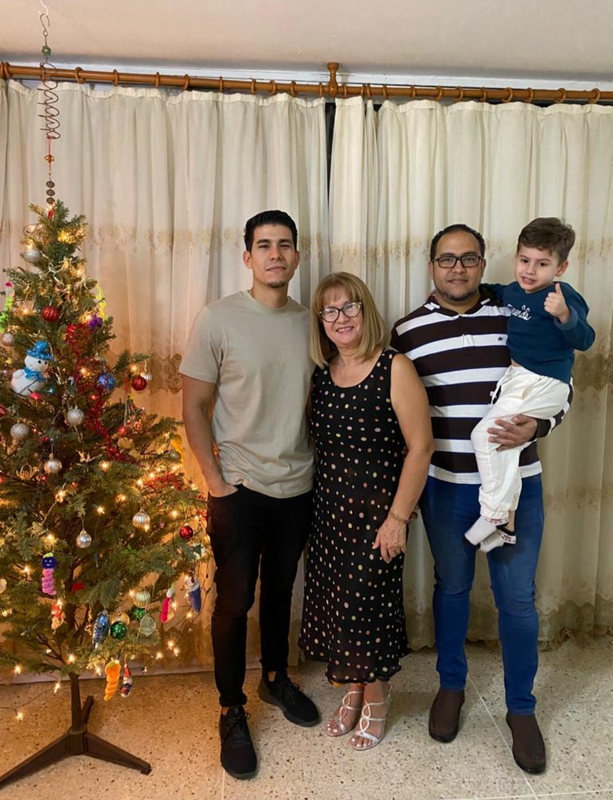 ---
The place of my most precious gifts is my home and my family, without luxuries and without ostenting great things; as we get older we become more aware that the most precious thing we have is the family. It usually happens that when God disposes and some members of the family fly to his presence is when we value our loved ones in their right measure and then the fact of being together and sharing is sacred.
El lugar de mis regalos más preciados es mi casa y mi familia, sin lujos y sin ostentar grandes cosas; a medida que avanzamos en edad nos volvemos más conscientes que lo más preciado que tenemos es la familia. Suele ocurrir que cuando Dios dispone y algunos integrantes de la familia vuelan a su presencia es cuando valoramos en su justa medida a nuestros seres queridos y entonces el hecho de estar juntos y compartir es sagrado.
---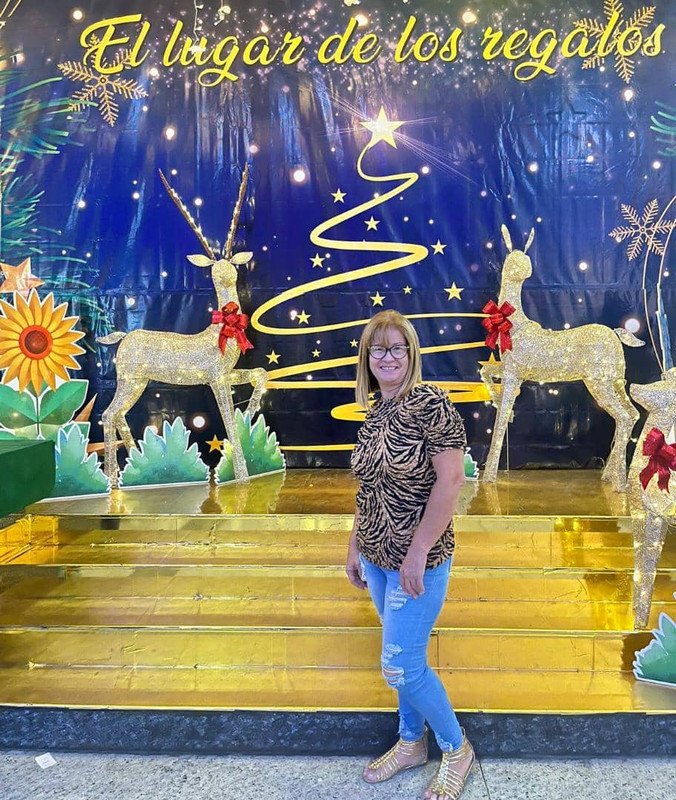 ---
What I like most about the Christmas season is undoubtedly to see my family together and happy. My desire to wear new clothes and shoes is a thing of the past, now I value and appreciate more the fact of receiving the New Year in blessed family union and although I traveled to Caracas to spend Christmas with my children, I was also very excited to return with them to Cumana to be with my mom. I was delighted to see my children happy on December 23 when we prepared the hallacas for Christmas dinner and they started making travel plans to please me.
Lo que más me gusta de la época decembrina es sin lugar a dudas, ver a mi familia junta y alegre. En el pasado quedaron mis ganas de estrenar ropa y zapatos, ahora valoro y aprecio más el hecho recibir el Nuevo Año en bendecida unión familiar y aunque viajé a Caracas para pasar las navidades con mis hijos también me hacía mucha ilusión regresar con ellos hasta Cumaná para estar con mi mamá. Me encantó ver a mis hijos felices el 23 de diciembre cuando preparamos las hallacas para la cena de navidad y empezaron a hacer planes de viaje para complacerme.
---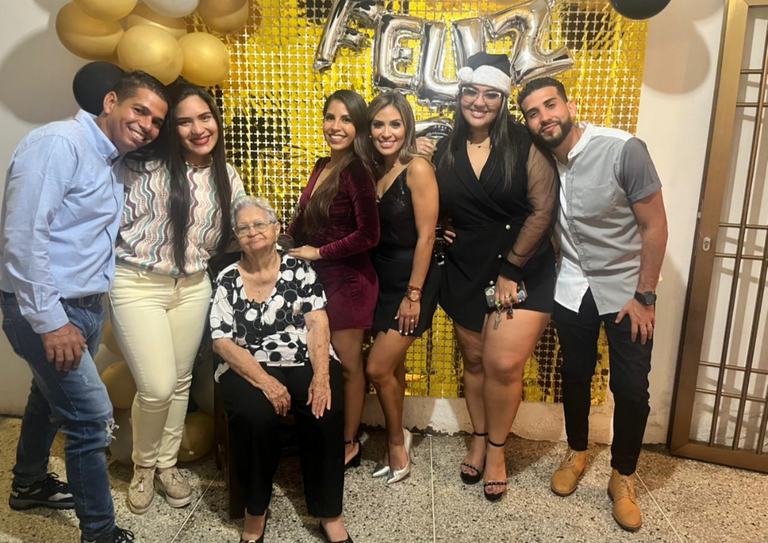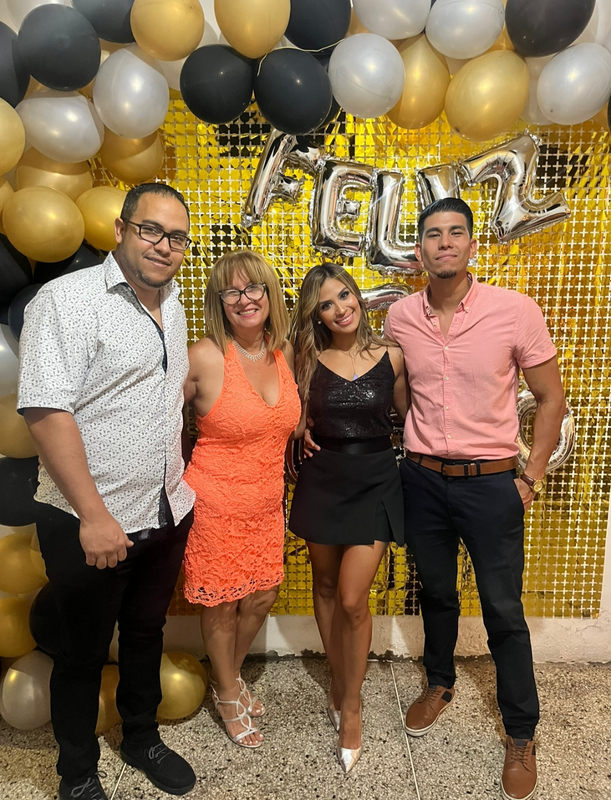 Con mis hijos y mi yerna // With my children and my daughter-in-law
---
As you already know, many Venezuelans have migrated to other countries and in their homes the joy is not complete, the absence of their loved ones who are far away is felt. But I tell you that this December 2022, I was very happy because my son and my daughter-in-law who had six years in Ecuador returned to Venezuela and likewise my three nephews also returned with their wives, children and even brought the dogs they bought abroad, these pets filled with love the emptiness they felt away from their families.
Como ustedes ya saben muchos venezolanos han migrado a otros países y en los hogares la alegría no es completa, se siente la ausencia de los seres amados que están lejos. Pero les cuento que este diciembre 2022, estuve muy contenta porque mi hijo y mi yerna que tenían seis años en Ecuador regresaron a Venezuela e igualmente mis tres sobrinos también retornaron con sus esposas, hijos e incluso se trajeron los perritos que compraron en el exterior, estas mascotas llenaron con amor el vacío que sentían lejos de sus familias.
---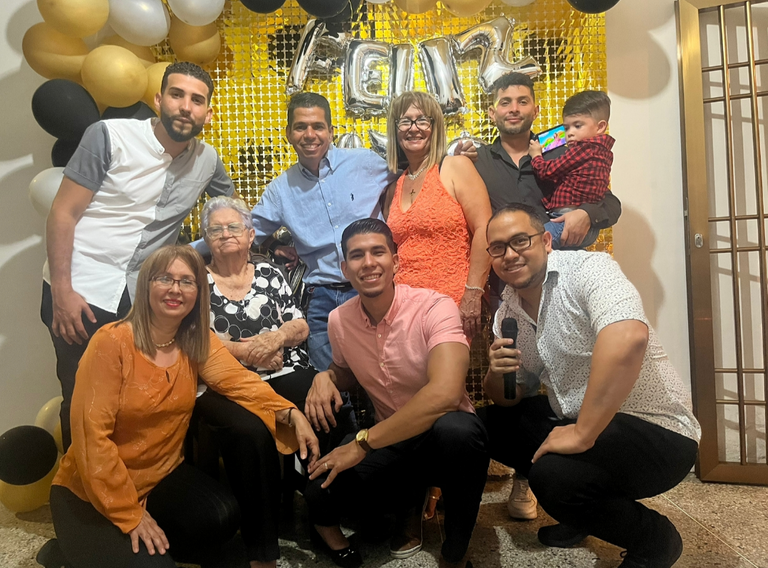 Mi mamá con sus dos hijas y todos sus nietos // My mom with her two daughters and all her grandchildren
---
I couldn't believe it: going to Cumana to welcome the new year with my mom and the rest of the family was my dream. Getting together and between music, jokes and happy chats to make the desired hallacas was truly a plus, I enjoyed it to the fullest!
No lo podía creer: irnos todos a Cumaná a recibir el nuevo año con mi mamá y el resto de la familia era mi sueño. Reunirnos y entre música, chistes y alegres charlas hacer las deseadas hallacas fue verdaderamente un plus. ¡Lo disfruté al máximo!
---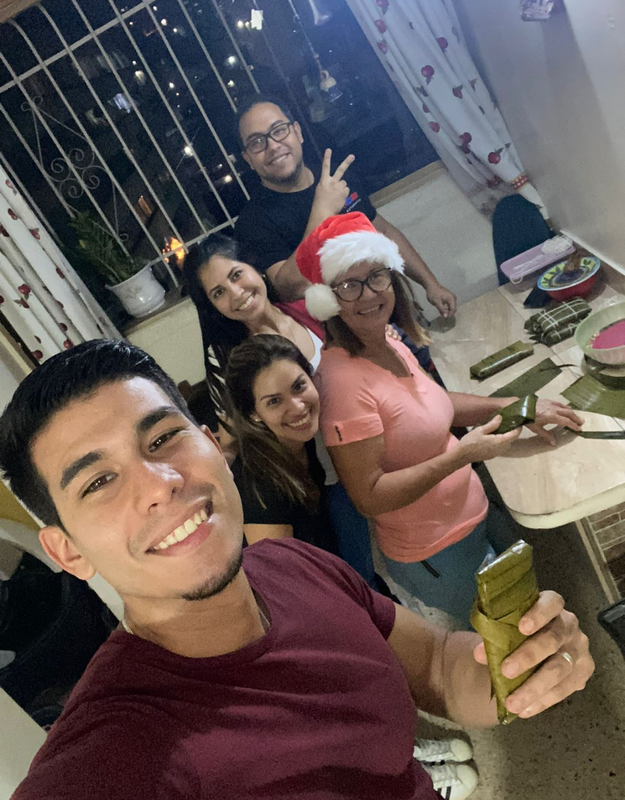 ---
I am very happy to have my loved ones at home again, this time we made the hallacas in the apartment in Caracas, my daughter-in-law; whose name is Geraldine was very enthusiastic and started in the kitchen making the stew for the hallacas. Maria, the wife of a nephew; also helped us in the preparations, I made the dough and the Christmas rolls. My children tied and cooked the hallacas. And so we all collaborated to make the hallacas and laughed about our graces.
Estoy muy contenta de tener a mis seres queridos en casa nuevamente, esta vez hicimos las hallacas en el apartamento en Caracas, mi yerna; que se llama Geraldine se entusiasmó y se inició en la cocina haciendo el guiso para las hallacas. María, la esposa de un sobrino; también nos ayudó en los preparativos, yo hice la masa y los bollitos navideños. Mis hijos amarraron y cocinaron las hallacas. Y así todos colaboramos para hacer las hallacas y reímos de nuestras gracias.
---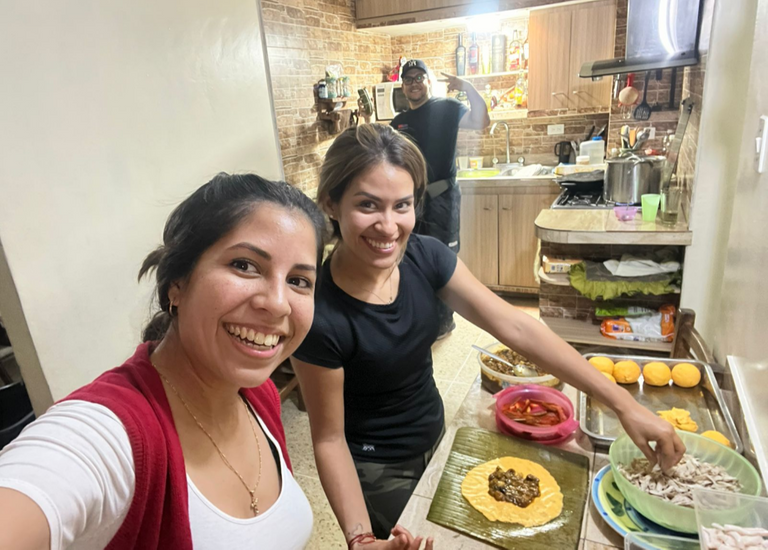 ---
It was fun to joke around and something very funny happened to us, the joke was that we bought a package of banana leaves that yields to wrap fifty hallacas and 53 hallacas came out and there were leaves left over. It turned out that the girls didn't realize that we had to wrap the hallacas with banana leaves for a second time. Ha ha ha, we laughed heartily because we had to let go of the hallacas that were already tied. We will never forget this lesson for beginners.
Fue divertido bromear y nos pasó algo muy gracioso, el chiste fue que compramos un paquete de hojas de plátanos que rinde para envolver cincuenta hallacas y salieron 53 hallacas y además sobraron hojas. Resultó que las chicas no se percataron que faltó darle una segunda envoltura con las hojas de plátano a las hallacas. Ja jajá, reímos con ganas porque tuvimos que soltar las hallacas que ya estaban amarradas. Nunca olvidaremos esta lección de principiantes.
---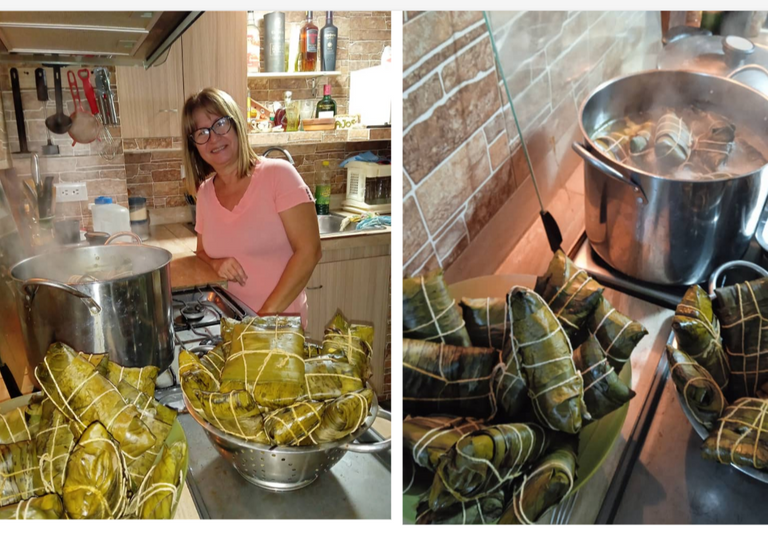 ---
Following the Christmas tradition on December 24th we gathered at home my children, my grandson, a nephew with his wife and son and we also invited to our dinner a brother and a cousin of Geraldine because most of her relatives are in Panama and her cousin was alone because his mother passed away a year ago and his brother left this year for Spain. It was great to draw smiles on their faces and share our joy with them. That night we finalized the details to go to receive the new year in Cumana, our beloved hometown.
Siguiendo la tradición navideña el 24 de diciembre nos reunimos en casa mis hijos, mi nieto, un sobrino con su esposa y su hijo y también invitamos a nuestra cena a un hermano y un primo de Geraldine porque la mayoría de sus familiares están en Panamá y su primo estaba sólo porque su mamá falleció hace un año y su hermano se fue este año para España. Fue muy grato dibujar sonrisas en sus caras y compartir con ellos nuestra alegría. Esa noche concretamos los detalles para ir a recibir el año nuevo a Cumaná, nuestra querida ciudad natal.
---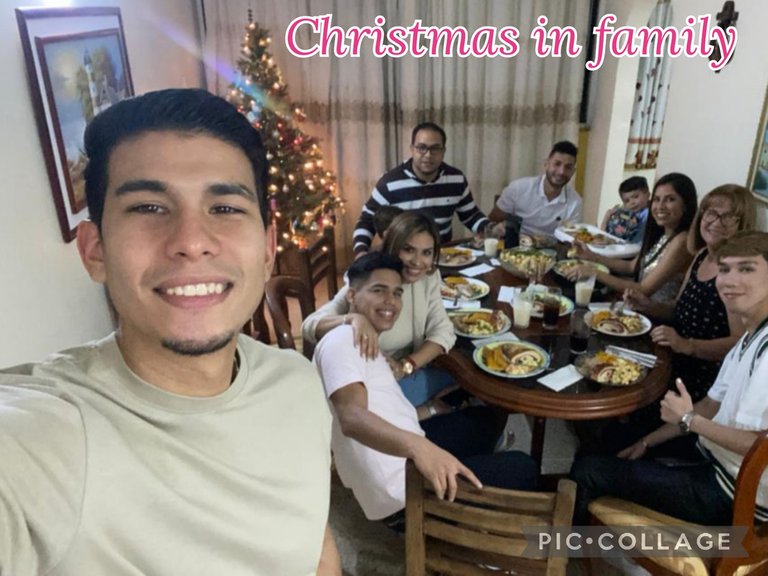 ---
With the first rays of sunshine, on December 29 we started our surprise trip to Cumana, needless to say I was happy. For years I waited for this moment, eight years ago there was a great family mourning, for various health reasons my father, my brother and my husband died, almost immediately my nephews and one of my sons emigrated. Christmas had lost its enchanting glow and tears usually won the day.
Con los primeros rayos de sol, el 29 de diciembre iniciamos nuestro viaje sorpresa para Cumaná, está demás decir que yo estaba feliz. Por años esperé este momento, hace ocho años hubo un gran luto familiar, por diversas razones de salud fallecieron mi papá, mi hermano y mi esposo, casi inmediatamente emigraron mis sobrinos y uno de mis hijos. Las navidades habían perdido su encantador brillo y generalmente las lágrimas nos ganaban la partida.
---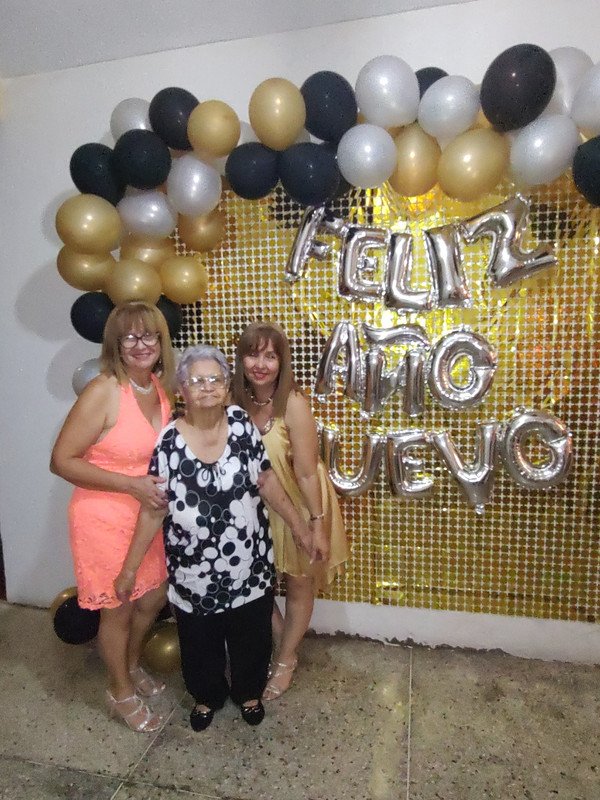 ¡Mi mamá, mi hermana y yo, muy contentas! // My mom, my sister and I, very happy!
---
I thank God for this great end of the year. We agreed to make a great dinner where my sister and everyone contributed with what they could, we brought hallacas, ham breads, salad, baked pork leg, cakes and drinks. So it was with music, singing to the sound of karaoke, jokes and happy chats that we gathered as a family to celebrate the arrival of a new year full of dreams and blessings.
Agradezco a Dios por este grandioso fin de año. Nos pusimos de acuerdo para hacer una gran cena donde mi hermana y cada quien colaboró con lo que pudo, llevamos hallacas, panes de jamón, ensalada, pernil al horno, tortas y bebidas. Fue así como entre música, cantando al son del karaoke, chistes y alegres charlas nos reunimos en familia para celebrar la llegada de un nuevo año preñado de sueños y de bendiciones.
---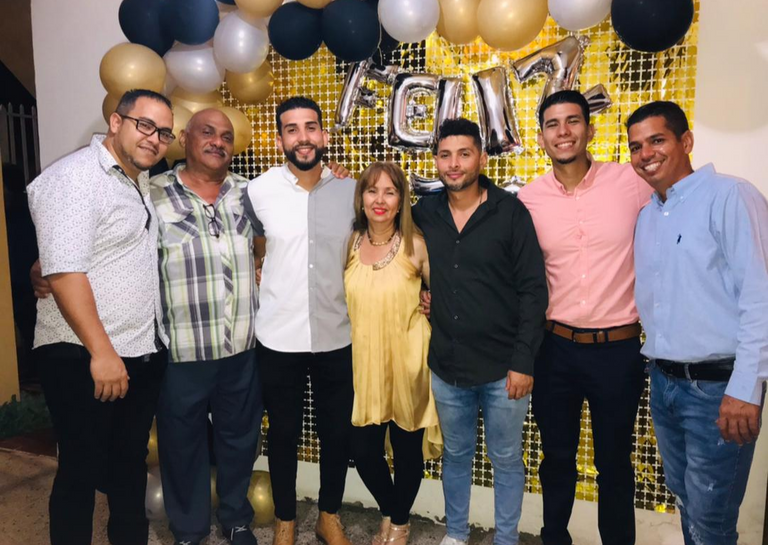 Mi hermana con su esposo, hijos y sobrinos
---
Congratulations, this year Marianni's family and Francys' family were added to our sharing, because thanks to God and love these beautiful girls from Cumana married my nephews. It is great to see how the family grows and to foster solidarity and union among relatives.
Enhorabuena, este año se agregaron a nuestro compartir la familia de Marianni y la familia de Francys, porque gracias a Dios y al amor estas lindas muchachas cumanesas se casaron con mis sobrinos. Es grandioso ver cómo aumenta la familia y propiciar la solidaridad y la unión entre parientes.
---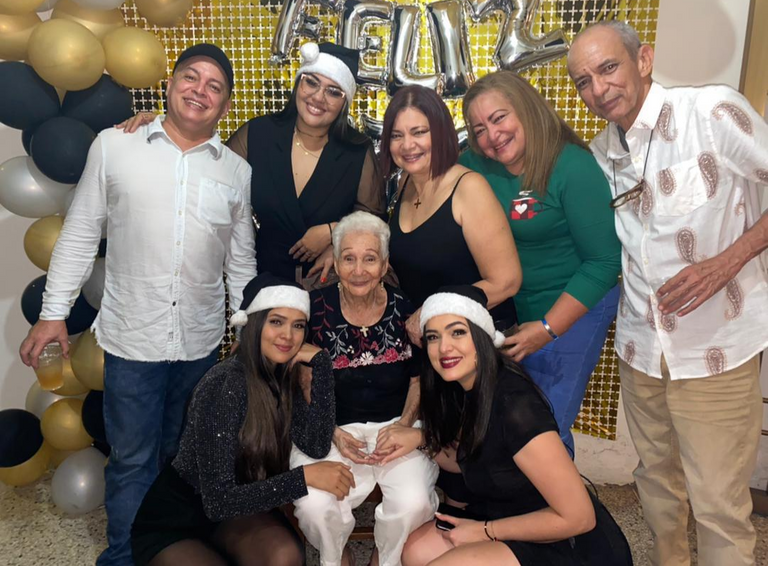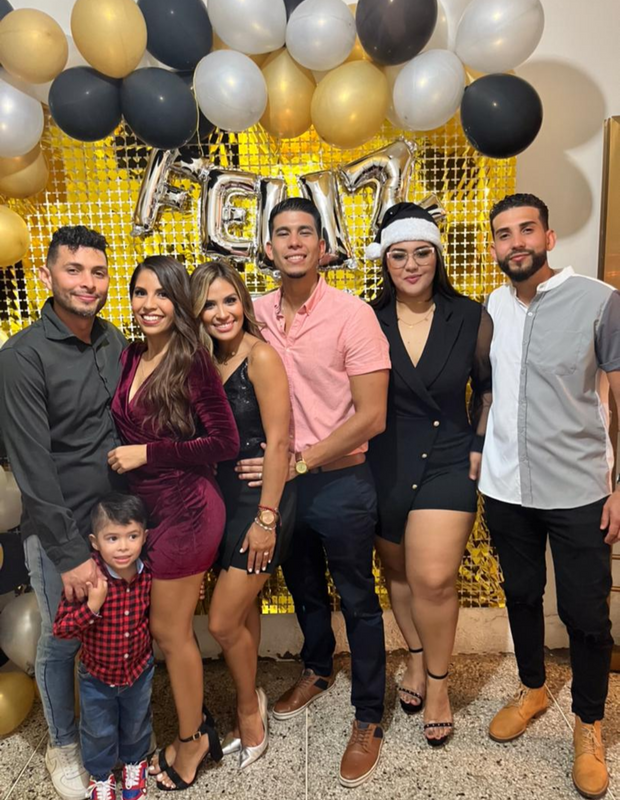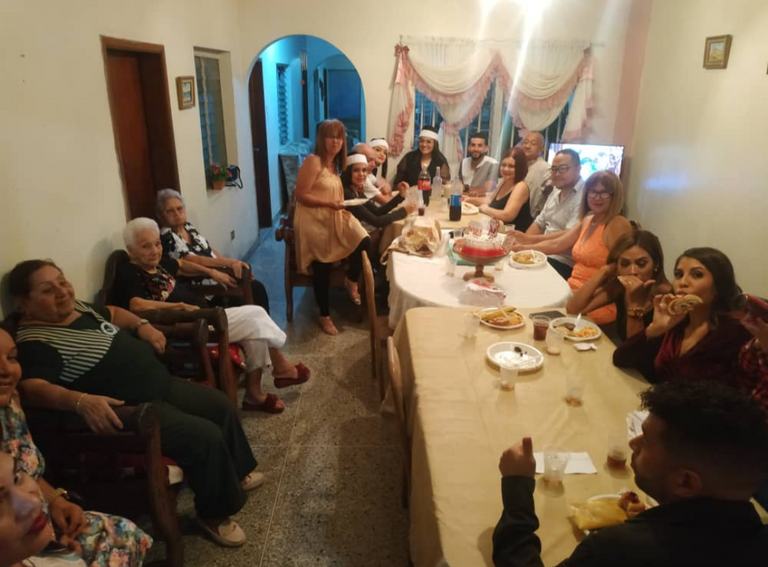 Las Abuelas cenaron temprano e igualmente nos acompañaron // The grandmothers had an early dinner and also accompanied us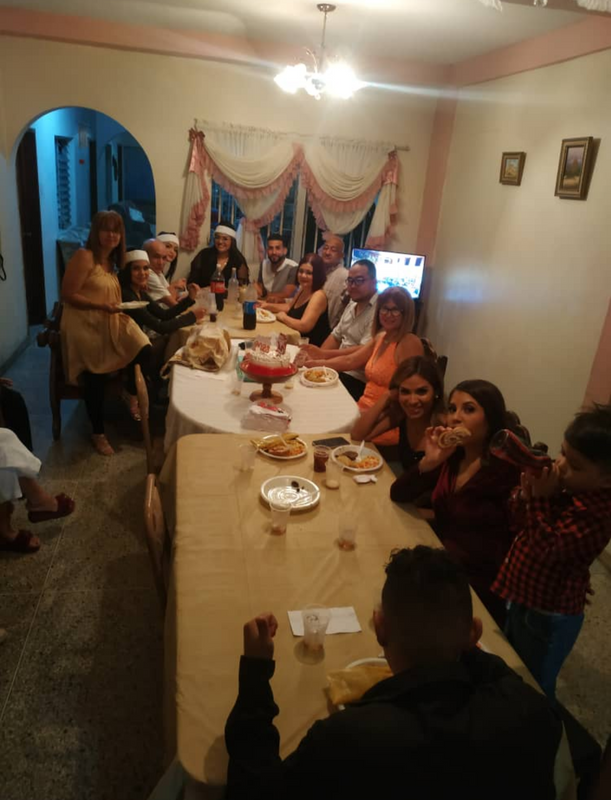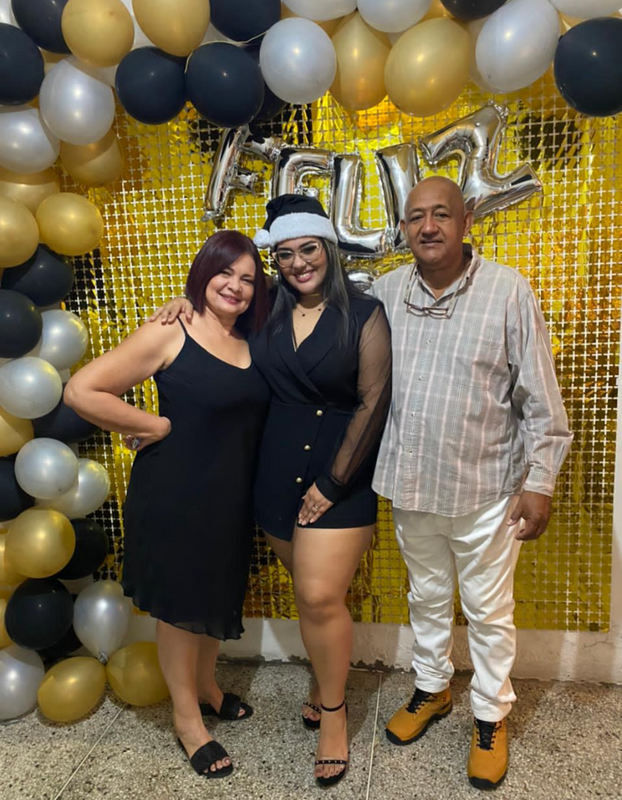 ---
Thank you for this great initiative that gives us the opportunity to tell how we spent our end of the year and save our most precious photos in our blog. Happy New Year 2023 to all!
Gracias por esta genial iniciativa que nos brinda la oportunidad de contar cómo pasamos nuestro fin de año y guardar nuestras fotos más preciadas en nuestro blog. ¡Venturoso Año 2023 para todos!

---
---